When I was in Vermont at the beginning of the month, I noticed the table runner on my daughter-in-law's dining table.  It was really simple and didn't have any batting in it.  I liked the flexible, casual look of it.  I decided to give it a try and grabbed my stack of charm squares.
I have a rather large collection of Benartex charms. Have you heard of the Fabric Club at Benartex?  (No affiliation – I just think it is kind of a fun subscription.). For $25 per year, Benartex sends the subscriber a newsletter and a set of 5″ squares from a new fabric line every three months.  It is a rather inexpensive and fun way to see what is new with Benartex. Each set has a minimum of 20 charms, some have more than that depending on how many pieces are in the line.) The newsletter usually has a suggestion or pattern for the charms.  I did this for quite a while (maybe two years?) and as a result have a number of these sets.
For this project, I decided to use a set called Pansy Noir.  It is a rich collection of shades of purple, gold, black and green. Using a set of charms like this can be satisfying because the designer has already made sure there are a variety of scales and values in the set.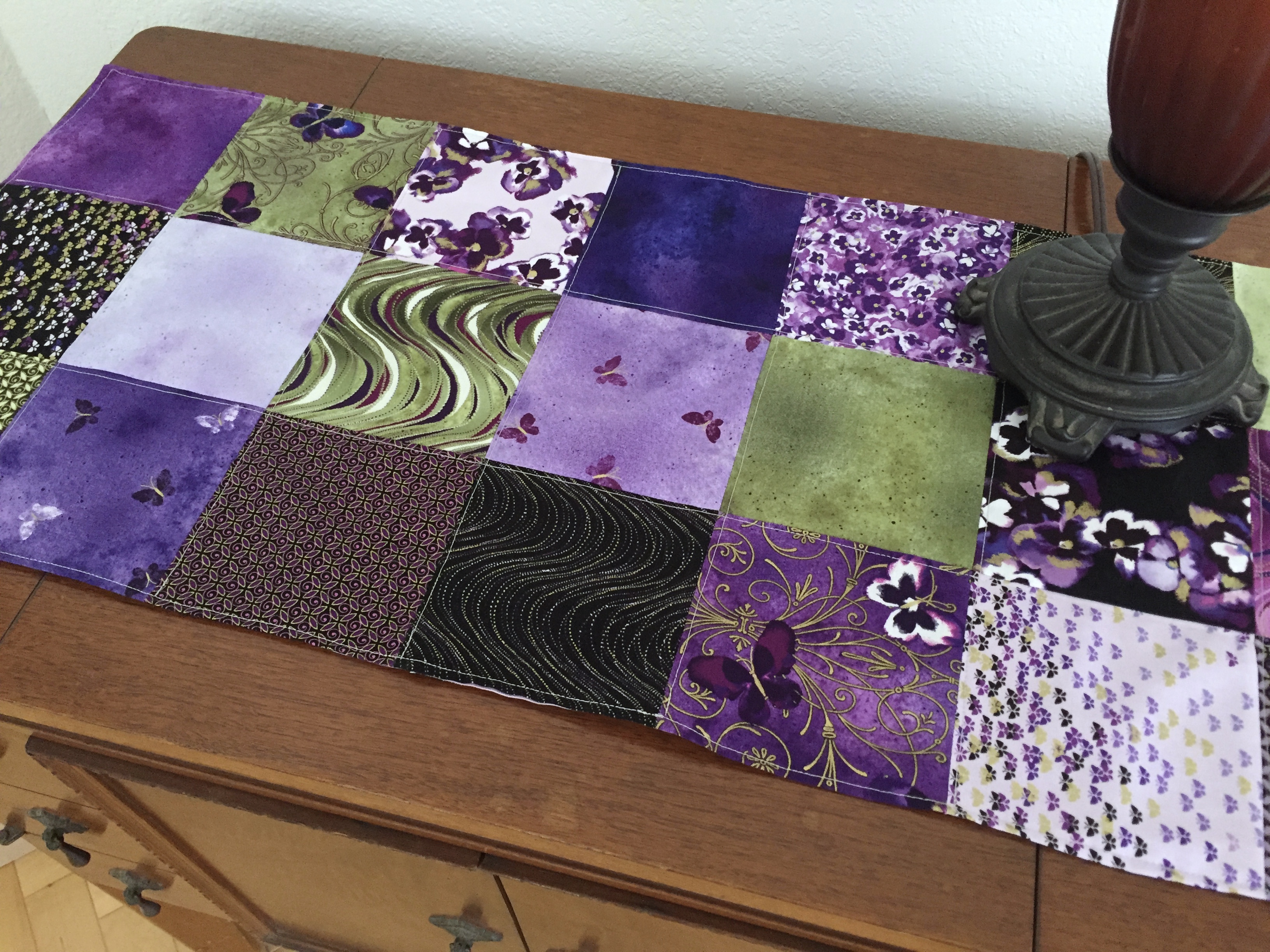 In this set, I love the contrast of sweet pansies, such a simple flower, with the rich swirls of purple and black. How do these designers come up with this?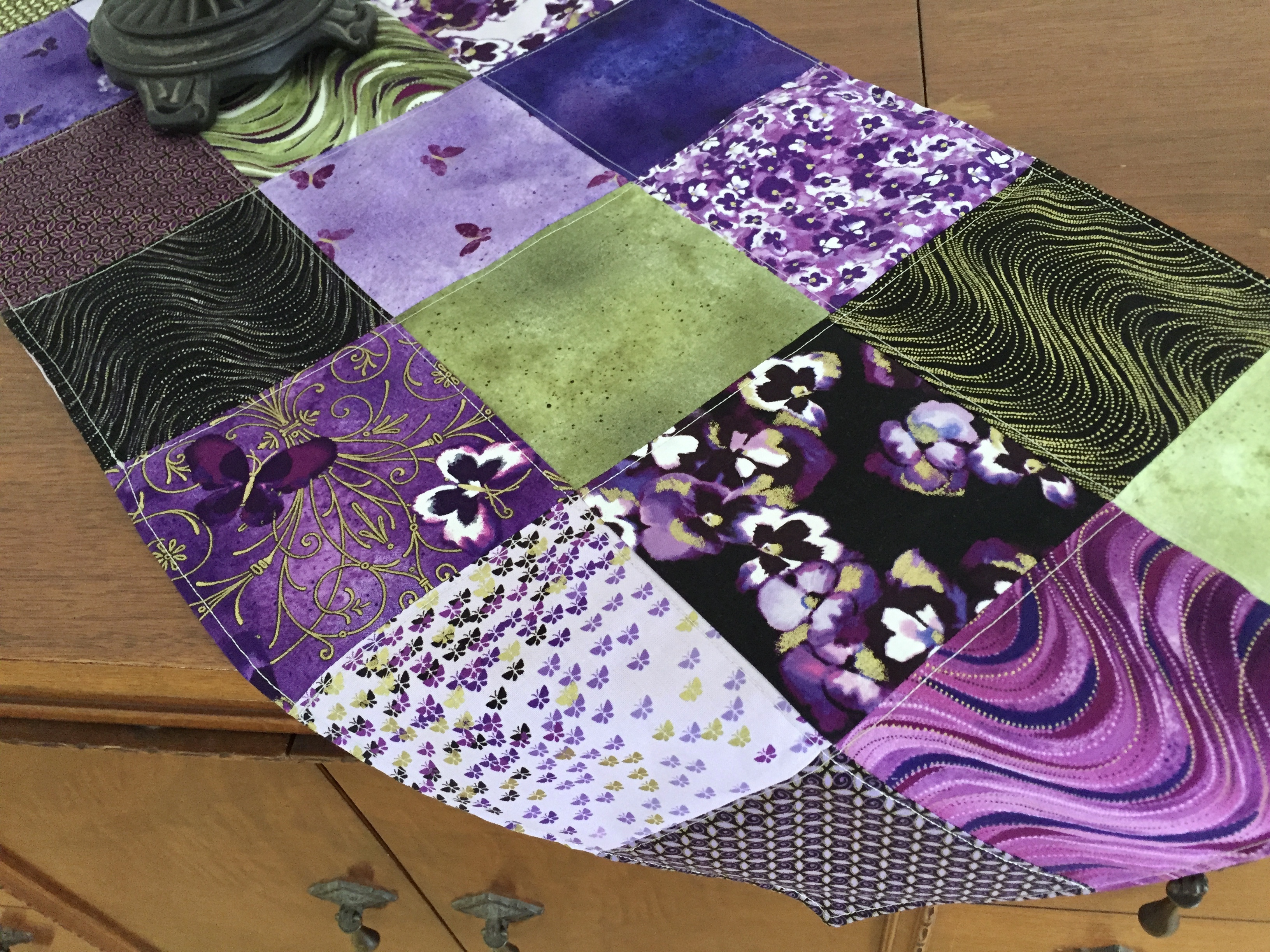 I didn't add anything to the set and made the runner with 21 of the 22 squares in the pack.  So it measures about 14 x 30 inches. Using a silvery Sulky thread, I stitched straight lines going down the column (at the seam line) and across the rows (again at the seam) to hold it together when laundered. No binding makes this a 1/2 hour project.  The backing is a pale lavender fabric from my stash.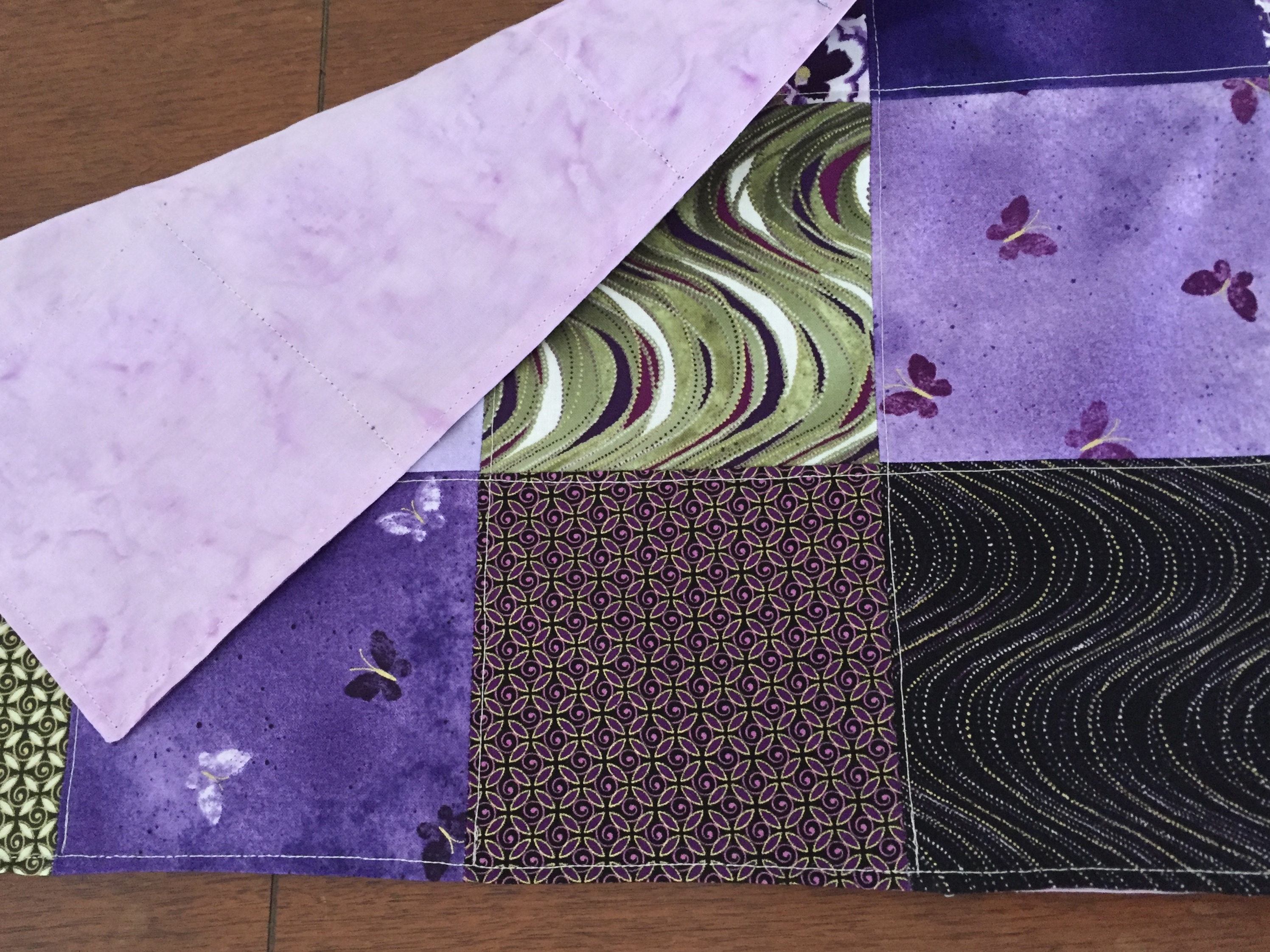 This was a fun project to whip up during a time when I am getting very little sewing done. This summer I have noticed a large uptick in the orders rate at my shop. It is really rewarding to see this happening now that I have been in business for 18 months.  Of course it takes away from my sewing time which is a trade off!
Otherwise, summer has been busy with house projects, gardening and taking pictures of Julia and Olive!!  The fair is in two weeks so Julia has been really focused on training Olive for showing her at the fair.
To increase stamina and muscle mass, Julia has been taking Olive on long walks.  For much of the summer she would walk Olive around the perimeter of our property which was a nice long walk.  Well, Olive is a very smart pig and learned that route quickly.  Soon as she knew she was close to the end of the route, Olive would take off running to the pen (her source of food and mud!)
Julia decided to mix it up and started walking her in our neighborhood, much to our neighbor's delight.  It is hysterical to see Julia and a pig strolling up our driveway and down the road. But Olive does really well.  She is sometimes a bit startled by a horse or dog and it is nice to see Julia can redirect her when this happens.  I think they will do well together in the show ring.
This weekend I am hosting a bridal shower for my soon-to-be daughter-in-law.  Her parents are coming up here for the weekend which will be fun. I have met her mother only once and haven't yet met her father.  We will enjoy getting to know each other.  Once again, another no-sew weekend – Such is life!  Whatever your plans are, enjoy your weekend.
SaveSave
SaveSave