Today I would like to share a book review with you.  C & T Publishing asked me to review one of their new books, Make Wall Quilts: 11 Little Projects to Sew (Make Series)
. In a nutshell, I would say I love everything about the book except for the title.  The title didn't grab me and as I clicked on the link to the book, I was going in with a negative attitude.  Luckily the actual book is wonderful.  I suppose this means one shouldn't judge a book by its title!
This book is a compilation of eleven different wall, or mini, quilts.  Each is from a different, well known quilt designer.  There are projects from Camille Roskelly, Kim Schaefer, Rebecca Bryan and Heidi Staples in the book as well as several others.  Taking projects from books previously published by the designers is a genius idea as it provides a variety of styles in one book.  You probably know just from reading the names above that the book contains modern and traditional projects made with a variety off techniques.  I am a fan of reading quilt books (no surprise there!) but each one usually has a particular theme or style to it.  With this book, the quilter can try a variety of styles and techniques. The projects are not large which means they are easily accomplished.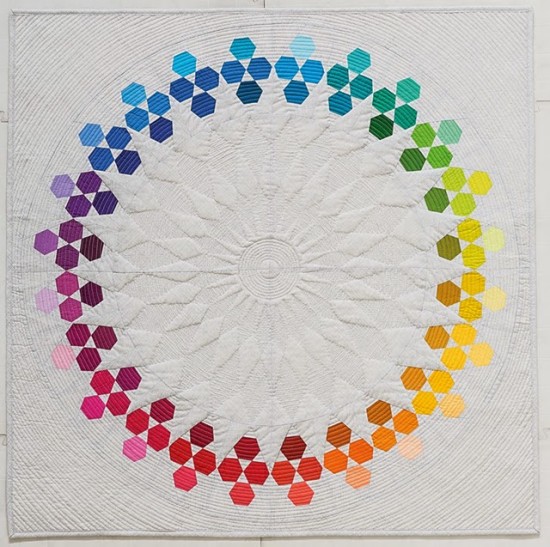 Well, all except one!  For me the Huckleberry Quilt designed by Rebecca  Bryan looks challenging and maybe out of my skill range.  But this is a good thing – it further affirms the book has something for everyone from the beginner to the more experienced quilter.  The fact that this riff on a color wheel requires 72 different color fabrics is enough to intimidate me.  I have enough difficulty choosing color and if I had to choose 72 different solids I might go right over the edge. But while you are here, take a look at the quilting on this piece.  Stunning!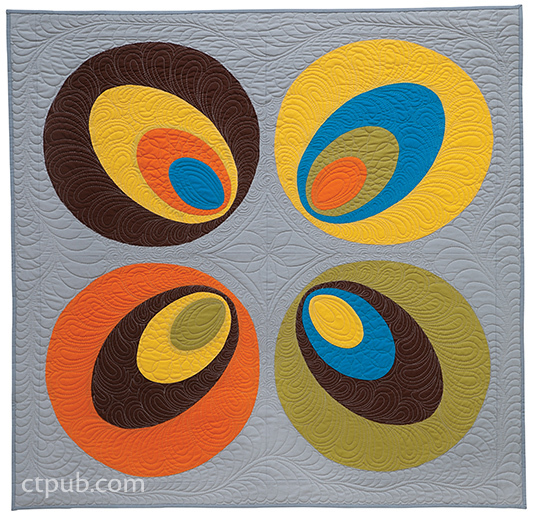 The reader might choose to make a modern applique project or a traditional one. I really like the look of this quilt designed by Jennifer Dick, appropriately called Mod. Again just take a look at the quilting here. Gorgeous!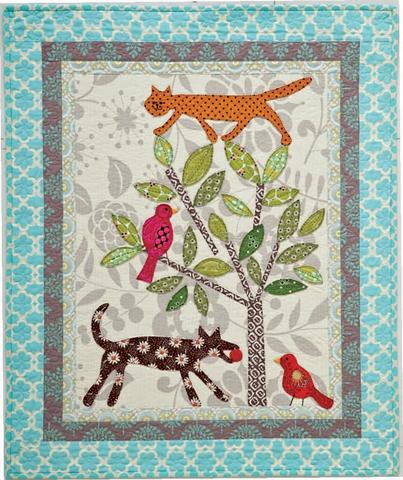 Quilters who favor traditional applique might enjoy this one.  Called Outside In, this project was designed by Becky Goldsmith. It is a larger piece, finishing at 30″ x 36″ but very doable.  I love the cat at the top.  She has attitude.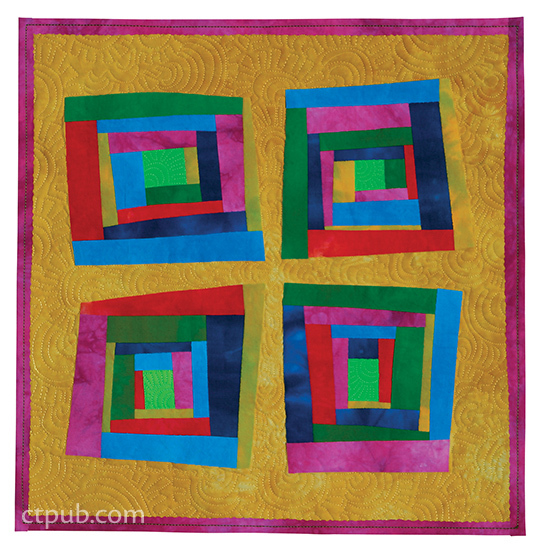 Quilters without improv piecing experience might like to learn from the Lazy Log Cabin project designed by Laura Wasilowski. The blocks in the piece are six inches with the total quilt finishing at 17″ square.  It is Laura's use of bold color which makes this project stand out to me.
Most of the projects in this book could easily be expanded to a larger size quilt if the reader wanted to make a baby or lap size quilt with the project.  This further exemplifies the flexibility of the book.  I really give high praise to C & T for curating this great selection of projects and publishing them in one book.
C&T has generously offered a copy of the e-book to give away to one lucky reader. But if you are not the winner, I do recommend purchasing this book, either for your library or as a gift.  It is a lovely collection of a variety of projects, truly a something-for-everyone kind of book.
To enter to win a copy, please leave a comment on this post.   Tell me what your favorite quilting technique is at the moment.  Is it EPP, paper piecing, improv piecing, traditional block piecing, applique? What do you enjoy most?  Giveaway will be open until Friday and I will pick a winner on Saturday.
If you would like to purchase the hard copy of the book, it is on sale at Amazon for a steal of a price! (Affiliate Link)

I doubt I will post again this week so let me wish you a Happy Thanksgiving. I do love this time of year. Celebrating gratitude for all we are blessed with feels good and reminds us that even if we are enduring difficulty, we still have much to be thankful for.
Note:  Needle & Foot is an Amazon Affiliate meaning if you were to click through and purchase the book, I will receive a small stipend for the purchase.