I don't know about you but I am really lazy about getting my sewing machines serviced.  I procrastinate, put it off longer and longer with my usual excuse being 'I clean out the bobbin housing all the time so it must be fine'. But oh my gosh, think about how often I use these machines of mine.  The poor things need to be taken care of!
When my smaller Janome refused to stitch more than two inches without giving me grief, I realized it was time.  I took it to a woman in town who is a whiz with machine repair and maintenance.  She kept it for a few days and worked her magic. Some $80 later, my machine is purring along. What a huge difference!!  When I picked the machine up, Debbie had a sandwich size Zip Lok bag filled with lint and gunk. I can't imagine how she got it all out of there but she did. The machine is like new!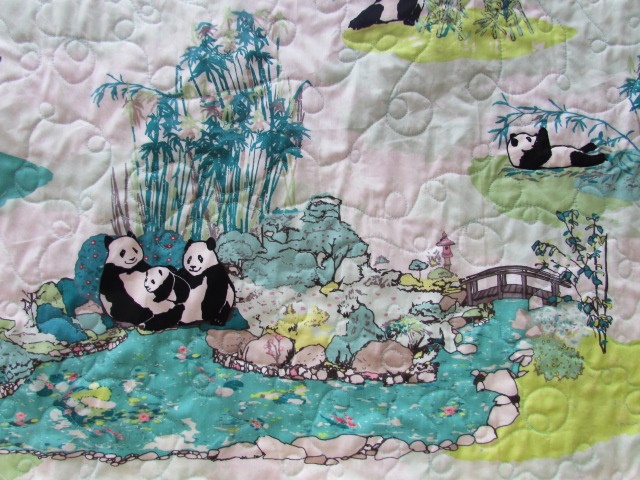 I decided to take advantage of this amazing transformation and practice some free motion quilting. I have not been doing too much quilting at home because the machines were not cooperating (now I know why!)  To have a nice big canvas to play with, I chose to do a simple whole cloth quilt.  Have you seen Art Gallery's line of fabric called Pandalicious? Of course it  features adorable panda bears. Designed by the very talented Katarina Roccella, these prints are really sweet and just filled with the personality of spunky pandas. I have a few pieces of the line in my shop and decided to play with the feature fabric.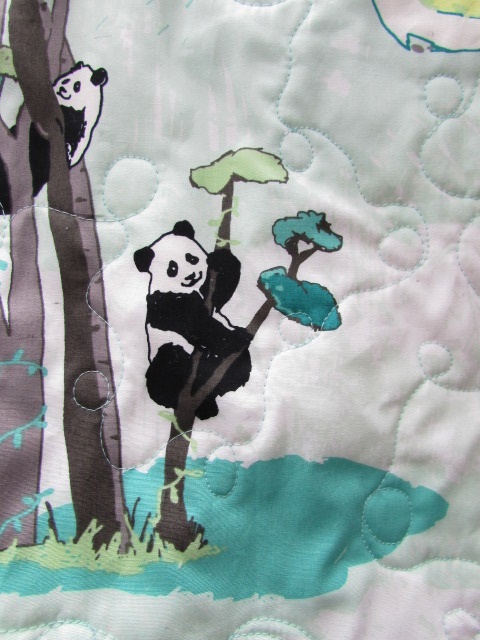 Panda Garden Recess is a large scale print which tells the story of panda families frolicking in a garden of pastel blues and greens. I cut  a 40″ piece of this fabric and a 44″ piece of Hidden Panda for the backing. After trimming the top to a 40″ square and quickly pin basting the layers together, I started quilting loops. My machine was entirely cooperative and the tension was perfect. It is much more fun to quilt when my equipment is properly taken care of.  🙂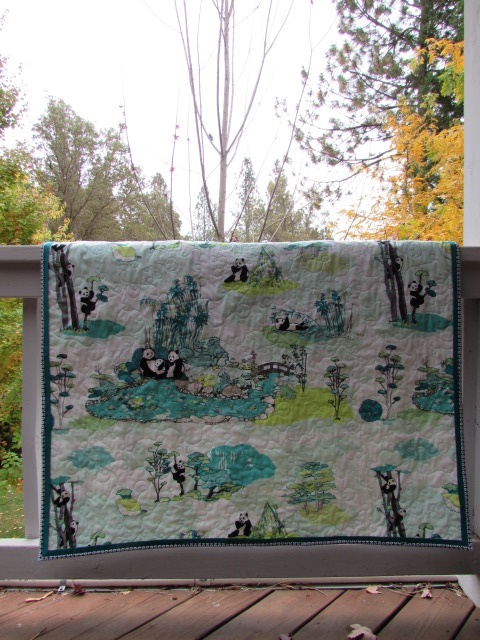 The quilting took no time at all.  After squaring it up, I decided it needed something more than just the binding.  I had a large scrap of a jade green solid in my stash and cut some 1 1/2″ strips to make a flange.  I am always, always a fan of a flanged binding!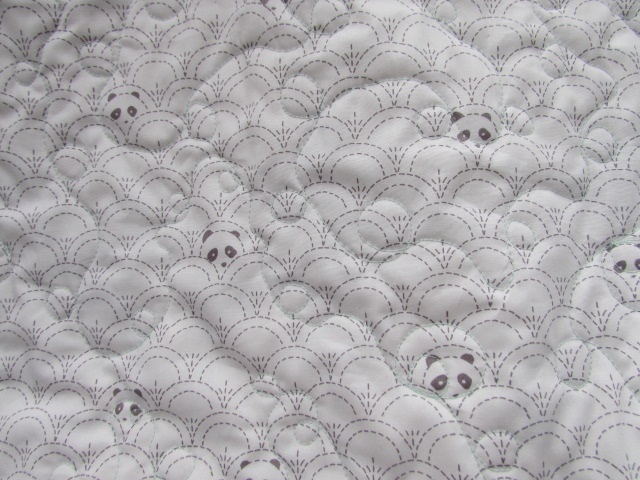 As I mentioned earlier, the adorable backing is called Hidden Panda.  It is another of my favorite prints. The loopy quilting I did (which doesn't really show up in the pictures) works well with the curve of the print.  Looking back, it would also have worked to quilt the piece from the back, by quilting along or tracing the curves. Another project for another day!
There you have it.  My machine is back to its amazing self and I have a sweet quilt as a result.  Next weekend is the quilt show for the Pioneer Quilter's Guild where I will be a vendor.  It is going to be held in Roseville so if you are a local, come out, say hi, and enjoy the show!  I will use the quilt to show off this fun fabric in the booth.  After that, maybe it is destined for Project Linus or a spot in my Etsy shop.  I haven't yet decided.
We are supposed to have a wet, rainy weekend and I am prepared!!  I have two projects currently vying for my time so I am very much looking forward to a quiet weekend in the sewing room.  There is also a tiny quilt show scheduled for the weekend and I may hop over there to take a look at the quilts.  We shall see!  Hope you have something fun planned as well!  Enjoy the weekend.
Linking to my usual favorites as well as one new to me;  Finished or Not Friday over at Busy Hands Quilts.  Check them out at the top of the page, under Link Ups.