What a crazy month September has been. Horrible weather is affecting so many – hurricanes, flooding, fires – too much rain in many places and such a shortage in others. I hope you haven't been adversely affected by all of this.  But for those who have, I am sorry for what you are enduring.  We haven't had as much wildfire activity nearby as we usually due in late summer.  Today it is substantially cooler than it has been and I am so thankful.  Maybe fall weather is coming to our part of the state.
I wanted to share a few things with you.  The first is to show you a mini I won from a giveaway held at Quilting Jetgirl. Yvonne celebrated her birthday earlier this month with an incredibly generous giveaway where she gave a box of fabric from her stash, a gift certificate to Hawthorne Threads, and two pieces she had made. I was so lucky to win this mini, called Sidekick Sampler.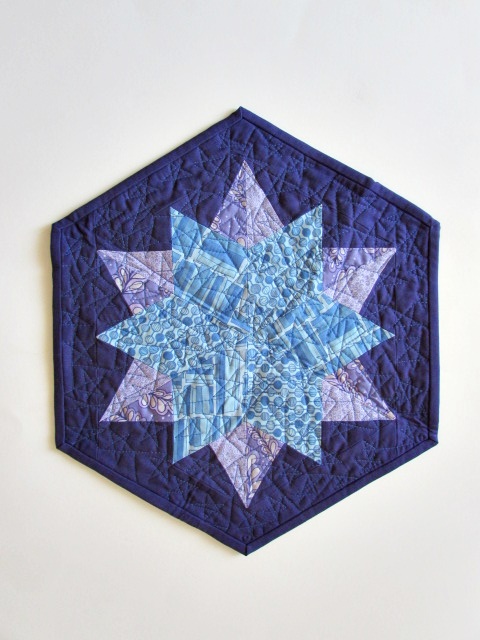 I just love it. The background is deep purple which was challenging to photograph for some reason.  The star is made with light blue and lavender fabrics. It is just exquisite.   Yvonne has a well deserved reputation for precision piece work and lovely quilting. This mini displays both.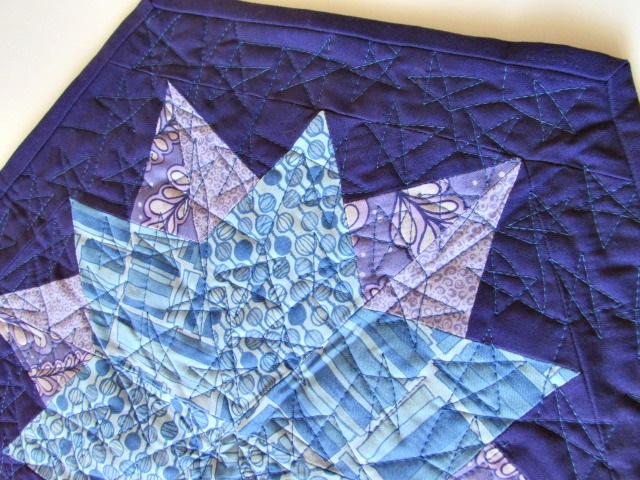 Quilting this with an all over motif of stars was the perfect choice for this piece. I was thrilled to receive it and quickly added it to the wall over my sewing machine.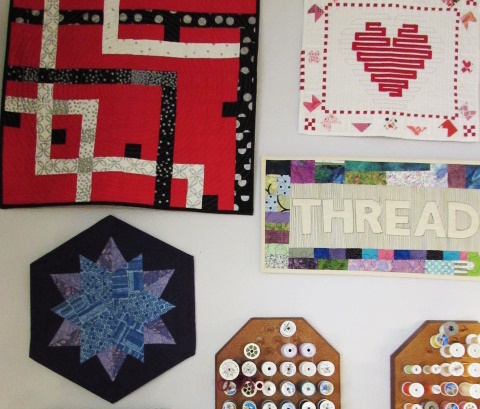 What a generous way to celebrate a birthday by giving such awesome gifts to others.  Don't you love Yvonne's labels? Thank you Yvonne!:-)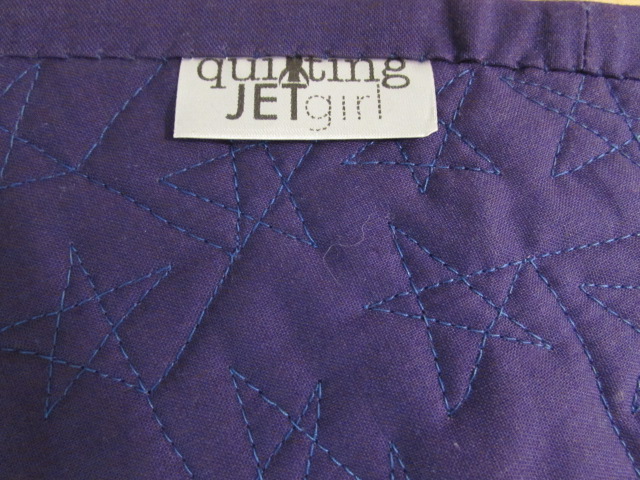 I have done a bit of sewing this week, though not as much as I would like.  Last week I took a quilt top to the local long arm shop that rents time on their machines.  I hadn't been there for just about a year and it took a while to remember everything. The woman that works there was so patiently helpful as I tried load the quilt – there are so many details involved in that process and I definitely needed a refresher.  Once I got going though, the quilting went quite well.  I am excited to share this quilt and if you come back on Monday you'll see it.  I made it for the Back to School blog hop that is ongoing with the Island Batik Ambassadors and my day to post is the 18th. Luckily I got it done and spent the past two nights stitching the binding to the back side. Be sure to check out the post on Monday as I have a wonderful giveaway  to go along with this blog hop.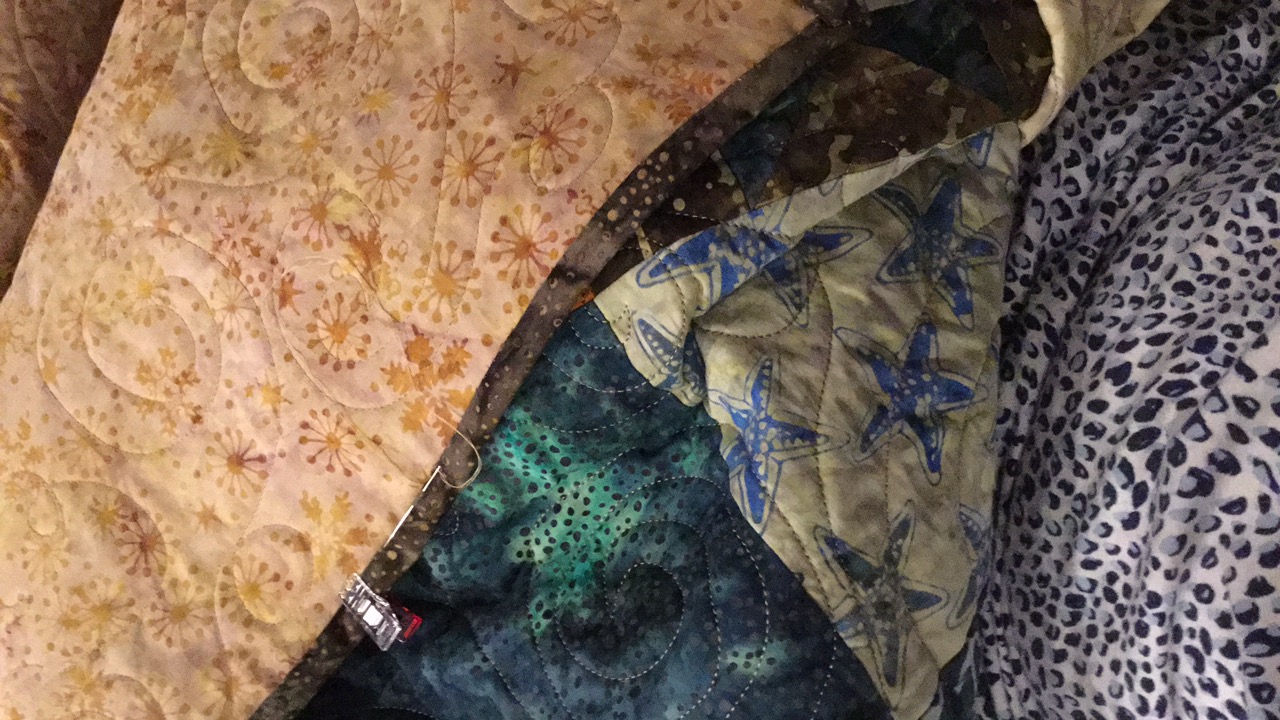 Much of my time this week is being spent preparing for another quilt show. I will be a vendor at the Elk Grove Quilt Guild's show this weekend. I am looking forward to it and the Vendor Chairwoman for the show has been a delight to work with. This show is just over an hour from my house so it is pretty convenient. My sister (Ferrari Handmade) is working it with me and I am so looking forward to spending the weekend with her. If you are local to the area and plan to attend the show, please be sure to come by and say hi.
Finally, I drew names for the two winners of the Shine fabric panel and border scraps. Lucky winners, Roxie and Tami, should have their fabric in hand by now.  I asked readers for recipes or foods they love to make when autumn rolls around.
Roxie said:
I love candy roaster squash pie. It is like pumpkin pie or sweet potato pie. I know it is fall when I put this in the oven and smell the great aroma!
Tami commented:
This is so cute! That "Just shine" panel would be fun for a little wall quilt to hang by my desk at school, or even a floor cushion for the reading area. Its really a darling print! Our favorite fall tradition is soup on Sunday. We usually manage to come up with a different soup every weekend until Thanksgiving! my girls pick recipes and we try them out. Starting with cheeseburger soup tomorrow! Good luck at the show next weekend!
I have not heard of candy roaster squash pie but if it is anything like pumpkin pie, it sounds great to me.  Soup on Sundays sounds like a wonderful tradition to have when the cooler weather comes.  Hope Tami and Roxie enjoy the fabric.
See you all back here on Monday to celebrate some gorgeous Island Batik fabrics.