Good morning! First order of business – I used our friend, Random Number Generator, to pick a winner for the 2017 Quilter's Planner. The winner is………. Patricia! Her tip on organization was:
I try to group items by use. I have one drawer for hand sewing notions,one for sewing machine items. The cutting table top drawer has rotary cutters and blades etc. I have a travel bag with duplicate tools for workshops that stays packed.
I like the idea of having a separate bag of tools for traveling to workshops. That would be really handy rather than packing up each time you take a class. Congratulations Patricia. I have sent an email to you. If you have a minute, take a look at some of the comments on the Giveaway post. There were many great tips submitted for staying on top of things in the sewing room (as well as life in general.)
Next up for today is something to make you smile. My niece, Lil, teaches preschool at a Catholic preschool in the Bay Area. You might remember Lil from my post about a tshirt quilt I made for her a couple of years ago. Every now and then, Lil will send her mom (my sister) texts or pictures of things that happen while she is working. My sister then sends them out to the rest of us (my sisters & my parents) and we just love it.
Yesterday, Lil sent a great one so I want to share it with you. Being Christmas time, she is working on a basic unit about the Christmas story. Below is the sample project that she had the children making.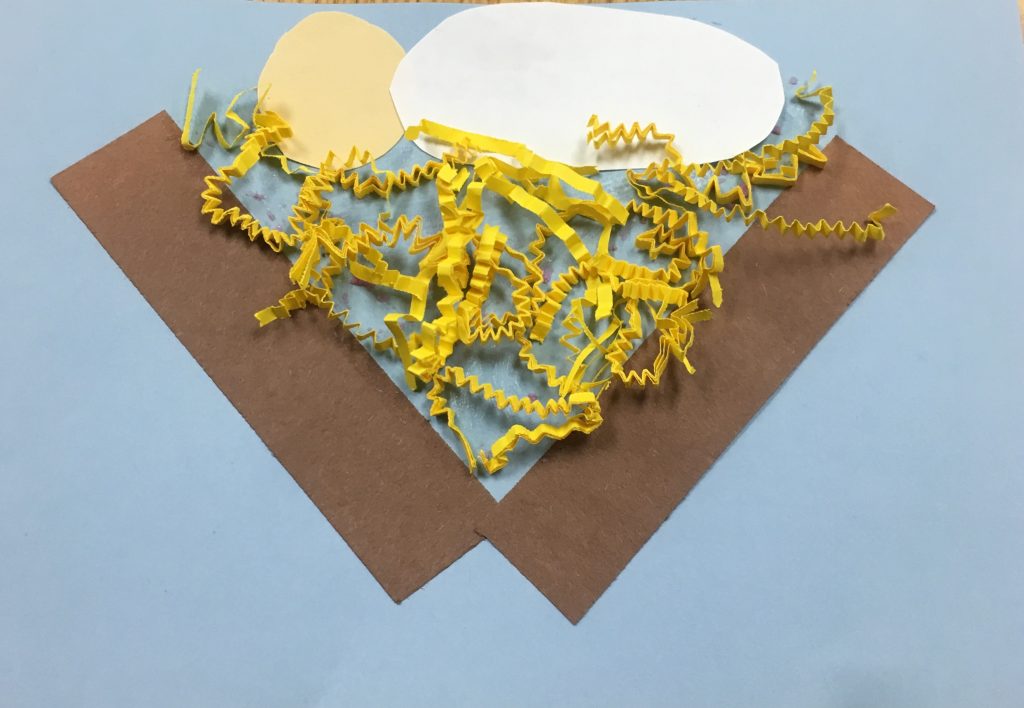 As it should be, Lill's students make their own artwork. Each one is working to his or her current ability. Here are the resulting projects.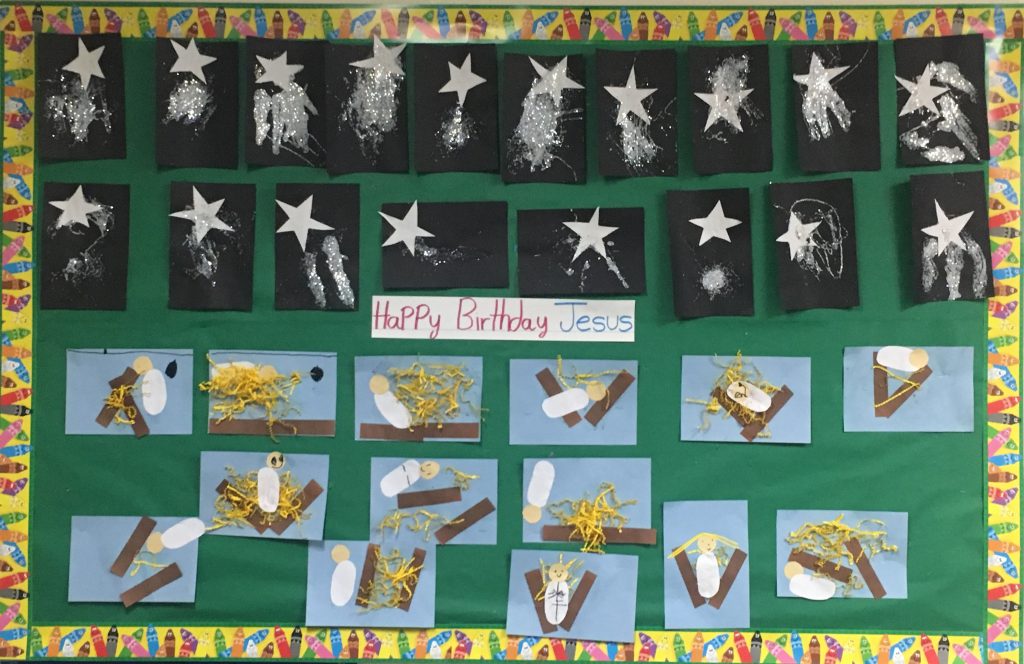 I think this bulletin board is filled with all kinds of adorable!! Poor baby Jesus – it would appear he is having a bit of trouble with his manger. I looked at this a number of times yesterday and smiled over and over. I thought you might enjoy it as well. The project in the bottom, lower right corner is so cute. Baby Jesus appears to be underneath the manger. 🙂 I love the preschool ages, when children are so uninhibited and sweet. I have more than one box of projects from my four children. It is so hard to toss them. I think it would be great to scan them and save them digitally so I could get rid of the boxes. Maybe someday…
Ok, that is it for today. I am off to finish binding my Fleet & Flourish project!! Have a great day.