A few posts back, I mentioned that our family will grow by three great-grandchildren in the first part of 2017? Guess what? One of those babies will be my first grandbaby. Does that make sense?? It sounds weird. Probably because I have been patiently waiting  for this for a long time. No, not really all that patiently. Sometimes Ray has to give me the stink-eye, reminding me to quit asking my kids about grandbabies. Finally, it's going to happen– yahoo!! I get to be a Grandma, or Grammy. Probably Grammy, I like that better. My oldest and his wife are expecting their first baby, a sweet little girl, the first week of March!! Awesome news, this is.
I have sent a few little things to them for the baby. (They live in Vermont – Clearly, it's not going to be all that convenient to play with my granddaughter.) Last weekend I really wanted to make something for her. It was raining like crazy though, making a trip to the store somewhat unappealing.  (Seriously, it was raining that hard.) I dug around in my closet of more-fabric-than-anyone-could-need and pulled some flannel scraps. These were scraps in every sense of the word. They didn't really go with anything and were not very big. Certainly I could turn them into something. Babies start out small – these were small scraps, I didn't need to make anything huge, right?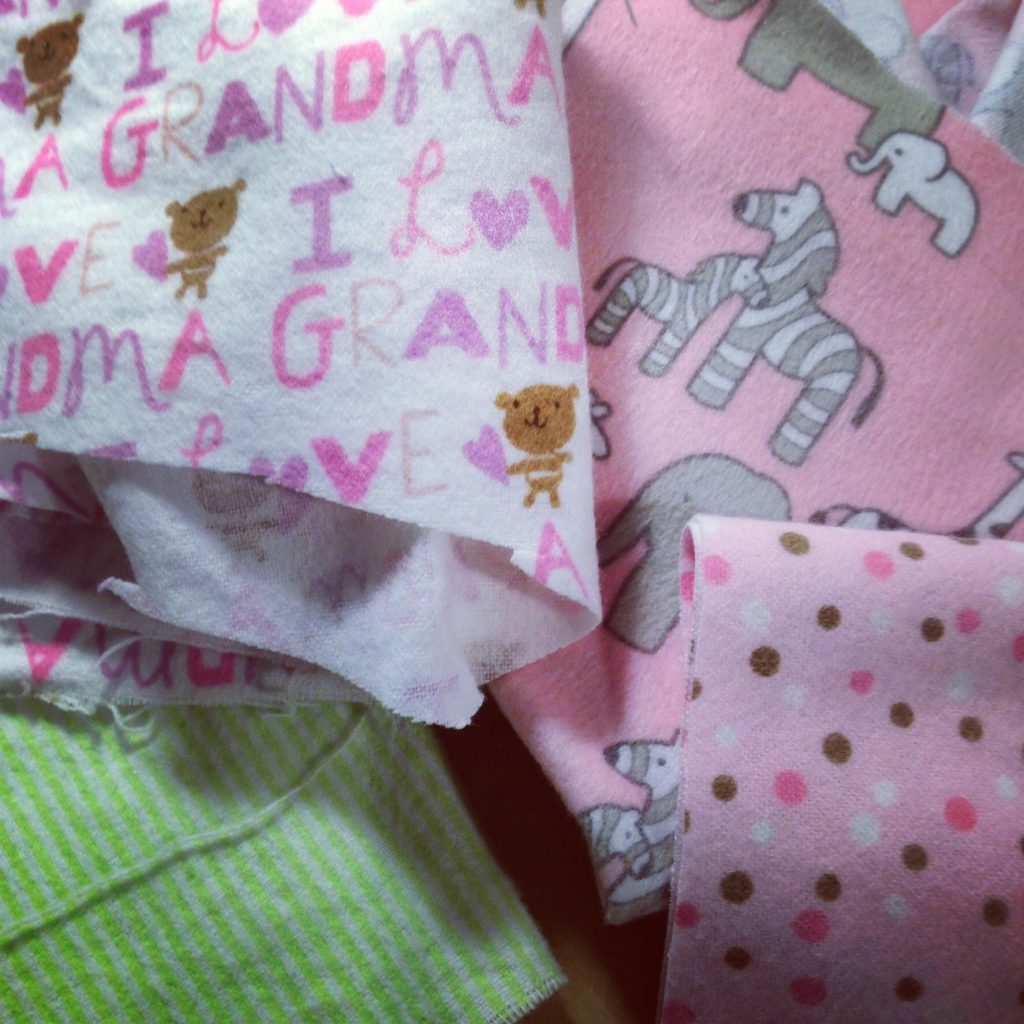 I also found a reasonably sized piece of white flannel and a tiny piece of white terrycloth. After an afternoon of playing around, this is where I ended up.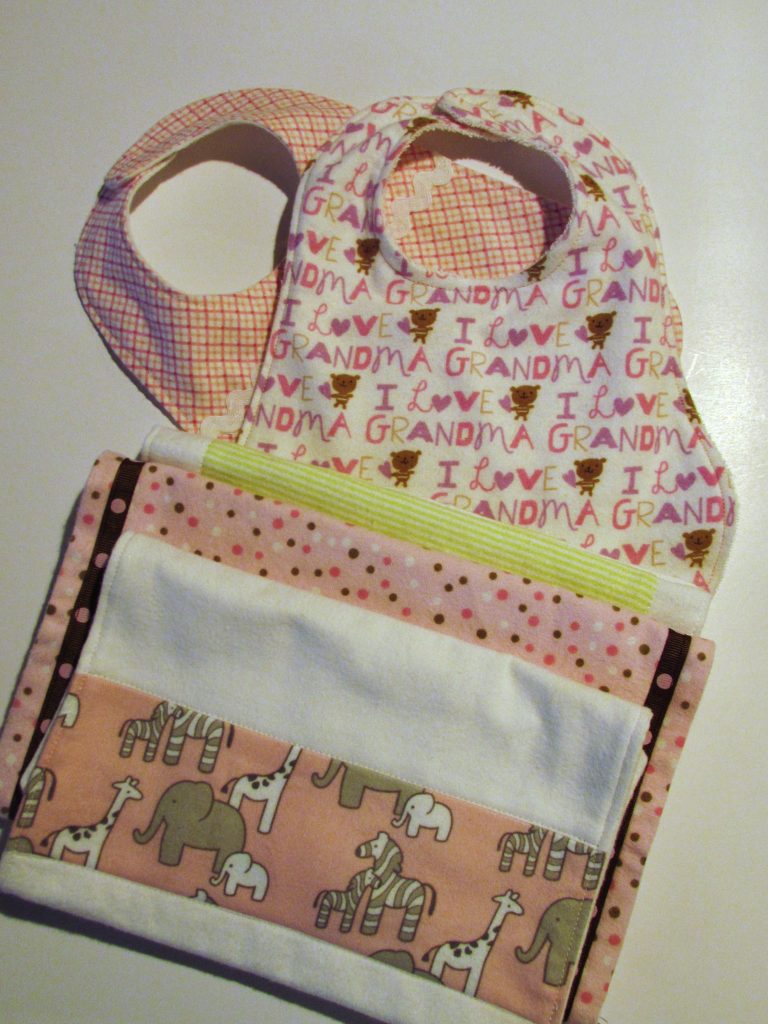 I squeaked one bib out of terrycloth and flannel and the other bib is backed with white flannel and trimmed with white rick-rack. I used velcro closures because I was out of the little gripper snaps and it was raining….. remember?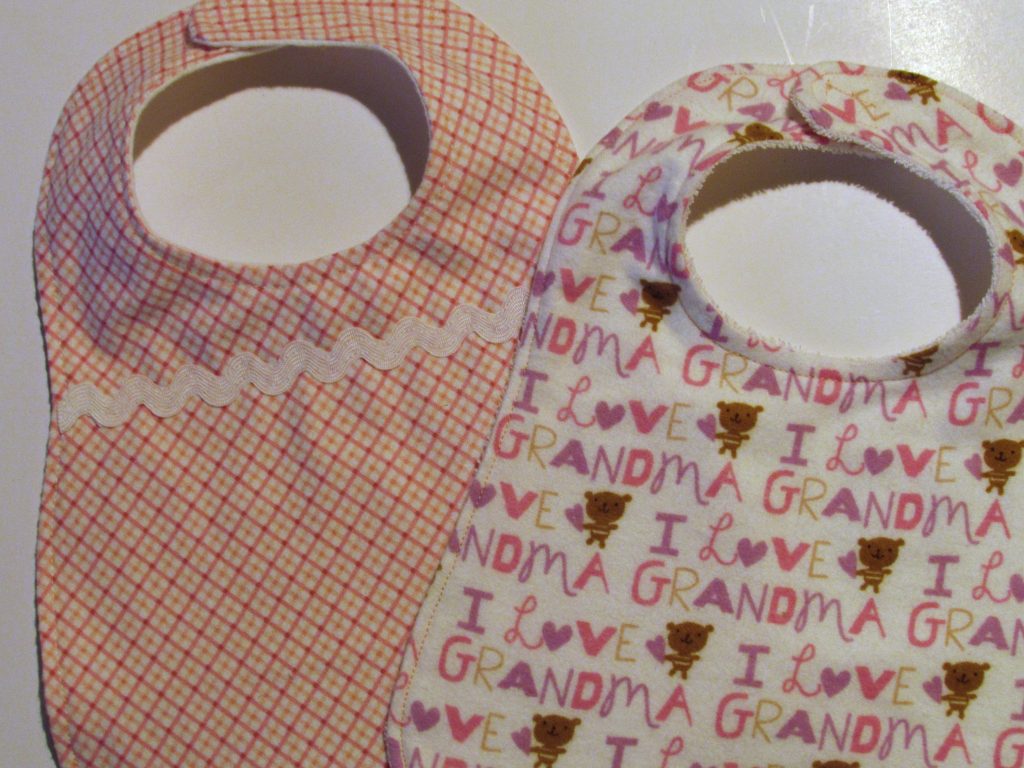 Joy (baby girl's other Grammy), if you are reading this, the "I Love Grandma" bib is for both of us. This girl is going to have two really cool grandmas.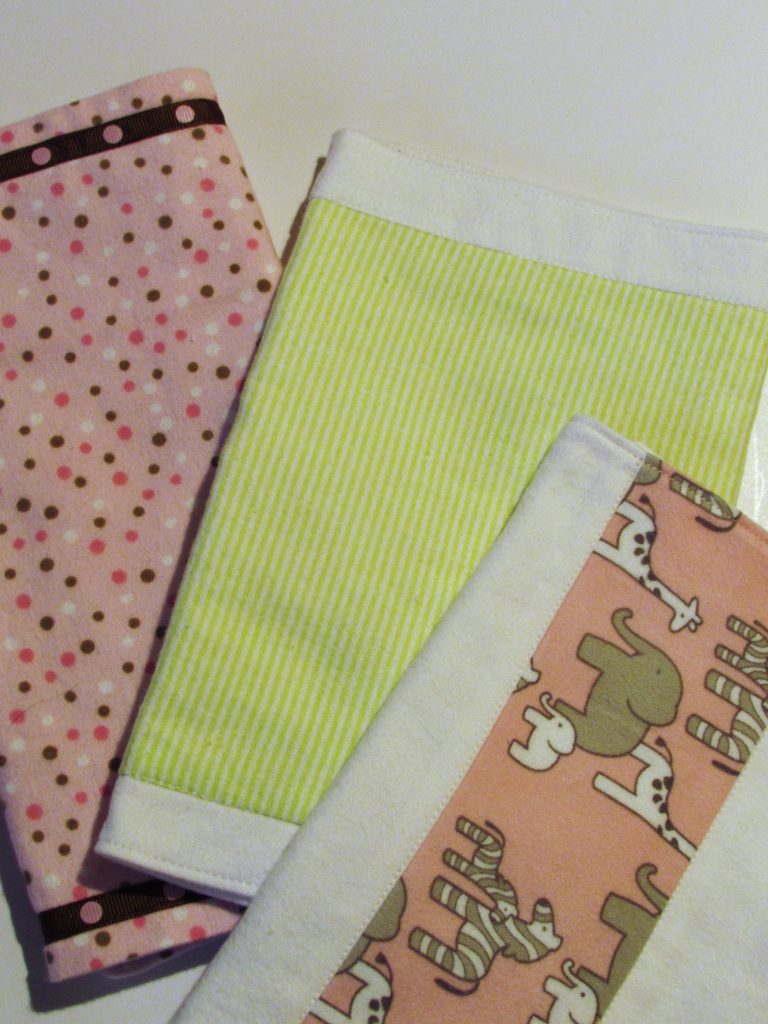 I also made three burp cloths. These are definitely scrappy. The elephant fabric was just a few bits so I mixed it with white flannel strips to get a large enough rectangle.  The lime green stripe was a narrow rectangle so I sewed it to a larger rectangle of white flannel, causing the white to wrap around to the front and create a large enough rectangle. That pink polka dot is adorable and I even had coordinating ribbon to embellish with. Fancy schmancy burp cloths for my special girl.  I sent them off to the kids with a note telling them that three burp cloths was not nearly sufficient but this would at least get them started. 😉
When I first started blogging, I posted a tutorial for burp clothes that wrap the backing to the front, like the green one.  If you want to check it out, click here.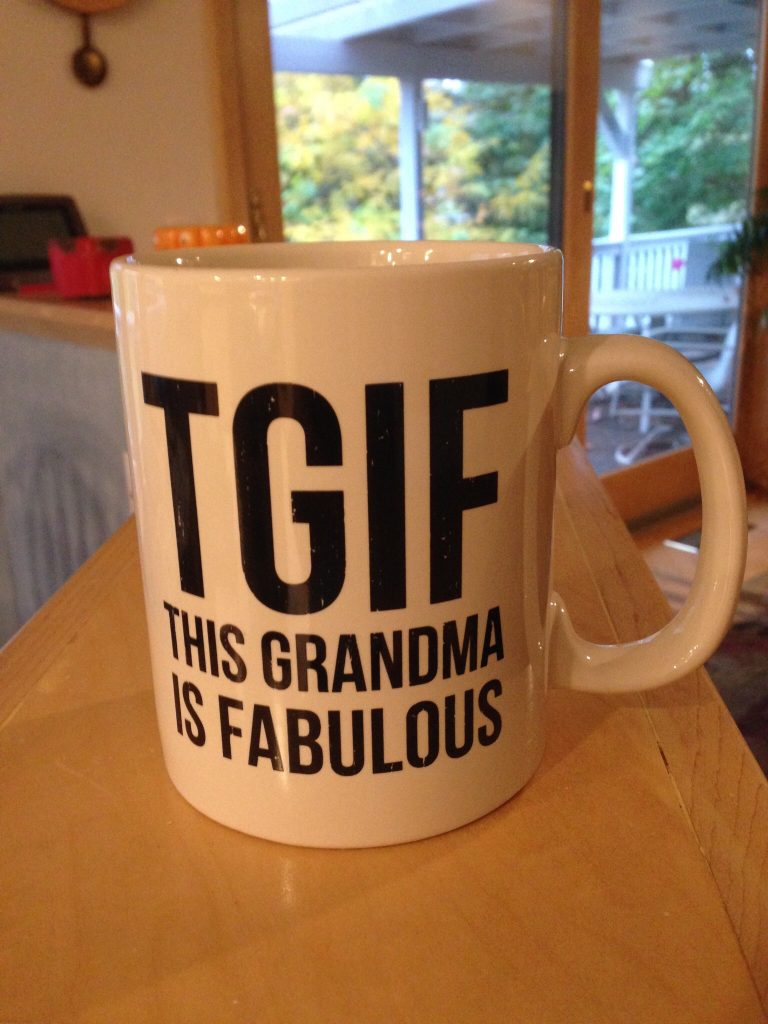 I can't wait for this baby's arrival. My son and DIL are so good about keeping all of us posted with ultrasound pictures and baby bump photos. She is clearly adorable already. For my birthday last week they sent me a lovely frame that says granddaughter on it and this TGIF mug. It is the perfect mug for me – holds a huge cup of coffee and reminds me I am soon to be a Grammy.
Linking to lots of fun places – check them out at the top of the page, under Link Ups.