I have finished up my monthly scrap challenge projects. April was declared as the orange month. Angela, of So Scrappy, suggested including accents of black; like a Monarch butterfly. While this is a nice idea, it didn't work for any of my projects. Plus, orange and black makes me think of Halloween, which just doesn't feel right in April.
I made my improv HST's and I love them! I am totally enjoying the process of piecing all of these scraps together and slicing them right back up again into half square triangles. I have the HST's sized at 9 inches right now.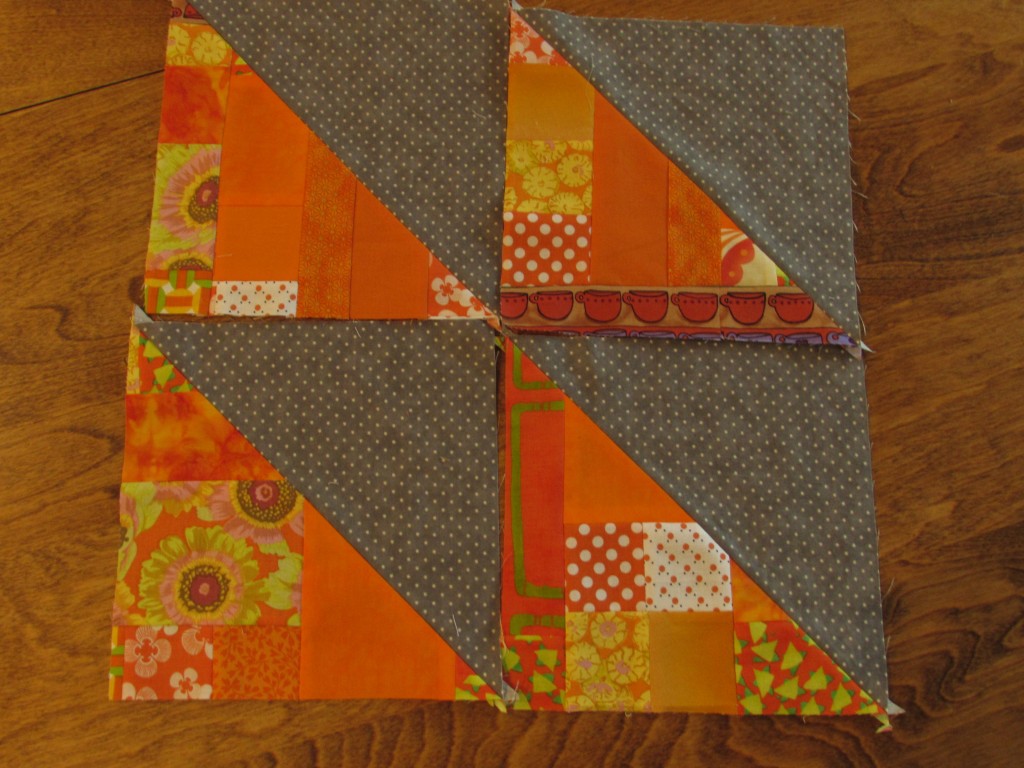 Half square triangles can be arranged in an endless number of ways.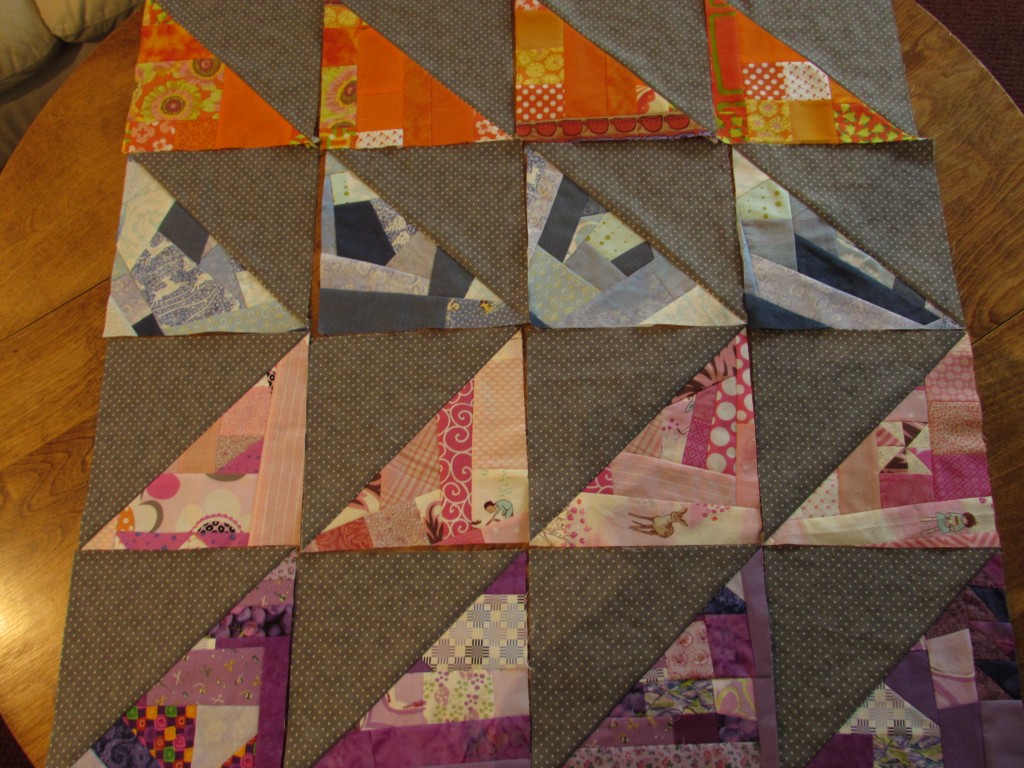 Each arrangement brings an entirely different look to the project.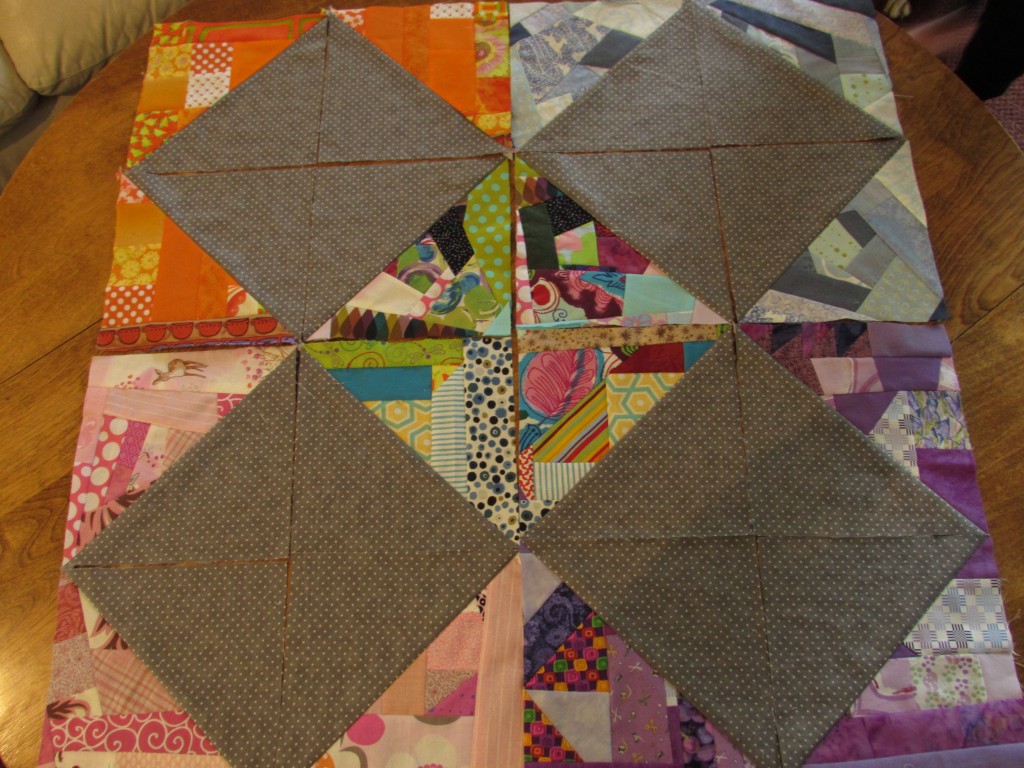 Just changing the perspective on this arrangement (setting the blocks on point) changes the look.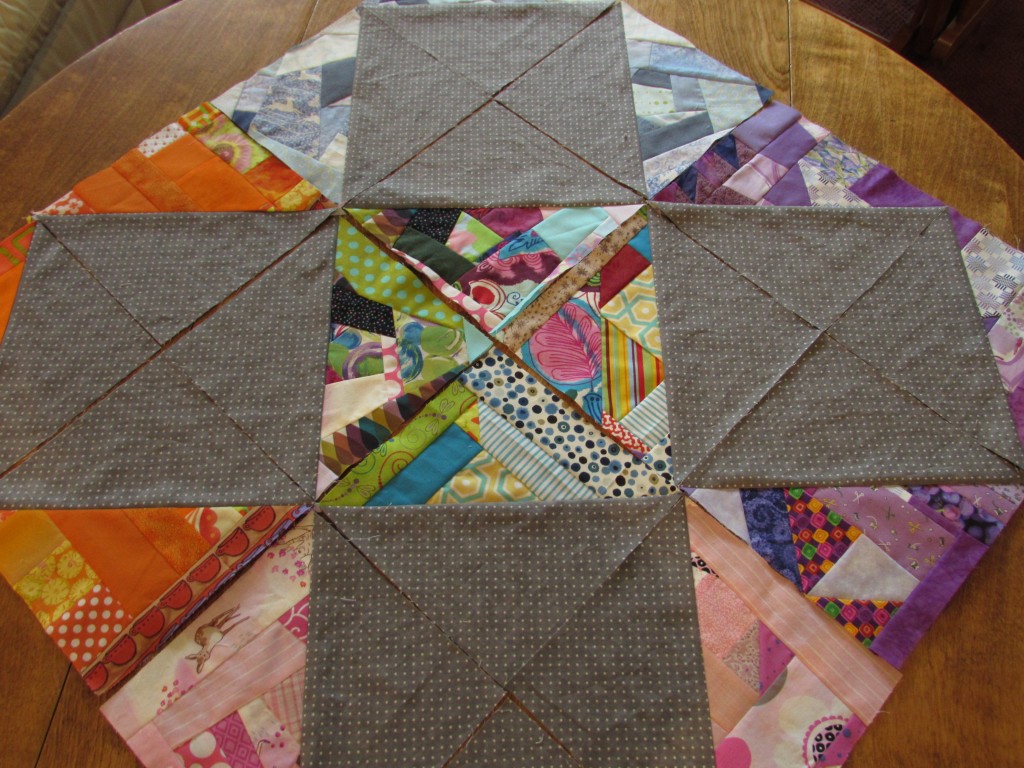 All of those gray dotted blocks would provide great negative space to quilt! Even with all of these choices, I am debating cutting them again to make quarter square triangles. I haven't decided yet but I think I may want to have the blocks a bit smaller than nine inches. With quarter scale triangles, I could do an hourglass pattern or a ribbon pattern (some call it a DNA quilt pattern.) So many ways to do this! I will wait until I get a few more months done and then maybe it will make itself known to me, as these things often do.
For the Gemstones quilt, I took a suggestion from Cynthia Brunz and used rust colors instead of brighter orange tones. The suggestion was absolute genius. These blocks call out Topaz, or Tiger's Eye, and what is better for a quilt called Gemstones?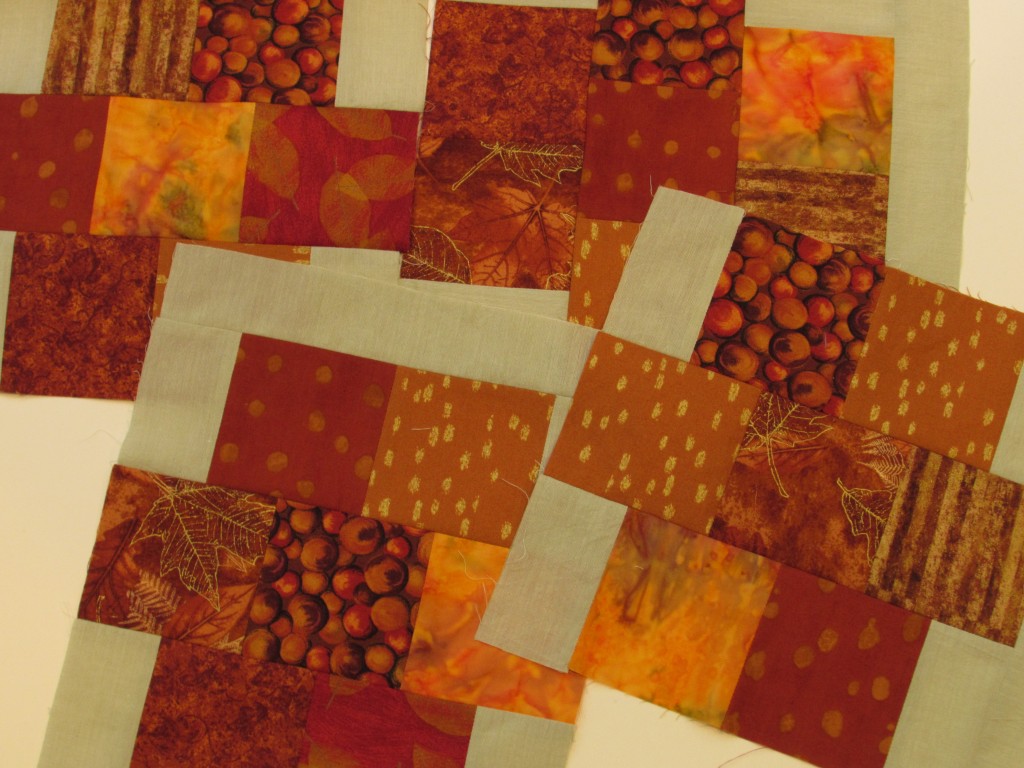 I will confess that I had to go buy a few fat quarters to be able to use this colorway. I only had a few in my stash. Aren't they gorgeous though?
I added the green sashing strip to one side of each block so I could see what that framework would look like. It's perfect! At this point, I have made blocks to represent Amethyst, Topaz, Sapphire, and  Rose Quartz. I still need to make blocks in Ruby Red and Emerald Green.  What other gems need to be included? Maybe a lighter green for Peridot?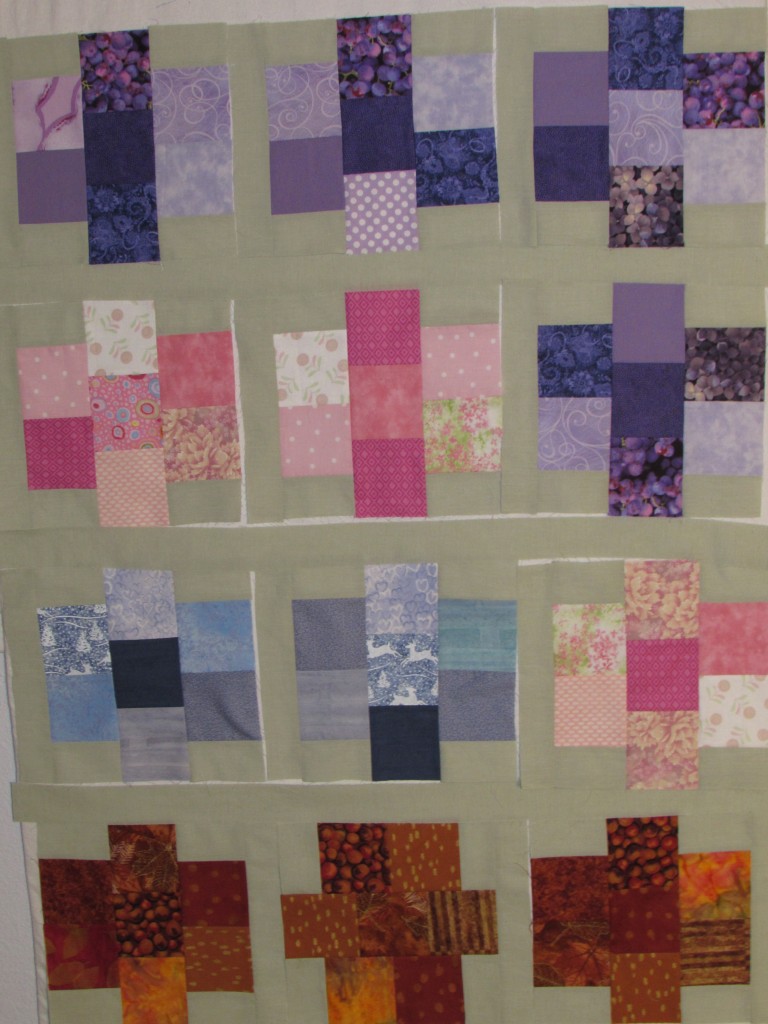 Finally, I used the last of the orange patchwork squares to make a little hot pad. I will pop this in the mail to my sister who seems to have a thing for orange right now.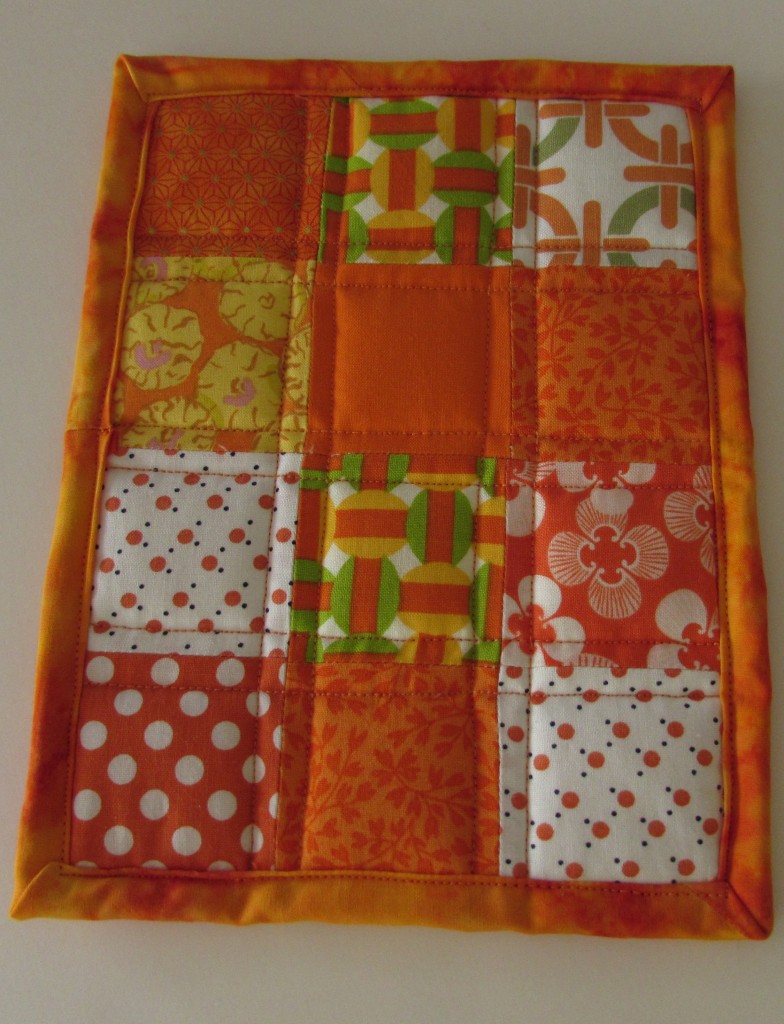 I used two layers of Insul Bright for insulation which makes it a bit stiff to handle. I found it was challenging to bind. Or maybe I just didn't pay close enough attention? I machine stitched it to the front and back and it only looks ok. Should be alright since this will end up in a kitchen drawer and not under anyone's close inspection!
Scrappy projects for April are complete! This week I will continue to work on the Stepping Stones QAL.  I was very happy to see (on Instagram) that Sandra over at Musings of a Menopaulsal Melon (probably the best blog name out there) joined in. She is making a great quilt using a neutral palette.  In addition, I am working on a mystery QAL over at The Inbox Jaunt. More on that later this week.  Finally, I will be hosting Free Motion Mavericks for Muv this week. I hope you will come back on Thursday and link up your FMQ projects!!
As always, I am linking this post up with all of my favorite spots. Check them out at the top of the page, under Link Ups.