This week I finished up Square Dance. It was well over a year ago that I started this quilt. For some reason, it was put aside and ignored for a long while. Now that it is done, I am really pleased with the cheerful colors. The pattern is a simple one based on squares of two different sizes and simple borders on each, bringing the blocks to 9″ when finished.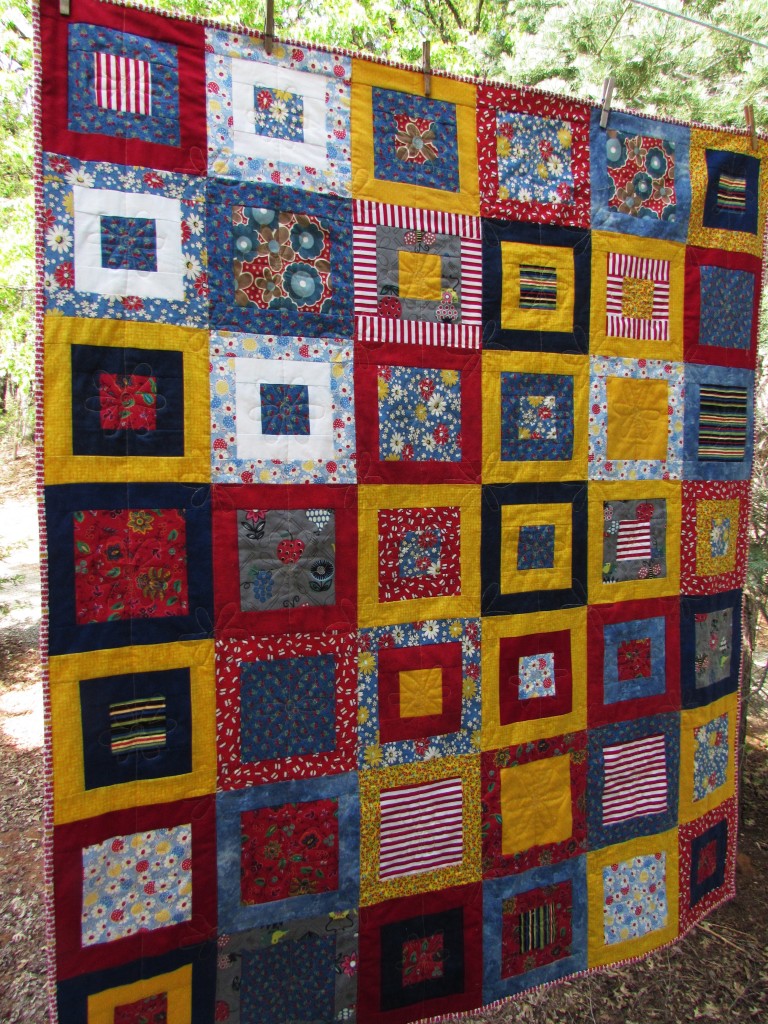 Putting the quilt together was a breeze. Quilting it, on the other hand, was not. Back in March, I was reading Cynthia's posts over at Quilting Is More Fun Than Housework. She showed some quilts that she had finished up using some oversized daisy flowers. I loved it and thought it would be great for this quilt. I planned to put a flower in the center of each block. Additionally, I placed one on the intersection of each set of blocks.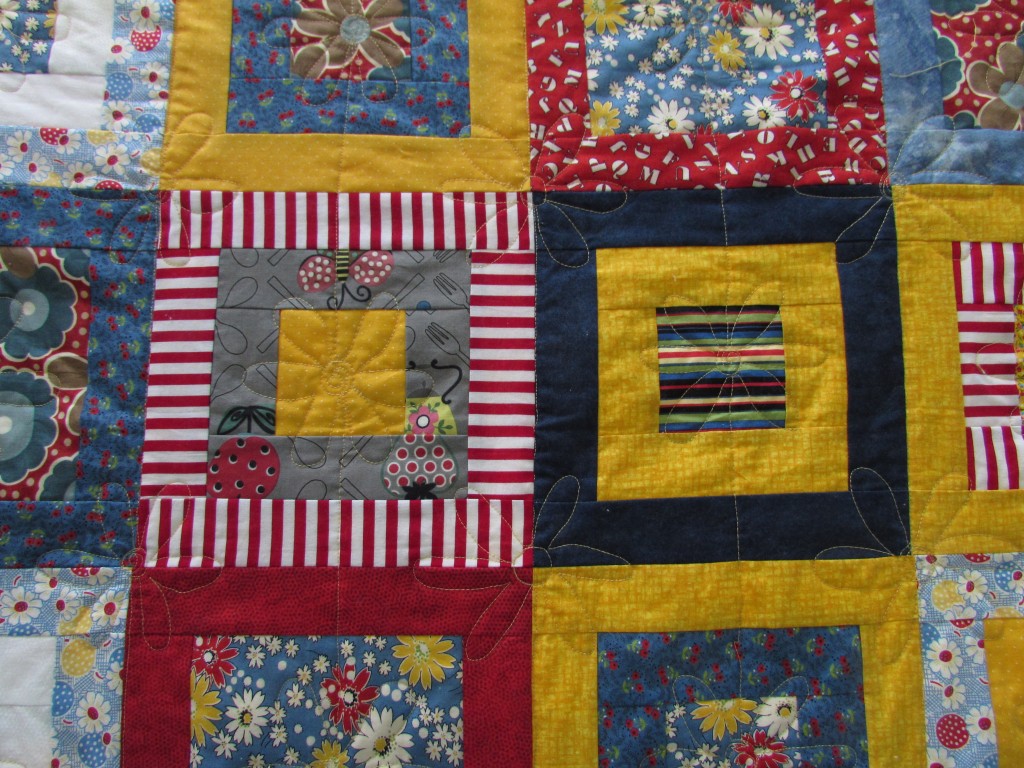 My machine was most uncooperative and I stitched about 1/4 of the quilt before I realized that my bobbin tension was way off and I had to unpick all of that quilting. Ugh. Not my favorite task. There really wasn't a choice though. On the bright side, the tension was so far off that the stitches were totally loose on the back side and came out easily.  These frustrations were resolved when I found the Magic Bobbin Genies that I recently posted about. The small washers helped a great deal. I have had these issues sporadically and I am hoping this resolution works out over the long haul.
I requilted (is that a word?) the first section and finished up the rest. I think it is very cute – though it looks much better on the front than the back. I pieced the backing as I was determined to used some stash up. I love the way the backing came together but backing a quilt in solids means that every FMQ wiggle is accentuated. That's ok. I am making progress with each project. For now, I am just going to look at the front side!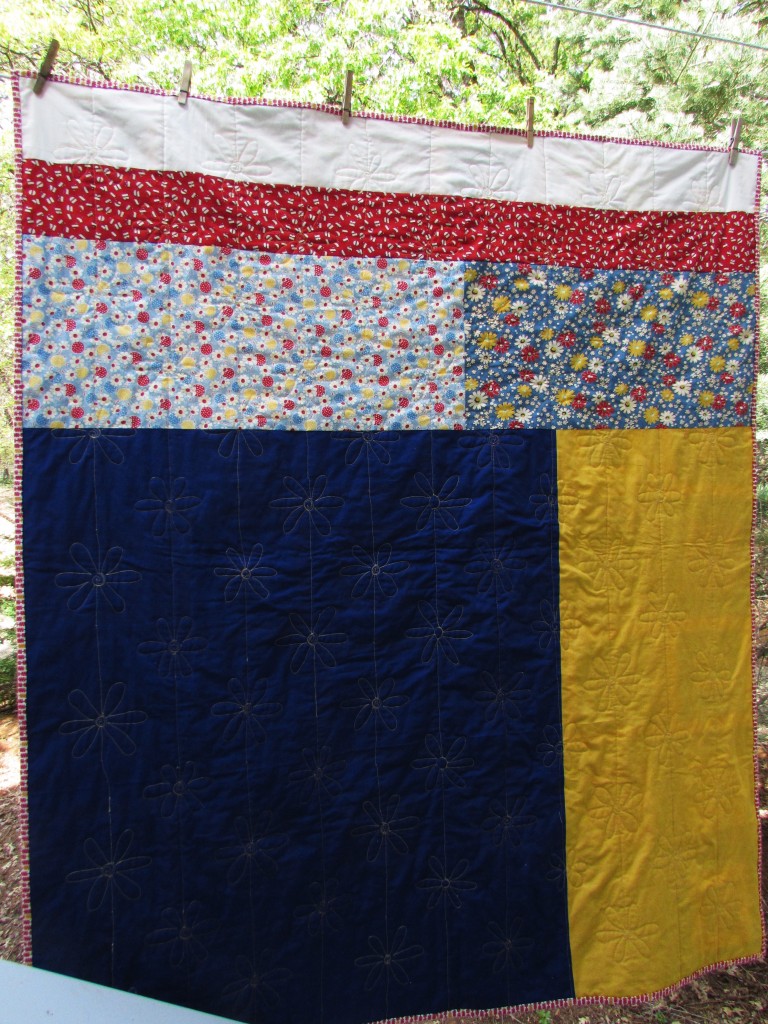 The colors are great, as is the motif I chose for quilting Square Dance. Finally, look at the binding. It is adorable. I found this red and yellow print on a sale table at Ben Franklin and it was a steal.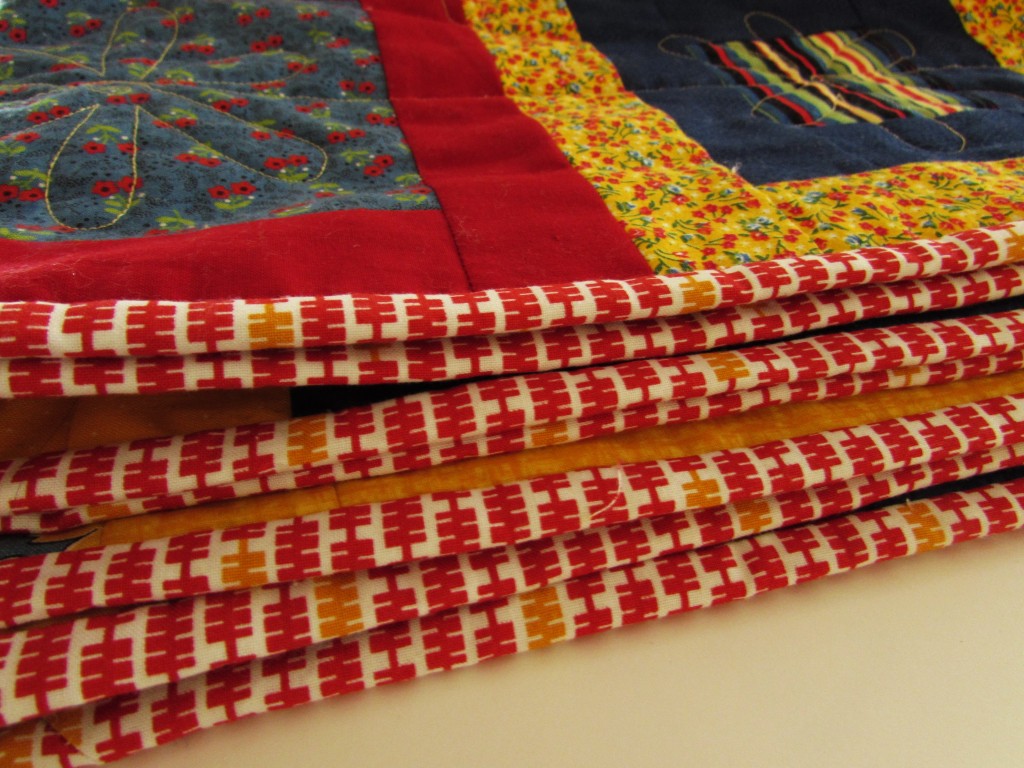 Tomorrow I will wash it and enjoy that cozy crinkle that the quilt will have once it is out of the dryer. Earlier this year, I signed up to participate in Hands 2 Help Charity Quilt Challenge organized by Sarah at Confessions of a Fabric Addict. When I signed up, I wasn't entirely sure what I would donate but I think this quilt will bring comfort to it's recipient.
Update:  I shipped this quilt off to Kat for her Covered in Love program and she let me know it had arrived. I hope it will be used by someone in the near future.
The timing of this finish is good as I am now in the process of piecing my black and white Stepping Stones quilt. There is black and white flying all over in my sewing room these days. The blocks are looking really good though. I am pretty excited about this one!
Linking to all sorts of sites. Check them out at the top of the page, under Link Ups!