I am currently working on lots of different projects. I don't normally do this but I am enjoying it. It allows me to enjoy bits of the process, depending on what I am in the mood for (piecing, trimming, stitching etc.)
I have been hand stitching the binding on my Square Dance quilt. I found a cute red and yellow print on a sale table that works well with this pallette. Picking this up in the evenings and stitching a bit is perfect. I brought it up to Downieville over the weekend for some hand sewing but only worked on it for a short while. I should have it finished up by the end of the week.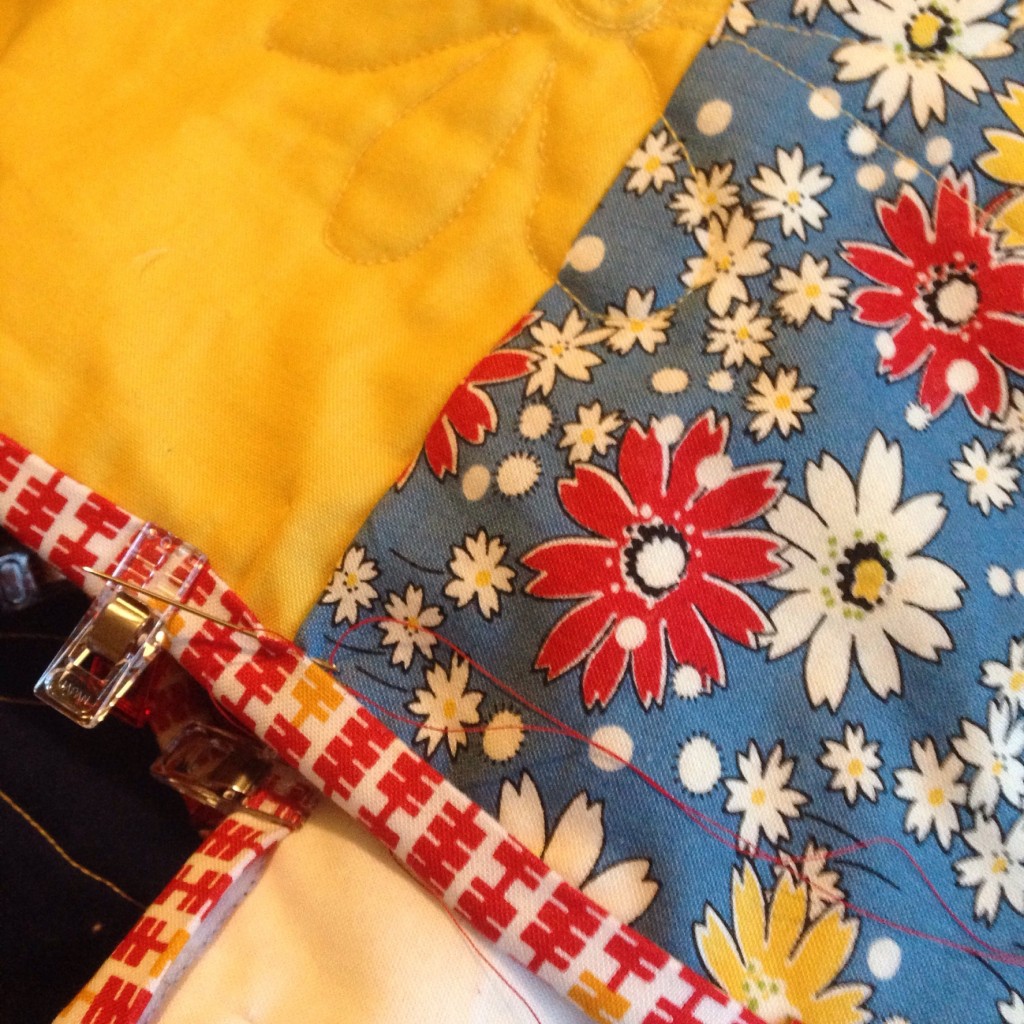 Knowing that we were going to be up at the house in DV, I made a little curtain. In our bedroom, there is a door leading to a tiny room which will someday be a sewing room. For now, it is where Ray keeps his tools and supplies for all of the work he is doing on the house. But someday…. it will be a perfect place to sew. This door has a window that I wanted to cover for privacy. The sewing room has windows that one can look through to the bedroom. I used a great piece of Tula Pink in gray and blue. I took the photo at a weird angle because the sun was coming through and when I took it straight on, the colors were way off.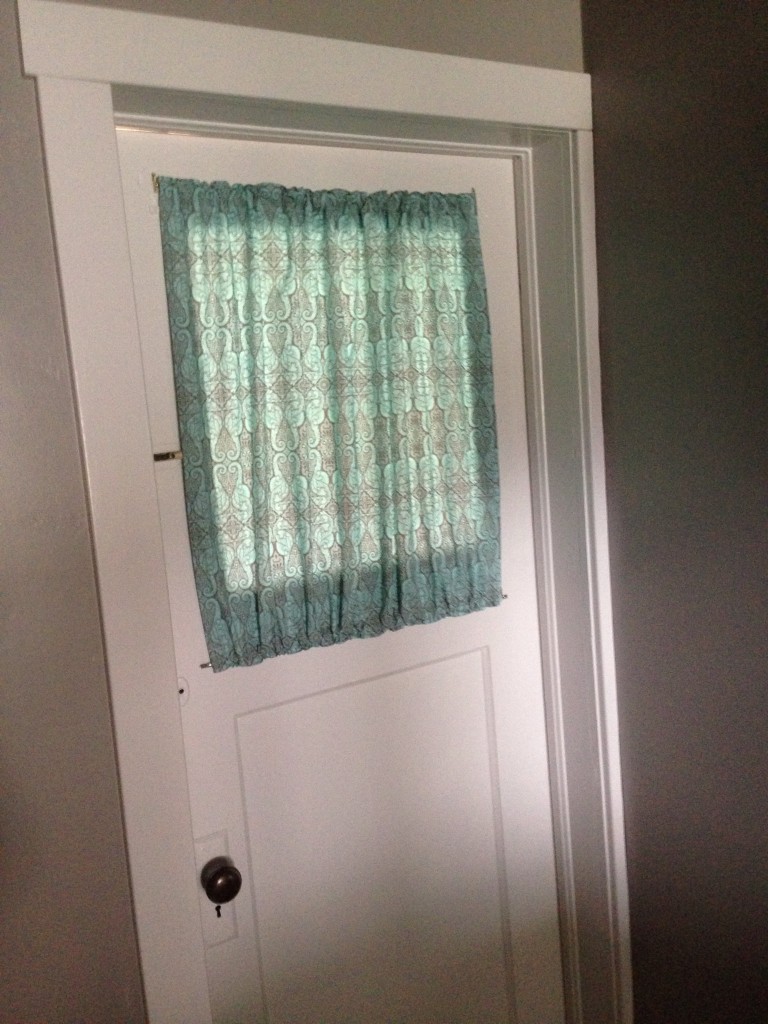 Now that April is here, there is a new color for RSC16, orange.  Not at all my favorite color, I was surprised to see how many scraps I had to work with. Last night I worked on "making" fabric (as discussed in "15 Minutes of Play" by Victoria Findlay Wolfe.) It is coming together well.  I had a patchwork block left over from RSC14's quilt so I unpicked some seams and used bits of patchwork for the new blocks.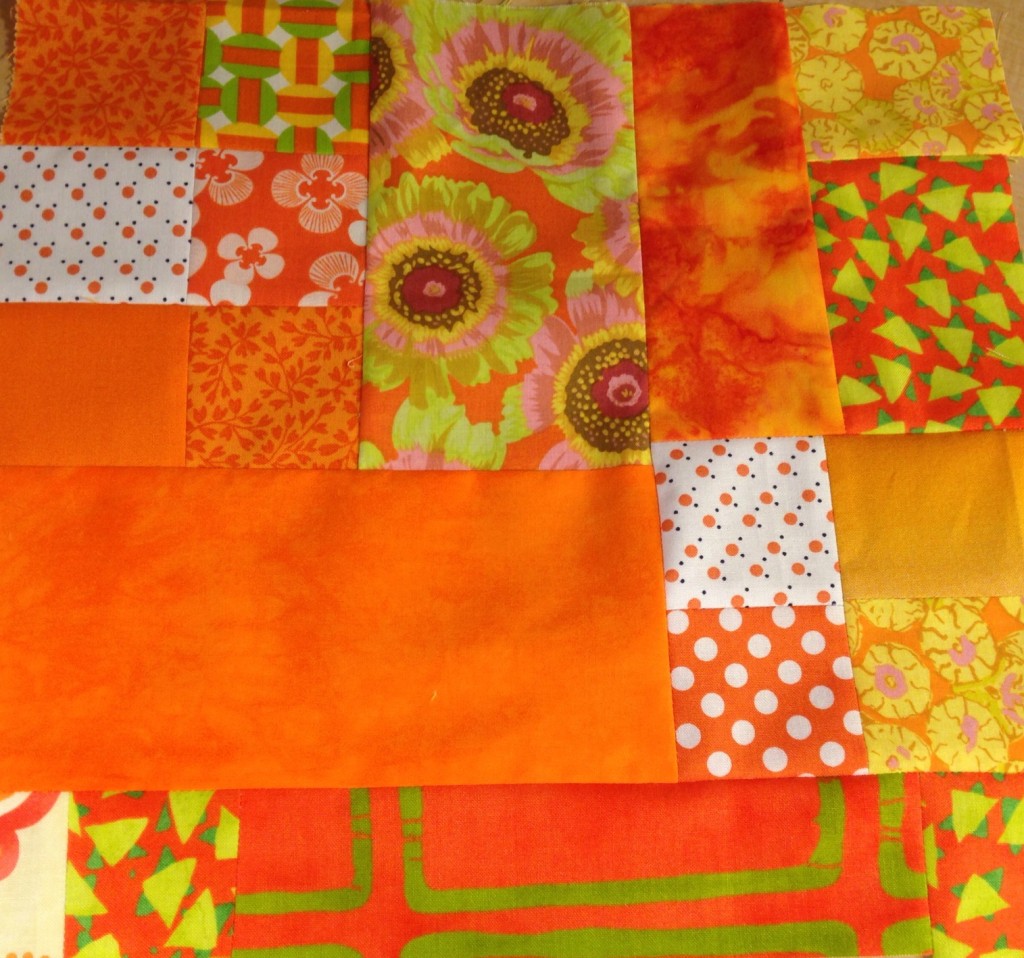 These colors will add a huge pop to my scrappy HST quilt. I won't use them for the Gemstones  quilt though. After a little back and forth with Cynthia Brunz, she suggested swapping out orange for a deeper rust (think of Topaz gems). I love this idea but don't have enough choices in my stash. I will pick up a few FQ's for this.
Finally, I made huge progress on the Stepping Stones QAL that I am doing with Jennifer over at Inquiring Quilter. Participating in the QAL has been the perfect way to keep me on task. After many years of working to a deadline (which is so common in the HR world) I am finding that having the deadline is really helpful to me. I have pieced the 143 HST's needed. I also cut some extra charms. After counting what I had, I came up slightly short. Take a look at these black and white FQ's that I picked up to supplement my charm squares with.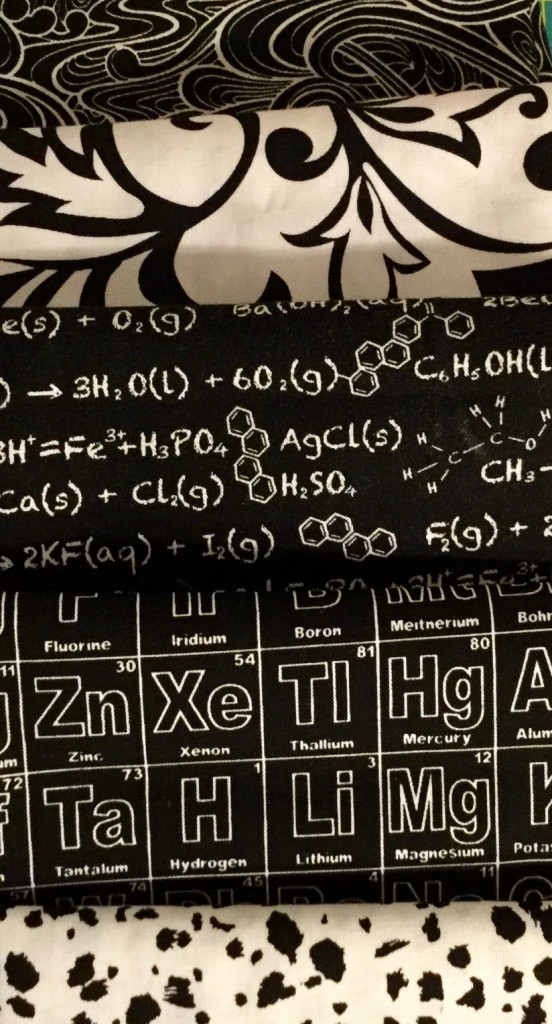 I love all of these! The fabric at the top is a Tula Pink which I found interesting – I don't think she uses black and white very often. It is gorgeous though.
Finally, I want to let you know that signups are open for the 2016 New Quilt Blogger session with Quilting Jetgirl, Late Night Quilter and Meadow Mist Designs. I participated in this activity last year. If you are relatively new to the quilt blogging world, I highly recommend participating. It was a valuable experience offering tips and techniques that taught me so much. Working with a large (we had about 70) group of bloggers, I became acquainted with many new bloggers. Opportunities were available which helped to push me to learn and grow (such as the block hops sponsored by Paint Brush Fabrics.) Be sure to check out the information at any of the three websites I have linked to and see what if this is right for you. If you have questions, leave them in the comments. Here are the criteria for participating in this event.
If you have been blogging mainly about modern quilting (modern quilting to you is modern quilting to us.),
for less than 2 years,
writing at least 4 posts a month,
are willing to agree to be actively involved in the blog hop through visiting and commenting on the other blogger's hop posts,
and have or are willing to open a Facebook account to participate in the group discussions.
**If you are interested, sign up here!
Hope you are all having a wonderful week. Springtime is certainly long in coming to the east coast but we are in full swing on the west. My lilacs are fully blooming. I tried to cut some for inside the house but the fragrance was powerful and I couldn't leave them. We were all sneezing after just a short while!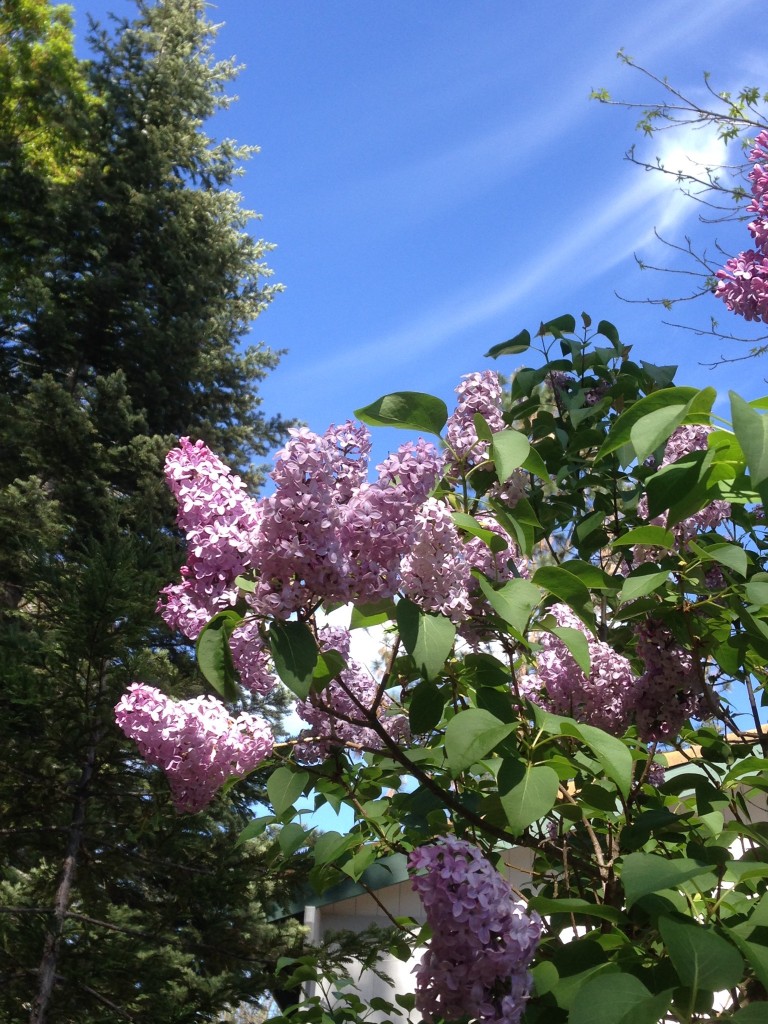 Linking to lots of fun places. Check out the links at the top of the page, under Link Ups.