It has been a long while since I have written a gratitude post but, this week life is all about gratitude, so it feels like the thing to do!
A little more than one week ago I posted that I would be away from my sewing room for a while. My mom was in cardiac ICU. She had experienced some odd symptoms and after navigating the maze that is our country's current insurance system, was finally scheduled for a stress test. They told her that she had a blockage in one artery and would need to have a stent placed. This didn't sound great but it was ok, she could deal with this. Two days later, she checked into the cardiac outpatient center at a hospital about an hour away. Once they got started, they said a stent wasn't enough, she would need a triple bypass. This was crazy because mom has been lucky to enjoy very good health. At 80 years old, she volunteers in so many capacities in our town, plays bridge, goes to the gym twice weekly, is in a book club, and the list goes on. We all had a hard time adjusting to the idea that her heart was in such bad shape. Once they got started on the bypass, they found they also had to replace her mitral valve. The day following surgery, Mom suffered a gastro-intestinal bleed and had to have a procedure to correct that. Two days later, the cardiac surgeon found she would need a pacemaker to regulate the heart beat. So, another procedure to place the pacemaker. It was horrible for mom.  She has always been a trouper though and she came through each of these events quite well.
Yesterday my sisters and father brought mom home after 13 days in the hospital. We are all filled with gratitude that she came through this series of events and is home again. We are also thankful for the amazing technology that made all of this possible. It is so amazing what  they can do! A balloon was inserted and ran up into Mom's heart assisting it until she could be scheduled for surgery.  When the valve was found to be non-functional, it was replaced with a bovine valve (I didn't know this was even a "thing" that was done. A valve from a cow?)  Next on the list of things we are grateful for are her ICU nurses. Wow! These people are so highly skilled and they took such good care of mom. She had so many IV's, tube, monitors, and different drugs to keep in balance; it was a huge process. But for the first couple of days she had one-to-one nursing and throughout, she received excellent care. They took care of our family as well. Answering our endless questions (some of them more than once, I am sure.) Reassuring us that whatever was happening was normal or would pass soon. Truly amazing. While we were at the hospital our family was in constant communication. My sisters and I would text updates and questions. I was texting with my own children, giving them Grammy updates. I had a list of a few of mom's friends who wanted daily updates as well.  So I suppose I am grateful for the technology that allowed all of us to be in constant communication during a very stressful time. It was such a weird time. If I was at the hospital, I felt better about being able to see mom and observe all that was going on.  The days that I wasn't there I felt restless and sort of agitated. It was hard to get anything done. The communication with whichever sister was at the hospital at the time was really helpful. I know my sisters felt the same. So, yes, we are grateful to Apple and Verizon both!  😉
So……surprises are the best, aren't they?  Well, in the midst of all of this misery that our family was dealing with, I received the sweetest, most unexpected, surprise in the mail. It came on a day when I was really tired and just so unhappy. I stopped by to pick up the mail (we have rural mailboxes and they are about 1/2 mile from the house) on my way home from the hospital. Inside was a package from Janine. Janine is an amazing quilter who writes a sweet quilty blog over at Quilts From the Little House.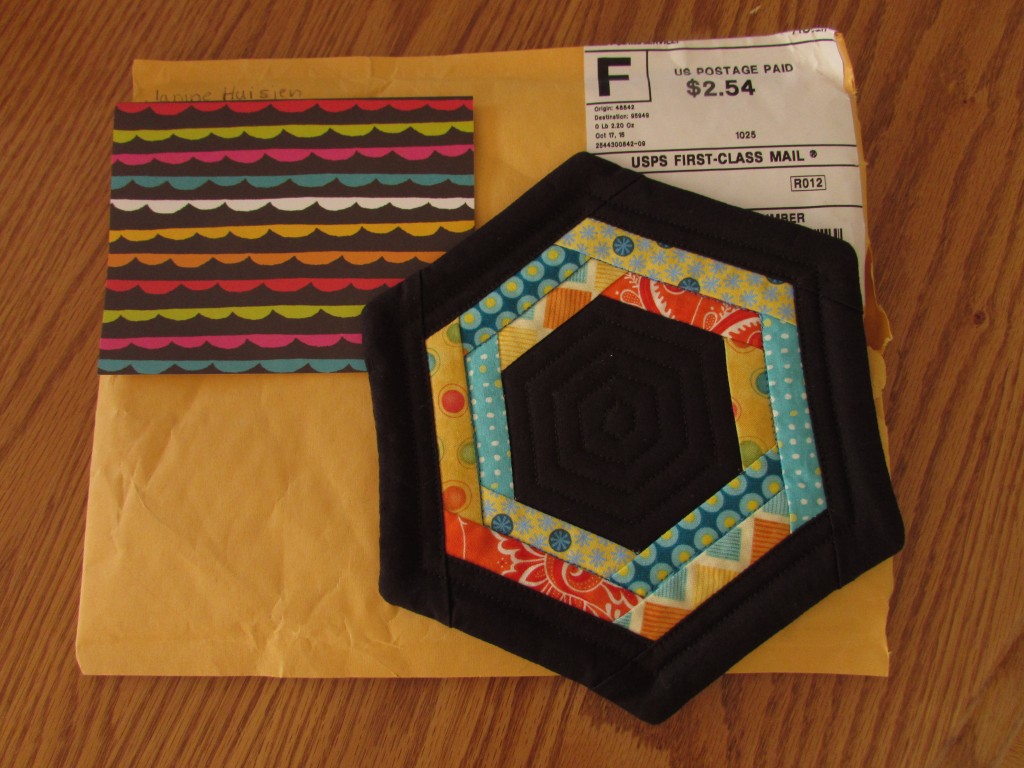 I knew what it was when I saw the package. She had recently posted about making some mug rugs for gifts. I certainly didn't think one was going to be sent to me though.  I sat in the car and opened it up and cried some more (lots of crying over the past couple of weeks!) Her note was so sweet and the stitching on the tiny quilt so perfect. It really touched me.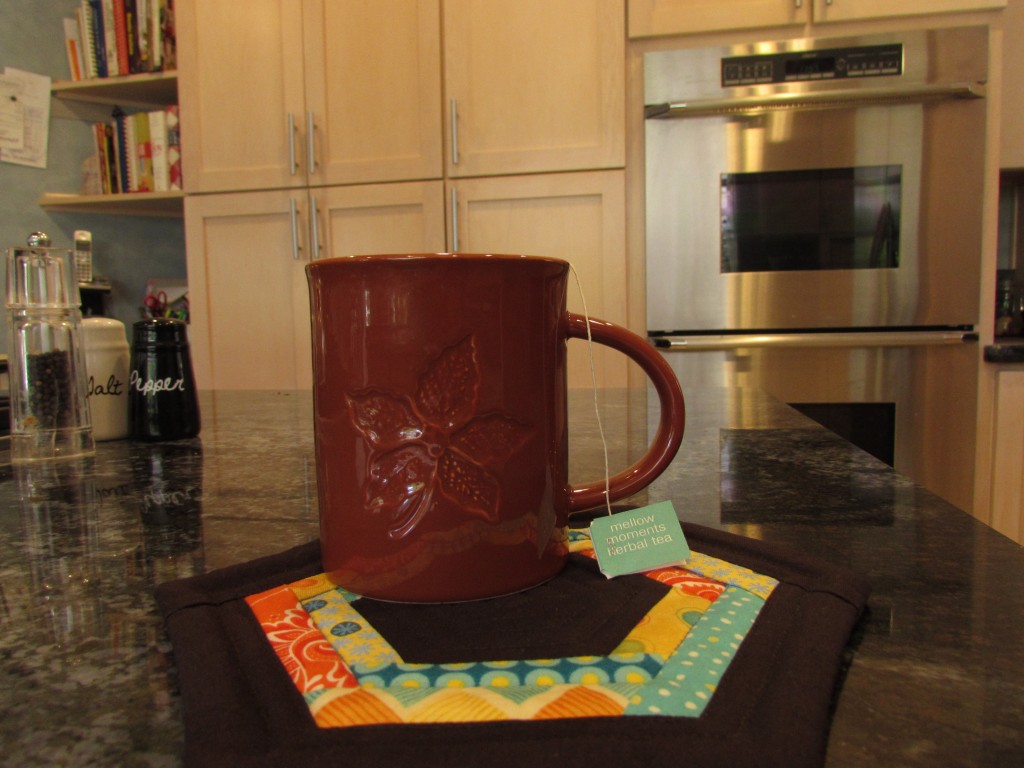 I have been using it over the past couple of days and I tear up each time. It reminds me how lucky I am to have found this community of kindness. I have enjoyed exchanging emails with Janine ever since we found each other's blogs over a year ago.
Maybe I will put it up on my wall with my other mini's. Then I will see it whenever I am sitting at my machine.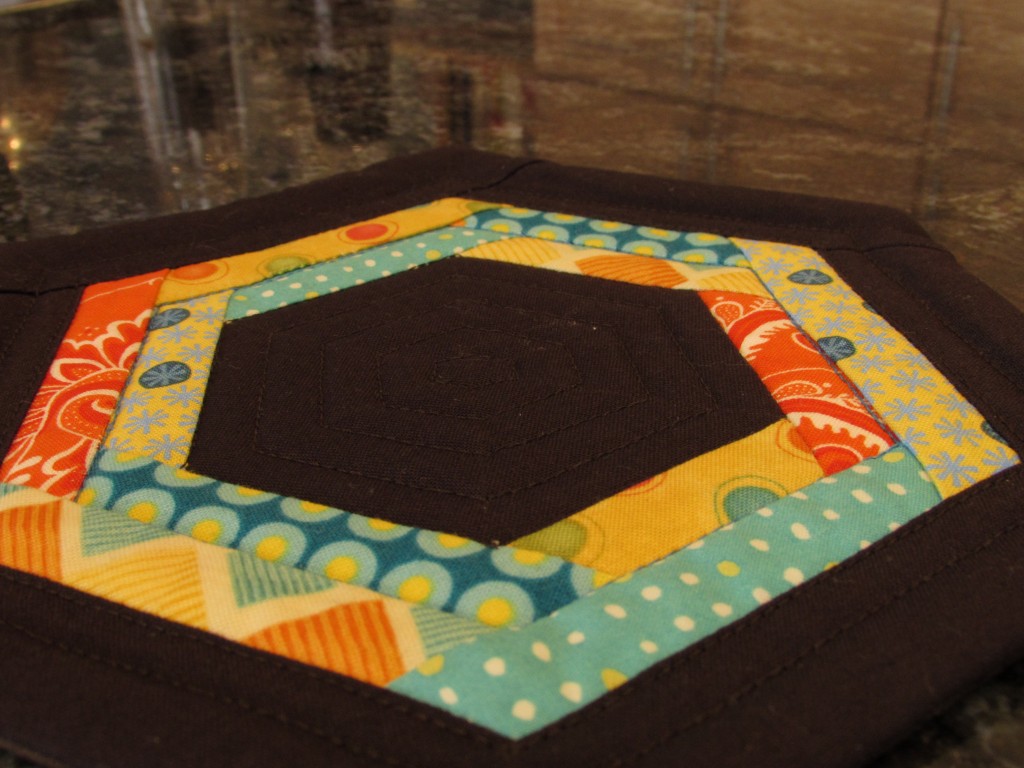 Thank you Janine! I so appreciate your kindness.
Linking to Let's Bee Social.