I want to give a couple of updates on past posts. They are both heartwarming to say the least! Here goes:
Remember the post about the yellow and gray elephant quilt that I made for a friend several months ago? To recap, my daughter-in-law's brother and his wife had been trying to have a baby for a very long while. After many miscarriages, they finally decided to take an alternate route and use a surrogacy firm. This firm is located in India and it was a huge undertaking but it speaks to their determination to have a child. You might want to read more about it on my blog, here, or on Margot's blog, Find Your Spark. (I have given you the link to her home page, rather than a specific post. There are many posts on the process as she went through it and it is a wonderful read.)
Here is the latest! Margot and TJ's daughter, Emmerson Kate, was born in September! It is hard to believe that she is already one month old. This baby is such a miracle. Margot and TJ traveled to India about a week before Emmerson was born so they were there for the birth of their baby. That was such an exciting day. Pictures were being texted from India to the East Coast and then to the West Coast. The first pictures of Margot holding Emmerson brought tears to my eyes.  It took a few weeks to process the paperwork and get Emmerson's passport but as soon as that was completed, they were able to fly back to the States and settle into their new life as a family of three.  Margot sent me a few pictures of Emmerson with the quilt I sent her.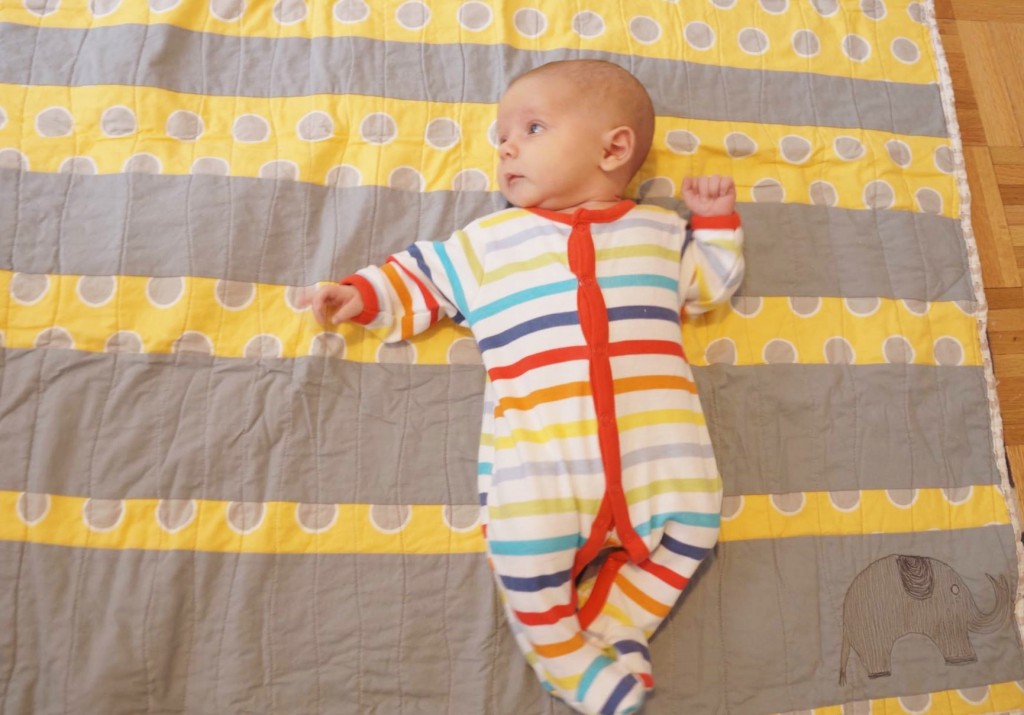 She is just adorable. Here she is on the back side of the quilt.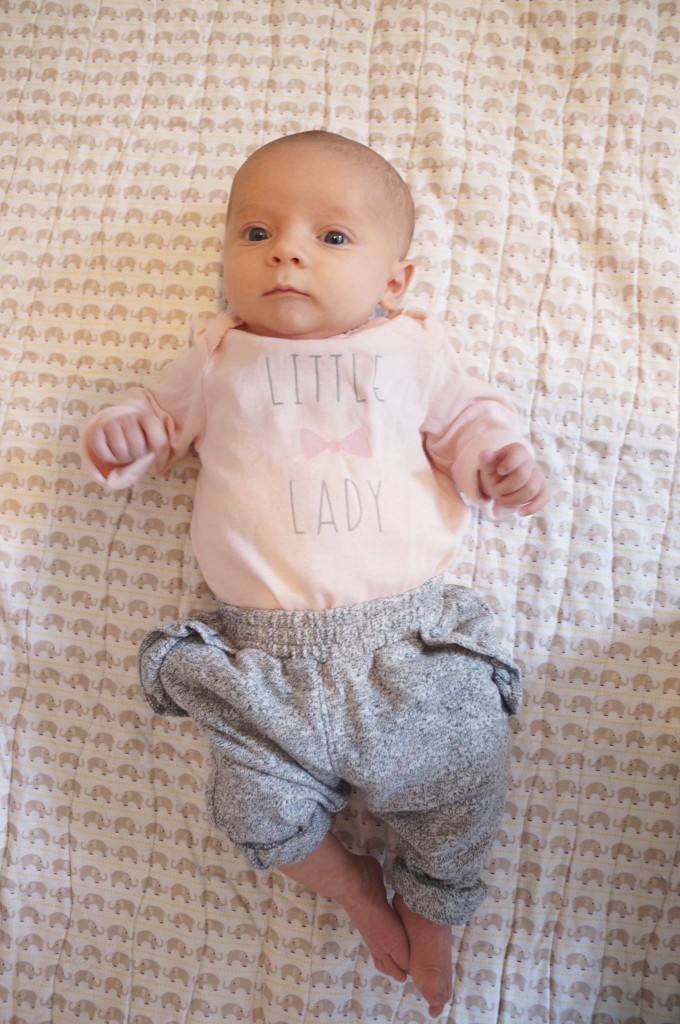 She is such a sweet girl. I wish this family joy and happiness. Margot continually says that she is blessed to have Emmerson. That is certainly true.  It is also true that Emmerson is so blessed to have such wonderful parents in Margot and TJ.
Update number two is about the Ashes to Beauty project.  At the end of September I wrote a post about a project to help the quilters in Northern California who had lost their homes and belongings in the Butte Fire. I put out a call for quilters to make pastel colored, 10″ blocks with a heart appliqued on each one. It was wonderful to see the number of readers who made blocks and/or put the word out to others. One reader posted it on a Facebook page for a quilt guild in Ohio and they responded with blocks. A few days ago I received an email update on the project. Here is what Kerri (the project coordinator)had to say:
THANK YOU to everyone who made Ashes To Beauty heart blocks.  We stopped counting at 500 and there are still many more.  We have more than enough to make 9 quilts for ladies who lost everything in the fire.
We received blocks from all over the country and as far away as New York, Ontario, Canada, and Hawaii.  Needless to say I am overwhelmed at your generosity, kind words for me and the ladies who will receive the quilts and 
the obvious love and care that went into your blocks.  Also for generous cash donations for battings and backings and supplies, etc.  One gal who was evacuated but her home did not burn made lovely labels for each quilt. 
Again- THANK YOU so much.  God does truly console the hurting and turns ashes into beauty and many times uses us to accomplish it.   We have begun sewing the blocks together and they
are wonderful.
I'll take some photos and send them along later.
I think it is just awesome that they received so many blocks! Thank you to all that participated and sent in blocks or told others about the project!  If I receive pictures of the quilts, I will post them later on.
Finally, last but certainly not least, thank you all for the prayers and good wishes you offered up for my mom. She is really doing well. It seems like she gets a bit stronger each day. We are all so happy to see her up and walking (still with the support of a walker). She is now doing the work of healing and resting and going to myriad post-op doctor visits. My sisters and I are taking turns staying up at Mom and Dad's to help with errands, cooking, etc. In a strange way, this is sort of the silver lining for me. We don't all get together very often, but with everyone coming and going to help out at mom's, I get to see one, if not two, of my sisters each week. (Mom and I live about 15 miles apart.) I think I need to convince my mom to keep this visiting daughter/nurse thing going on as long as possible! 😉
Well, it is the end of October and I have done little to no quilting. Clearly I didn't complete my ALYOF goal for this month! I had hoped to sandwich and quilt the Kaffe Fassett jelly roll quilt I made. But it is still hanging in the closet, untouched.  I had also planned to complete the brown row of blocks for my Classic Stitches BOM quilt. I have completed only two of those little blocks so far. But it feels like life is calming down now and I think I will be getting back into the routine soon. So what have you accomplished this month?? I would love to hear.