This week marks the first of four weeks that will be spent introducing a number of wonderful quilt blogs!  In earlier posts, I mentioned that I am taking part in the 2015 New Quilt  Bloggers Blog Hop. There are about 70 of us in the group and for the past several weeks we have been working together to learn more about blogging and to help each other to improve our blogs. If you have come to Needle and Foot for the first time, via the Blog Hop, welcome!!
First, a bit of background.
I am one lucky person. Married to an amazing guy and mom to four kiddos, I live in the Sierra Foothills in Northern California. We have a bit more than three acres which allows us space for a large vegetable garden (which we couldn't plant this year due to the wretched drought in California) as well as a coop for six hens. Three of my kids (the boys) are adults and are off living all over the country. My daughter is still at home and will enter high school in the fall.
I have been sewing for over 40 years now (which looks so strange when I see it in print!!) Growing up I sewed many of my clothes and when I became a mom, I sewed clothes for my kids. I started quilting when I was 17. I made three quilts over the next three years and then didn't make another one until 2012. (If you want to read about the first quilt I made, here is a post.) When I retired from a career in Human Resources in 2012, I suddenly had time to devote to sewing again.The quilting bug (obssession, passion, craze, addiction – call it what you will) bit me hard and I have made a number of quilts over the past few years. If I were to try to describe my style, I would say that while I enjoy almost any type of quilt, I have a propensity to the modern. I love large blocky patterns – I don't often make a very fussy block. I have always quilted all of my own pieces. It feels right to me that I make my quilt from start to finish. (I have only quilted one queen size and one full size piece, usually I make lap size or mini's.) I use either straight line or free motion quilting depending on the project. My FMQ is absolutely a work in progress – it is challenging and requires tons of practice. With each project it improves a bit more.
This is my sewing space. Totally as it is – no cleaning or organizing before pictures! I sew on a Janome 6500P and also have an older Janome that is a little workhorse. I love them both.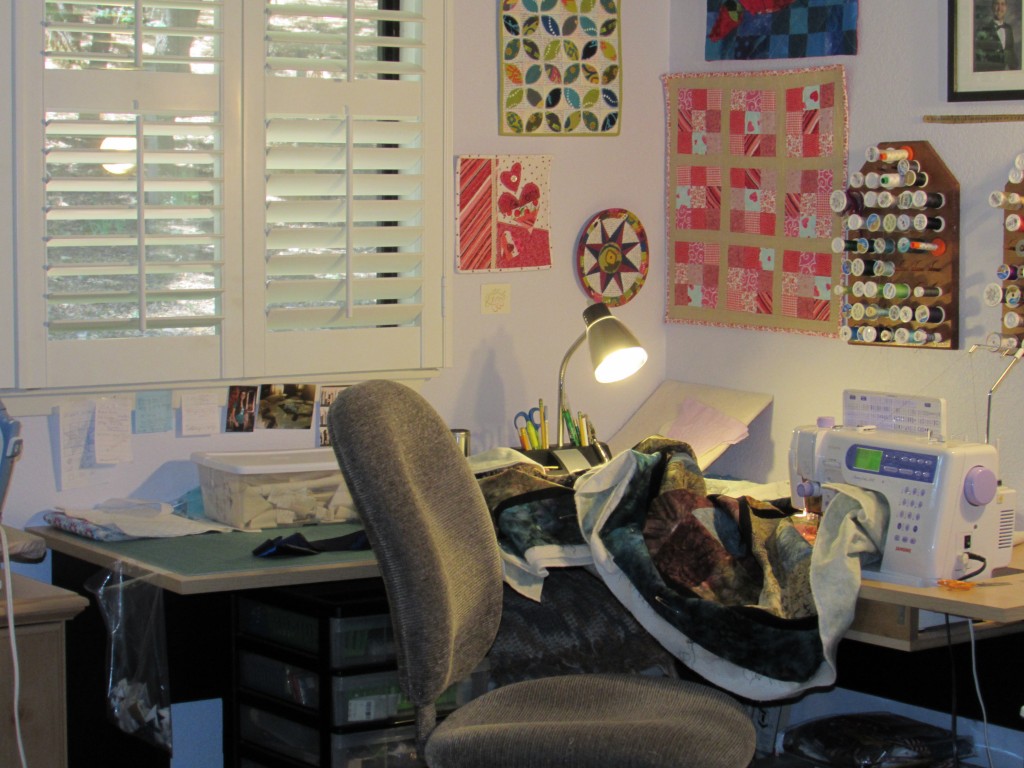 Here are a few of my favorite projects:
This lap size quilt was made for my amazing daughter-in-law for her birthday. I love the pattern and it was one of the first times I used solids for the bulk of a project.
The quilt below was made for my daughter. I love it because it is the first time I took on a large FMQ project. I had no idea what I was getting into and quilted this without knowing I had to drop the feed dogs for FMQ – I fought the quilt and the machine the entire time. I remember thinking this is so dang hard, why would anyone want to do this for pleasure. See all of that pebbling and all of those spirals? No free motion there, just an amazing amount of tugging and moving. It was nuts.  I've learned a bit since then!
This final quilt was made for my sister. I love simple patchwork quilts! This is a lap size quilt with a huge heart pieced into the lower right corner. I love the texture of the matchstick quilting on the heart.
Though my quilting projects are often leaning toward modern, I have an unstoppable passion for anything vintage. I especially like two eras. I love the fabrics from the 1930's through 1950's. I recently acquired quite a collection and you can find more information on that here and here. In addition, I collect vintage linens, usually from the 1970's. There is quite the stash of these in my sewing room now. I have lots of fat quarters listed in my Etsy shop if you are interested in vintage sheets. There is also a smallish collection of vintage patterns listed in the shop.
Here is a simple blogging tip for you:  Take your time with each post! Last June when I started this blog, I was learning as fast as I could by reading other blogs and trying to figure out what worked best for me. Over the year, I learned so much. Something that really helps the quality of  my writing is to write ahead of time. As much as my schedule allows me, I try to sketch out a post and then come back to it in a day or so. When I come back and edit the post I will invariably find typos or phrasing that isn't as clean as I would like. It helps hugely to look at the post multiple times. I don't mean spending hours pouring over it. Rather, I write it, save it and read through it at another time. If I write in a hurry and publish, there will be errors. If I can let it sit for a day and come back to it, I will usually catch a few typos. Also, I can improve phrasing or move pictures around that don't look just right. That second reading improves the post almost every time.
Finally, three fascinating and compelling facts about me that you are probably dying to know.
1. My favorite vacation I have taken was my honeymoon in 1998. We went to St. John in the US Virgin Islands. It was breathtakingly gorgeous.
2. My husband and I dated all of six weeks before he proposed. We were married five months later. While I do not recommend this as common practice, we were lucky and are happily married 17 years now. To  my children, when they bring this up (usually to give me a hard time about it), I always say, "do as I say, not as I do!" (Which happens to be excellent parenting advice!)
3. I am lucky enough to be the fourth daughter in a family of six girls. My sisters are my dearest friends and you can read about them here, here and here.
Thanks so much for stopping by. If you want to follow me it is easy – you can enter your email address at the top of the page or click on the Bloglovin button (with the plus sign in the middle) and add me to your feed. This blog hop is a wonderful opportunity to meet a host of new bloggers. In the hop with me this week are three other terrific quilt bloggers. Hop on over and check them out!