I have been spending more time practicing my free motion quilting skills. I really want to be more competent with the FMQ part of the quilting process and the only way to get there is what? Practice, practice, practice. It is tough because the time I can spend quilting, like most people, is limited by regular life. When I spend time practicing my FMQ, I am not making!!  It doesn't feel as productive as piecing, binding, FINISHING something. Possibly I am a bit too goal oriented at times, you think? At the beginning of the year, I set a goal to focus more on the process, rather than rushing to the finish. This is a great exercise in being more process focused.
Last week I was working from Christina Cameli's book and practicing filler patterns. This week I decided to find a larger motif and then use filler around it. I grabbed some solid green fabric that I had thrifted a while back, some batting and plain muslin for the backing. Making a sandwich and pinning it together, I tried to think of what I wanted to quilt on it. I turned to Pinterest, the source of so many ideas. I came across a sunflower that looked pretty, and more importantly, like something I could accomplish. The inspiration came from Amy at Freemotion Quilting Adventures. This site is a wonderful collection of all sorts of helpful information for those learning to FMQ, as well as those that are just expanding their skills.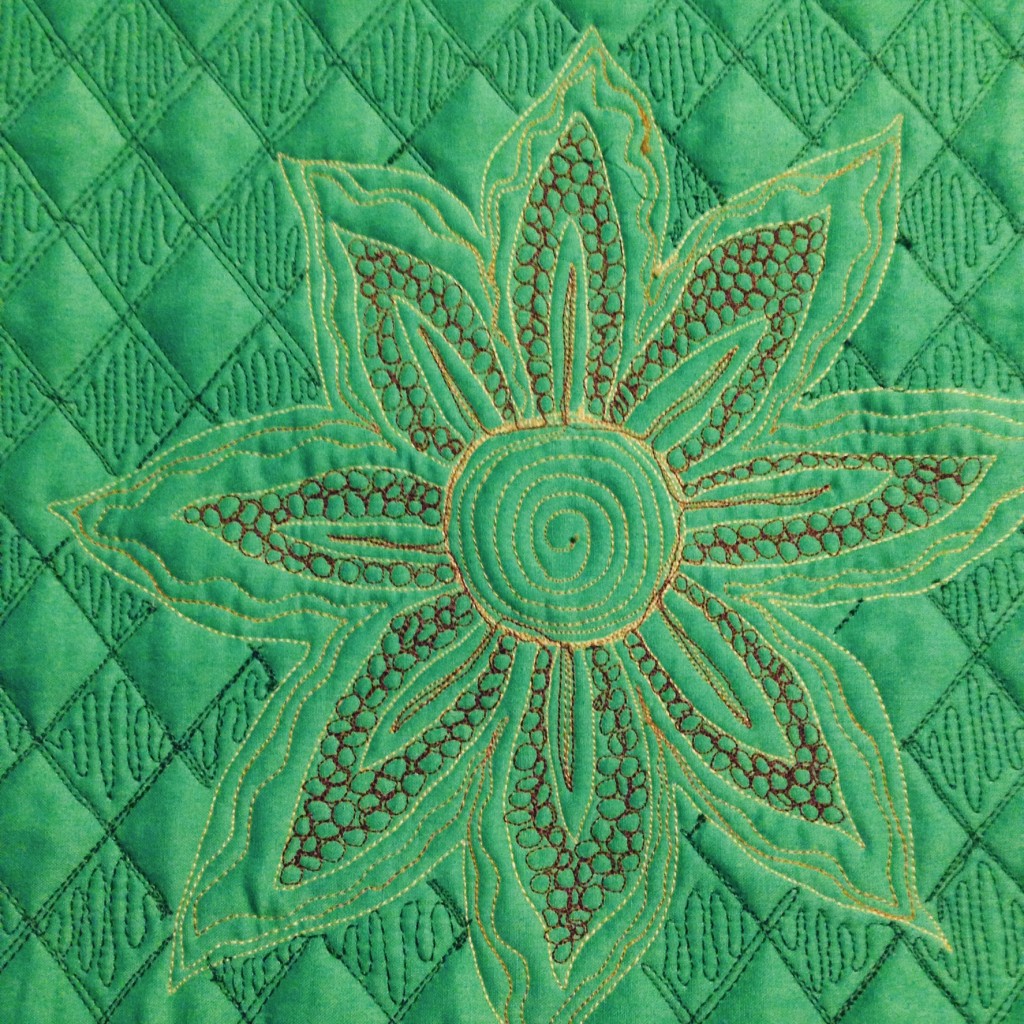 I did the flower first and then started looking for a background filler. A great source for ideas is Lori Kennedy's site, The Inbox Jaunt. She is an amazingly prolific quilter and is very generous in sharing tutorials and patterns for different fillers as well as motifs. I saw her tutorial on the grid pop motif and decided that would be a fun one to try. I drew diagonal lines and double stitched each line. To gain the pop effect, every other line of diamonds is filled in. The effect is great!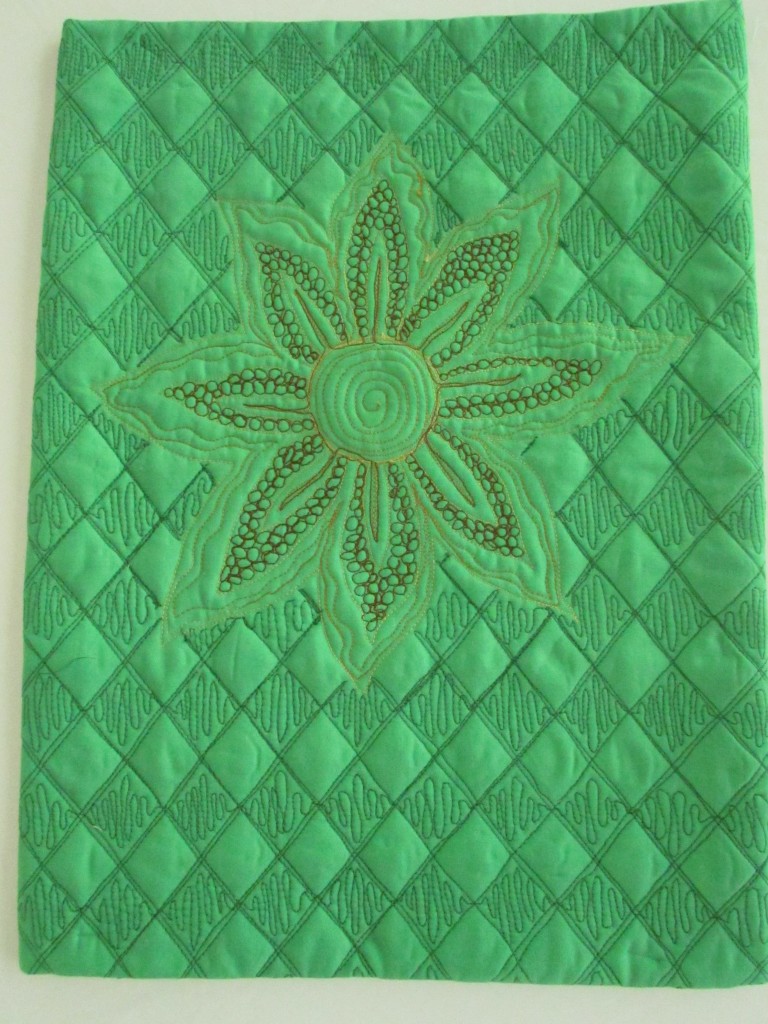 For this project, I made a conscious decision not to worry about perfection. My tension was making me crazy and after doing the usual, re-threading, cleaning out the bobbin space, rewinding the bobbin, I let it go. This isn't a gift, it isn't for sale, it is practice. I want more time quilting and it doesn't have to be perfect. It is more about gaining that muscle memory to make it that much easier the next time.
Looking at the back of the piece, you can see the tension issues.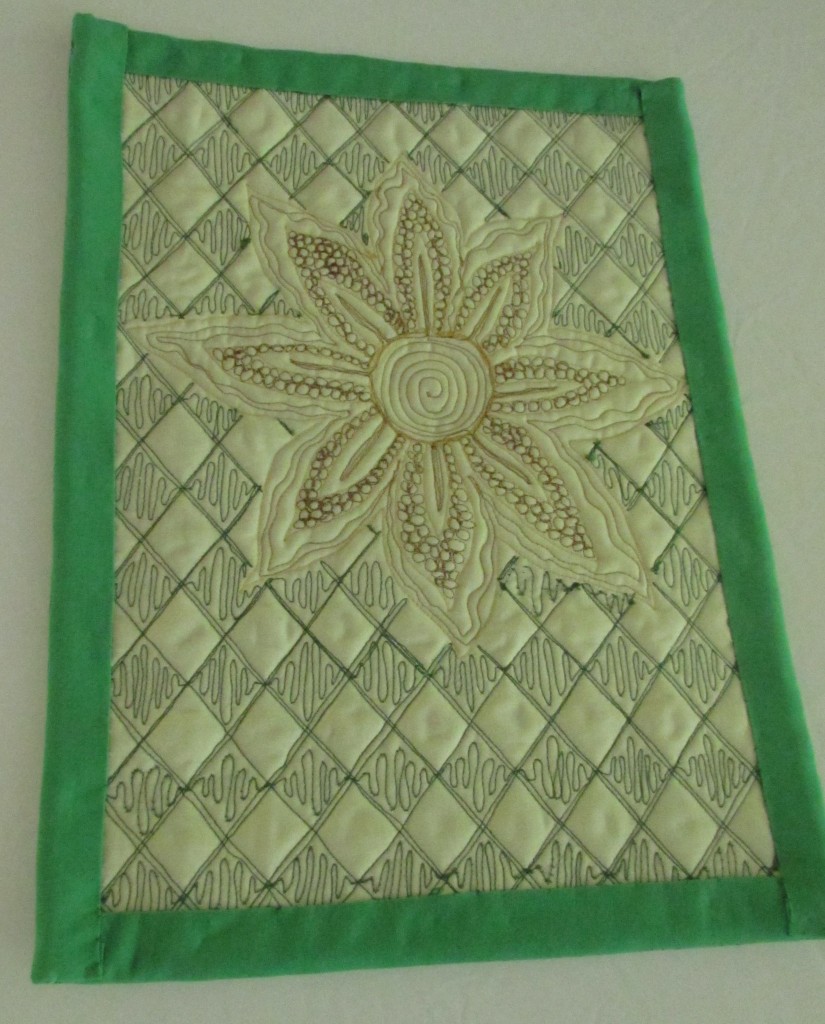 Overall, I love the end result. I even faced it so that I can use it. Currently I have it sitting on my hutch and the sunflower and popping grid make me smile. It is a good sense of accomplishment. I am already looking at ideas for this week's practice session! Hope everyone has a wonderful week.
Linking to Monday Makers, Freemotion by the River and later this week, will link to Freemotion Mavericks.