It was a great weekend! I hope everyone was able to celebrate Mother's Day in some fashion! I wanted to share a couple of things. One is that I drew the lucky winner for the Sew Mama Sew giveway that Needle and Foot participated in. I had so many wonderful comments to read through and the lucky winner (by random drawing) is number 80!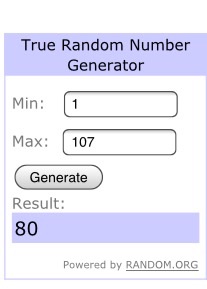 Peggy wrote that a favorite memory of her mom was  "Seeing the excitement on my mom's face when she was getting ready to go for a long awaited visit to her family in VA. and seeing the photos/video of her visit afterwards."
When I set up this giveway, I asked readers to share a memory about their mom, being a mom, or really anything to do with motherhood. I knew I was drawing the winner on Mother's Day so it was perfect to honor mom's everywhere.  Wow, what a great response! I loved all of the comments and thought I would share a few with you. Really touching to read these. Hope you enjoy them.
From Judy: As a kid I always wanted 12 children. My mom told me I should marry a farmer if that were the case. Well, I didn't marry a farmer but managed to collect 12 children through the years. By the way I was an only child. You always want what you don't have.
From Gene: My favorite memory of mom comes from a very scary time in our lives. My mom was very sick with pancreatitis and had been in a coma for over a month. She was in an ICU unit and we could only visit for brief periods each day. One day we walked in and were met by her nurse – a guy with a BIG smile – who said " I have a surprise for you today" He pulled back the curtain around the bed and Mom was awake. She smiled so sweetly at us. Although it was still a long recovery, MOM was back with us and hope was restored. Years later, Mom is still with me and her sweet smile makes my heart sing.
From Kathy: I lived for a time in Seoul, South Korea. My Mom came to visit me, but had not told me she quit dyeing her hair. What a shock to see her so gray! I never thought of my parents as getting older until then. Mothers and fathers should always be here. I just visited her grave for the first time on Sunday (600 miles away). I talked to her and Dad. I miss them so much and can't believe it's been 5 and 7 years. I still find myself thinking that I have to tell her this or that and start to reach for the phone.
From Diana: One of my favorite memories of my mom is her helping me fix up my first home – painting the kitchen and planting 2 lilac bushes in the back yard. Lilacs were both our favorite.
From Betsy: The best part is seeing my babies in my grandchildren. It's like a second chance at seeing a loved child grow
From Linda: I am a coffeeholic! My son learned at a VERY young age (3-4) that the way to mommy's heart was through coffee and chocolate…so he did both. One morning he used my one cup coffeemaker to make me a cup of coffee. He used THREE SCOOPS of coffee in my one cup maker. Yes, it was MUD. To make it flavored he melted an entire Hershey Bar into the coffee. He brought it up to my bedroom and put it under my nose next to the edge of the bed to wake me up. The best part of waking up…my kid. YES, I drank it….chocolate covered grounds and all.
From Doris: My favorite memory of my mom is when she would bring me lilacs from her yard. My mom passed on Mother's Day several years ago.
From Karen: My mom loved to sing! She has Alzheimer's now, but when I am with her, I put on a little Perry Como or Ansy Williams and watch her eyes light up as she sings along.
From Melissa: My mom passed away five years ago. I really miss her especially when I'm sewing because she taught me how to sew . When I miss her the most I create a quilt and give it to the nursing home where she spent her last days .
From Ramona: I have so many wonderful memories of my mom. Unfortunately, this is my first mother's day without her and I am trying to think of all the fun memories. She loved to sew, knit and create! She passed that love down to me and taught me how to sew which we shared. I will be bringing her 1950's Singer machine home with me this summer. I learned to sew on this machine so it will be a treasure.
Thank to everyone that left a comment. There are many more memories that were shared. Too many to include here. If you would like to read more of them, check out the comments section on this post.