I am sitting here in the kitchen listening to it pour rain. Living in parched California, this is really a wonderful sound. As we were enjoying the downpour my cell phone and my husband's cell phone start beeping with one of those emergency alert sounds. Apparently it is coming down so hard that the Weather Service is posting flash flood warnings!  It's ok, we need it so desperately.  There is actually one tiny town in Central California, called Porterville, where many of the residential wells have dried up.  Truly and completely dried up. The residents of that town are buying their water and taking sponge baths. The city officials actually brought in portable showers so the 600+ residents with dry wells could have a hot shower (the rule is to bring your own towel and soap.) Clearly it is no exaggeration that we are experiencing a drought.  The fact that my rain gauge shows 2.43 inches of rain in the last 24 hours is wonderful!
Today I gave the first Christmas gift of the season! How fun it is to gift a quilt to someone – I love the feeling of making it for someone special and knowing they are touched when they receive it. I made a 1600 quilt top (jelly roll quilt) back in October. You can read about it here. Using Moda's "Merriment" line, it turned out to be lovely shades of deep red and pine green with lots of creamy colors thrown in for good measure. It is technically a holiday print but really it isn't that "Christmasy" so I think it can be used throughout the winter months.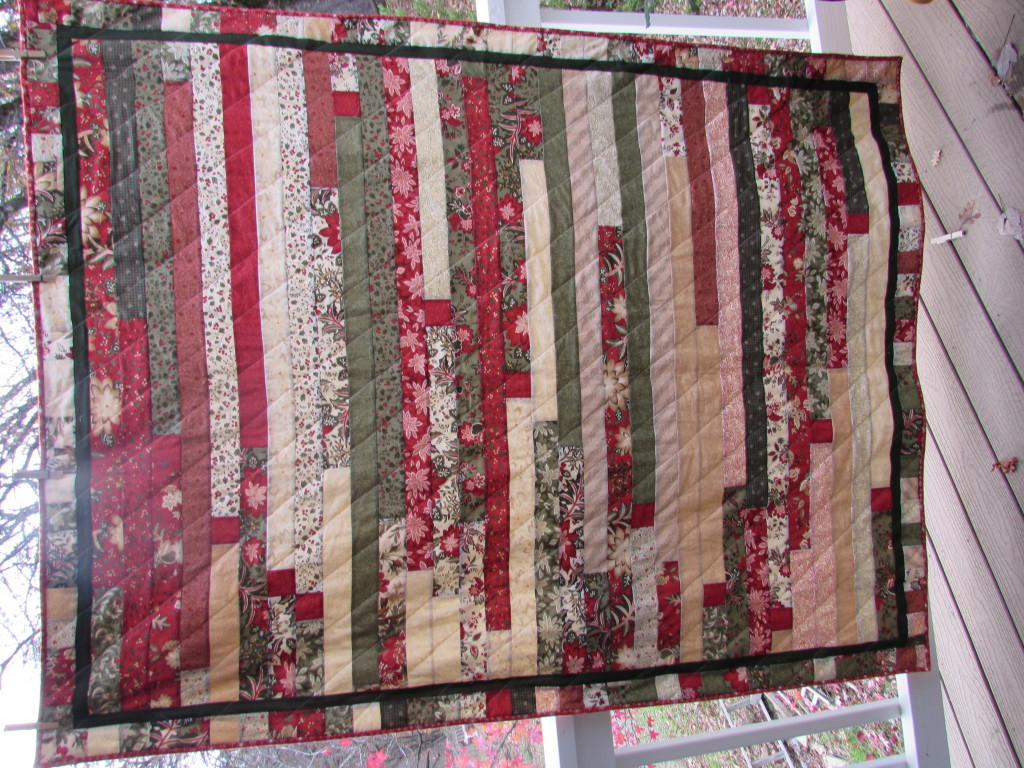 I cut off enough of the edge of the original quilt top to be able to create a pieced border around the edges. I put a narrow strip of pine green between the main section and the border.  Using diagonal, straight line quilting made this project a breeze to quilt.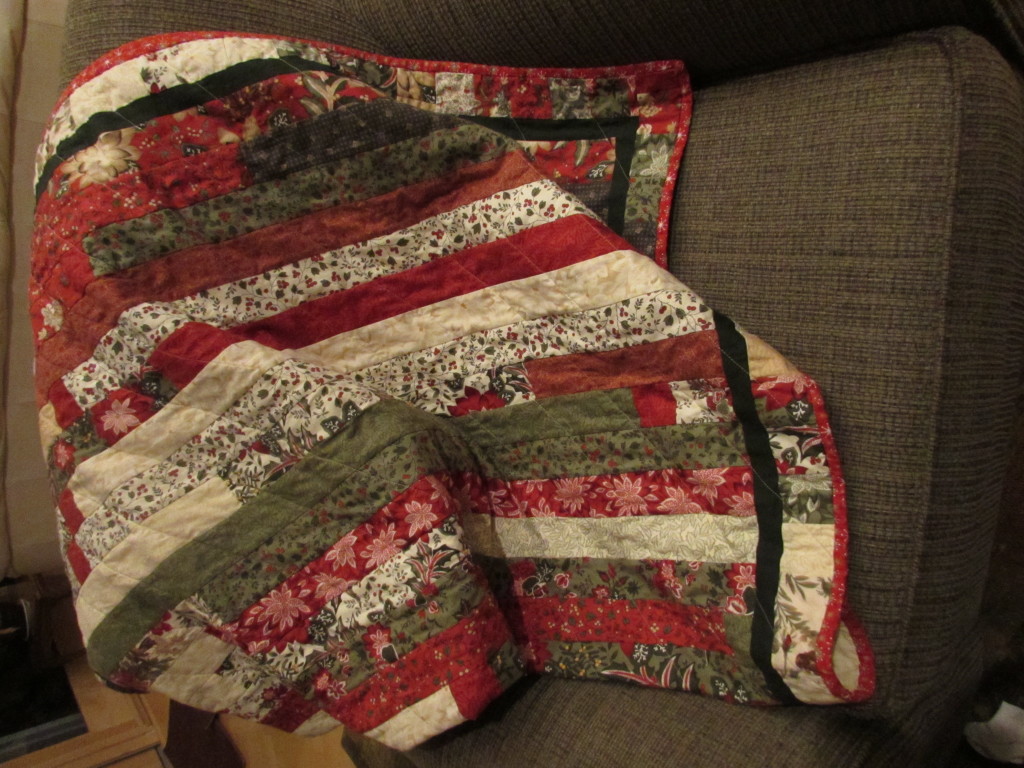 The backing is a simple creamy tone on tone fabric. It looks pretty with the red binding. (I forgot to take a picture of the backing though, oops!)
The most fun was bringing it over to its new owners, my Mom and Dad. Merry Christmas – I thought I would give it to them now since they were just decorating for the holidays. They love it and it looks great on the couch, right near their wood stove. So cozy. The picture isn't the best, I only had my phone with me. But look how cute!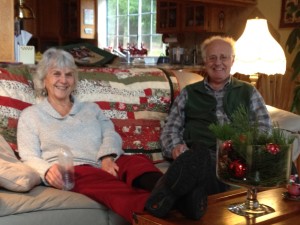 I have started another project that will be gifted at Christmas time. That won't be shown here until after the holidays. Don't want to ruin the surprise. Time to go read my book and listen to the rain. Hope all is well at your house!
Linking to Let's Bee Social, Linky Tuesday, Confessions of a Fabric Addict, Crazy Mom Quilts and TGIFF. Take a peek at all of these link ups to see so many amazing projects. As always the links are available at the top of my page, under Link Ups.  Also…. thanks in advance for your comments, they always make my day!