Welcome to Needle and Foot! If you are visiting everyone in the VRD Fast & Fun hop and are new to my site, thanks for popping in. Feel free to take a look around. Like what I am writing about? Maybe you'd like to subscribe (remember I never share emails with anyone else). Today it is my turn to share what I made with a Villa Rosa pattern card for the VRD blog hop.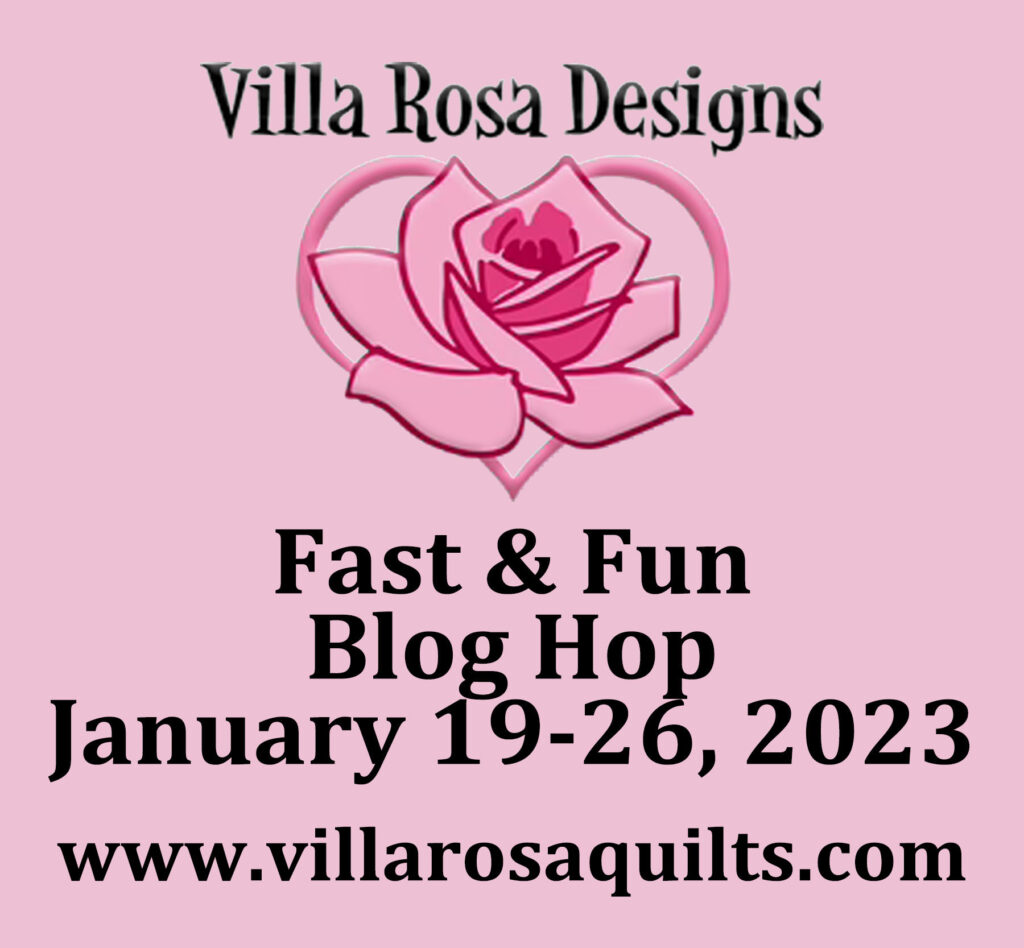 You are likely already familiar with this company, owned by Pat Fryer, but just in case here is a bit of background information taken from the VRD website.
"Villa Rosa Designs (VRD) was created by Pat Fryer, Owner and Rose Queen, with the idea to provide quick and easy affordable quality fun-to-make quilt patterns for quilters featuring popular quilting fabric cuts.
Since its launch in 2010, VRD has become much more than a handful of quilt patterns. Rose Cards, Villa Rosa's signature postcard-sized patterns, combine great design with simple packaging and an attractive price, making Rose Cards one of the best-selling pattern brands in the country".
The fun part for me in all of this is to promote a business located in my old home town of Grass Valley, California. Pat has a fabric store there and also travels to shows all over the country promoting Villa Rosa's quick and easy patterns. She has several designers working for her and over 500 patterns in the Villa Rosa collection. (You can see them here). Her website also features lots and lots of gorgeous fabric.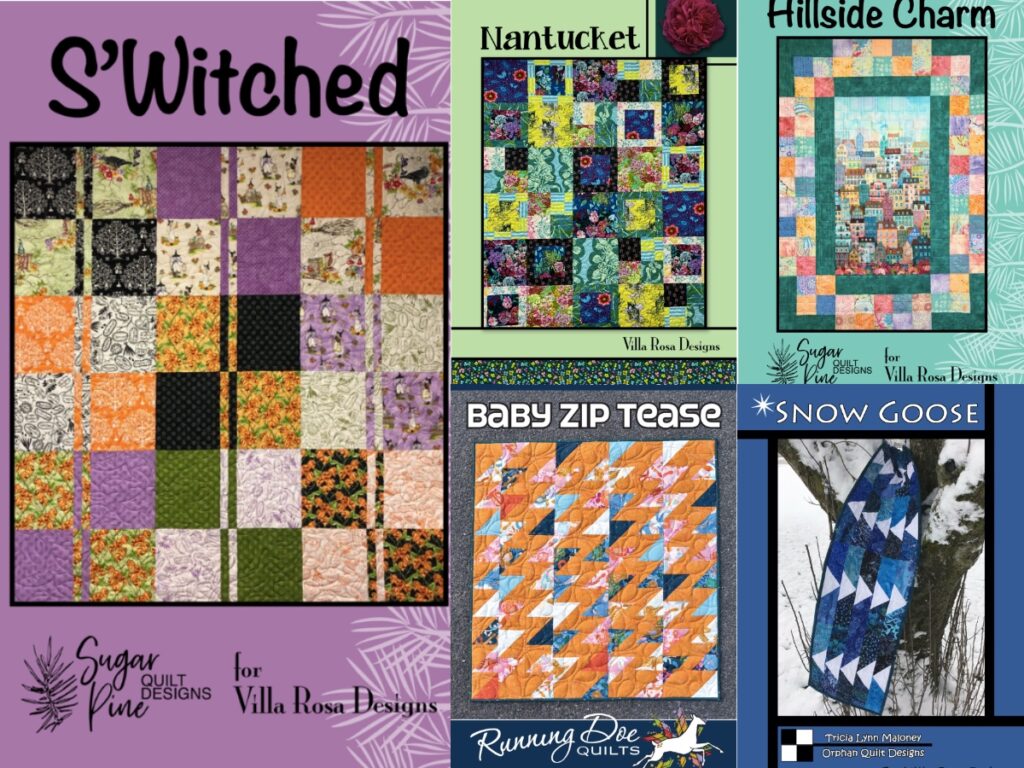 This is the packet of five patterns used in the blog hop. When I looked at the selection of patterns we were to choose from, I decided to make S'Witched. Recently I have been focusing on using up fabric I have and this pattern works well for larger squares of bold fabric. Some years ago, I had cut into a collection of fabric called Garden Bright, by Sue Penn. Life happened and these squares were put into a project bag and shelved. I really like this collection and wanted to use some of it for my S'Witched quilt. The pattern calls for 10″ squares (a layer cake) but my squares were already cut at nine inches. VRD patterns are super flexible though so it worked just fine to change things up a bit.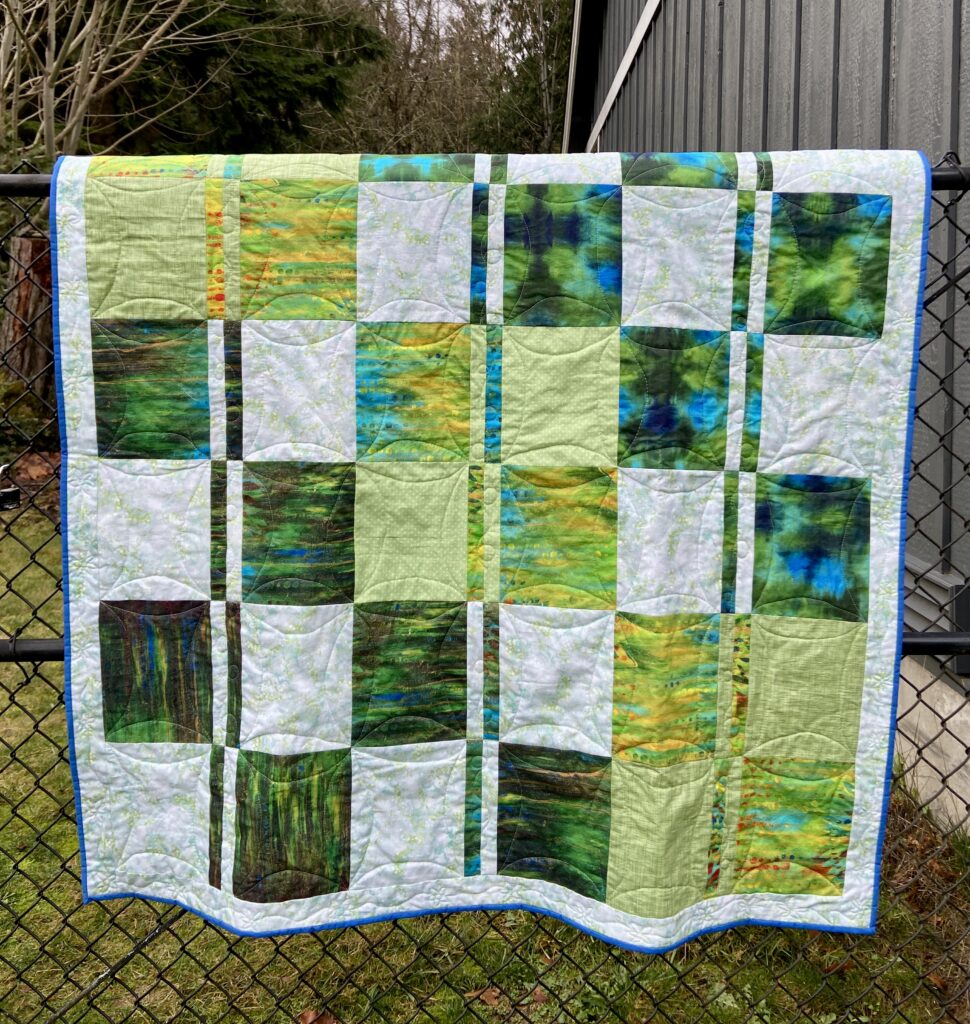 Because shades of green are my all time favorite, I am super happy with this finish! The lighter backgrounds are from my stash. The really pale background is left over from a wide back I used on a different quilt. Wide back fabric is such a great deal – no piecing the back and there is (almost) always a nice chunk left over for another project. The light green is a cute polka dot from who knows where? I certainly don't remember! Because my squares were smaller than the pattern called for, I added a border to add some size to the quilt.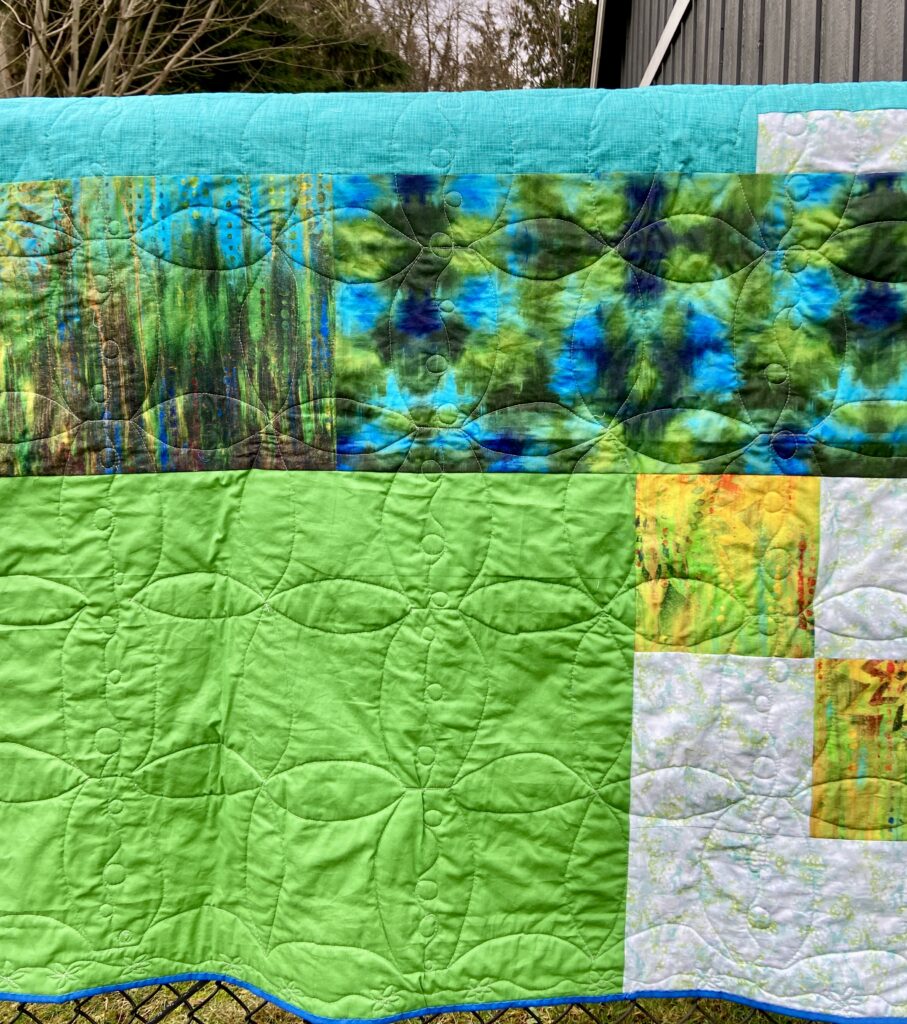 I did end up piecing this backing. This has been mentioned many times lately, but I am really trying to use what I have. No matter how much I take from the shelves and bins, there is more to be used! I can happily say that every bit of this quilt came from my stash. This includes the batting which I joined from several large leftover pieces in my tub.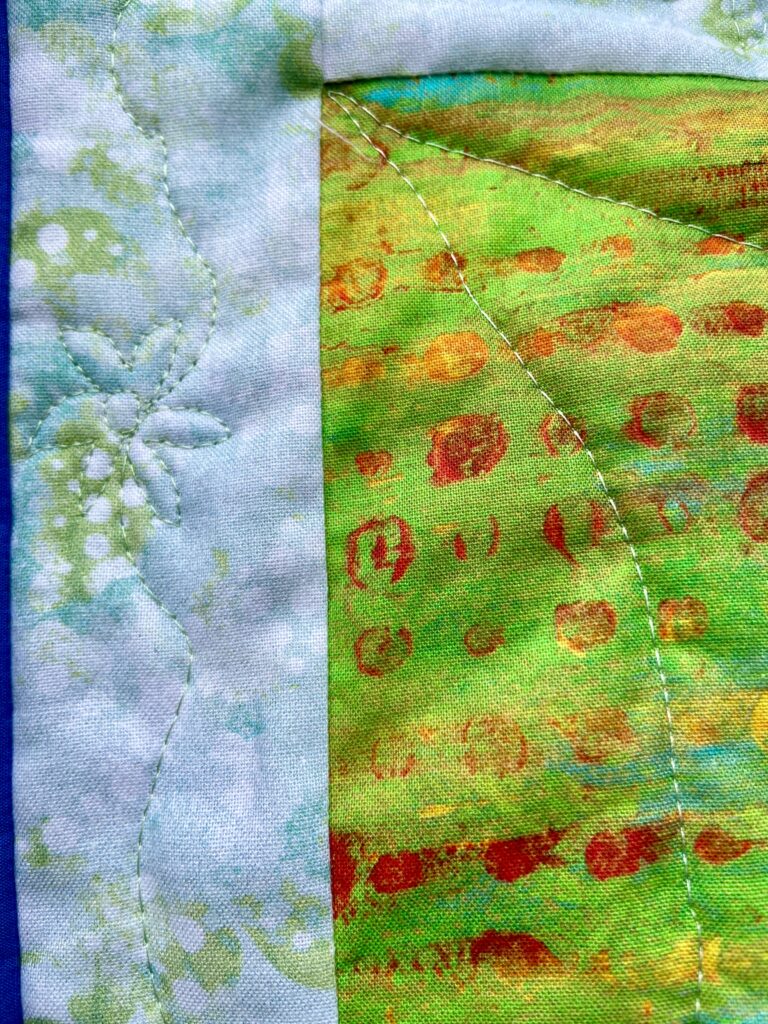 I quilted a lazy run of daisies along the border. For the bigger squares, I tried quilting curves, sort of like orange peels. They look ok but the blocks I quilted with these are actually rectangular and stretching that curve was sort of awkward for some reason. So while I am reasonably happy with it, I don't love it. Know what I mean?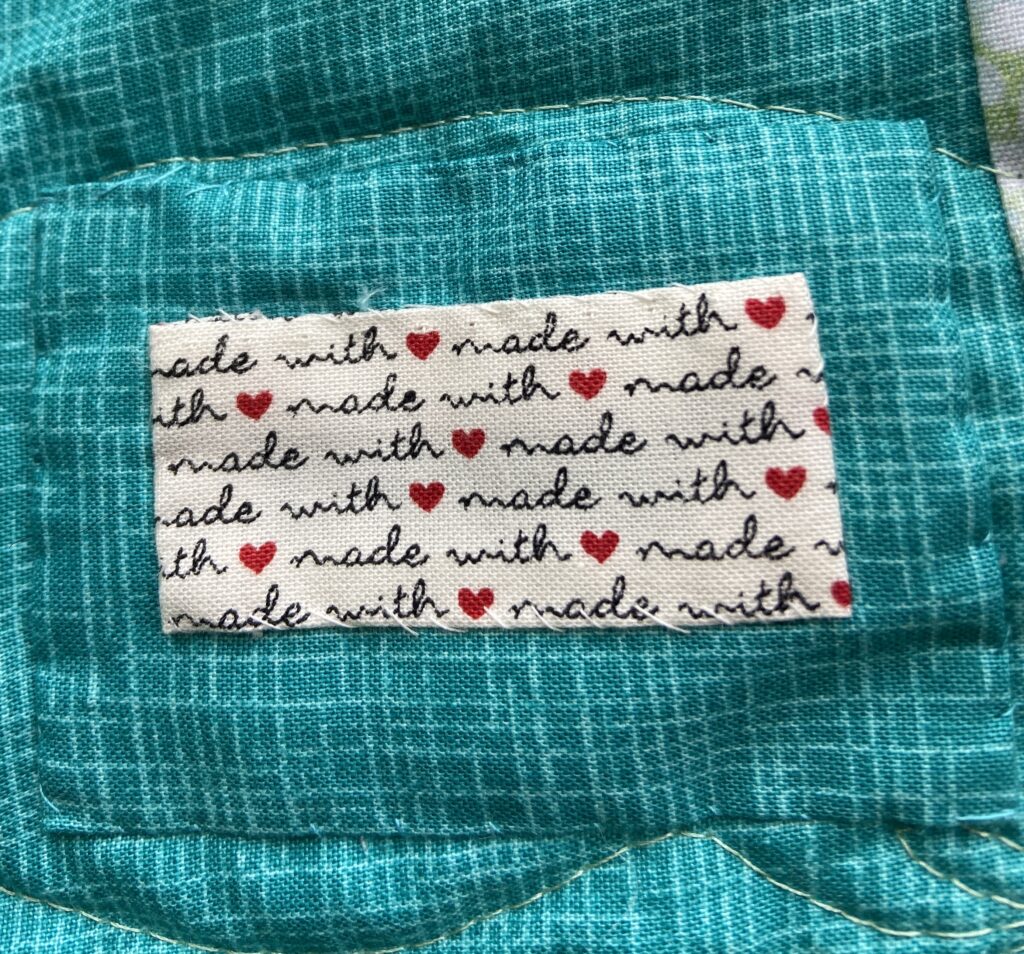 Labeling didn't really happen. I have a fat quarter of Made with Love fabric and hand stitched a bit of it to the back. If it is donated, that will be enough. If it is given as a gift, I can add a bigger label or replace this little bit.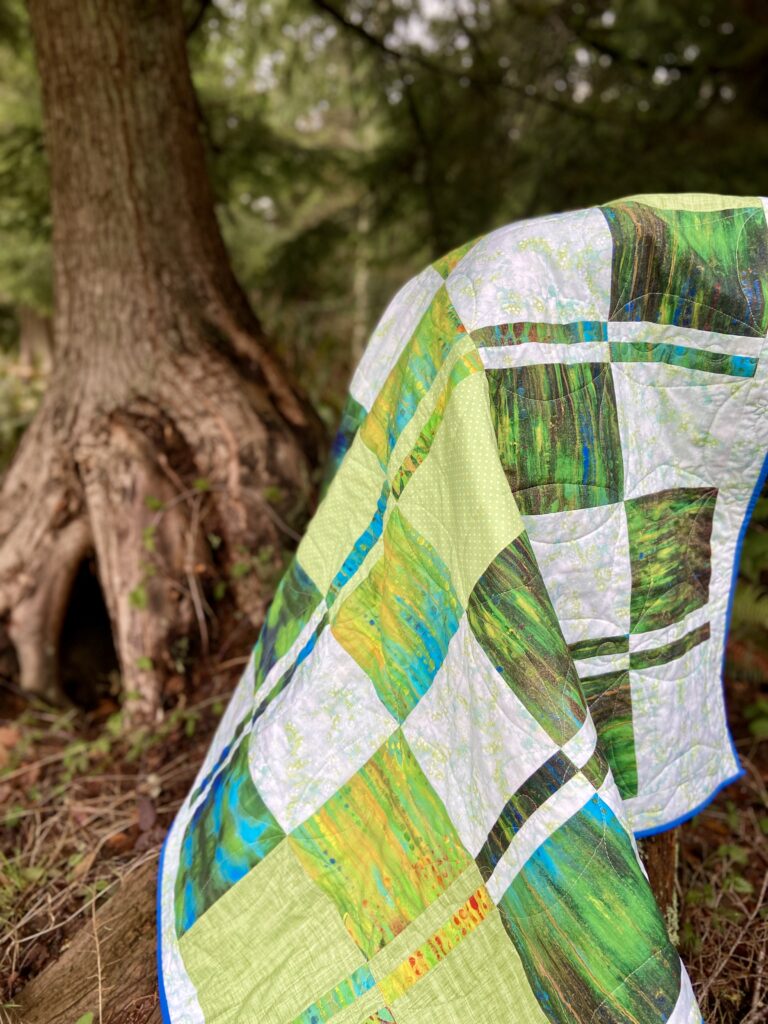 This pattern is very quick to come together. It is a four patch block which is cut into three pieces. Then stitched back together with the opposite portion next to the narrow center stripe. It would actually be fun to make with charm squares too.
Fabulous Prizes!!
When this hop was put together I was told there would be a giveaway. To me, this meant sets of the pattern cards or something similar. But Tricia, the marketing manager for Villa Rosa, went nuts and procured tons of fun prizes from some very generous sponsors! We invite everyone to enter to win. If your name is selected and you are from outside the US, you will receive a PDF collection of the pattern cards.
Villa Rosa Designs is giving away a 2023 Blog Hop Rose Card pattern collection on each participating blog.
Sponsor prizes have been donated by our lovely sponsors, and even from some of the bloggers, too! These prizes are divided into 2 different categories —

Grand Prize Boxes (of which there are 2) are filled with tons of quilting goodies including books, fabric, precuts, notions, patterns, and more.
Individual Prizes (each blogger will select 3 winners on their blog) which may be books, patterns, fat quarter bundles, 5″ squares, 2 1/2″ strips, 10″ squares, notions, and more.
There are many ways to enter to win. Visit all of the bloggers (see list below) in the hop and follow along with us. To enter here at Needle & Foot, please leave a comment sharing your favorite pre-cut. All of the VRD patterns start with a pre-cut. Of course you can always cut your own if you don't have the right size. Or you could adjust the size of your blocks as I did with my quilt. Comments on this post will close on January 29, 2023. Prize winners will be announced soon after! (Usually I respond to comments but I am betting there will be lots of them. So this time I am just going to thank you now instead of responding to each one. I hope you understand.)
Thank you so much for coming by – I hope you will try out some of the Villa Rosa patterns. They are inexpensive and super fun to sew. Also, if you head over to VRD's website, there is a great selection of kits to be purchased as well as a fantastic group of sale fabrics! Hope you will enjoy the rest of the hop.
Update – Comments are now closed. Thank you for participating in the hop!