I haven't finished a quilt for such a long time.  This one feels great! Partly because I started it in June, 2017 so it has been around for a while.  But also in part because I am donating it to the Mercyful Quilt drive that I have been hosting over these past weeks.
Surely I am not alone in the feeling of intention that comes along when making a quilt for a specific purpose.  When I began making this quilt, I chose it because I love the Twisted pattern, the lattice look of it.  I was happy because I mainly used scrappy bits that I had in my stash.  It was just a nice project. However as I began quilting it, I knew it would be a nice piece to donate to the Palliative Care unit at Mercy Hospital.  Once I decided to donate it, my mind constantly wandered, thinking about the purpose of this particular quilt.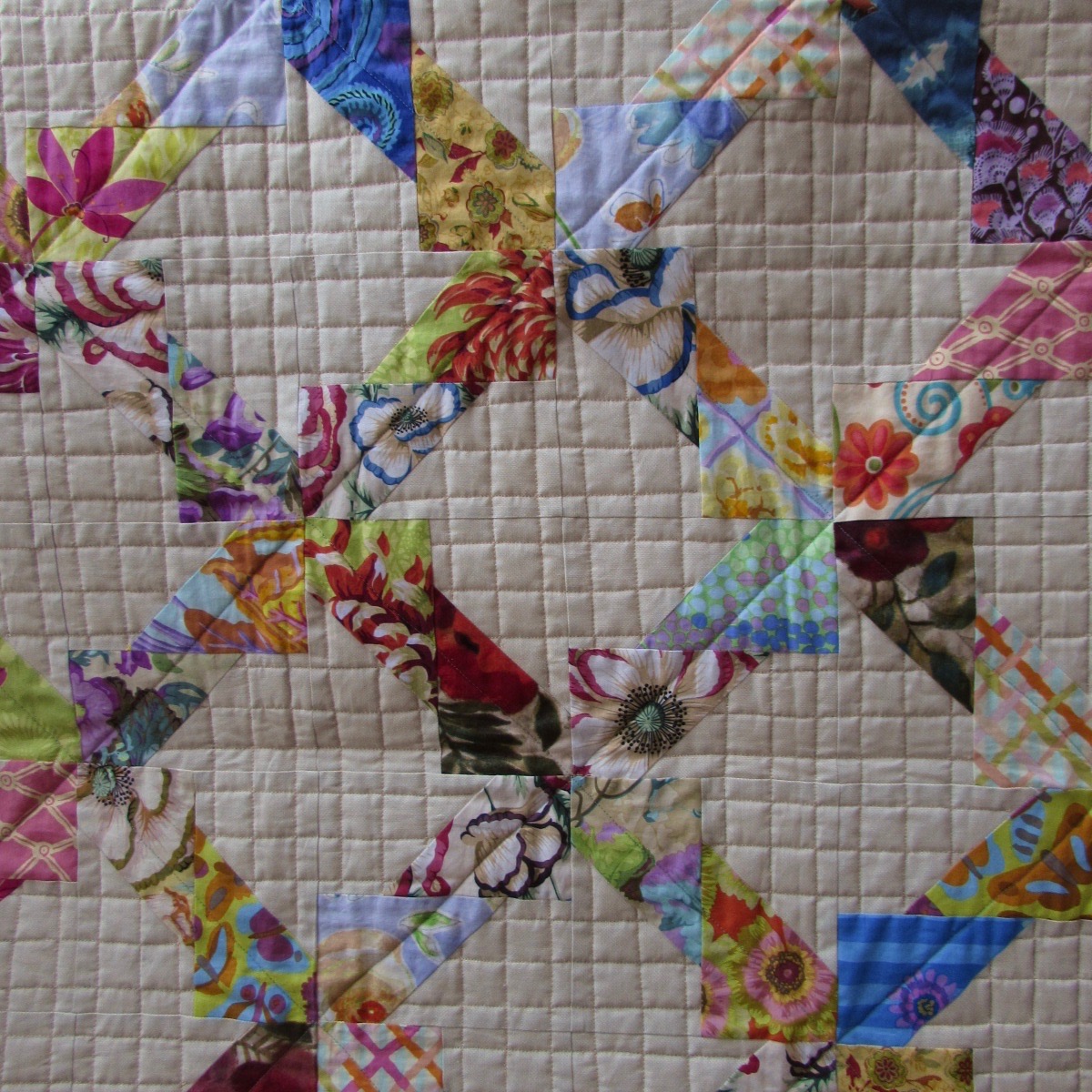 I chose to use a grid pattern for the open sections within the lattice.  This was a bit time consuming.  I did mark the lines with a Frixion pen – though they still have some wobble to them. But I wanted them to be as straight and uniform as I could get them. I marked and quilted a one inch grid on each spot. This gave me plenty of time to think while I quilted.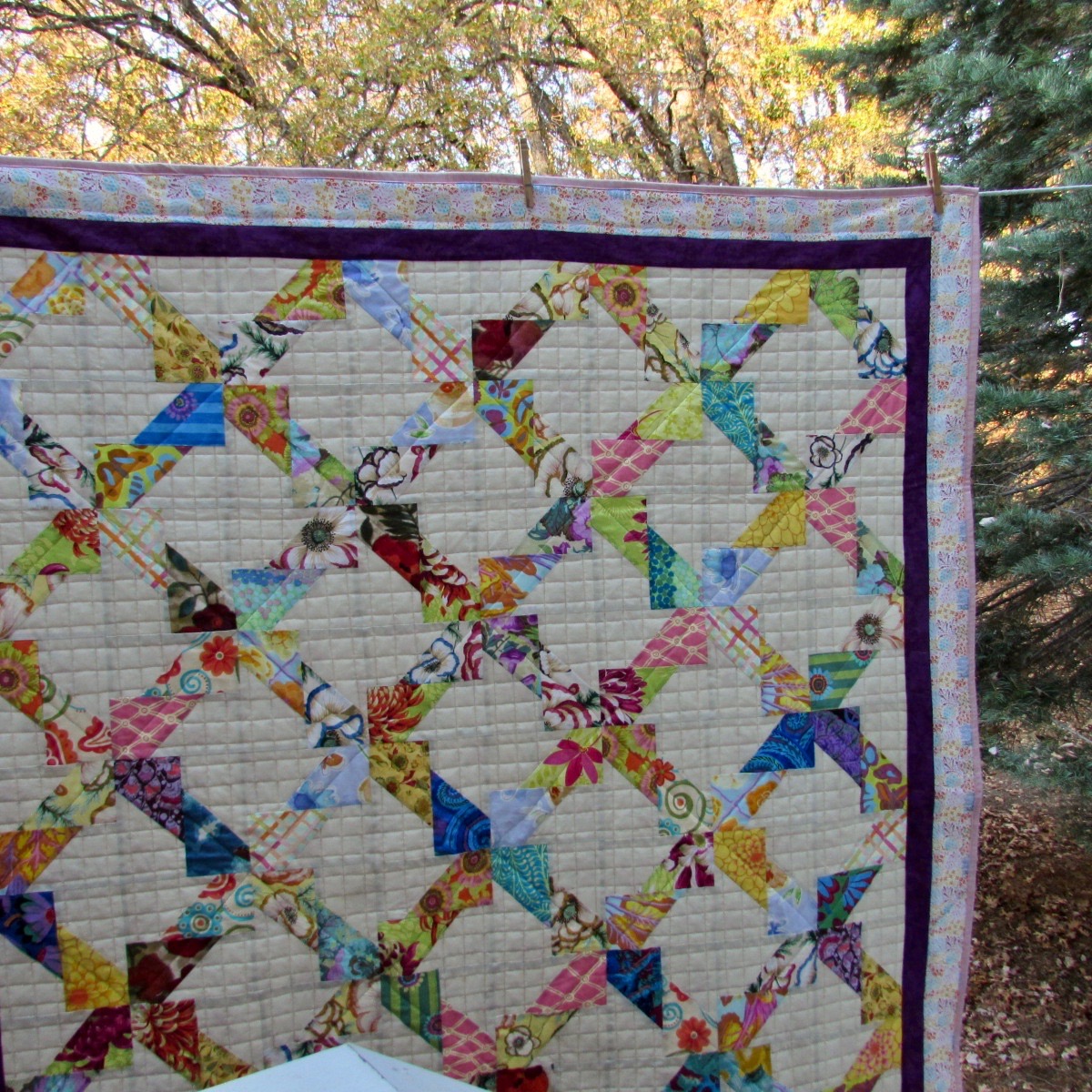 As my mind wandered, I found myself thinking about the family who might choose my quilt for their special family member who was actively in the dying process.  I do not hold any grand illusion that because they have this quilt in hand, the process becomes easy.  I have been there. I know that whether given one, or twenty five, handmade quilts, the process doesn't become easier.  But it is something. It might reduce the sterility of the hospital room a tiny bit.  Maybe taking the quilt home will bring comfort to the family as they grieve. It gave me great satisfaction to think that maybe by donating this quilt, I am bringing a little bit of solace to the family as well as comfort to the person who died.
Since starting this quilt drive, I have received so many comments that compliment the staff who support patients as they die.  Many of us feel the same – that this is such a special calling and certainly a very difficult job much of the time.  Collectively we are grateful for these angels who are able to provide care for patient and family at this time of life.  Personally, when I think of someone dying, I almost always find myself remembering when my first husband died. It is only natural I suppose; this was a huge, life altering event in my, and my childrens', life.  He died in 1994 after experiencing an aneurysm in his brain stem.  He was flown to a trauma care hospital and they took care of him (and me) for the next two days.
This was such a stressful, terrifying time in my life.  I was only 33 and he was 36.  We had three young children.  I spent that weekend in a shocked, fearful state of mind.  The staff there were amazing.  Mark had a nurse that spent about 36 hours with him, without going home.  She just stayed with both of us. I remember asking her how she could do this job.  I asked her why she stayed so long, and how many of her patients actually survived.  She sat with me and explained she felt honored to care for him and me both as we faced this change.  She told me that less than 20% of her patients survived.  But she felt called to do this work. She told me that most of the nursing staff don't last a very long time in this type of work, but for the time she was able to, she wanted to do this type of nursing. She was an angel and while I can hardly remember her face, I do remember her words.
There was also a chaplain who came in and out quite a number of times to check on me.  Memories of him are a bit of a blur but I know he was there and supportive.  At a time like this, there are many decisions to make and having someone who wasn't emotionally involved is so important. I am not sharing all of this as a call for pity.  I am fine and my boys are fine.  We will always miss Mark but memories of him have become a sweet part of our life.  I am sharing it to describe how needed and comforting it was to have this team of people who deal with death on a daily basis and thus were able help me to deal with it.  They helped me to make decisions when I was reeling with shock and grief. Mark wanted to be an organ donor and that process was somewhat involved. They told me what to expect next, why they were doing each process, what Mark might be experiencing as time went on.  They were such a comfort at such a scary, sad time.
So, making this quilt caused me to reflect.  It gave me time to think about providing what we can to help people we will never meet.  I thought about how being kind to a faceless person feels good.  Quilting this piece made me realize how important it is to pay it forward.  I received comfort from a team such as the one at Mercy Hospital.  It is my turn to help the next person going through a difficult time.
Now this one is done so I can look forward to quilting the next one.  I have two quilt tops in line to work on.  I have a few holiday projects in process but I think it is ok to work on those first and then tackle the next Mercyful quilt.
Look at the stack that is waiting to be picked up! I believe we are at twenty quilts so far and more are on the way.  My gratitude intention for Thanksgiving this year is easy.  I am over the top grateful for each of you and the amazing, gorgeous quilts you are sending to me for Mercy Hospital.  Quilts have arrived from Texas, Arizona, Louisiana, Massachusetts and all over California.  AMAZING!! I hope you will continue to feel a desire to work on this drive.  Share it with your quilting groups, post about it on your blog or Instagram feed and tag it #Mercyfulquilts.  The need is ongoing.  If you cannot contribute a quilt, you may want to make a couple of blocks for Covered in Love.  This program serves the same need at a hospital in Texas.
Wishing all of you a wonderful Thanksgiving weekend.
Linking this finish up at a few fun places.  Check them out at the top of the page, under Link Ups.
Newsletter!
Have you signed up for my newsletter?  It is published every month or so and is full of information about my shop, new arrivals, sales, and events.  Click here to sign up!