I can now say I have my first fabric challenge under my belt. This was a fun, though somewhat intimidating project and it feels good to have finished it. Overall, I am very pleased with the result. Remember I used a portion of a pattern I purchased from Oh Fransson (ElizaTbeth Hartman) called Tokyo Subway Map. You can read more about this project here. What do you think? I love the red with the Michael Miller Glitz fabric. It makes for a bold and festive quilt.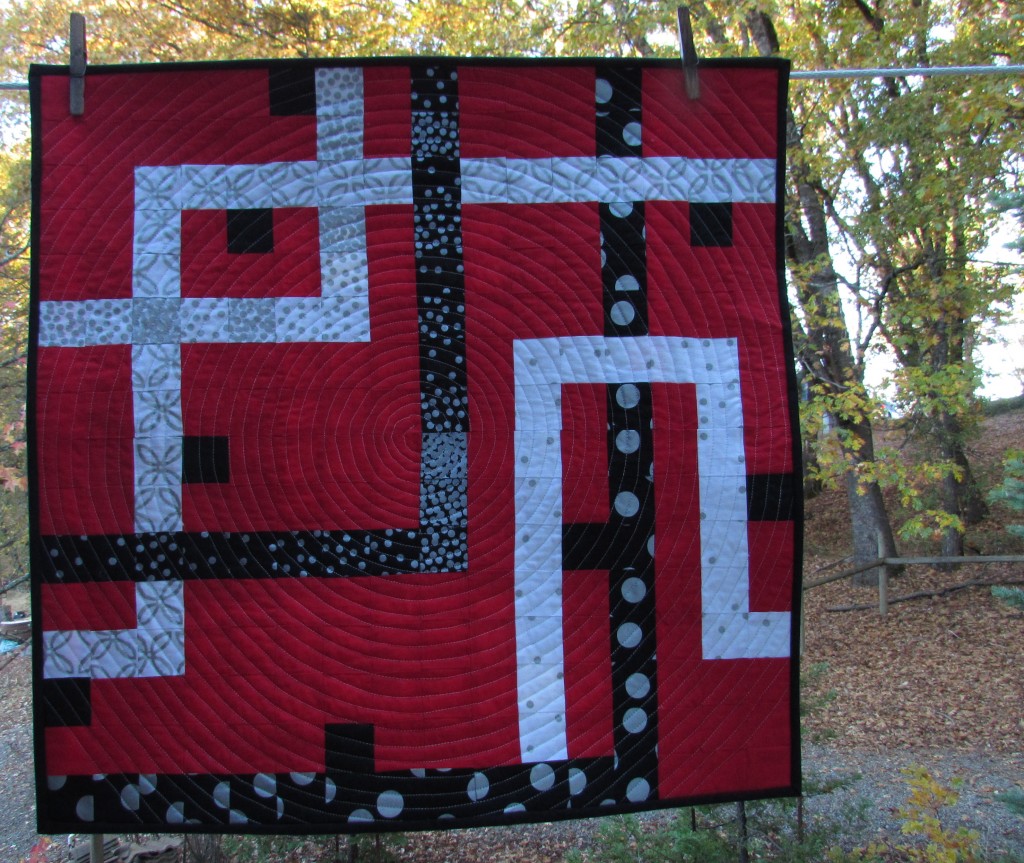 The spiral quilting was a breeze.  I practiced once on some scraps and then I went for it. Using a walking foot and Aurifil thread, only the first spirals in the center were challenging. After that, I just followed along the previous spiral with the edge of the walking foot. It was quilted in no time at all. I went in concentric circles as far out as I could.  When I hit the edge, I echoed out through the corners.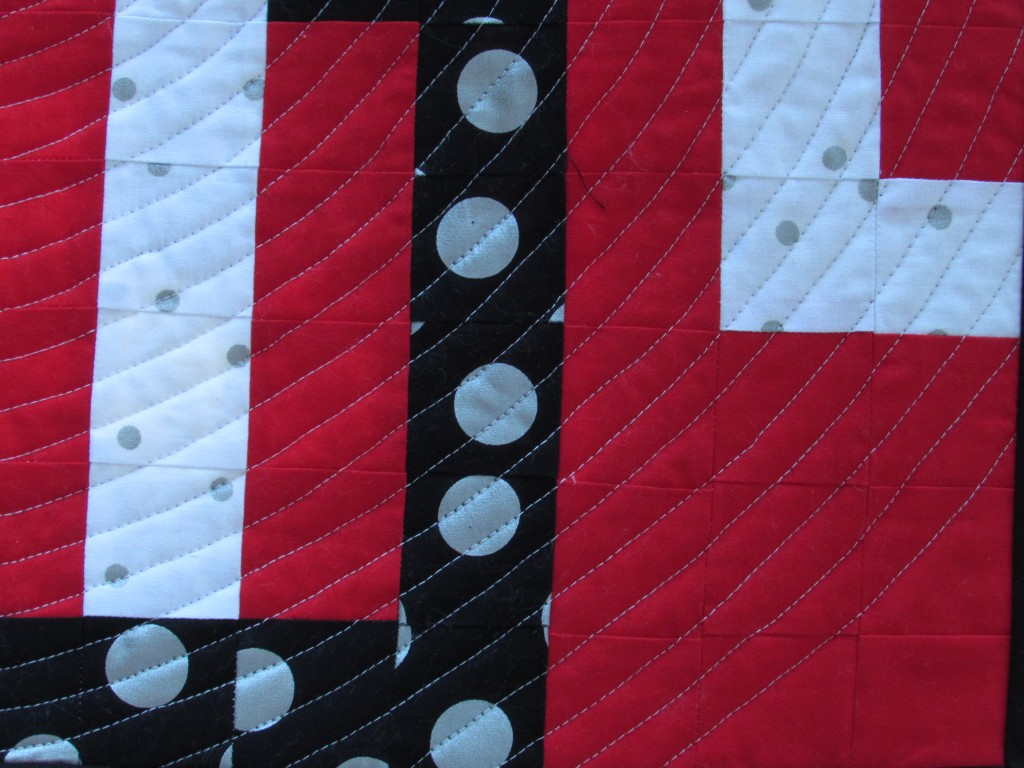 Basic black made a great binding. I thought about using my leftover Glitz fabric and creating a scrappy binding but this quilt is busy enough as it is. Black toned things down a bit. Joining the ends of the binding strips tends to make me a tiny bit crazed so I looked at a tutorial from Rita over at Red Pepper Quilts. Ta Da! It worked and my binding lay flat and fit perfectly.  Thank you Rita!
I used just about every last scrap creating the backing. I really like the back side and consider this mini to be reversible. All finished, the quilt measures at 24″ x 24″.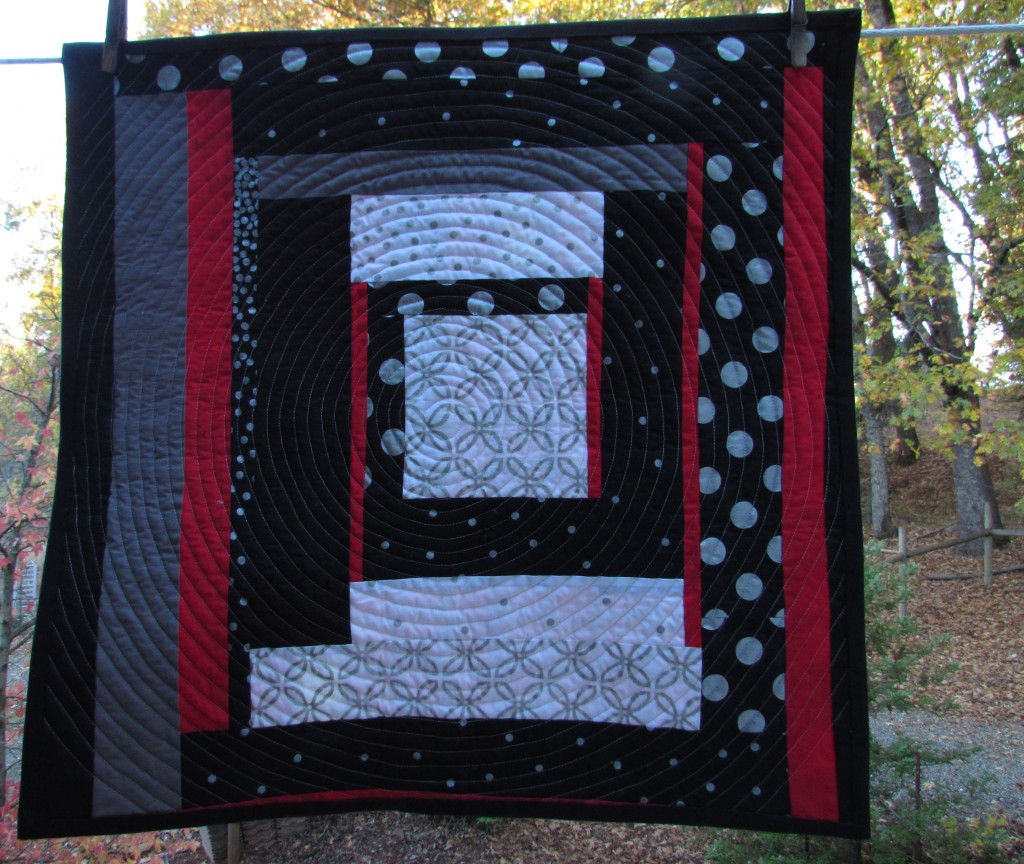 I will submit this to QuiltCon as part ofparticipating in the Michael Miller Fabric Challenge is the stipulation that each of us enter our project for consideration for QuiltCon. I took some time and listened to some webinars hosted by the Modern Quilt Guild for tips on entering quilts. I don't have huge expectations about this being accepted. I have seen some pretty amazing projects on Instagram and there are more that are not yet being shared. But it feels good to get this project under my belt as a way of testing the waters.
There are a few spots that are less than perfect and I don't think that the quilts that are accepted have corners that don't match up. Like the one below.  Sigh. I am ok with it. Overall, it looks good and I really like it.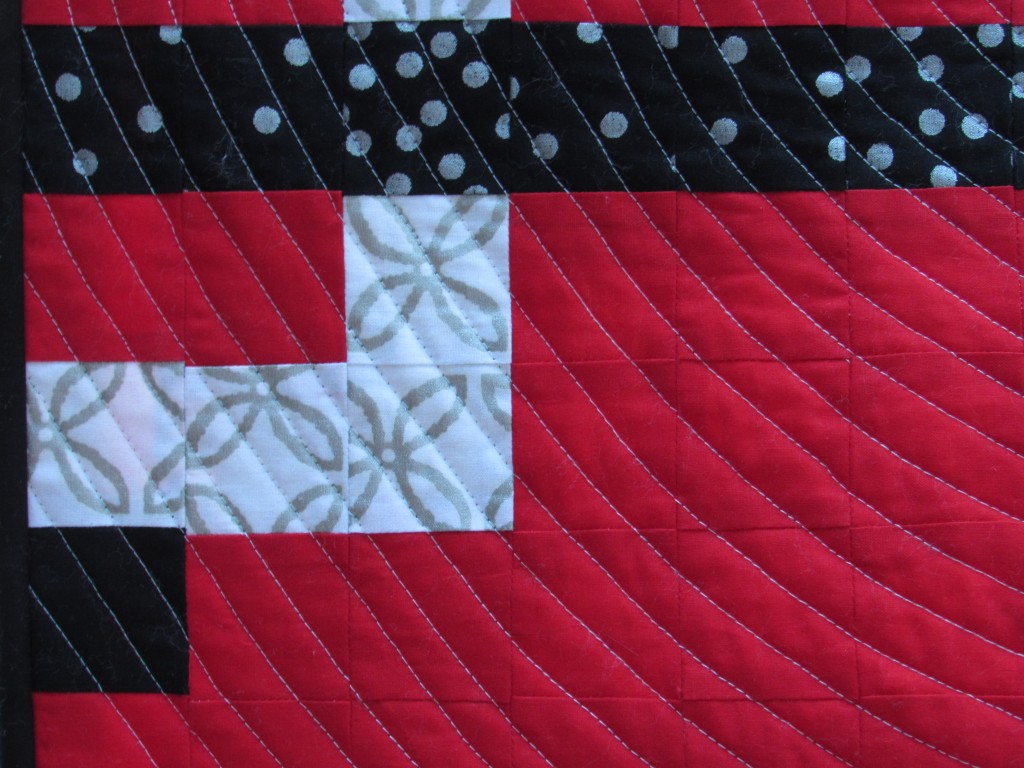 This has been a great learning experience. I will certainly do it again, if the opportunity presented itself! Now, what to work on next…..  Probably the blocks for the last row of my RSC15 project. November is quickly coming to a close!!
Linking to Crazy Mom Quilts. Links are at the top of the page, under Link Ups.