Finally! Today is my day on the blog hop celebrating the release of Cheryl Brickey's second quilt book, Just One Charm Pack. I have been waiting to play with this book for quite some time. I loved her first book Modern Plus Sign Quilts and knew this book would be at least as creative. Cheryl's patterns are not new to me. I have made three so far (Postage Plus, Pike's Peak and Flock of Geese.) Additionally, I have carried her patterns in my shop for a long while and they are very popular. (Note – all quilt patterns, including Cheryl's, are currently 25% off and have free shipping in the US. Take a peek!)
Just in case you are new to Needle and Foot via Cheryl's book celebration, welcome! I have been quilting on and off since 1978. Well, I made several quilts in 1978 and 1979 and then didn't begin again until 2011. But as with most quilters, once the bug bit, I started quilting with a passion! Please take a minute to poke around my blog and visit. I have also had an on-line fabric shop for the last (almost) five years. I am in the process of retiring so all fabric there is on sale. If you'd like to check it out, click here!
Some time ago, Cheryl invited a group of quilt bloggers to make a quilt from the new book and share it upon the release of the book. We were able to choose which quilt we wanted to make and I chose the Ninja pattern which is based on a variation of the Friendship Star block.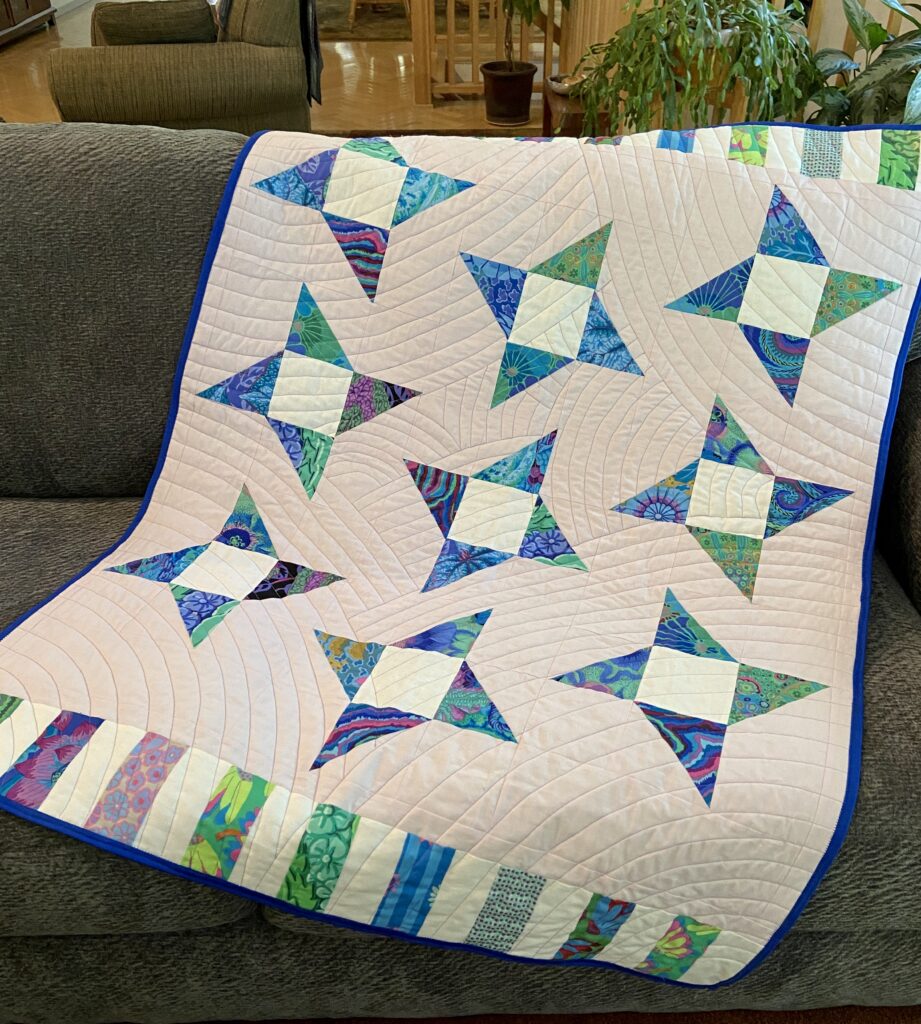 My version of the Ninja quilt was made with 1/2 of a Kaffe Fassett charm pack that I had left from an earlier project. I was thrilled to see I could complete a quilt with just that small stack! I had both the white and the lavender solid fabric in my stash so it was a breeze to pull fabrics for this quilt. The lavender background is actually a solid cotton voile. I hadn't made a quilt with cotton voile and have to say, I love the extra soft feel it has.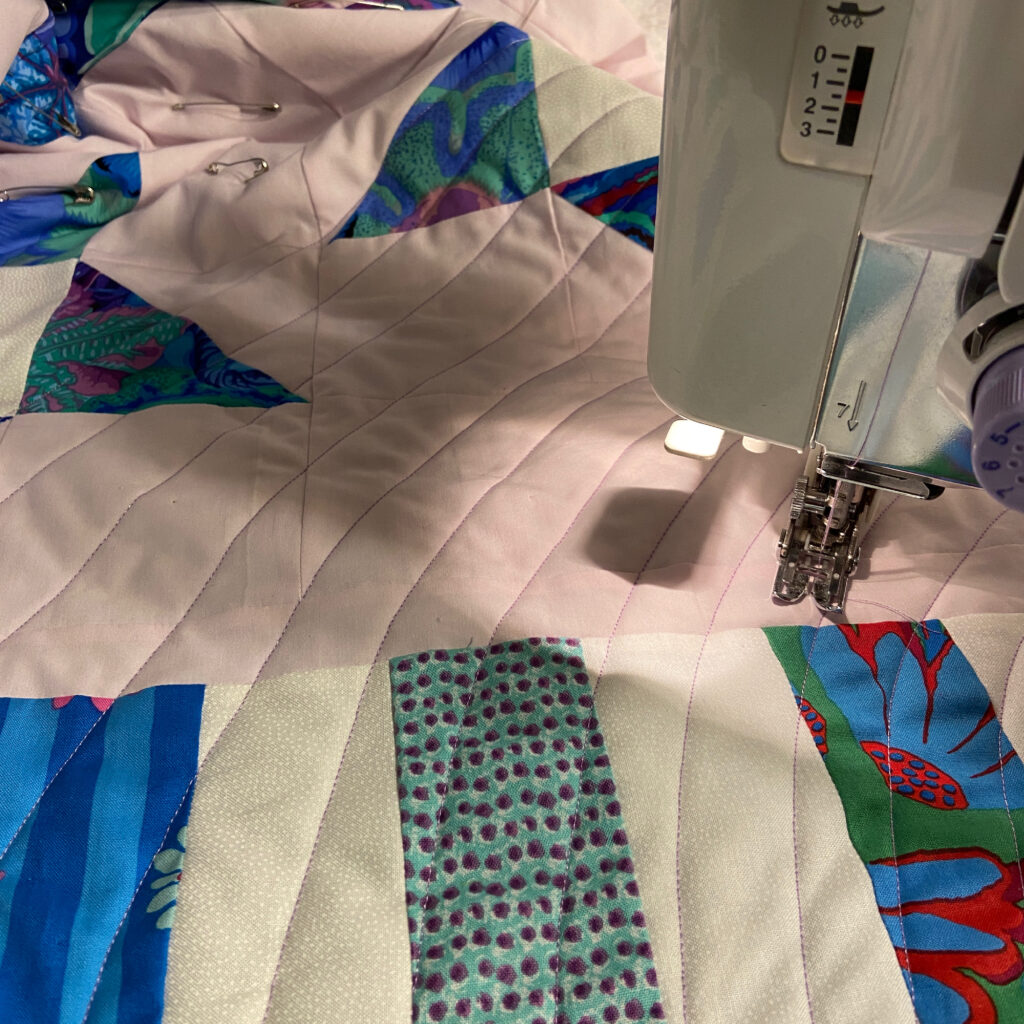 Piecing the quilt was very simple and because of Cheryl's clear, concise instructions, there were no issues when putting the top together. By off-setting the placement of the Friendship Star blocks, there is nice movement to the design. I played around with ideas for quilting it until I took a closer look at the sample quilt in the book. It was quilted with concentric circles. The curved lines looked so perfect with the angular design. Not willing to free motion quilt that many circles, I chose to use my walking foot and do a pattern similar to a Baptist Fan. It was so simple to just begin in a corner and work to the center. Once I hit the center (or close to it), I just started another corner. Filling in between all four sections was the last step.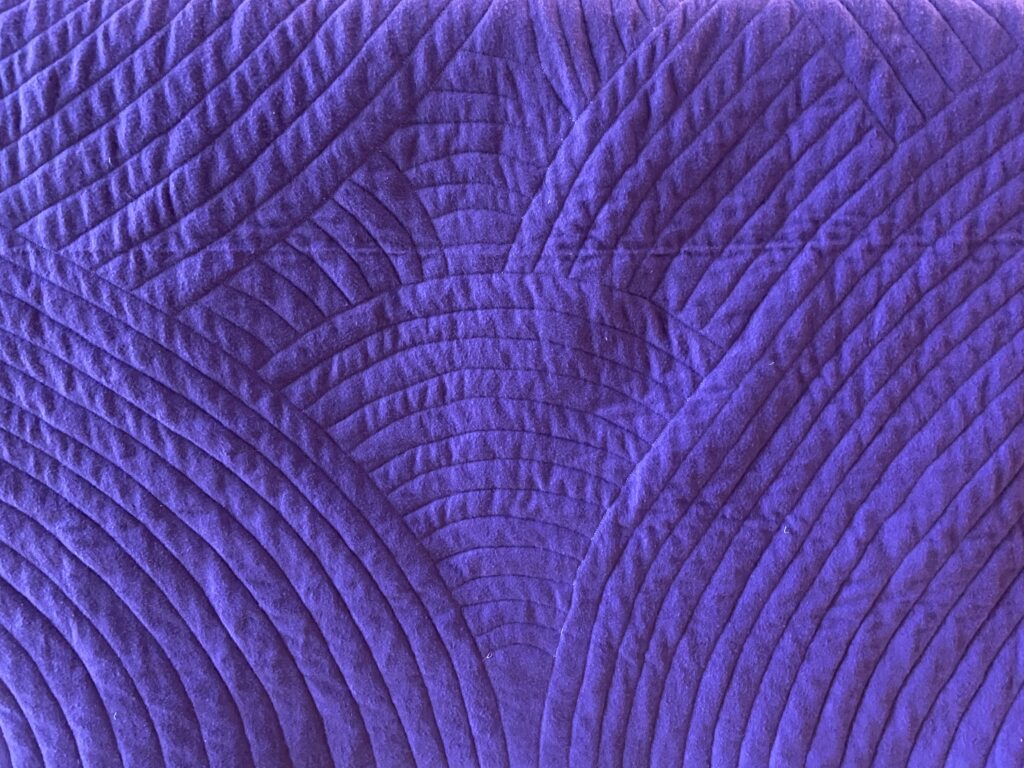 The quilt is backed with a dark purple flannel and the quilting shows nicely from the back side.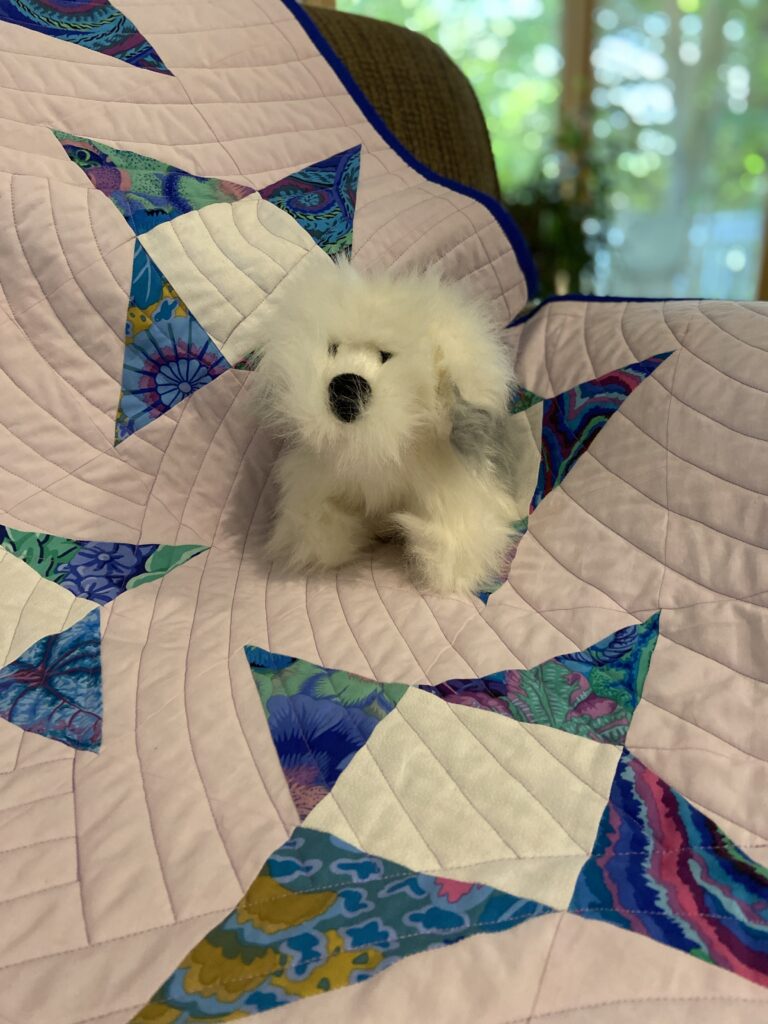 This cute little quilt (about 36″ x 50″) will be sent to a friend of the family. They just had their first baby, a girl named Natalie. I hope they will enjoy it and use it to pieces!
By the way, the patterns in this book are all traditionally pieced which means no paper piecing. For me, that is a big win! Another win, in my opinion, is that the quilt designs appear to be quite easy to enlarge. It would be no issue to just make more of these blocks and add to the width of the top and bottom border to make this a larger, lap size quilt.
Now that I have shared the quilt I made, I wanted to also show you a peek at some of the other patterns. Honestly, Cheryl designed some really fun, easy patterns.
This quilt is named Fishies, rightfully so, don't you think? I love the look of the school of fish all traveling together. So sweet.
This pattern is called Ships Ahoy. It was made by Myra of Busy Hands Quilts. Her colors are perfect for a bright addition to a nursery and that quilting is gorgeous. You can read more about her process here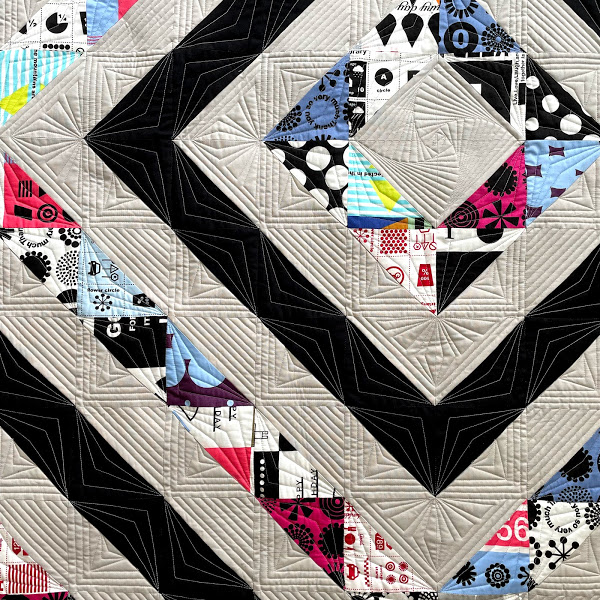 Finally, I have to share this version of Cat's Eye. It was pieced and quilted by Liz at Savor Every Stitch. Just spend a minute adoring the quilting. Liz has such talent. To see more photos and read about Liz's process, click here.
No doubt there is a quilt for everyone in this book. I encourage you to take a further look by following along with the blog hop. It began on July 15th and goes through July 29th. Cheryl will be posting the newest quilts on her site daily so you can read along.
ABOUT THE BOOK
Each pattern in the book uses a single charm pack, an additional fabric (called fabric A in the pattern) and a background fabric). The book is the Hamburger Helper for charm packs, stretching one into a full quilt 🙂
You can grab a copy of Just One Charm Pack Quilts on Amazon or get a signed copy in Cheryl's shop.
As a bonus, if you purchase a signed copy from Cheryl's shop, you can get one additional free stand alone pattern (digital or printed) by adding the book and a stand alone pattern ($12 value) and then using the coupon code HOPPATTERN (through the end of the hop 7/29) during checkout.