On Tuesday I was running a few errands. Among other things, I ran in to Ben Franklin's for a strip of velcro. I came home with this. (Plus the strip of velcro.)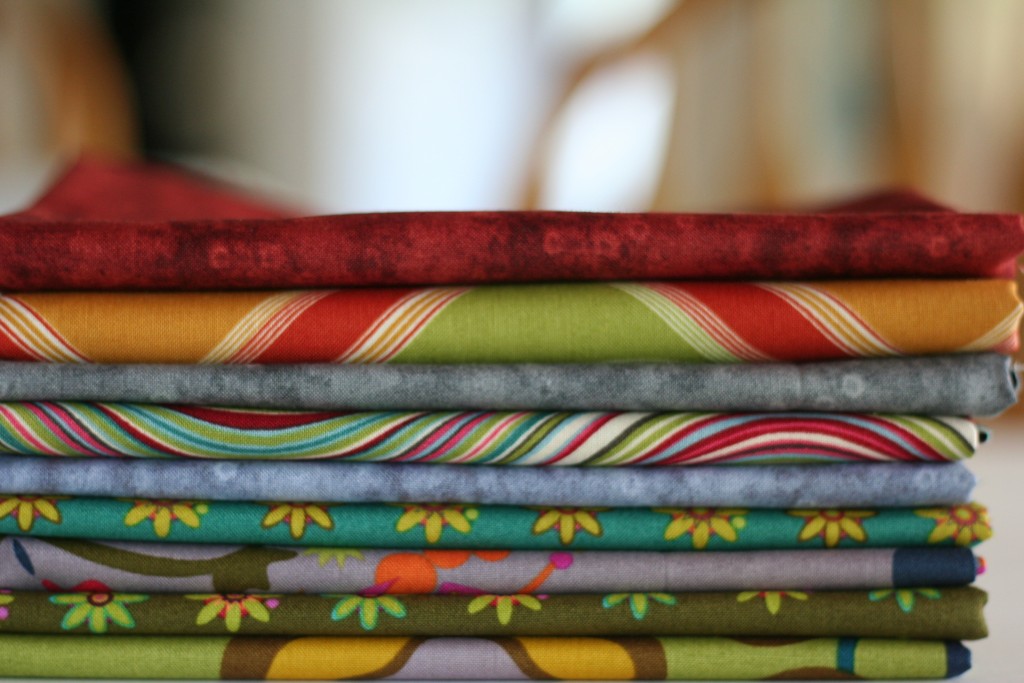 Really, it was not intended! I was supposed to be picking Julia up from school so I was there not even ten minutes. As she cut the velcro strip, the clerk (who knows me well) suggested I might want to take a quick look at the flat fold table because there were lots of new pieces out. Ben Franklin's always has a table with stacks of fabric folded (taken off the bolt). Frequently there are treasures on that table but you have to spend a bit of time searching. The majority of the fabric found here is traditional or novelty pieces.  Anything on the table is $5.99 per yard, a very good price.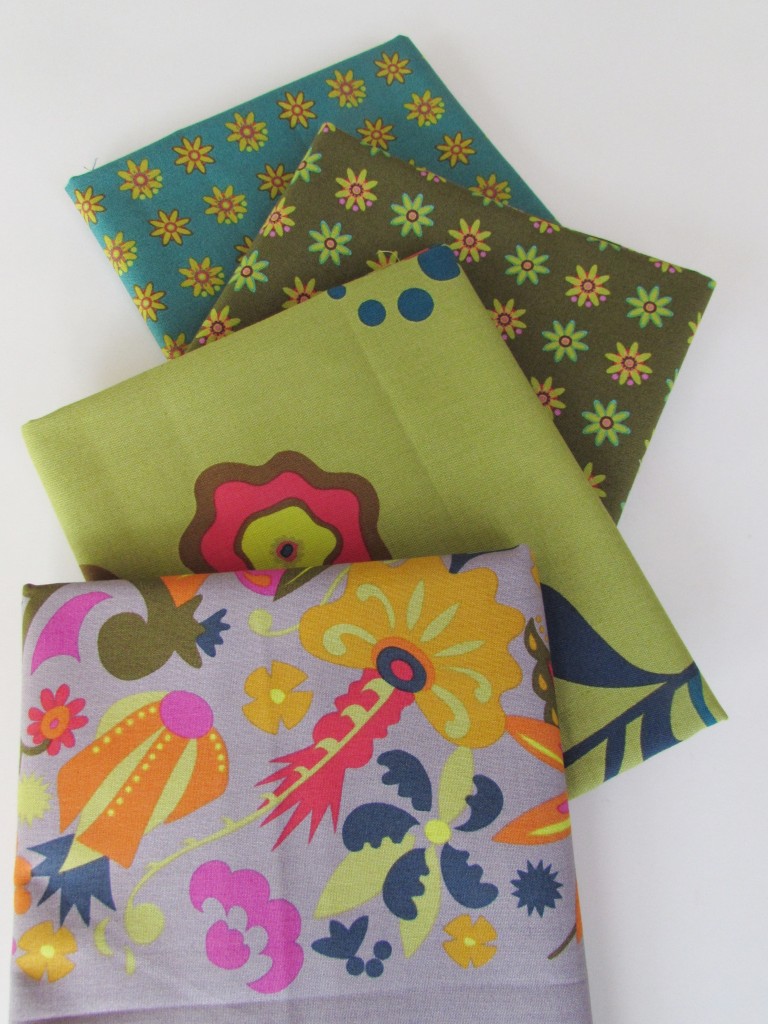 I immediately spotted a large selection of fabric from the Field Day line by Allison Glass. This is my favorite of all of her lines. It is an older one (2013) and for the most part isn't readily available. Actually, Allison Glass isn't available in Grass Valley at all.  When I did the Allison Glass swap last year, I had to drive to the San Jose area to get the fabric (300 miles round trip). I could have ordered it on-line but I really wanted to see the colors together. She covers such a huge span of the rainbow and I wasn't sure which colors I was going to work with. It was a huge find to see these sitting on the flat fold table!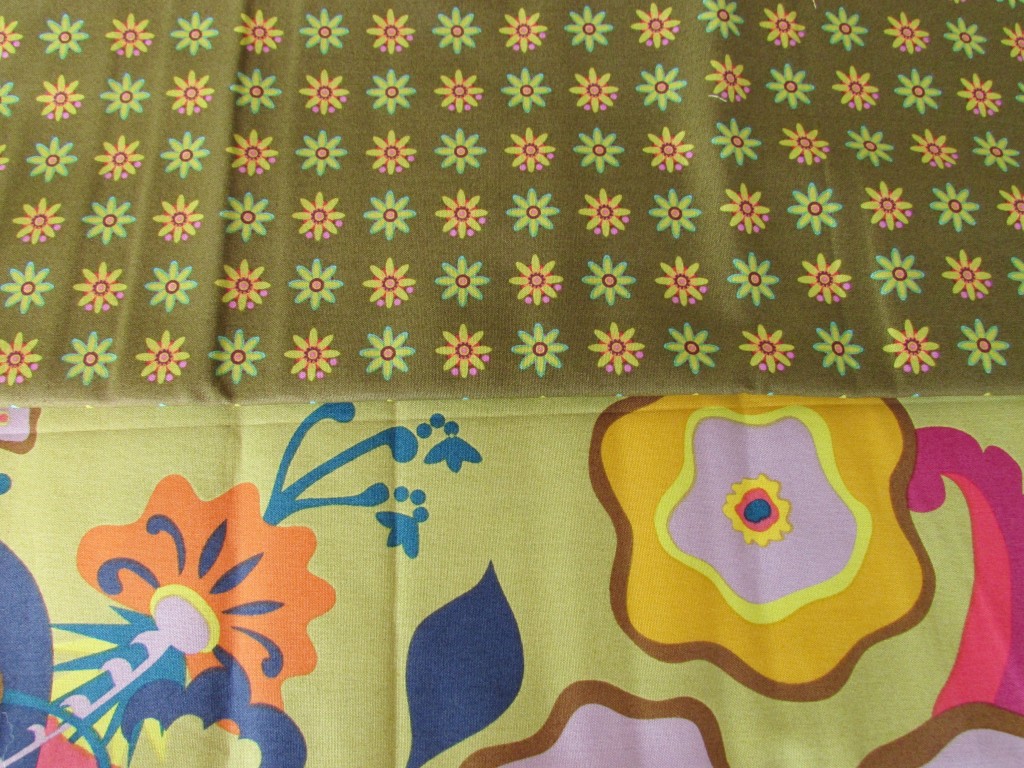 I am using these two to make a 241 tote from Anna at Noodlehead. There are a few occasions coming up that I need gifts for. This will be perfect for one of them.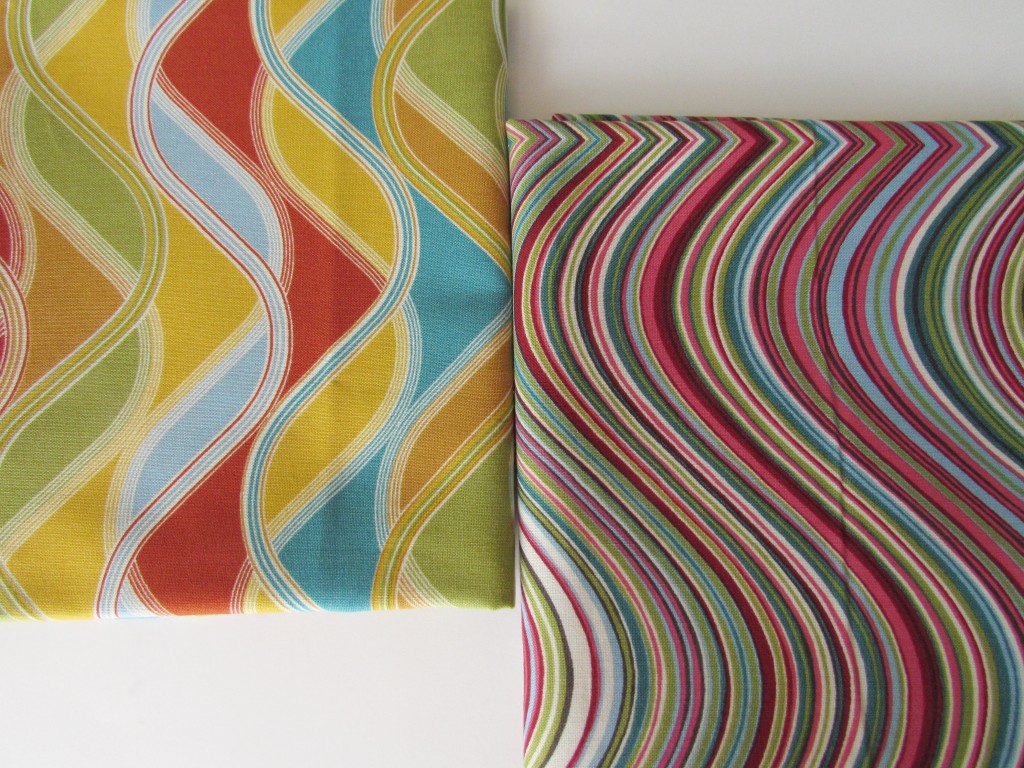 These two pieces are from the Vantage Point line by Robert Kaufman. Wavy Stripe Retro and Picton Patchwork will both be used for Chemex Cozies that I sell in my Etsy shop. I love both of them. Remember when you were little and got to make those Spin Art paintings? I always imagined that mine would look like the fabric on the right. Never got even close but those were fun to make. Julia still has one of those – maybe I should give it another try.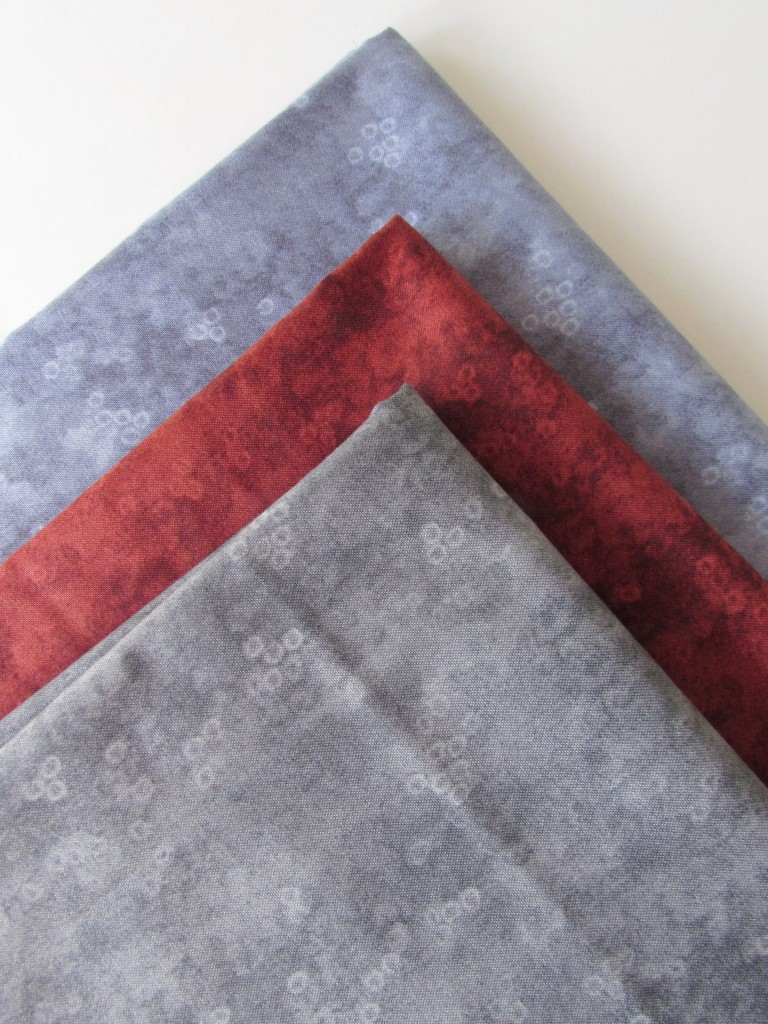 Look at the rich colors in this stack. Who doesn't need a few new blenders in her stash? At $5.99/yard, this was an easy decision.
Here is the hard part. Oh, if only the story ended here. But it doesn't. You know me, I am nothing but honest.
I bought the yardage from the Field Day collection and purchased the 241 Tote pattern over at Noodlehead the following day. Looking at the requirements, I found I was short one piece of fabric for the tote. Yes, I could probably have found something in my stash that would work, but I knew that stack of Allison Glass treasure was just sitting there at Ben Franklin's. How could I not return? It was just one more yard…. (I know, I know.)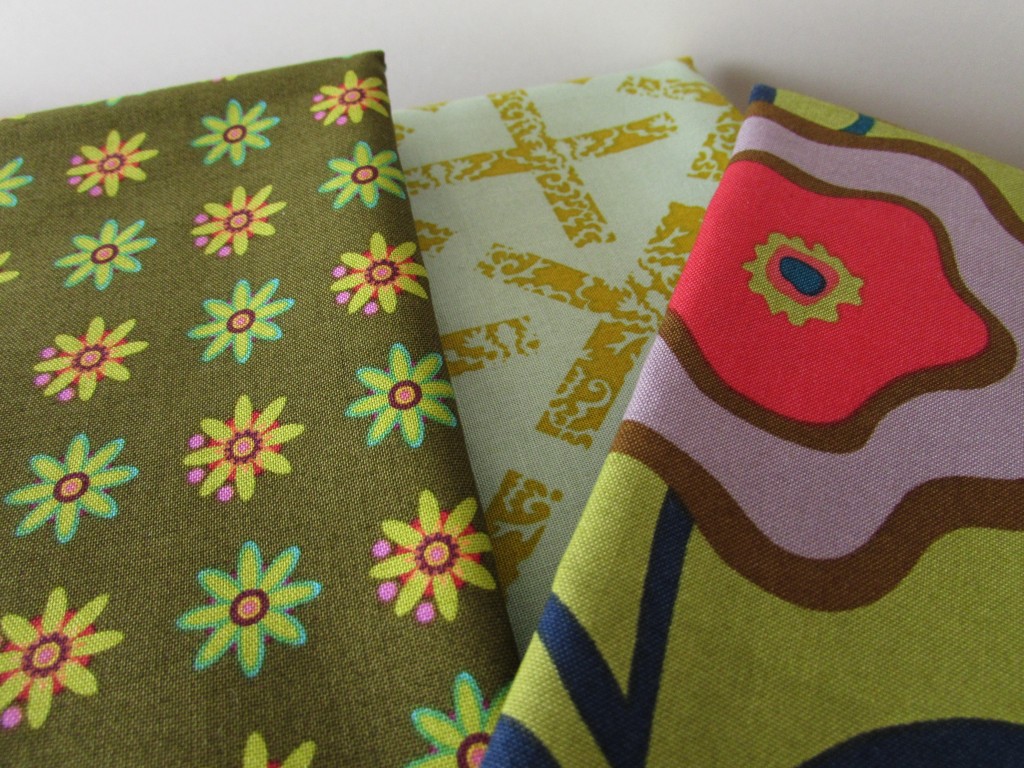 So I bought the piece in the center. Perfect. Now I had enough to make the tote.
Guess what? When I pulled that piece out of the stacks of flat folds, you won't believe what happened. There, in plain sight, was the nearly complete line of Asuka by Dear Stella. Which is just crazy – this line was only released last summer. What a treasure.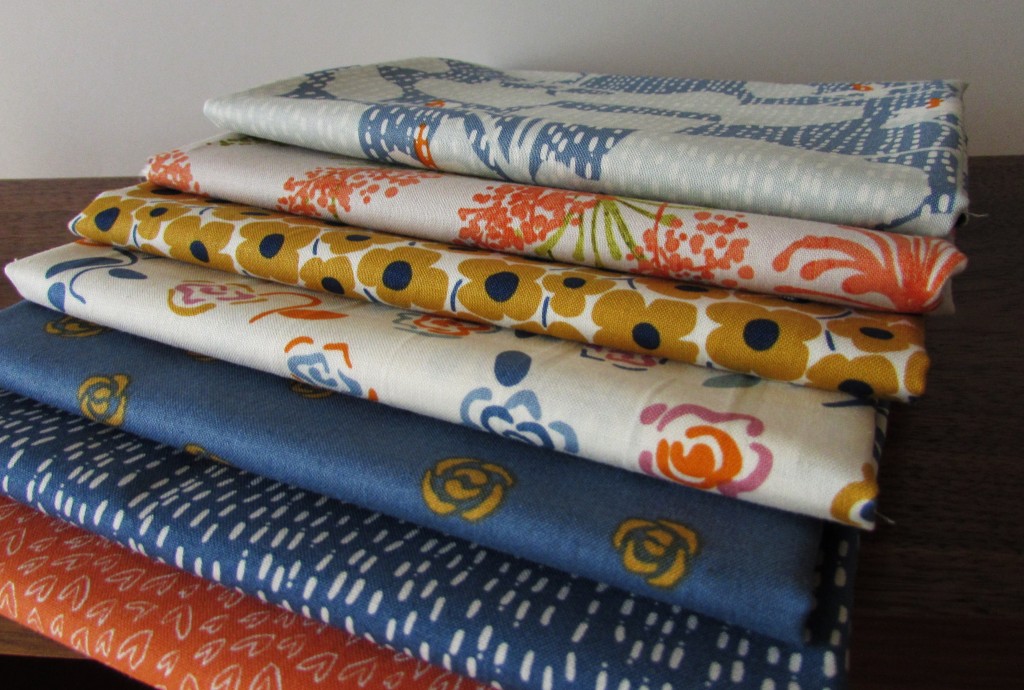 It was amazing – a stack of Dear Stella just sitting there, waiting for me and for only $5.99 per yard!  I love this line – the colors are exquisite. Showing only minimal restraint, I limited myself to the seven pieces you see here.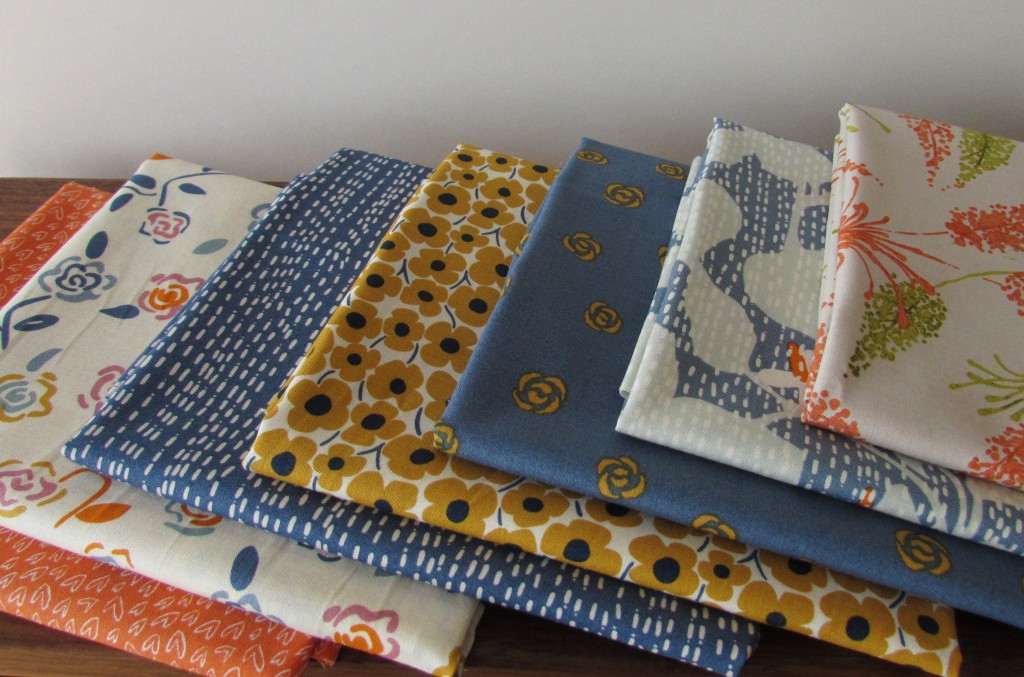 The piece on the top is not from the Asuka line. I am not sure which it belongs to, but I like the fact that it adds a pop of green to the palette.  Such a thrilling experience. 😉
I now have a total of three yards of Dear Stella to play with and spent $18.00. (I know, let's not talk about the total cost of all of my treasures. I am minimizing the impact here.)
Remember the book, If You Give a Mouse a Cookie?  That pretty much covers this whole experience. Velcro, led to the Vantage Point pieces, then to Allison Glass, which took me to Noodlehead, which then looped me back over to Allison Glass and finally took me right on over to Dear Stella. Oh dear, dear, Dear Stella.
Linking to Sunday Stash over at Molli Sparkles and also at Main Crush Monday.