Last week was filled with presents, excitement, cupcakes and lots of happy squeals. H celebrated her 4th birthday and five days later, A celebrated her first birthday.
Let's start with H's birthday. Turning four was a big deal for her and the night before her birthday she started to cry and told her mom and dad she didn't want to be four. She had suddenly decided maybe it would be better to just stick with three. Fortunately these fears subsided quickly. She loved being the princess for the day, choosing the meals and the games we would all play. Her mom had balloons and cute decorations. This girl was in heaven.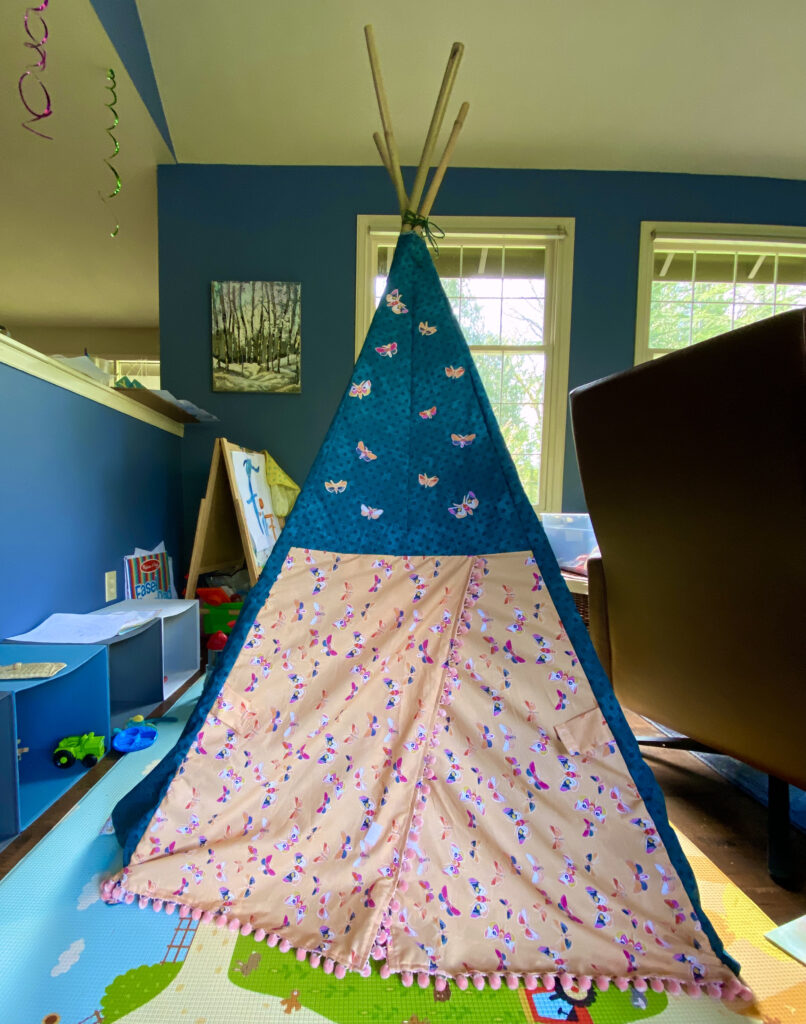 I made this teepee for the girls to play in together. It was fun and quite simple to make using the tutorial at DIYMommy.com. The canvas is a denim polka dot purchased at Jo-Ann's and the butterfly print is from Jessica Swift's Lugu line by Art Gallery Fabric. (It is available here in my shop). I decorated the top triangle above the door with matching butterflies by fusing them with fusible web and trimming some butterflies. They seem like they are adhered well enough but probably won't last forever.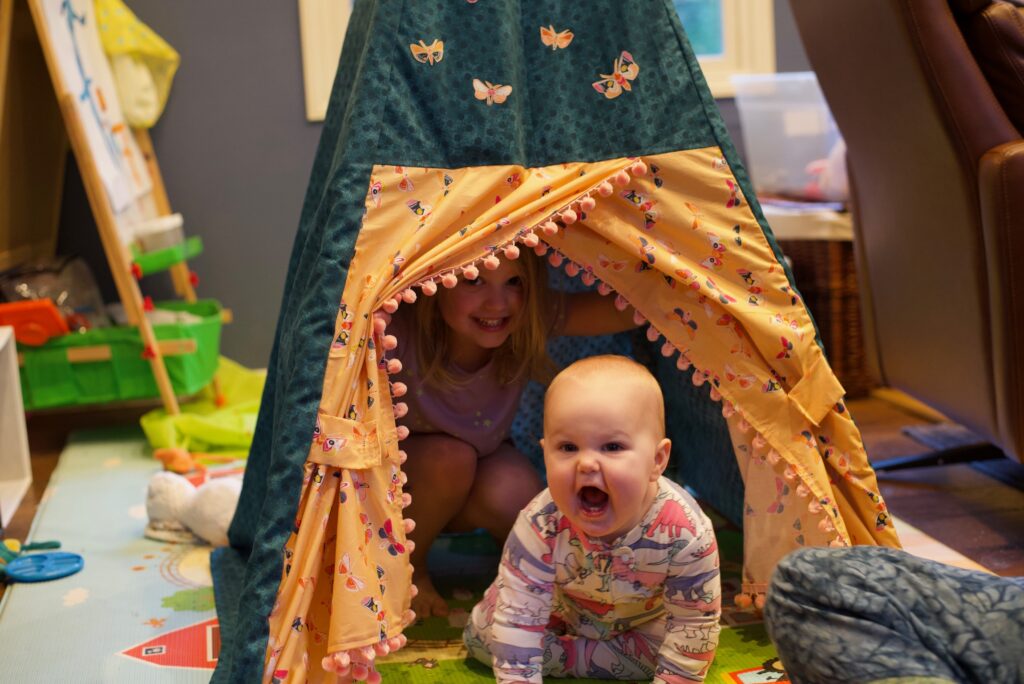 The main issue with this project is the fabric slips down the poles. This makes the seams stretch. We ordered some velcro strapping and I am going to try to tighten it around the poles to stop this. Otherwise, it works well. I used some velcro and two straps to keep the 'doors' open. H got the idea easily and can open and shut the doors with the velcro tabs.
As he often does, my husband also wanted to make some birthday gifts. For H, he made a bird feeder. She loves birds and knows many varieties on site. He thought it would be fun if he made it look like a drive-through restaurant. There are feeders on three sides of the 'restaurant' and even a table with an umbrella for dining al fresco.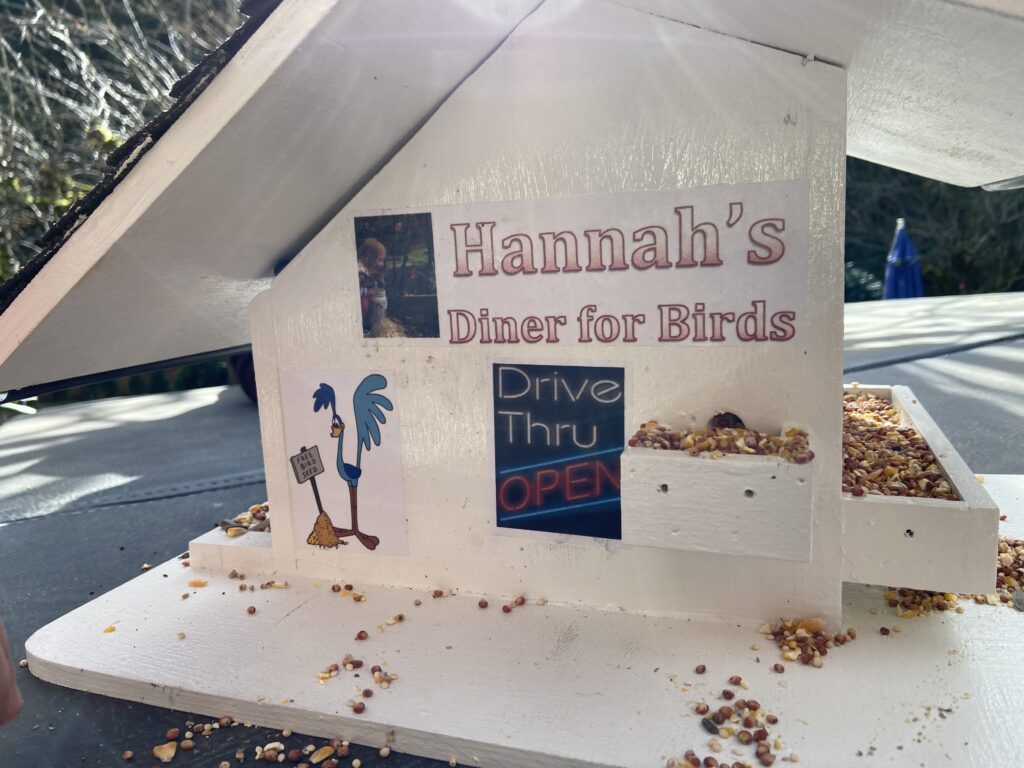 I knew my grand daughter would like it but was pleasantly surprised by how much. It doesn't have the pizzazz of the My Little Ponies or the Lego sets she unwrapped and I wondered if she would not be too impressed by it. But she really enjoys it.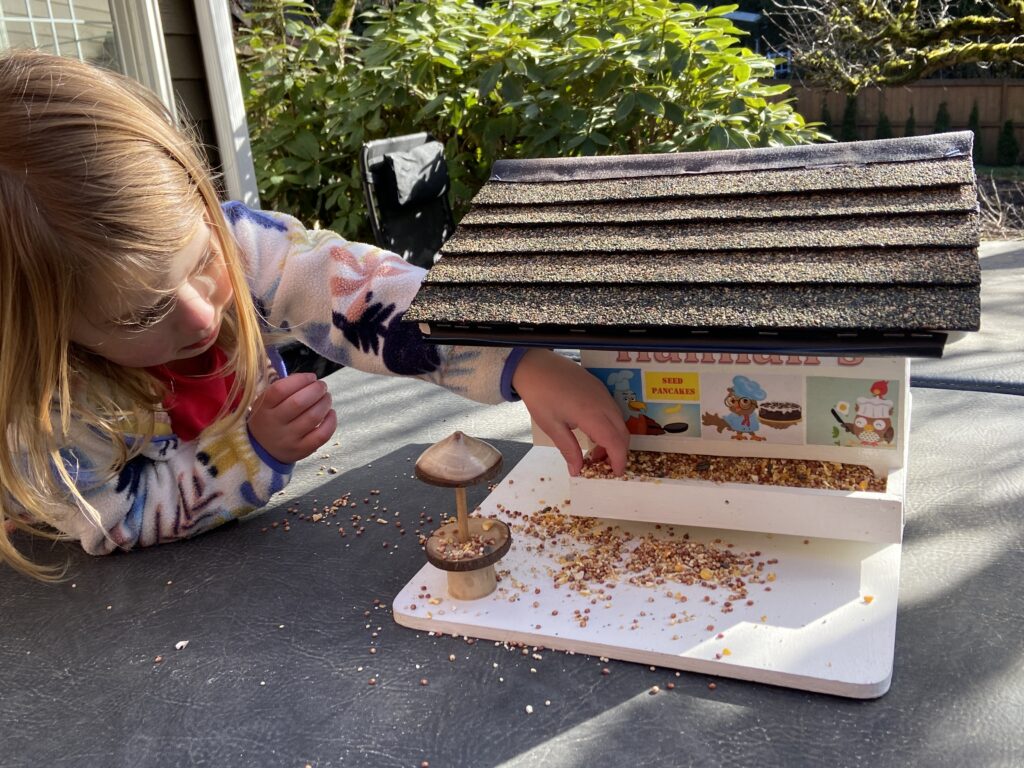 Yesterday she joyously announced there was a chickadee at her feeder. We decided he was having birdseed burgers and birdseed fries!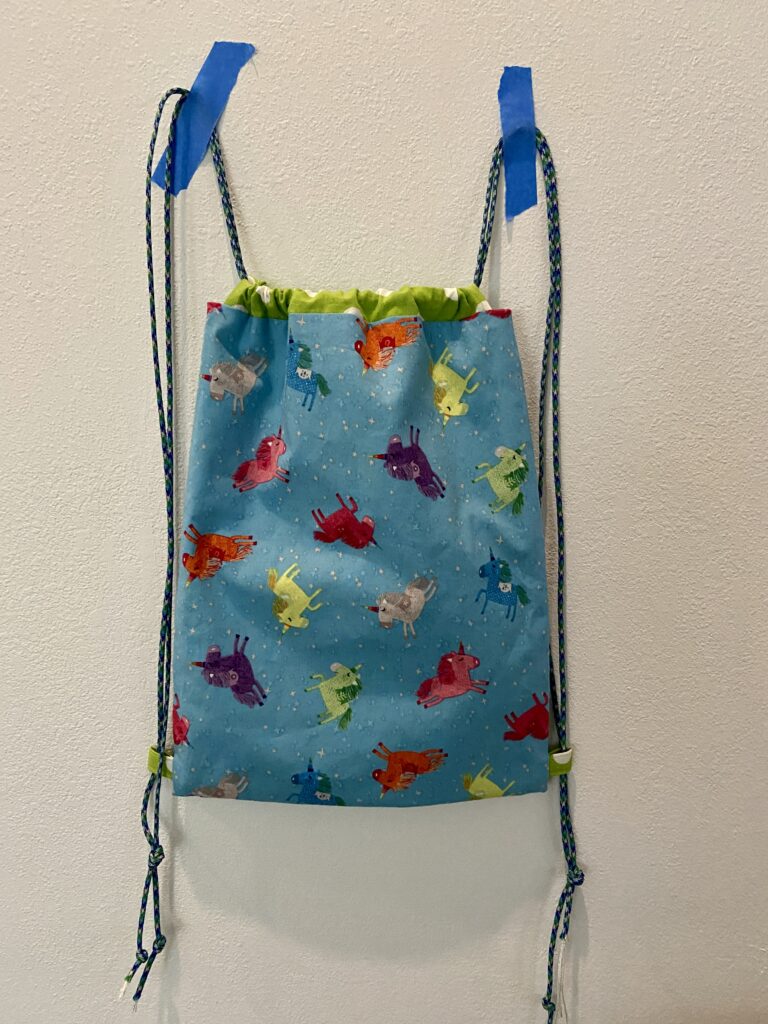 Another fun gift I made for her was this string backpack. She is really into unicorns and rainbows right now so this fabric from Shine Bright by Clothworks was just the ticket. This gift did not excite her upon opening but that was fine. She enjoys it now and has it filled with snacks to take with her when we are in the car or running an errand.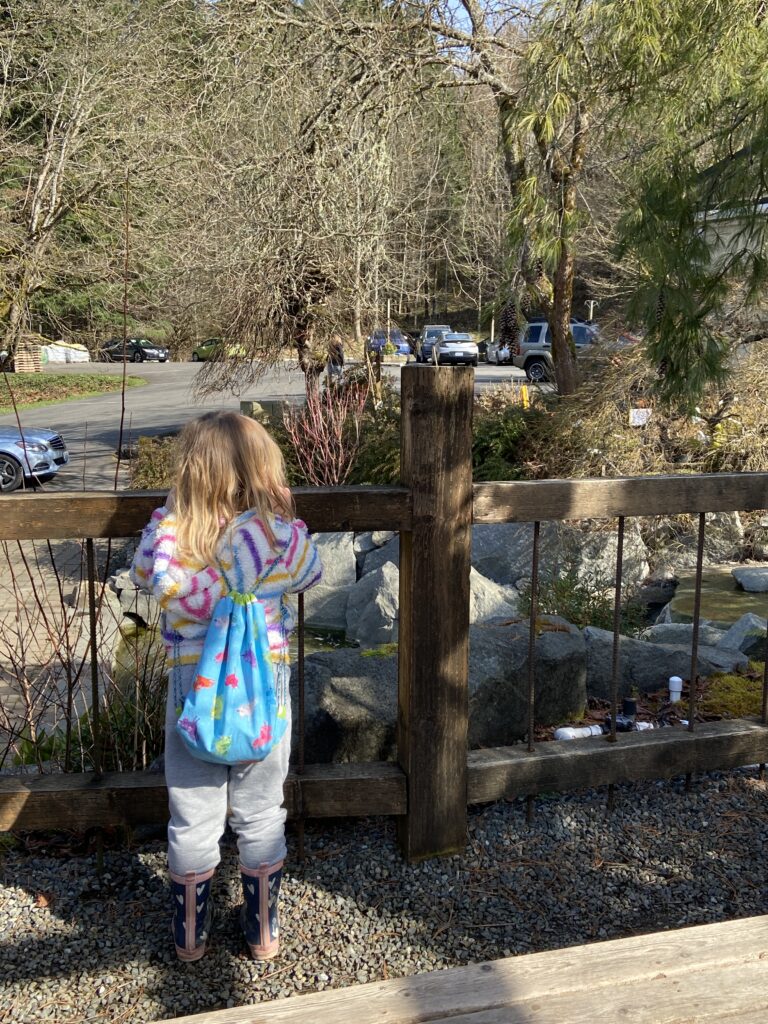 A few days ago we went and wandered at the most gorgeous nursery! We had given my daughter in law a gift certificate to this garden center for her birthday in February. She wanted to get some roses to plant in the yard. It really was incredible. I love a good wander through the nursery and this was a fun morning. H really enjoys looking at the plants and colors. She picked out a purple pansy which she and mommy planted in a little pot for the outdoor table.
Handmade gifts are so much fun – I hope we can keep this tradition going even as the girls are older. I will be back soon to share the gifts we made for our one year old. Hope all is well with you. We are only here with the kids for another couple of days and then will be heading for home and regular life.