Between the Covid safety measures and the wildfires out here, our family is basically stuck inside and at home. The smoke continues to pollute the air and our Air Quality Index has ranged from 175 to 352 (the highest I have seen it) over the last month. (As a point of reference, 0-50 is considered healthy, clean air). In our area, the fire that started this mess began on August 14th. Fortunately, that fire has been dealt with but there are myriad other fires up and down the whole west coast, keeping the air very unhealthy.
Having to stay inside so much gets boring and the three of us get antsy. We have been trying to do projects, read a lot, watch tv and play an occasional card game to pass the time. Over the weekend we got crafty! Want to see what we made?
The first project were these silly mummy jars. Julia and I thought they would be fun to have out for Halloween. The project is so simple and if you have small children, it is perfect for them. You only need a few clean jars, some Mod Podge, cheesecloth, and wiggly eyes.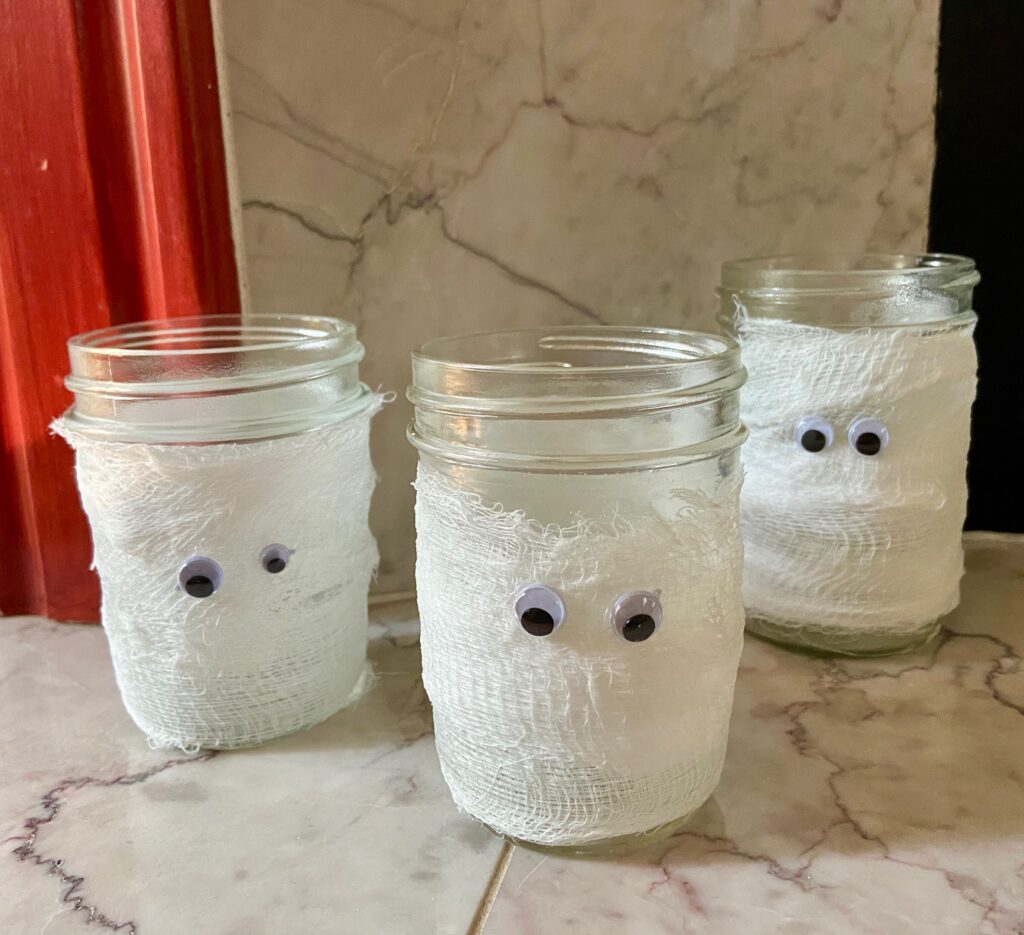 Cut the cheesecloth into strips approximately 1 1/2″ wide. Maybe two strips per jar? Paint the outside of the jar with a coat of Mod Podge. Wrap the strips around the jar as you might wrap a mummy. Haha – like I would know how to wrap a mummy. Then paint another coat of Mod Podge over the wrapped jar. Let dry. The next day we used a hot glue gun and attached the wiggly eyes. Julia's boyfriend decided one of our mummies needed to have crazy eyes so he used two different size wiggly eyes.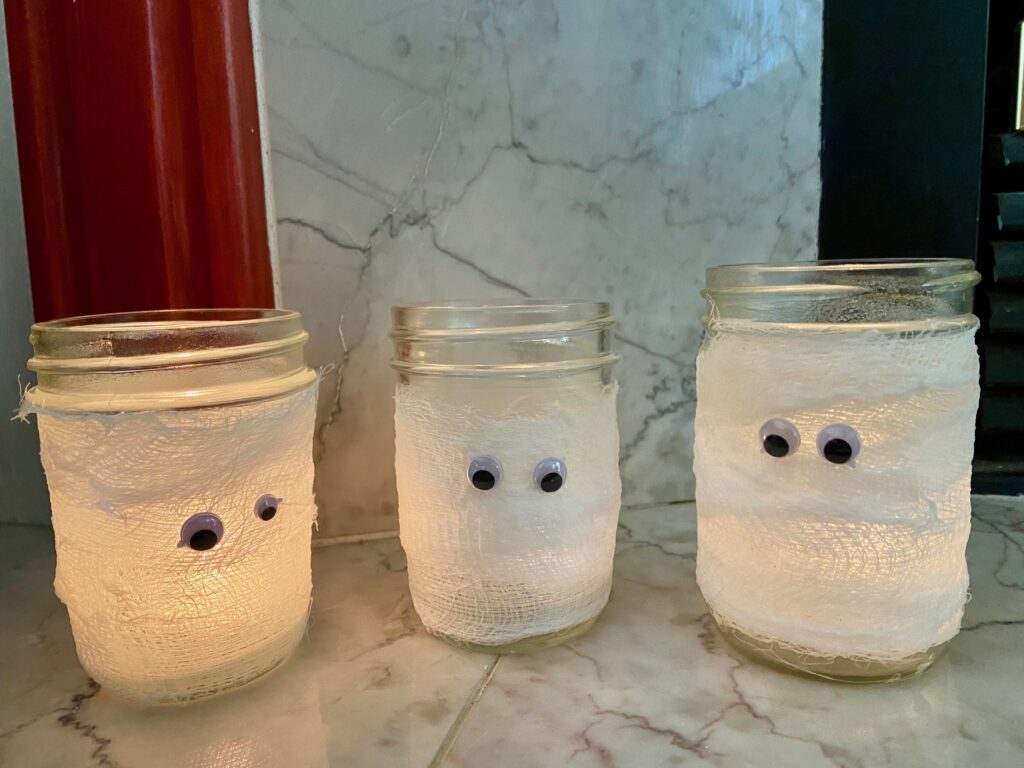 Moving on, and in keeping with the Mod Podge crafting, Julia and I colored two jars. I really love these!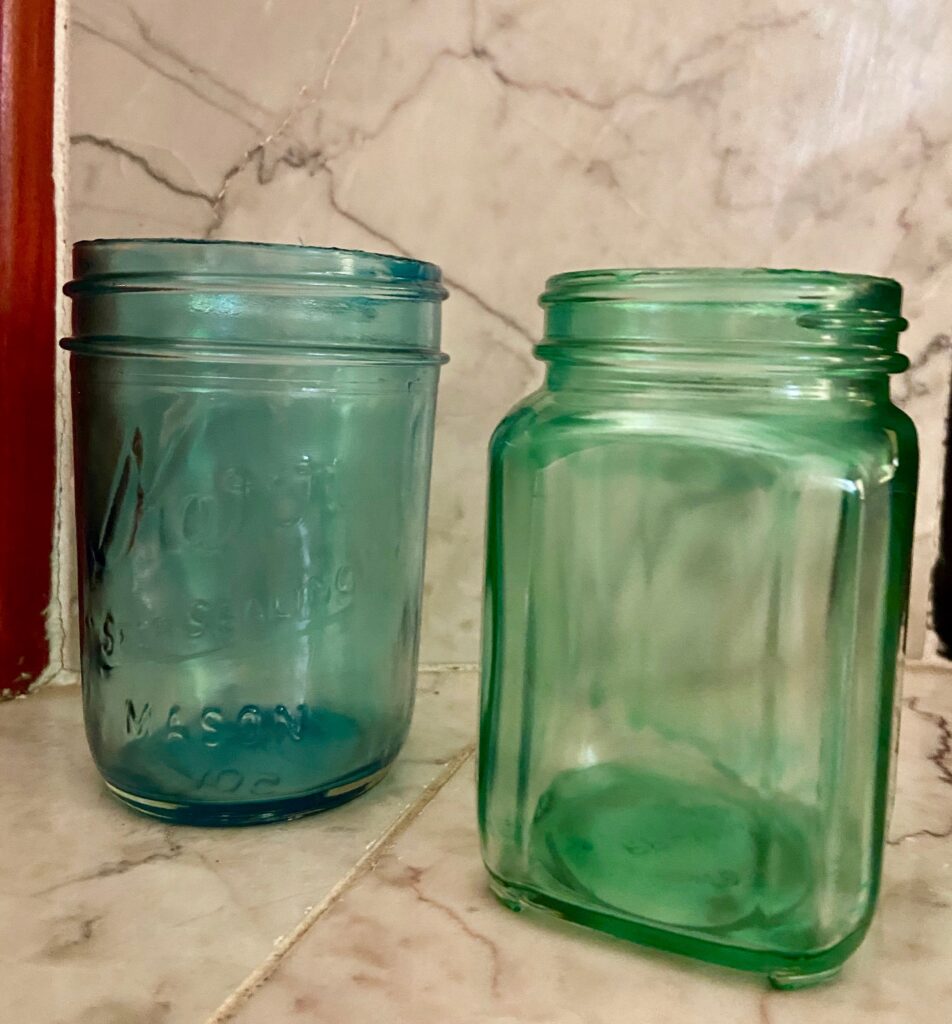 Another simple project, you only need two clean jars, Mod Podge, and some food coloring. For these jars, pour about 2 tablespoons of Mod Podge into a little bowl. Add the color you want (remembering not to add too much!) and about a teaspoon of water. Mix until the color is distributed – we used a toothpick to mix ours. Pour the colored glue into the jar and start to rotate your jar slowly, letting the glue run over all sides of the jar. Once the inside of the jar is well coated, drain the Mod Podge out. If you are going to make more jars, drain back into your bowl. Since we didn't want to make more than one each, we drained the jars over the kitchen trash. Hold it upside down for a minute or so to let it drain. Then invert it on to a tray with waxed paper on it. Let the jars stand upside down for an hour. After that hour passes, bake the jars – standing right side up – for an hour at 225 degrees. They dried clear and hard.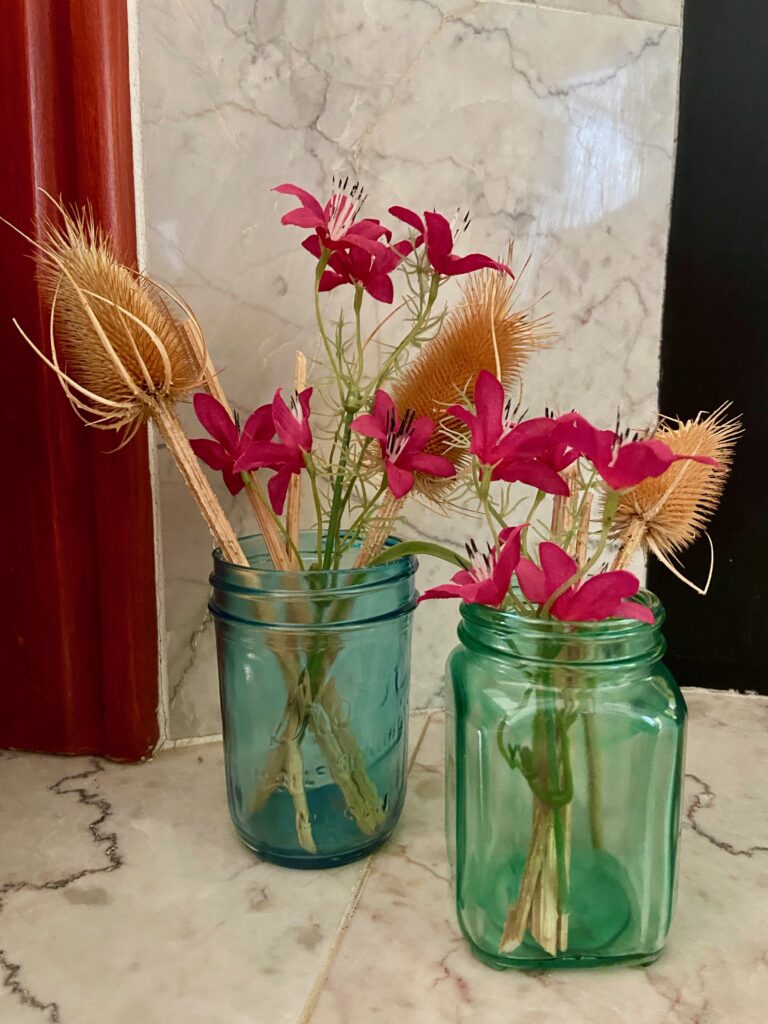 I don't know that I would put water in them as I am uncertain if that would eventually wash out the finish we made. But they look cute with dried flowers.
Moving on Julia wanted to make some soft pumpkins. We had everything we needed though the only appropriate socks we found were from Ray's drawer. I am not a fan of the darker colored pumpkin. I do like the lighter colors though.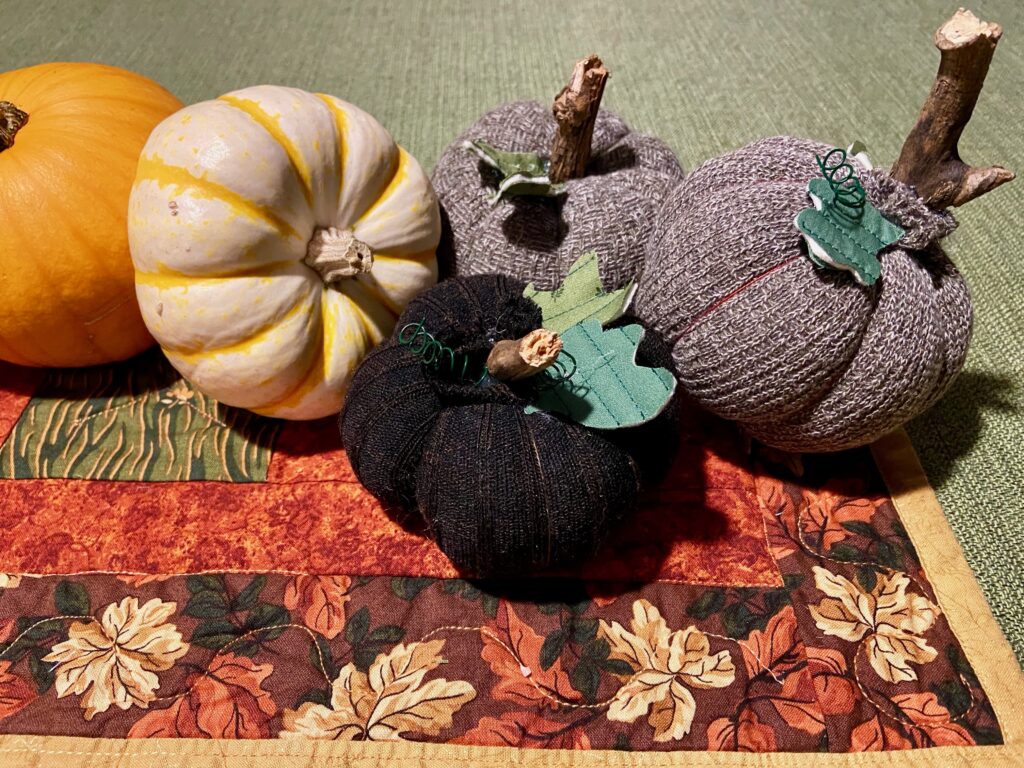 To make these we used a tutorial found at A Well Purposed Woman. I won't go into the details since we really followed her instructions completely. This was a lot of fun to do together. Julia had the great idea to wrap floral wire around a pencil to make the little curlicue 'vines' we glued at the top near the stems. I like the fact that the instructions told us to put 1/4 cup of dry rice in first and then the polyfil stuffing. This weight at the bottom really makes the pumpkins sit nicely. If I were to do this again, and thrift stores were a feasible option, I would look for some socks with better colors or a knit sweater that could be upcycled. However, considering we were only using what we had at home, I call this a success.
One more fun thing to share – my sister, Juanita, is a yoga instructor who lives in Texas. With all of the travel restrictions in place, my family (like yours I am sure) is unable to be together. To allow family members to be able to spend time together, my sister has been teaching a yoga class via Zoom on Sunday afternoons. The link goes out to everyone in the family and whomever is available joins in. I took a screen shot over the weekend to share with you.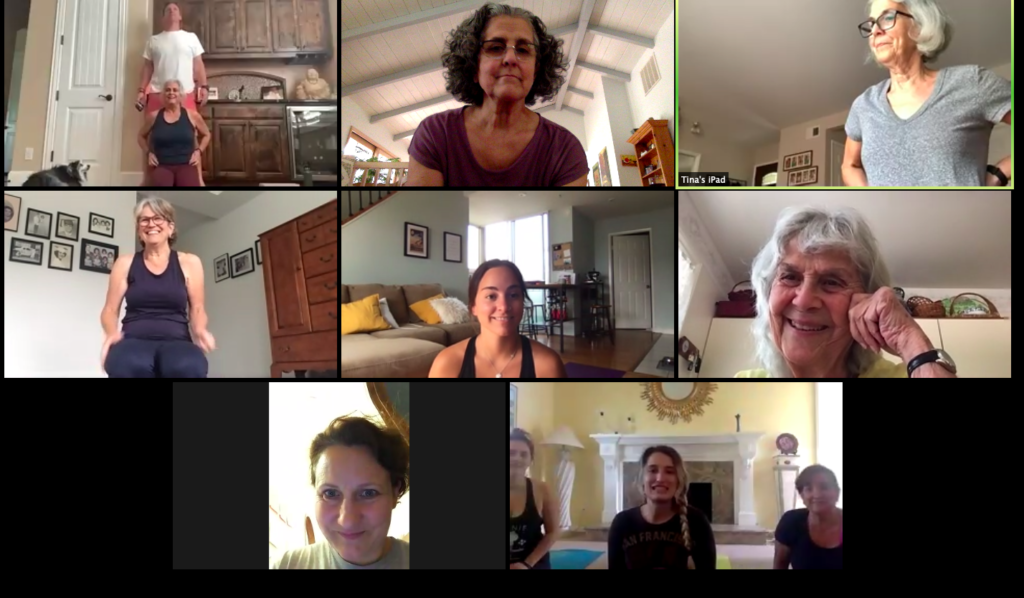 This doesn't even show all of the family that participated. I couldn't fit everyone on my screen. But it is such a great way to spend an hour together. Do a little yoga and then we all visit for a few minutes. It is just real life connected virtually. During family yoga this past Sunday, my sister in the upper right corner had her 16 month old grand daughter in and out of the room and my niece, bottom row, far left had to stop to help her three year old put her pants back on. It all makes us laugh and we (sort of) get to be together.
It takes some effort and a bit of creativity but I am glad we can find ways to stay connected. I hope you are able to as well!