Hi everyone – somehow about two weeks have passed since I have posted. I am unsure if it is because I don't have much to tell you or I have been busy or what? One would think with the shelter in place rules, I would have tons of time to write blog posts but it hasn't happened.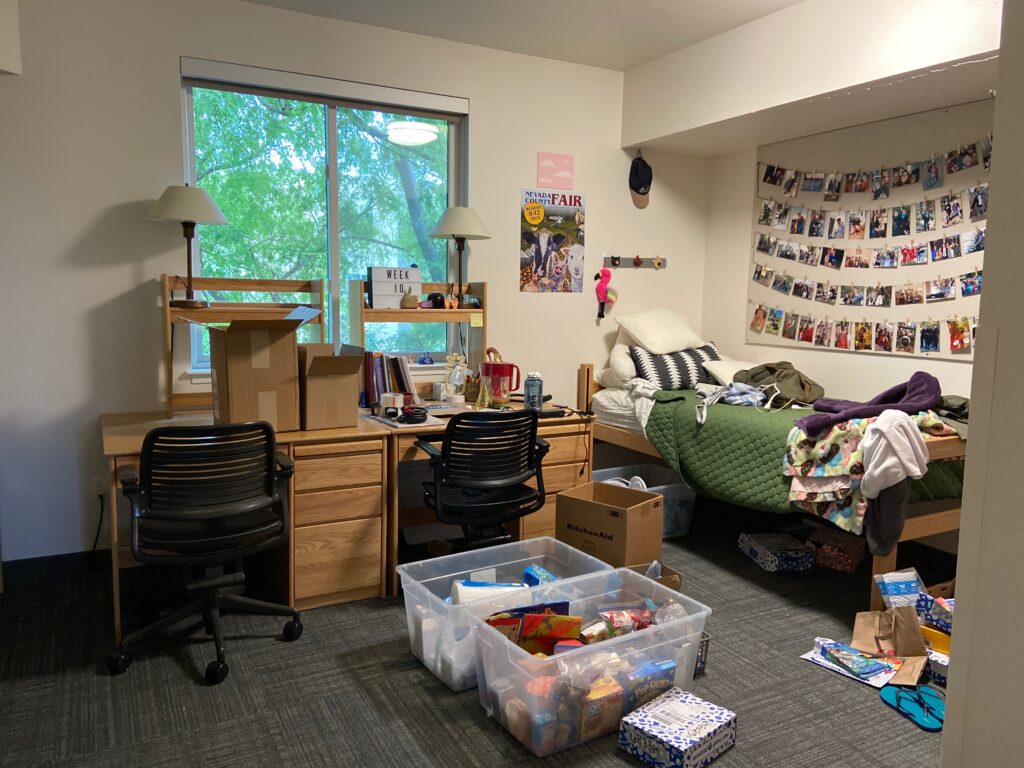 Actually, lots has been going on – a few days ago we drove to Julia's university to clean out her dorm room. They decided for sure the students will not return to campus until fall session opens. This was sad and is the case across the country. When we were cleaning out the dorm room, Julia was melancholy. She certainly didn't get the dorm life experience she was hoping for with all of these changes.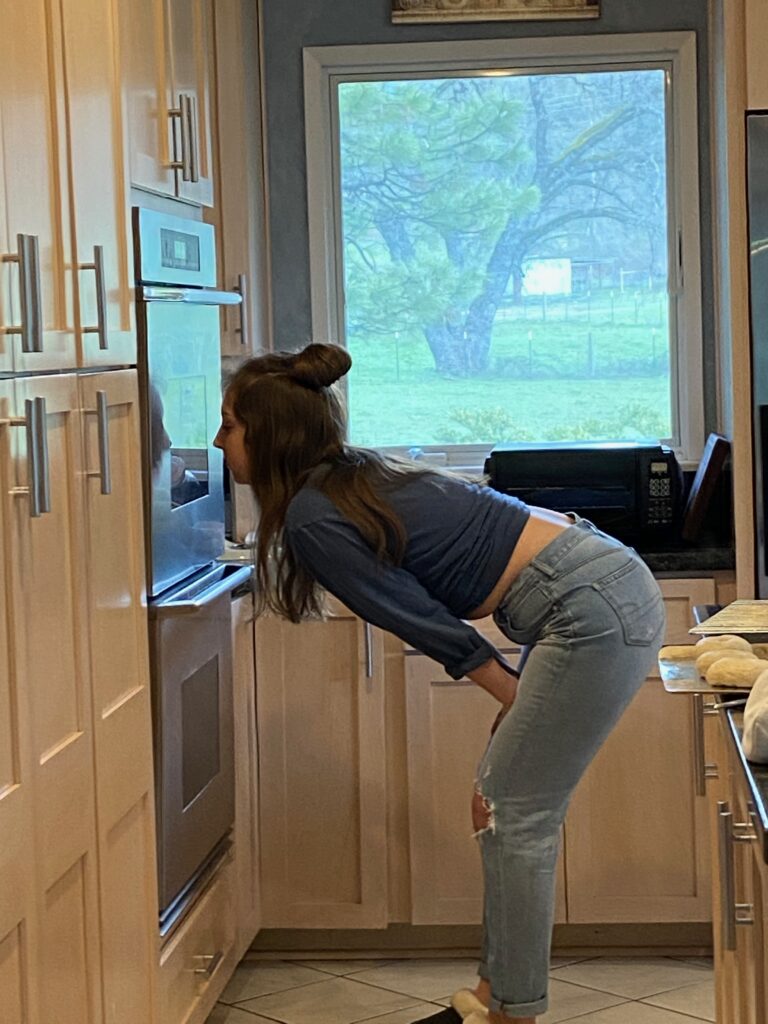 Like all of you, we have been keeping busy with projects and cooking – so much baking!! Julia has made cookies, bagels and dinner rolls. Currently she is learning about sour dough starter. She started one batch but it didn't work so she tossed it and has started again.I made pumpkin bread the other day with some pumpkin from the freezer (actually from out garden last summer). We are trying to cook all sorts of meals based on what is in the freezer – mainly because food tends to be shoved to the back of the freezer and forgotten. Now is the time to take stock of what is there and use it up.
As far as sewing goes, it has been hit and miss. At the time of my last post, I was really into it and then I sort of lost my motivation. But when the governor of California asked residents to begin wearing masks in public, I decided to make masks for the family. I have looked at a couple of patterns and mashed them up to get a result I am happy with. It is a work in progress for sure.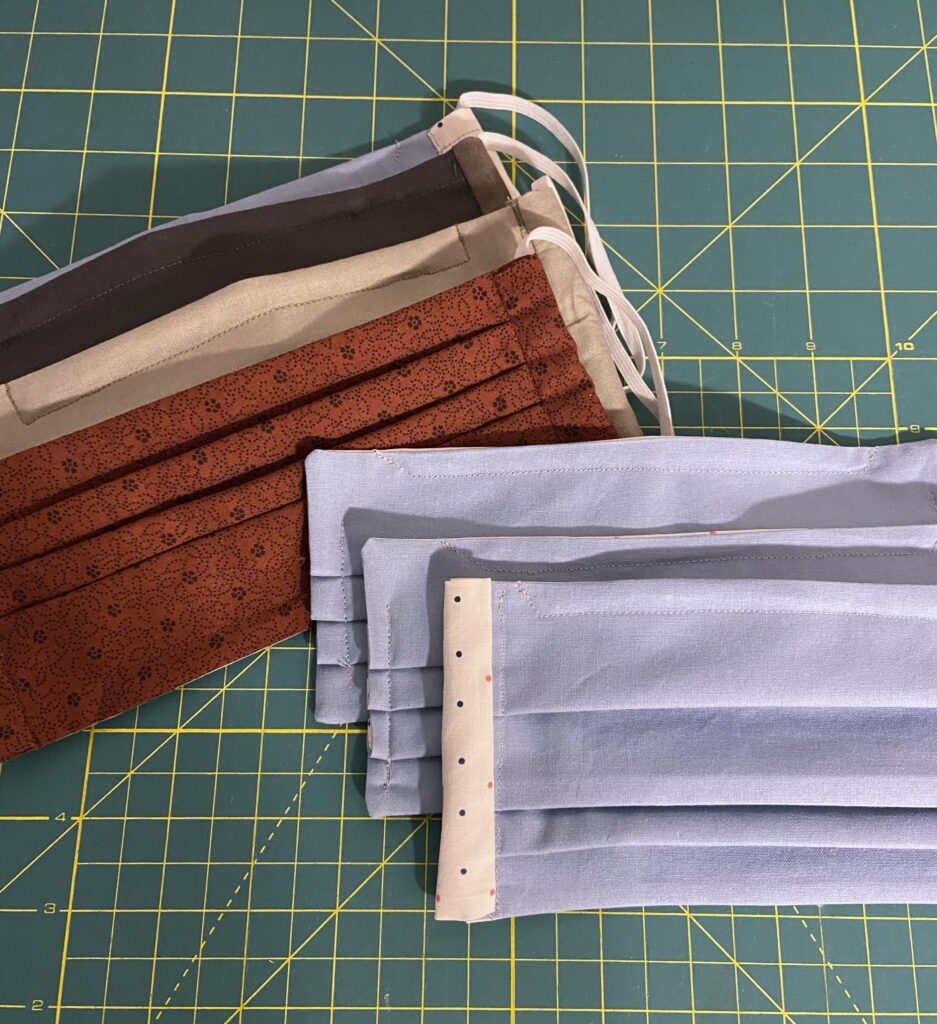 I mailed a few to my son and his wife in New York. Those two are the members of the family I worry about most. They have been very careful and stay in their apartment most of the time. They have a dog so do need to be outdoors to walk her. It is so awful in New York and they need to be extra diligent.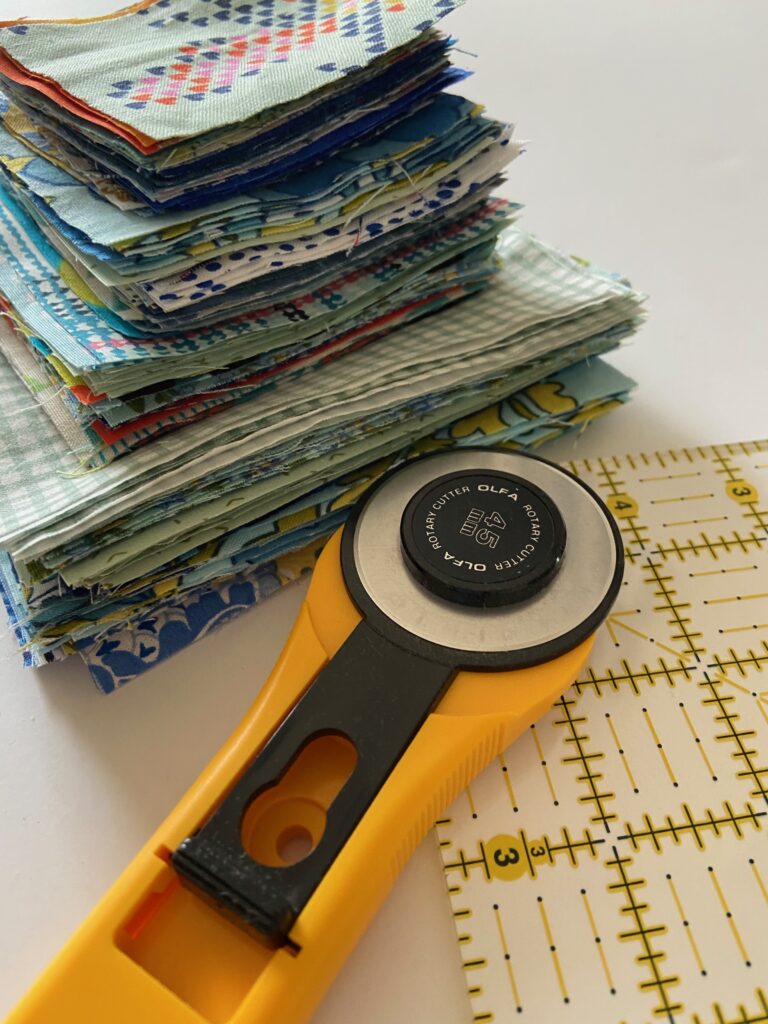 I spent a couple of evenings cutting lots of scraps into squares for future use. This was actually somewhat satisfying. At least I was able to close my blue bin after doing this. Now of course, I have a new bin with these squares and more on the way. Sigh. It is never ending.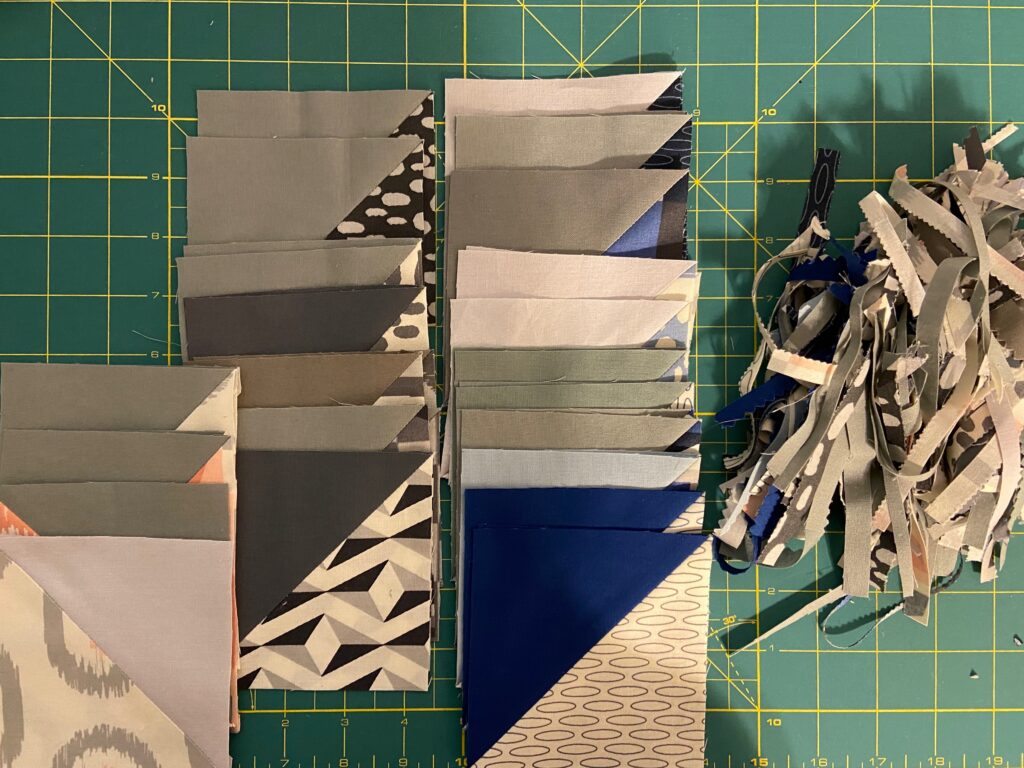 Another day or two was spent making half square triangles with a pack of charm squares I got from who-knows-where? I thought they would be cute used in some fashion. Can you tell I am just mindlessly, aimlessly sewing? So HST's are made and trimmed and in a bag. Someday they will be used. Making the HST's is the worst chore – it will be more fun to stitch them up.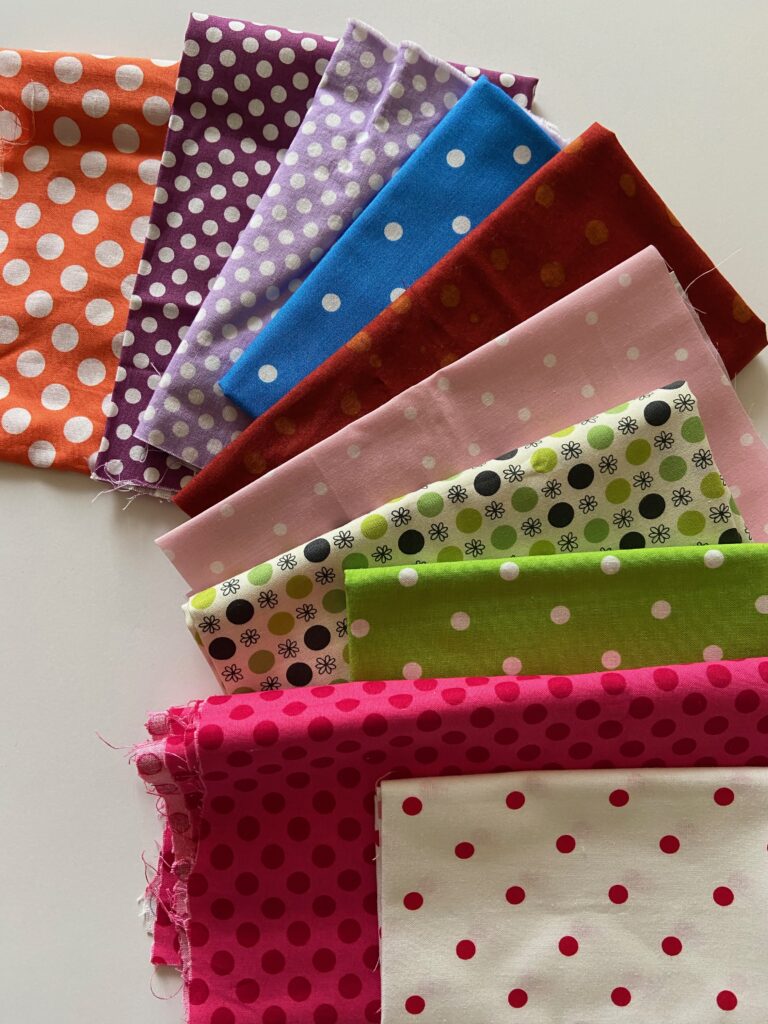 Another fun hour in the sewing room was spent hunting through scraps to find polka dot fabric. I am trying to stick with dotty prints for the 2020 Color Challenge. This month is purple but I have not yet started the block.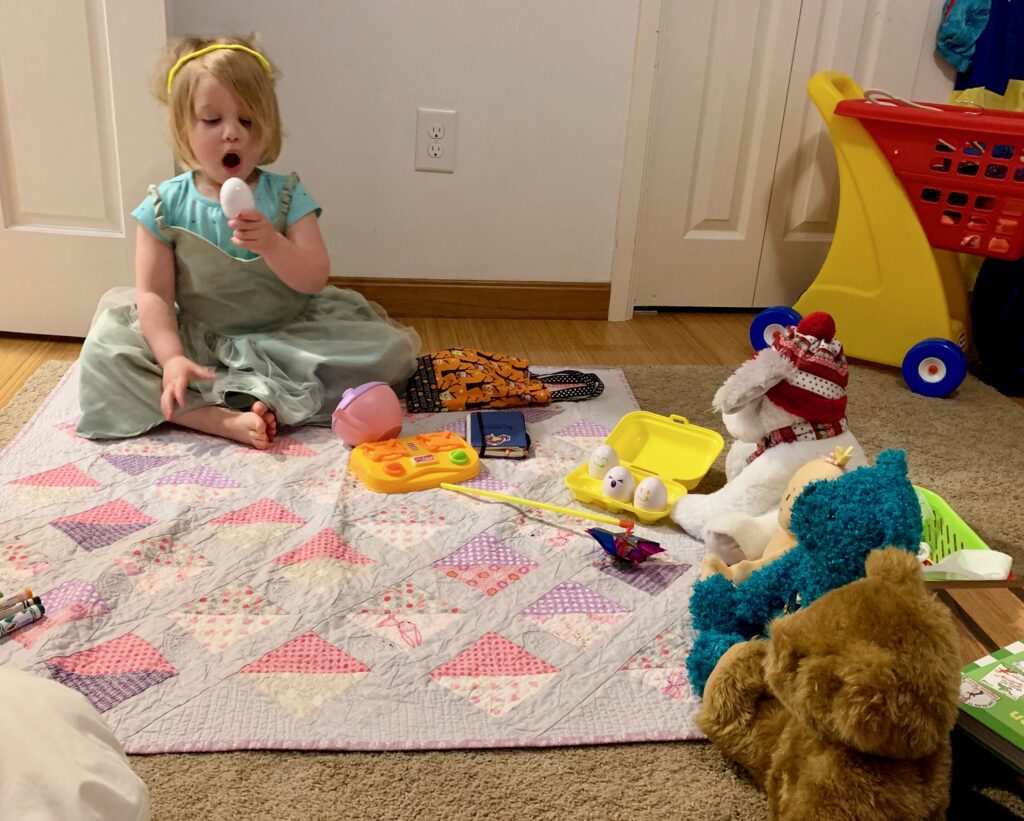 I am still enjoying lots of texts, photos and FaceTime with my two grand babies in Vermont. Not as good as real life visiting but this is all we have for now. Above is a picture of my grand daughter, AKA Princess Mirabelle, enjoying a pretend birthday party with her stuffed animals. She makes me smile every day.
This is such a random post but it well represents how things have been. These are strange times and it will be something to look back on 2020 and the Corona Virus pandemic. Hope we are are on the other side of this soon! Please do be careful, stay healthy and reach out to friends, family and neighbors.