I recently had a conversation with the chairperson of our Community Service team within our local quilt guild. We were talking about the recipients of the quilts we make and the quantity of quilts she had available. The discussion came around to our local Children's Protective Services team. This team includes officers of our Sherrif's Department who have the very sad task of removing children from home's where they are not in good, safe situations.
These officers like to carry blankets in the trunk of their cars so they can wrap up a child if needed when removing them and taking the child to social services and a foster home. The officers asked for blankets or quilts without batting. These kiddos are often put into carseats and the quilts can be too thick.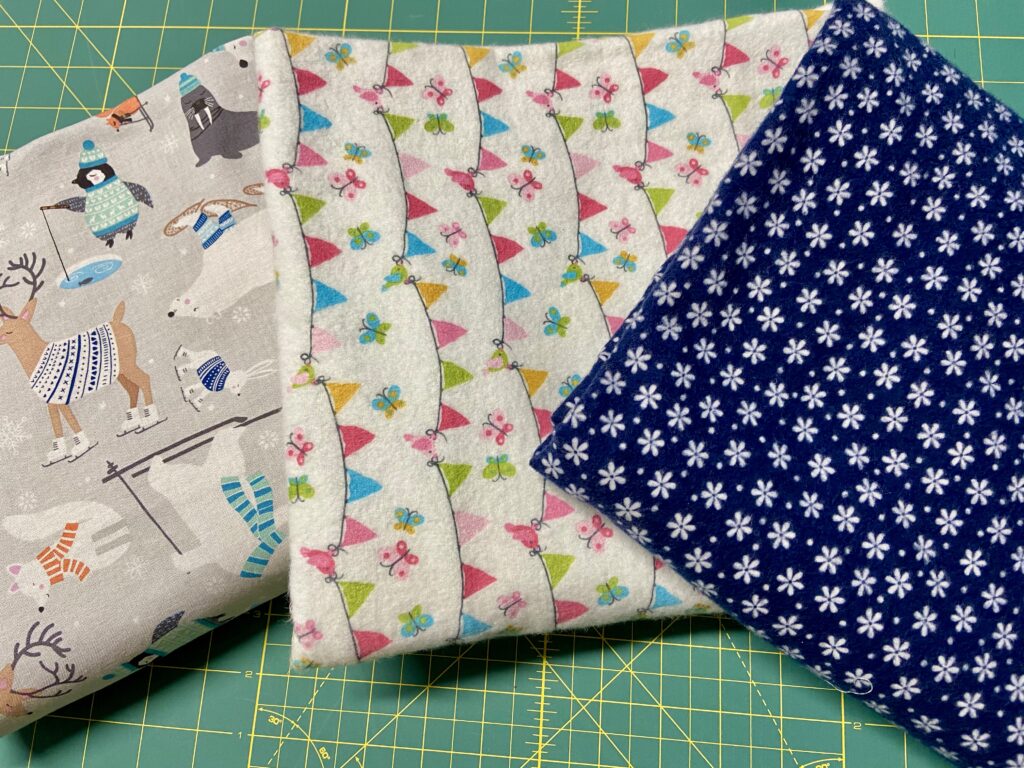 Thinking about this need, I decided to make some blankets with quilting cotton and flannel. These would be cozy and so easy to make. Plus they wouldn't take up much room in the carseat. To do this, I looked at my stash as well as the fabric in the shop and selected some pieces that worked together nicely.
The sizes of the blankets were somewhat dictated by the pieces of fabric I wanted to use. The first blanket I made turned out to be 42″ square when finished. I cut pieces of flannel and quilting cotton that were each 1 and 1/4 yards – so almost a 45″ square, depending on the width of the fabric. I pre-washed everything because flannel is known to shrink a bit. After pre-washing, I pressed all of the fabrics and laid them out, right sides together. Then I squared up the pieces. A quick stitching around the perimeter, leaving about five inches open to turn it right side out, took little time. Once the corners were popped out nicely, I pressed the seams and top-stitched around the perimeter at a 1/8″ margin. I top-stitched again about two inches inside of that first go around.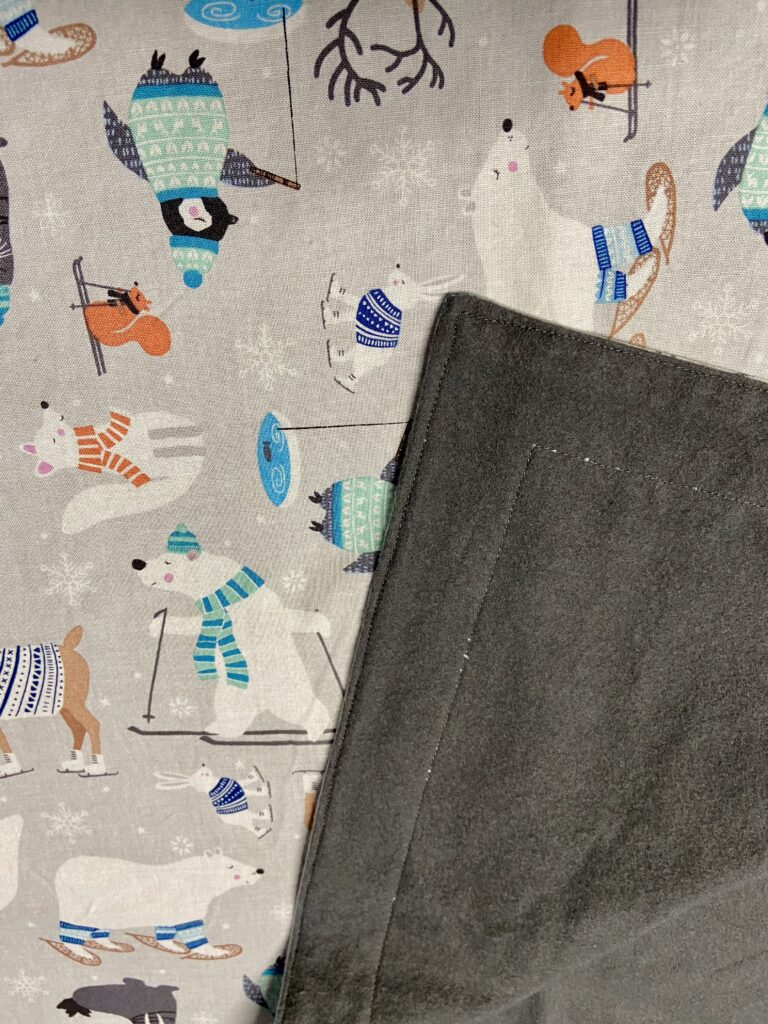 I have a number of yards of gray flannel in my stash that has been sitting for a long while. It looks great with these silly animals. I am sure it will work with other pieces as well and will try and use more of it for these sorts of blankets.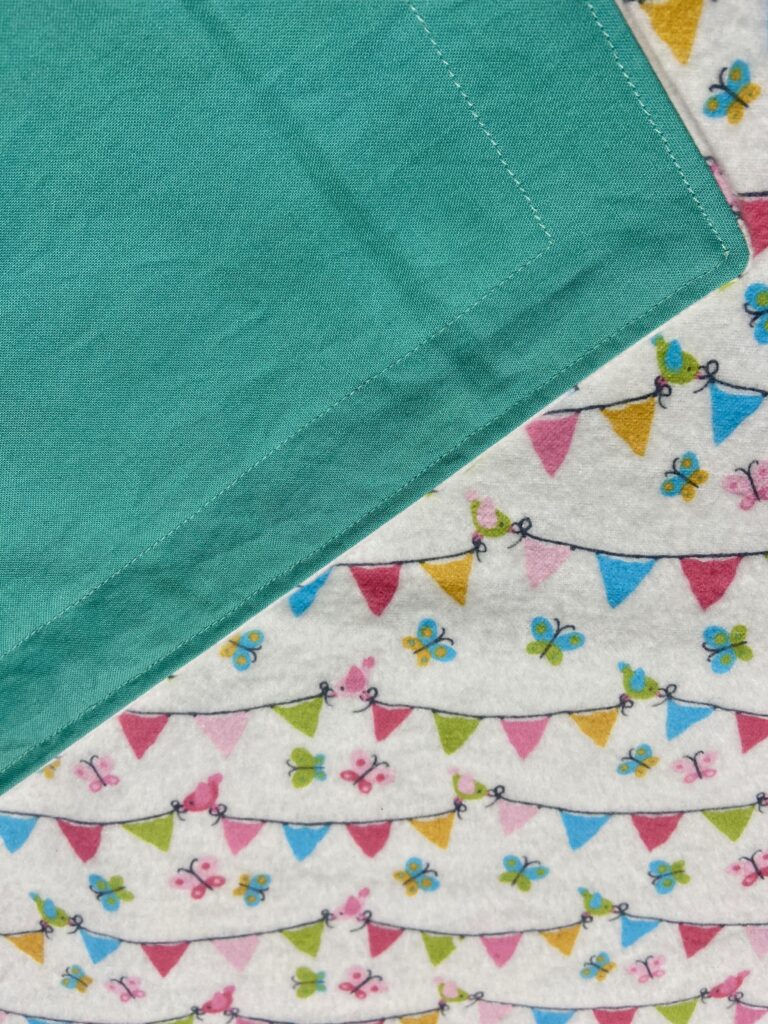 For each blanket I cut one piece of flannel and the other woven cotton. However this could be easily adapted according to the stash a person has to use. Stretch knits would work and be really cozy. A woven cotton backed with minky or cuddle fabric is also a great idea. All of these are thinner than a typical quilt.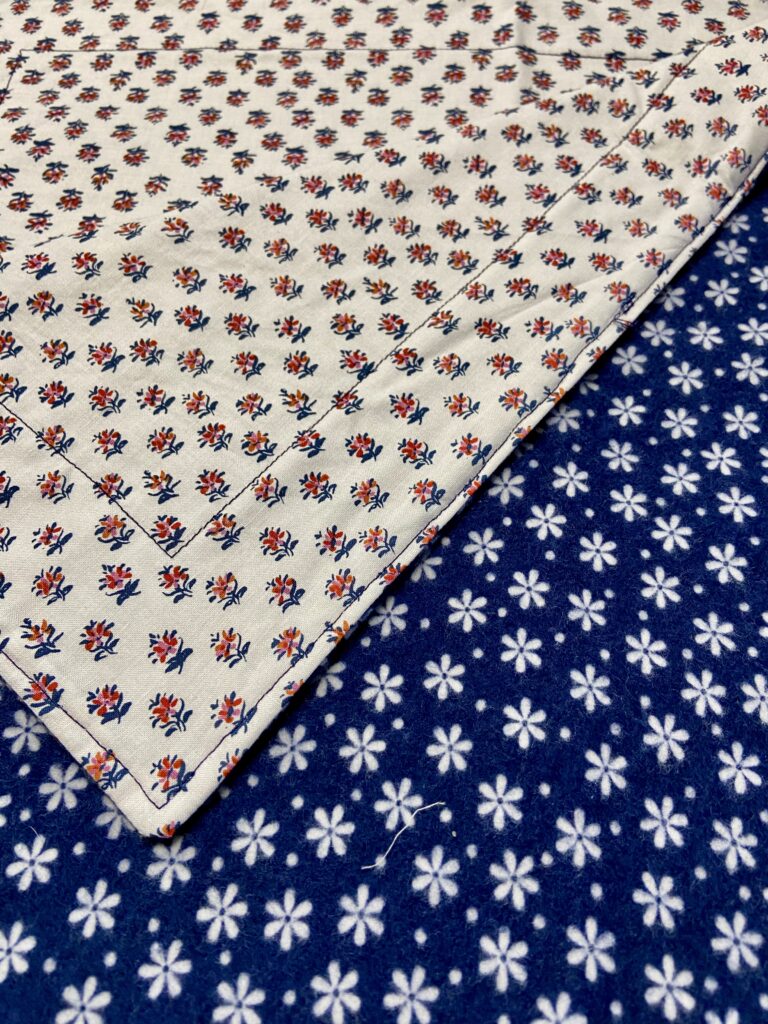 On of the blankets I made is quite a bit smaller because I had a little piece of flannel I wanted to use. It finished at 32 inches square. The navy flannel with sweet little daisies is so soft and the size will be perfect for a smaller child or toddler.
The need for these blankets makes me so sad. Last year these officers had to remove about 100 children from bad situations within our county. I couldn't believe that number. It is much more than I would have guessed. If the blankets are helpful in this awful time for a child, I am happy to make them. They take little in the way of supplies or time and might be soothing during a scary time. I plan to bring these to our community service group and check to see if other guild members might want to make one or two. Really, they take so little time and most likely we all have one yard cuts waiting to be used.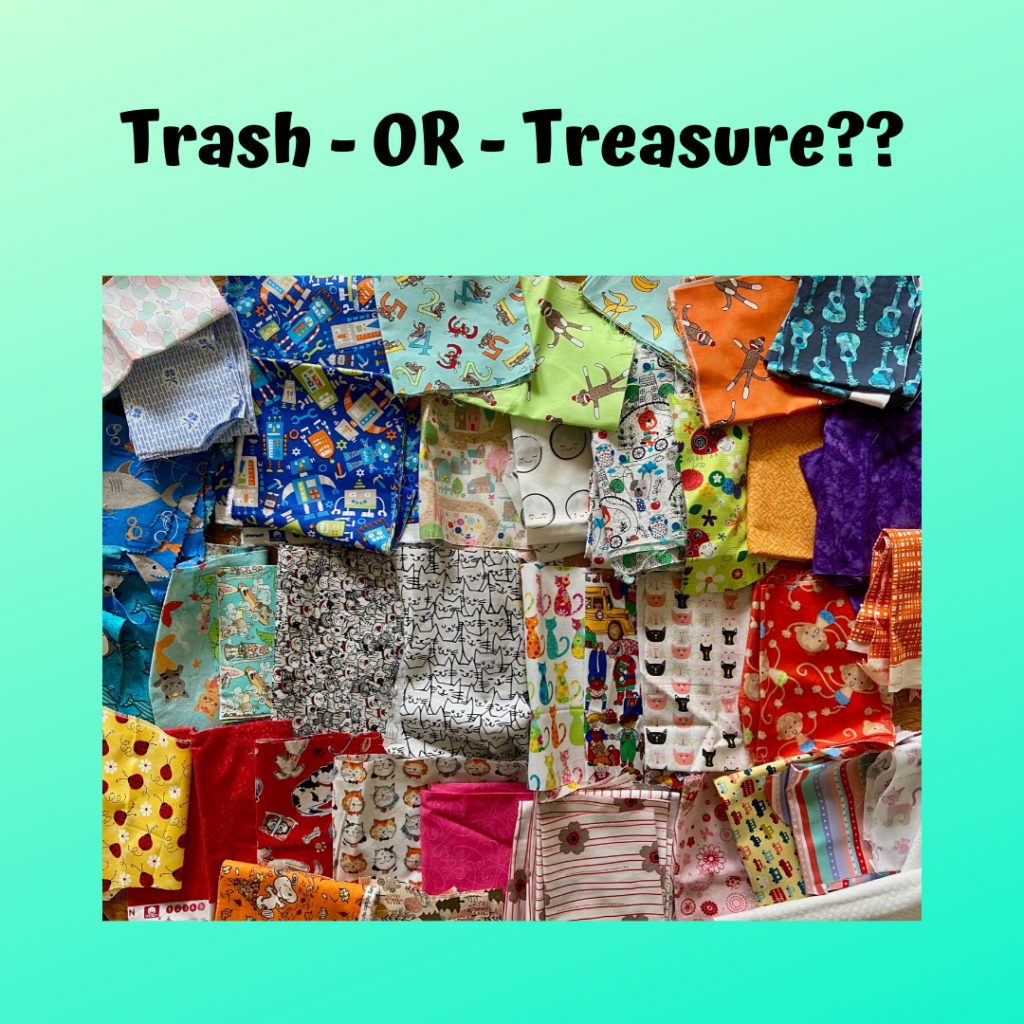 OK – Let's talk about the Trash to Treasure giveaway now! I have mentioned before that two of my sisters have an Etsy shop together. It is called 6 Monkeys & Co and they make and sell custom children's clothing and gifts. One of my favorite things they make are traditional baby bonnets. They are soooo sweet and make a wonderful (very affordable) handmade baby gift for a newborn. Please take a peak here to see them. If you find yourself in need of a fantastic gift for a grandchild, niece or nephew, be sure check out their shop.
Anyway, when my sisters are sewing, they are inclined to toss their scraps. When you are a garment maker, it doesn't make sense to keep these pieces of fabric if they aren't big enough to cut into a useful piece (sleeve, skirt, collar, etc) for a piece of clothing. But as a quilter, I want all the scraps, ALL THE TIME! So Cathy and Patti save them for me. At the moment, I have accumulated tons. Sometimes I cut them into 5″ squares and figure I will make an I Spy quilt. But let's be real. This pile is growing and I think it is time to share the wealth. If you would like to have some of these, please leave a comment. I will pick two winners and each will receive a great package of assorted scraps. Some are novelty fabrics, some blenders and lots of little florals and stripes. My sisters only save the larger scraps as I explained I wanted to be able to cut five inch squares with them so the pieces are really usable. The fabrics are great quality and would make a really fun scrappy quilt. Giveaway open through Friday, January 31st.
NOTE – Giveaway Now Closed. Thanks for entering!! Congrats to Sam and Sharon – winners of all these fun scraps!
I have almost finished my January goal which was to quilt and bind my Squared Away quilt. I will share that later this week. For now though, how about some scrappy treasures?? Happy sewing all.
Sharing at some of my favorite link ups. Check them out at the top of the page, under link-ups.