I have had this adorable fabric in the shop for a while now and it has called to me on numerous occasions. It features the sweetest little girl hang gliding, floating with balloons, and parachuting. The use of primary colors makes it so cheerful and bright – I just love it. It is called Hei Sky Cloudine from the Sisu line by Art Gallery Fabric.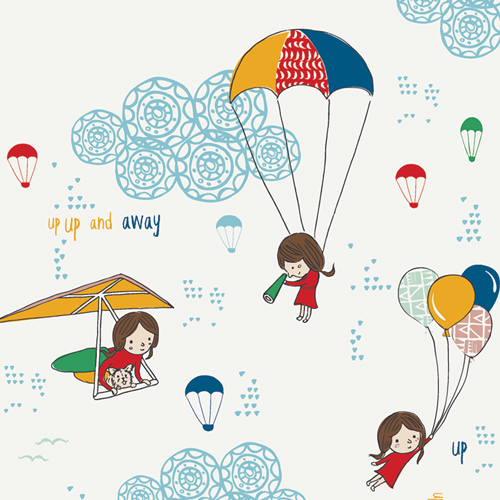 AGF, as always, has described the line beautifully: "Sisu!" is an untranslatable Finnish word; it is the mindset that allows us to keep going just when we think we are about to give up. In Sisu, children playing with primary shapes and colours inspire our natural tendency to persevere into our fullest potential.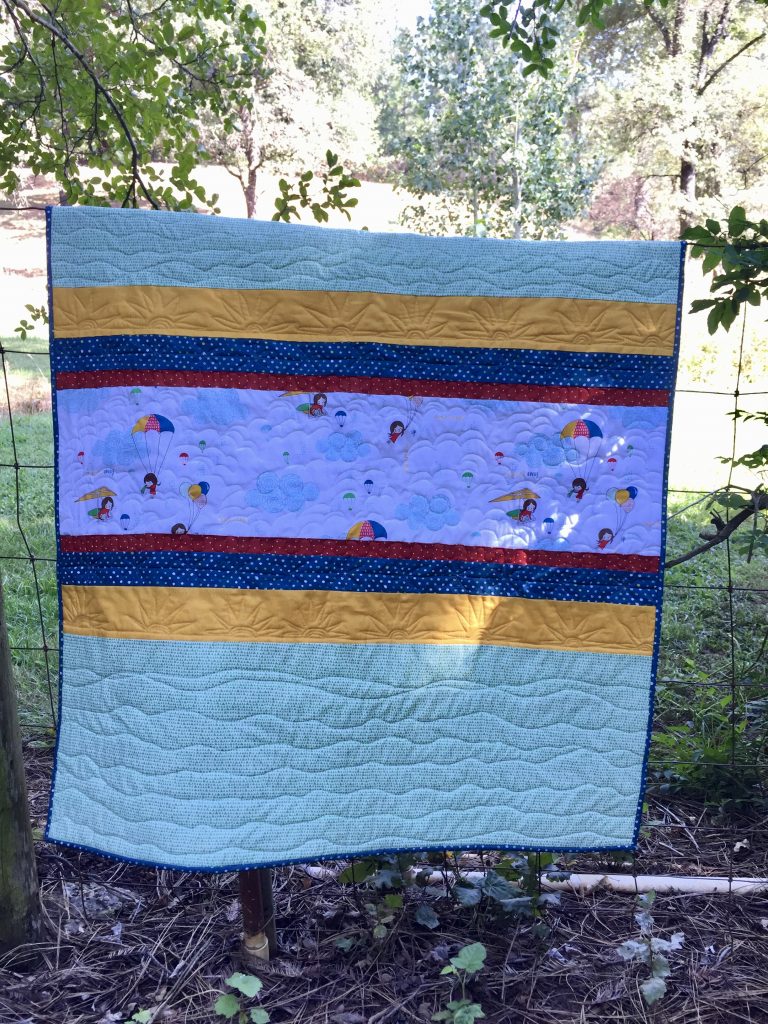 Last week I was browsing quilt blogs and came across a post on Material Girl Quilts and saw a very simple quilt made of stripes of fabric in varying sizes. It really appealed to me because it would show off this sweet fabric perfectly. I made two small modifications to the tutorial. I added a very narrow stripe of color just above and below the focal fabric. Then I cut my strips a tiny bit wider just to make use of the fabric as much as possible.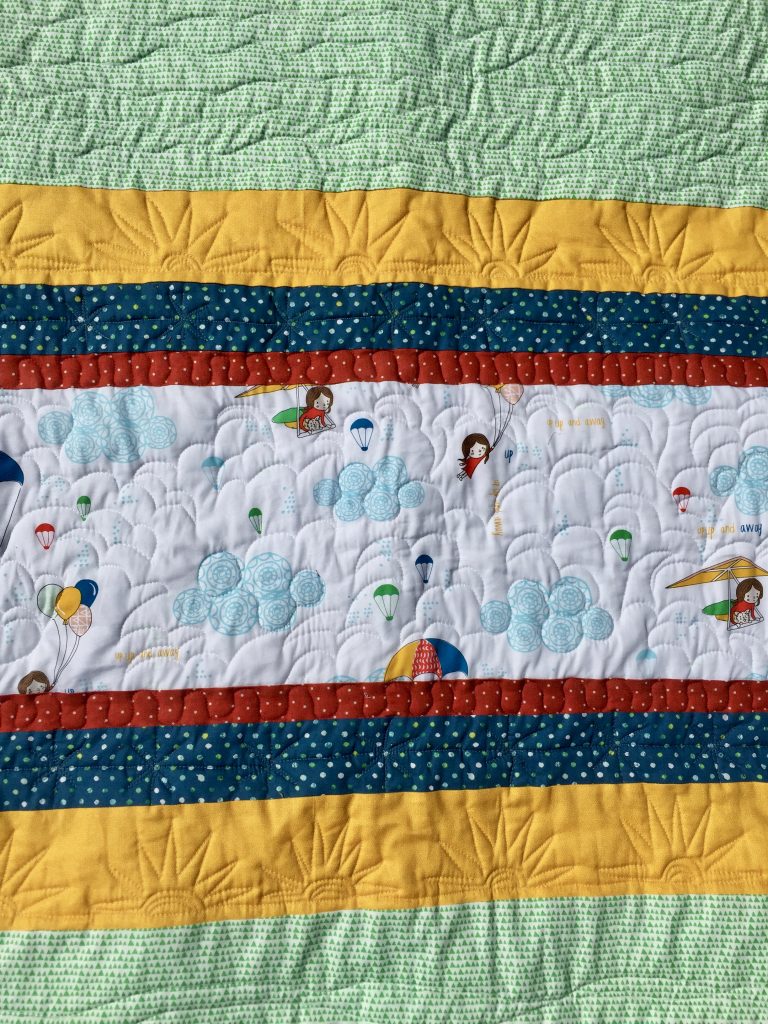 Obviously, this is a very simple quilt to make and took little time to put together. I used primary colors which make for a bold, happy quilt. Because the assembly took no time at all, I took the quilting slow. A quilt this size is perfect for practicing free motion quilting. Also, quilting in a row like this lent itself to some fun motifs. I enjoyed making the rows of rising suns on the dark yellow stripes. On the blue dots, I quilting large stars but I cannot quite make them show up in the picture. It seemed like I was making a night sky stripe with stars on the dark blue dotted fabric.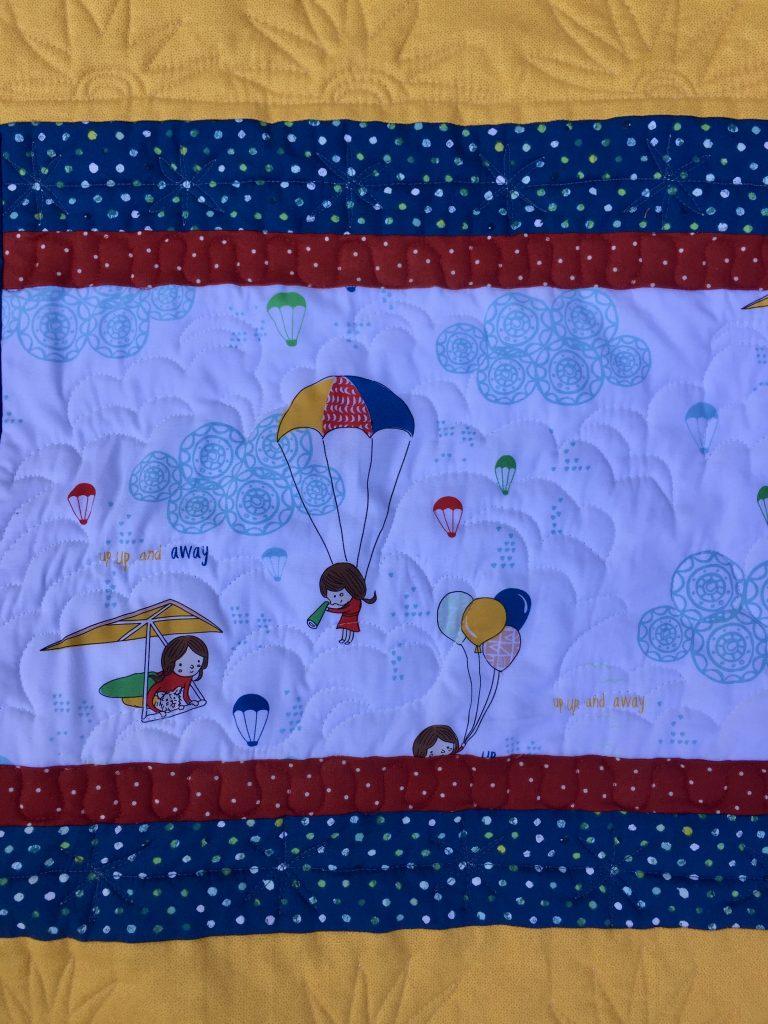 Clouds were the obvious choice for the focus fabric. This adventurous girl is floating around amidst all sorts of clouds. Small curved lines with lots of echoing was a fun motif to quilt. For the red polka dot stripe, I just did a wavy line, almost like a ribbon candy motif. By the way, the stars and sun motifs are from Lori Kennedy Quilts – you can find just about any motif on her site. It is a wealth of information!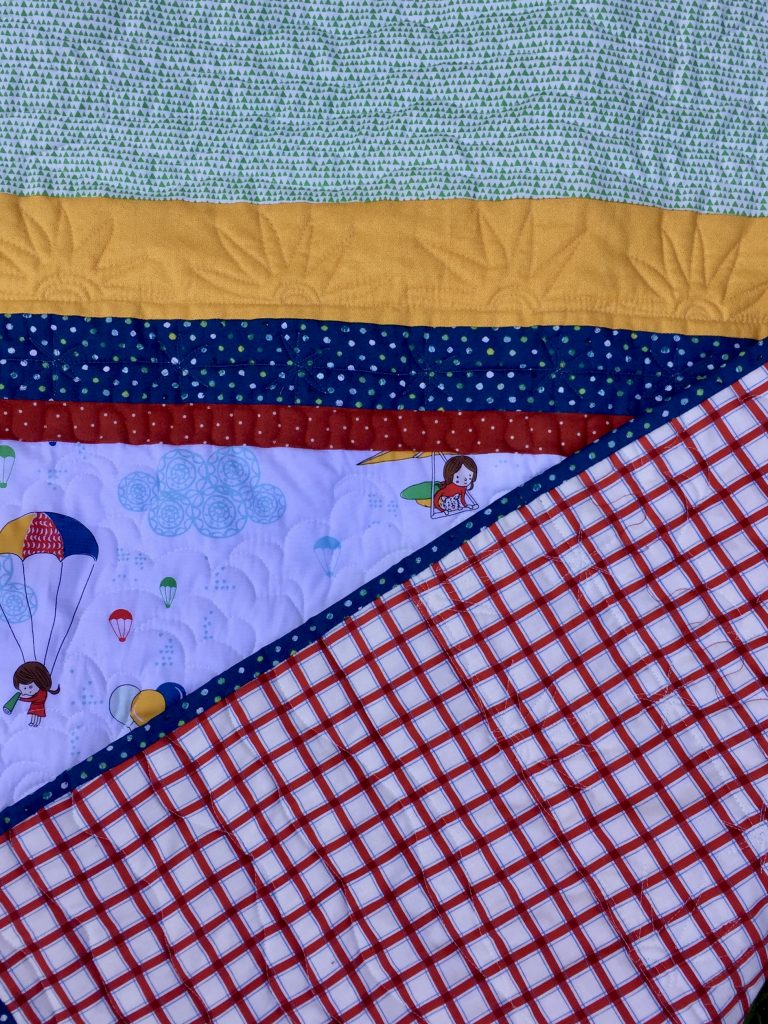 The backing fabric is a red and white large check with a hint of blue outlining the white squares. Perfect colors, right?
Making this quilt was so satisfying. Easily pieced, fun fabrics, and fun quilting motifs – Hurray!All of these fabrics are available in the shop so feel free to browse these links:
I am surely going to make more of these when I want to use fabrics with large scale prints. This quilt will probably hang as a sample for a while and then be gifted or maybe donated to Project Linus. We are enjoying oddly cool weather today and tomorrow so I am enjoying it. Sewing is going to have to wait until it heats back up on Monday!! Enjoy the weekend all!
Linking to my favorites – check them out at the top of the page, under link ups. This week since this has some FMQ going on, I am also linking up with Muv for Free Motion Mavericks.