My newest daughter-in-law has a December birthday, just a few days before Christmas actually.  This year I decided to make her a quilt.  Some time back, I had given Ian a lap quilt for their couch but thought it would be fun to make a Christmasy quilt for Shar to use in winter months.
The plan was built around the need for a quick quilt and this cute package of Pixie Noel charms I won in a giveaway several years ago over at Silly Mama Quilts. It was not the complete set so I think I had about 20 or so charms.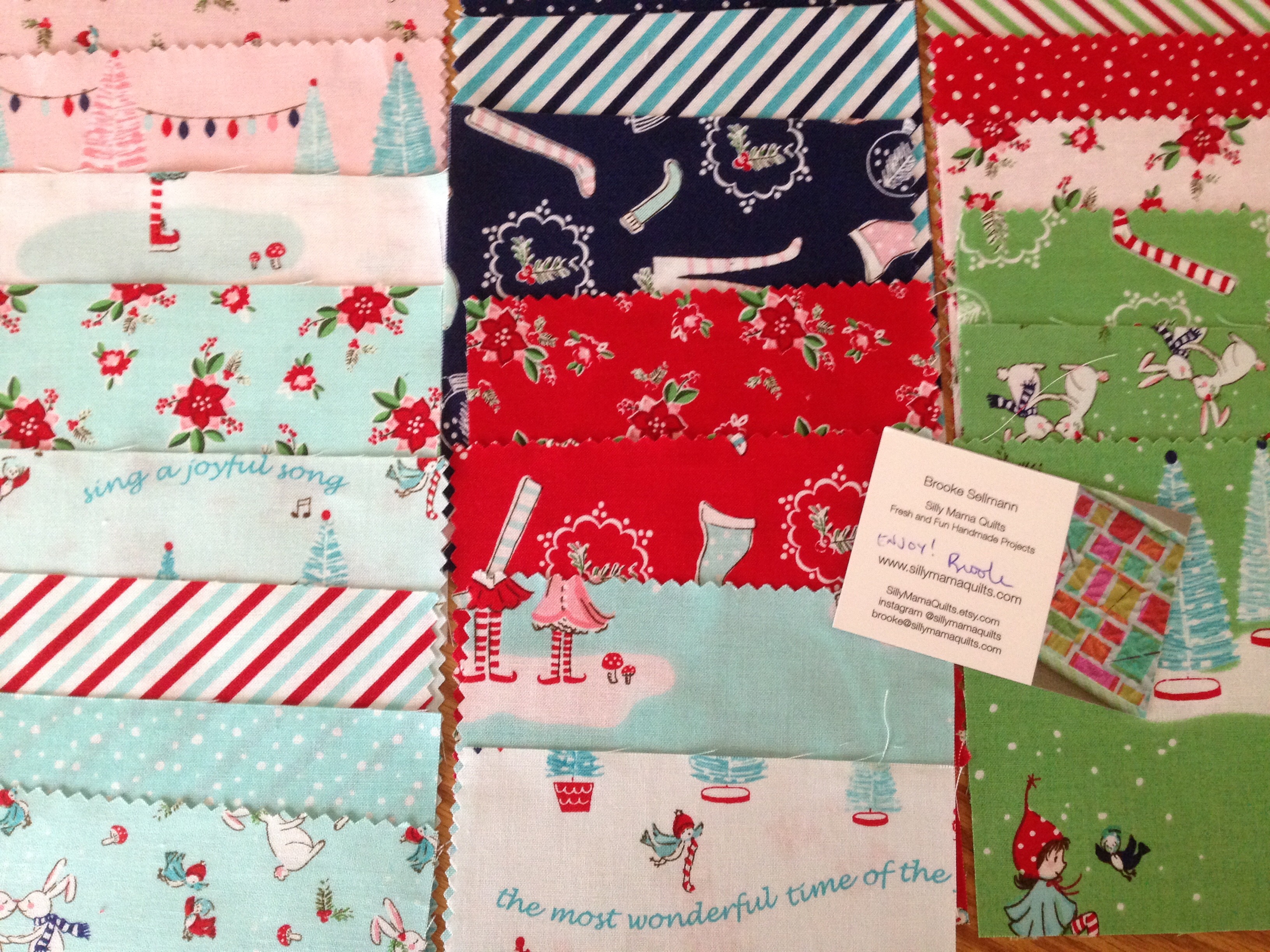 I hunted through my holiday scraps and cut about 200 charms so I would have plenty to play with.  (I have soooo many holiday scraps!). I wanted to make it a bit less traditional in color so I used a lot of blue and white.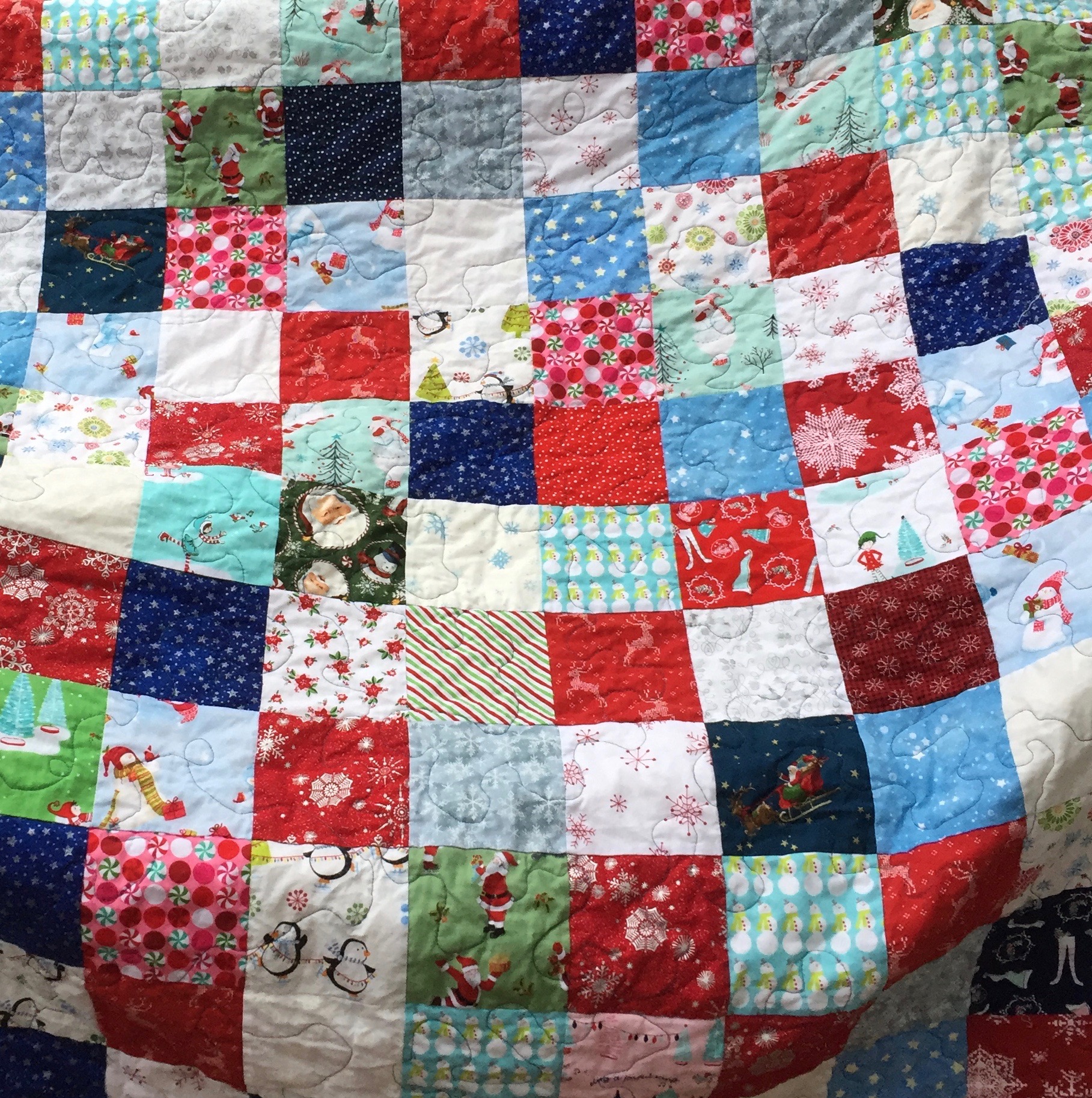 Being a simple patchwork, the top came together quickly.  Then it sat for a while because I had a flurry of holiday orders to sew for my shop.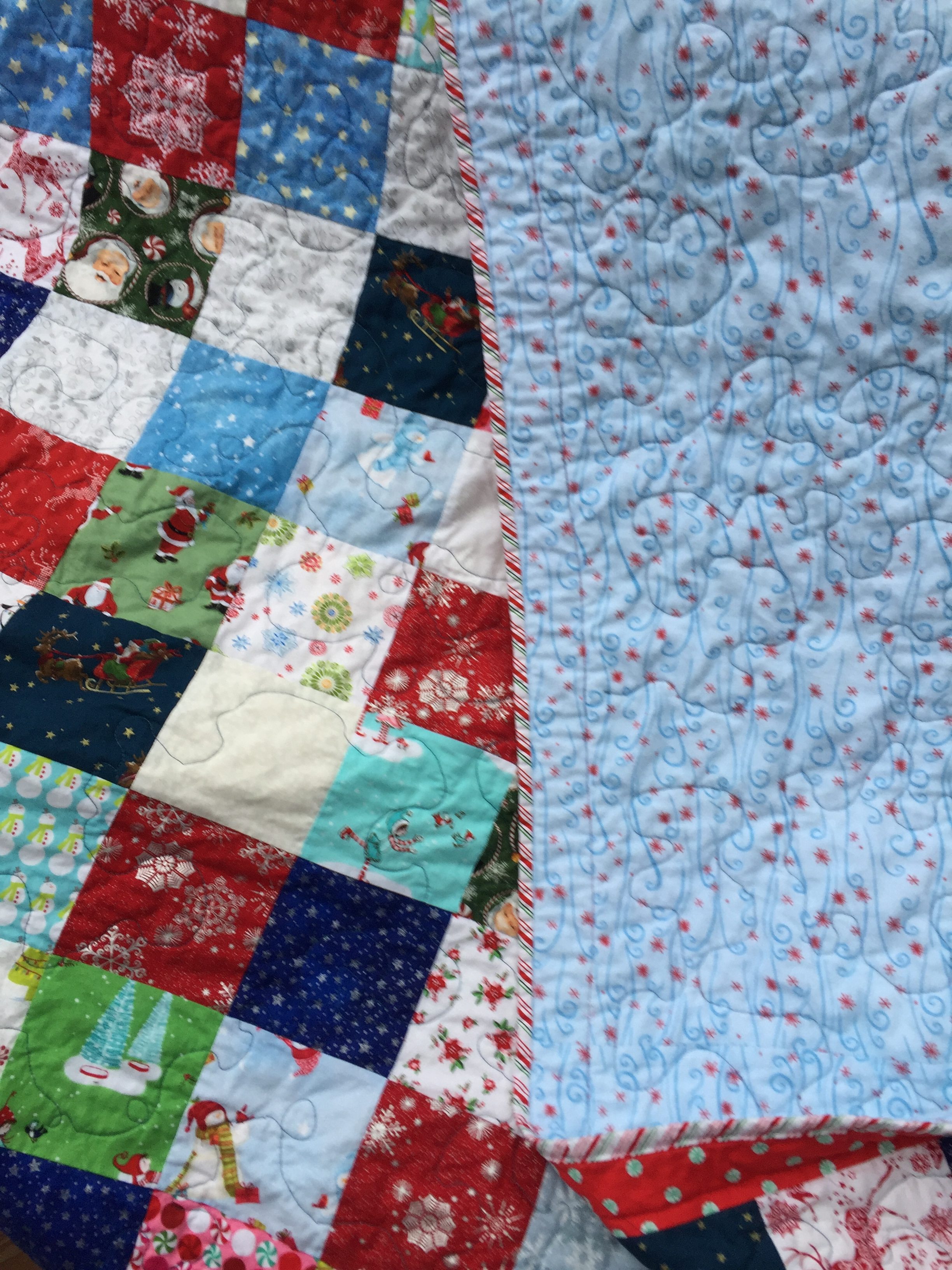 I decided to back it with a soft flannel to make it really cozy.  I think this is the first time I backed a quilt with flannel but I like how soft it is.  Julia really liked it too and requested the next quilt I make for her be flannel backed too. The wintry blue color worked well with the front.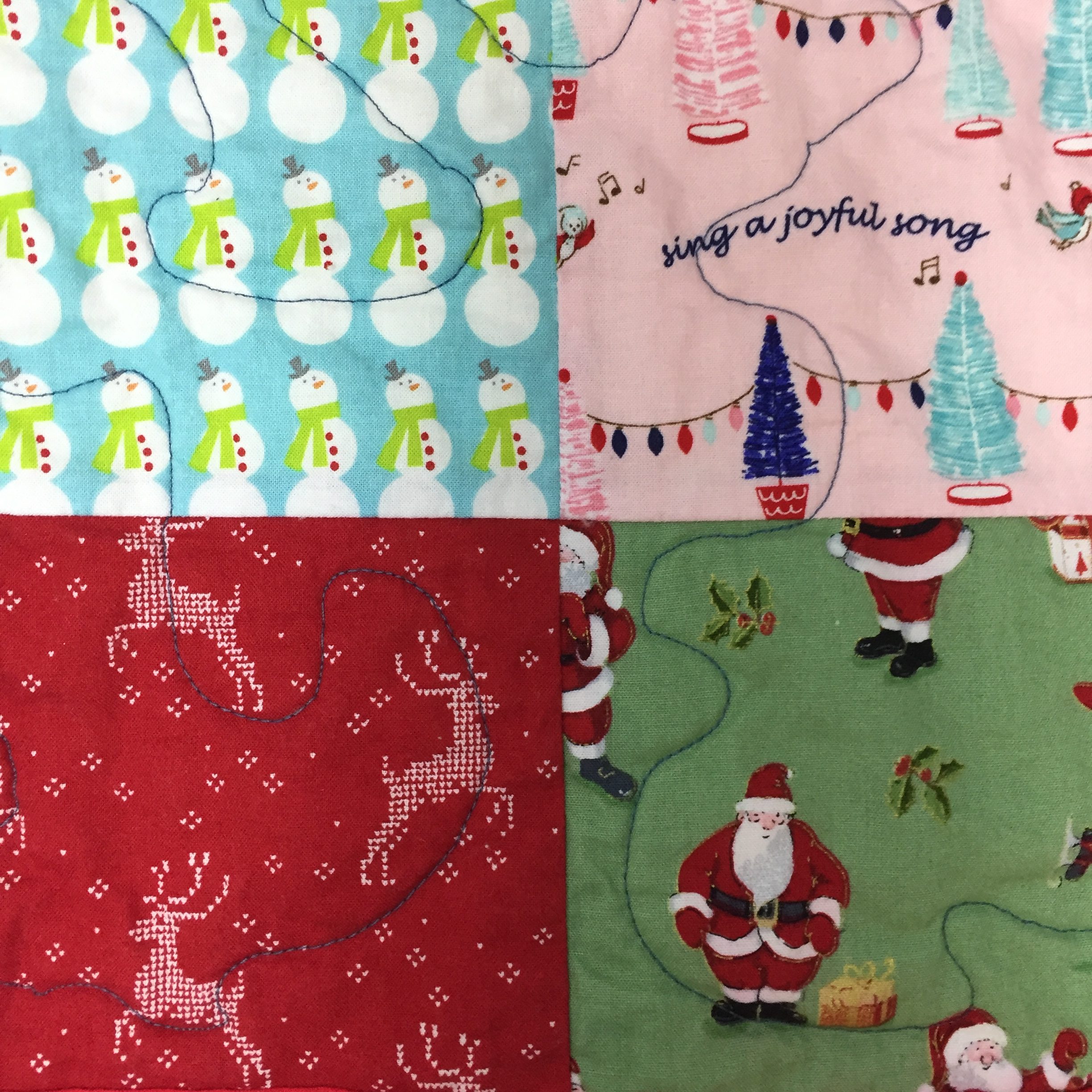 It has been a long while since I free motion quilted anything and jeez, I was so rusty.  This simple stipple was so awkward.  Definitely showed me the need to practice more – my hands were not at all cooperative!! Now that it is washed and crinkled, it looks better but still….  I intentionally used a very large stipple so it would stay very soft.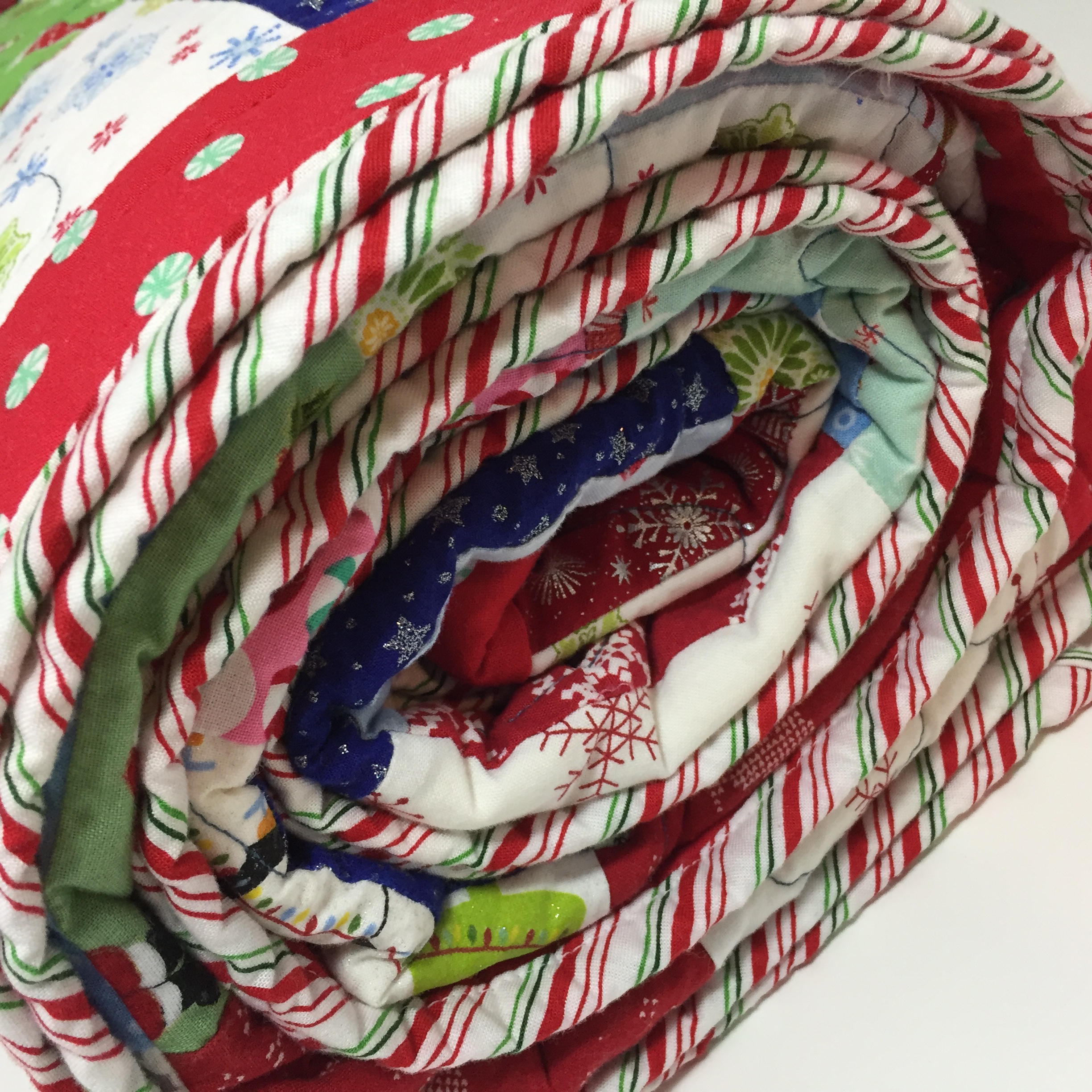 Given the choice, I will often opt for a bias stripe binding.  I love this one!! It looks just like a candy peppermint stick.
At this point in the year, I suspect this will be my last quilt finish.  There is a slim chance I will get my Fireburst quilt top finished but not for sure.  We shall see!  I am working on a few things for my grand daughter that I hope to bring her when we go to Vermont the last week of December. So it just depends on how much time there is……  December's days require more than the 24 hours we are given.  There is always so much to do!!
Linking up at Brag About Your Beauties and a few other spots.  Check them out at the top of the page under Link Ups.
Newsletter!
Have you signed up for my newsletter?  It is published every month or so and contains information about my shop, new arrivals, sales, and events.  Click here to sign up!