Last November I found a treasure in a thrift store.  It was stuffed into a basket and was marked 50 cents.  You know me, I couldn't just leave it there.  I posted a picture of it on Instagram asking what I should do with it.  The most popular response was to 'finish it up as it was'. Then the holidays rolled around and it was pushed aside.
On Monday, after a very busy week with the fair, I decided to just play in the sewing room for a bit.  I was too tired to do much of anything and certainly didn't feel like cleaning house (and truth be told, I still don't feel like doing that!). I was poking through the piles of stuff in the sewing room and found this.  I had pin basted it and it was ready to quilt.
I took a second look at it and changed my plan. I decided to finish it without batting (like I did with the purple pansies runner I recently made). I really like the soft drape that last runner had without batting.  I thought it would work for this as well.  The piece was not terribly big, measuring just 14″ x 25″. So I removed the batting and pinned the pieced top right sides together with a piece of pink batik from my stash.  After I stitched the perimeter with a 1/4″ seam, I turned it right side out and pressed it.  I top-stitched 1/8″ in around the perimeter which closed that opening nicely.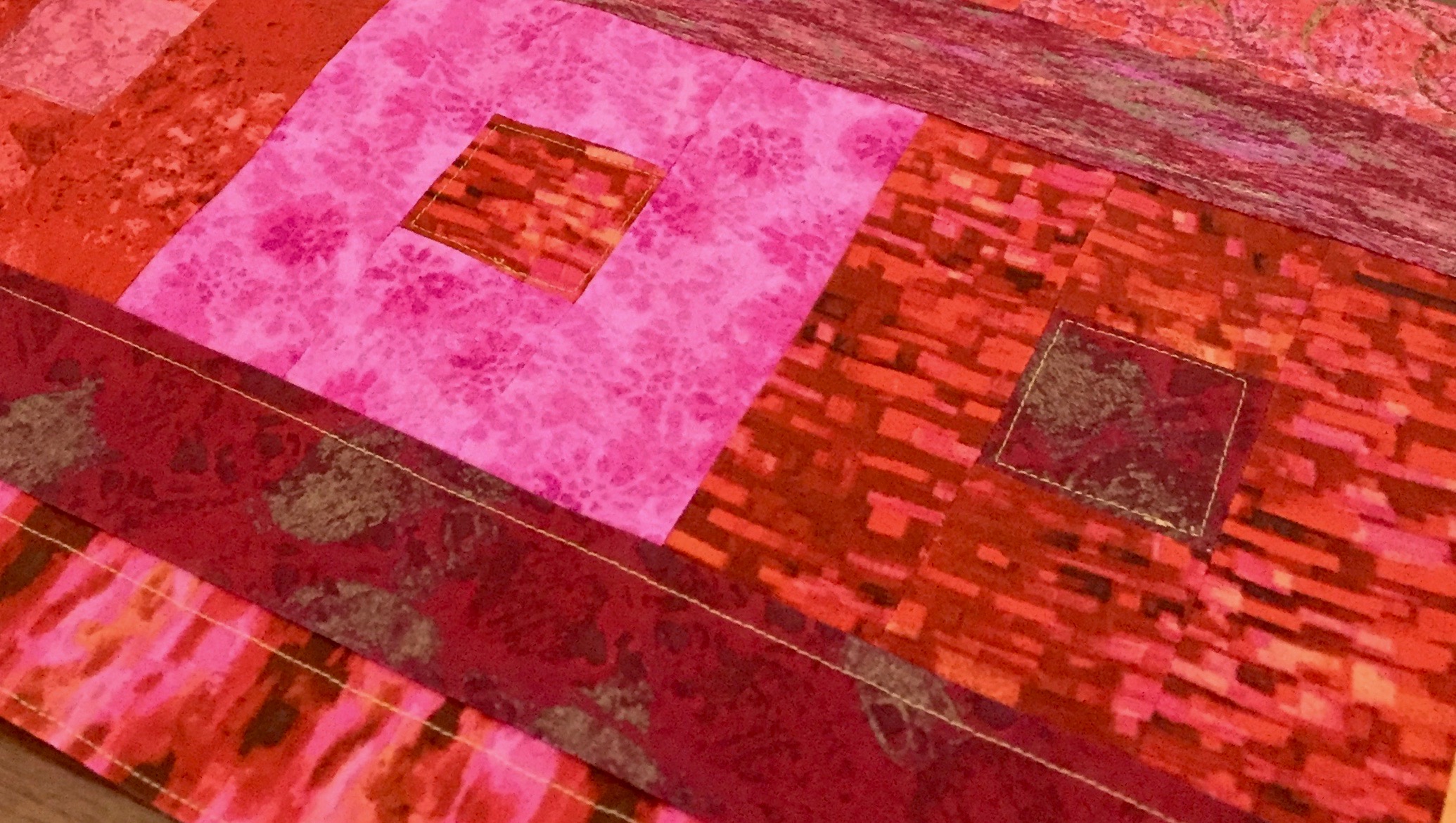 I used a gold thread and did more top-stitching here and there. I ran a seam around the three little two inch squares in the center of each block as well as along the edges of a few of the borders.  This will keep things together should I ever need to wash it.  (Though, I would likely hand wash this because I suspect the colors will bleed – these reds are really red!)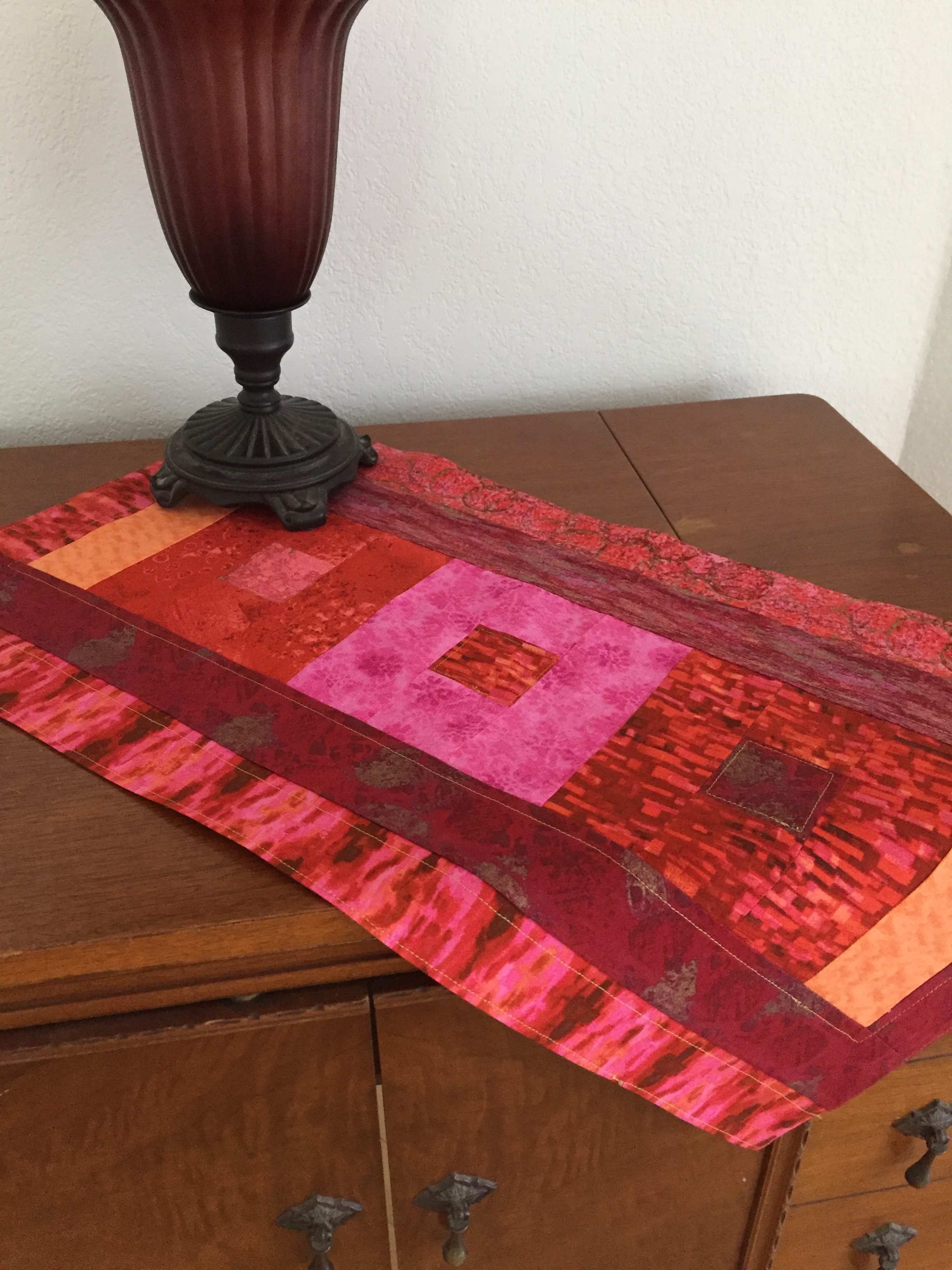 I think this is so pretty and very different from what I usually would make.  I wonder how it ended up in a thrift store?  Maybe the maker decided she didn't like the colors? Who knows?  But I really like it and love how it looks on this old sewing machine cabinet I have in my entry way.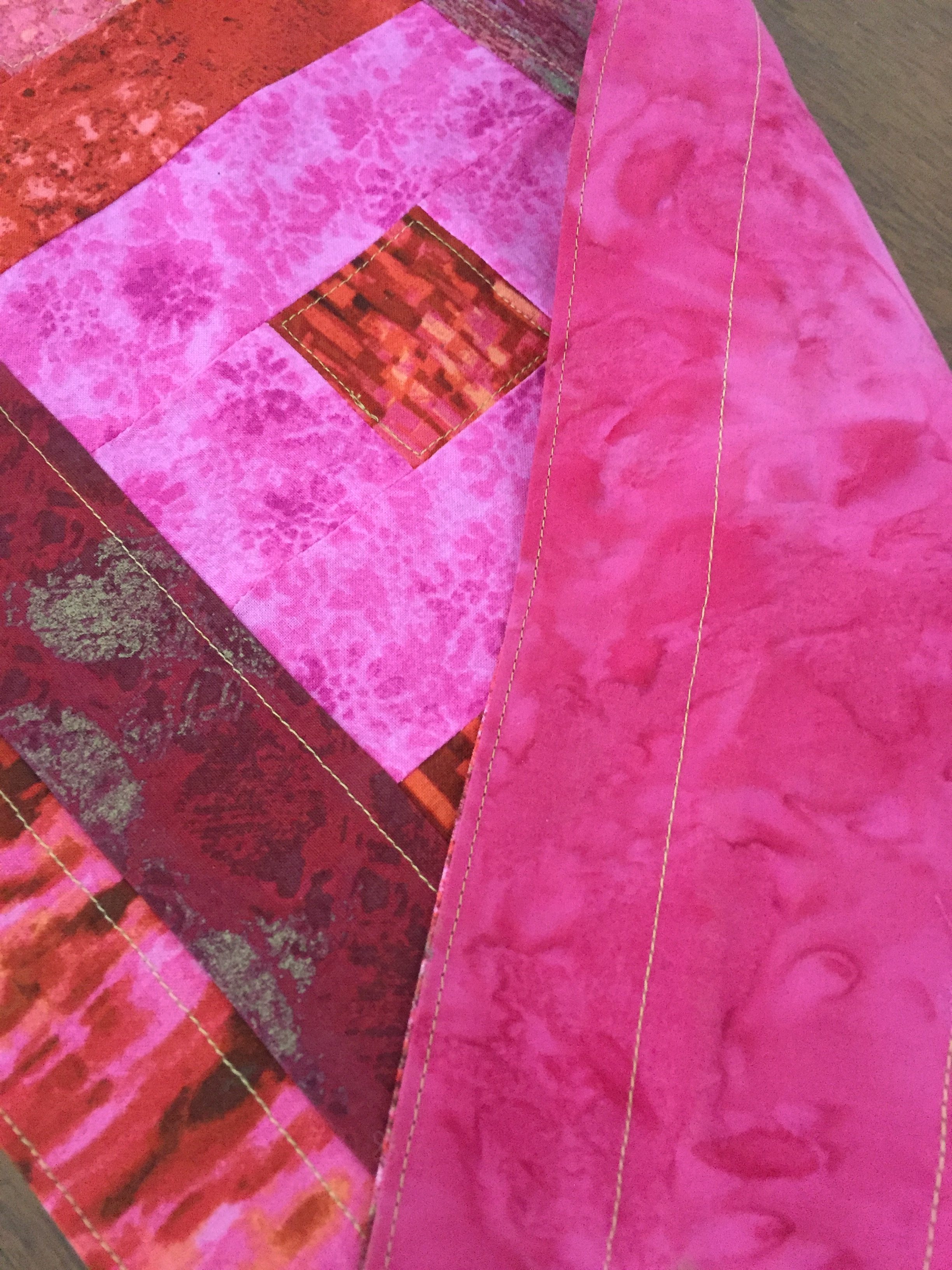 This backing was perfect for this bright little project.  The colors are gorgeous and have a Moroccan look to them.
I was very happy to finish this up and it was the perfect project to allow me to continue to avoid any mundane housework! I wonder how long I can keep procrastinating???
Reminders:  There is a giveaway open over at From My Carolina Home – you should hop over there and enter to win the August Blogger Bundle!!  Also, the sale on this bundle will continue through the weekend with 20% off of both the fat quarter and the 1/2 yard bundle.  Click here to shop!
Newsletter!
Have you signed up for my newsletter?  It is published every month or so and is full of information about my shop, new arrivals, sales, and events.  Click here to sign up!
Linking to lots of fun places.  Be sure to check them out at the top of the page, under Link Ups.