The fair is over, school started today, and I am going to sew!!!  How about you?  Before I head into the sewing room, I want to share the August Blogger Bundle with you.  It is a lovely collection of colors and prints that say goodbye summer and hello fall!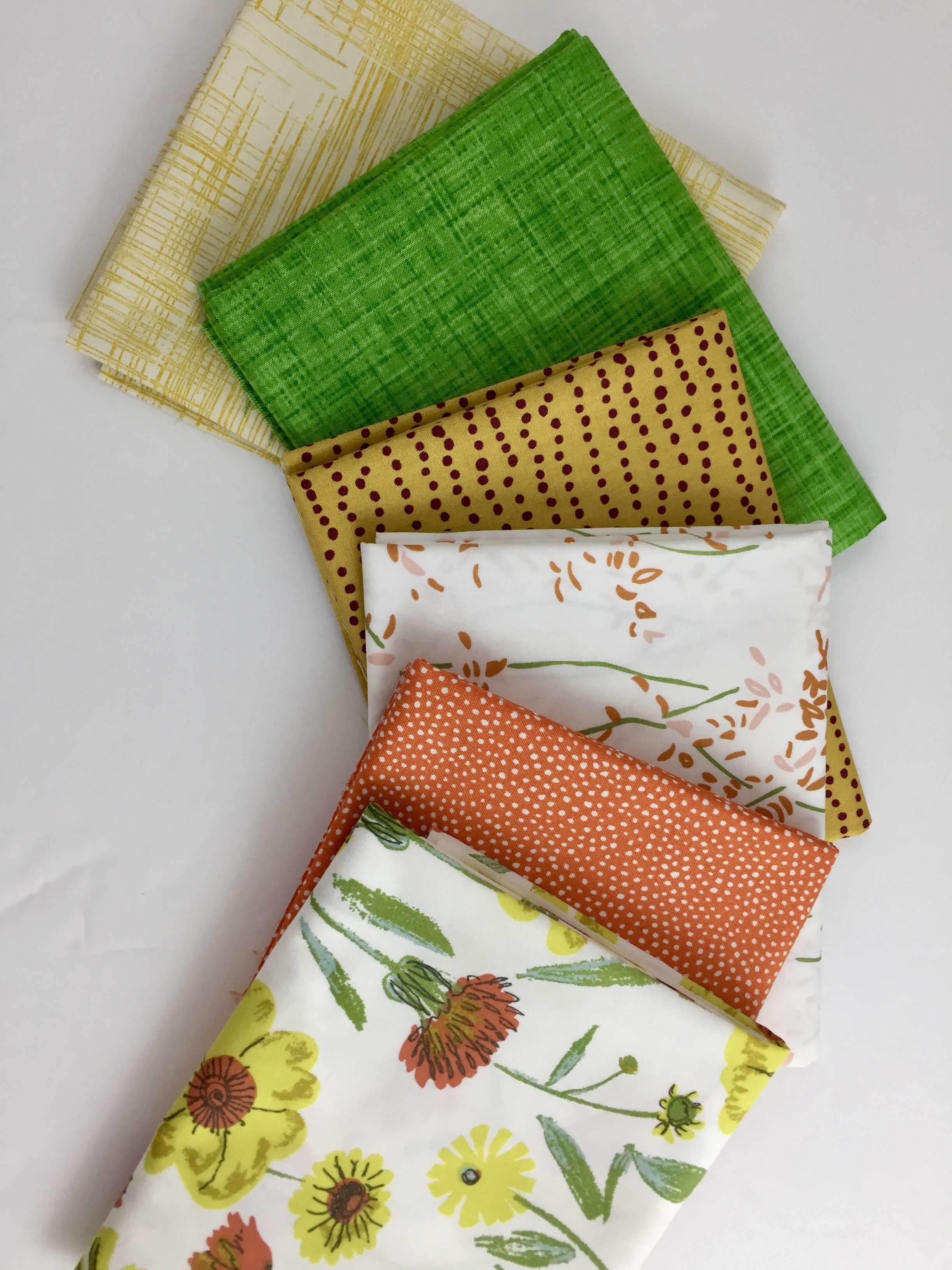 This bundle was curated by Carole Carter of From My Carolina Home. I am trying to remember how I came across Carole's blog.  I would have to guess it was through one of the many link up parties that happen each week.  Regardless of how, I have been reading this blog for quite a long time. Carole is such a devoted blogger and one of the things I enjoy most about her blog is the variety of topics she includes.  There are always seasonal posts about her projects, quilt alongs, tutorials, home decorations, her garden and, one of my personal favorites, her tablescapes.  I don't know if I have mentioned it before now, but I LOVE having lots of different dishes to use on the table.  I have Spode Christmas dishes, my Franciscan Rose dishes from my mother-in-law, a set of different white dishes that I have purchased at thrift stores, china from years ago and more.  The only reason I don't have more than I do is because I ran out of cabinet space (plus my husband would think I was absolutely nuts – he doesn't understand my love of dishes!!J) But Carole does!  To catch a glimpse of some of her pretty table settings click here.
Ok, back to this fun bundle. Carole and I went back and forth quite a bit as she picked her fabrics. It was great fun to work with her and see her thought process as she selected fabrics.  She ended up with this great bundle that includes Perennial Optimism as the focal fabric.  This floral is from Sharon Holland's Bountiful line and is a favorite of mine! She also added two different textured solids.  I am a big fan of textured solids as they add interest and feel like 'more than a solid and less than a print'.  There is a large selection of them in my shop. Carole has taken this bundle and made a lovely set of placemats. Today she will be posting about the construction of her placemats so be sure to go take a peek. Going forward this week she also plans to post about a project where she used the 'leftovers' from making the placemats and than finally a tablescape she set with them – I am looking forward to that post!! Also, Carole is hosting a giveaway for one lucky winner (US only) to receive a fat quarter bundle of her collection.  Be sure to enter on her blog!
From now until Sunday, August 19th,  this bundle is 20% off in my shop.  Take advantage and grab one now – I know you will love making something with it.  Thank you Carole for working with me on this and creating such a nicely curated collection of fabrics!
Newsletter!
Have you signed up for my newsletter?  It is published every month or so and is full of information about my shop, new arrivals, sales, and events.  Click here to sign up!
Linking to lots of fun places.  Be sure to check them out at the top of the page, under Link Ups.