I miss my sewing machine.  I have not spent much time with her and I suspect she misses me just as much. It is a combination of things – we are having a patio built  and, while I am not doing any of the building, somehow it seems to take up some of my time.  Maybe because I am so excited about the progress (we have wanted this for a very long time) and I keep going out there to watch the next step.  Yesterday they poured a large portion of it and I spent most of the morning watching.  Poor guys probably are sick of having an audience.  Beyond that, June has been riddled with migraines.  I don't know why (that is the million dollar question and if I had the answer I would be one happy quilter). But it has been a bad month with 9 migraines so far – along with each one, there is usually one more day of feeling wiped out.  So 18 days out of 26 haven't been great. All this adds up very little sewing.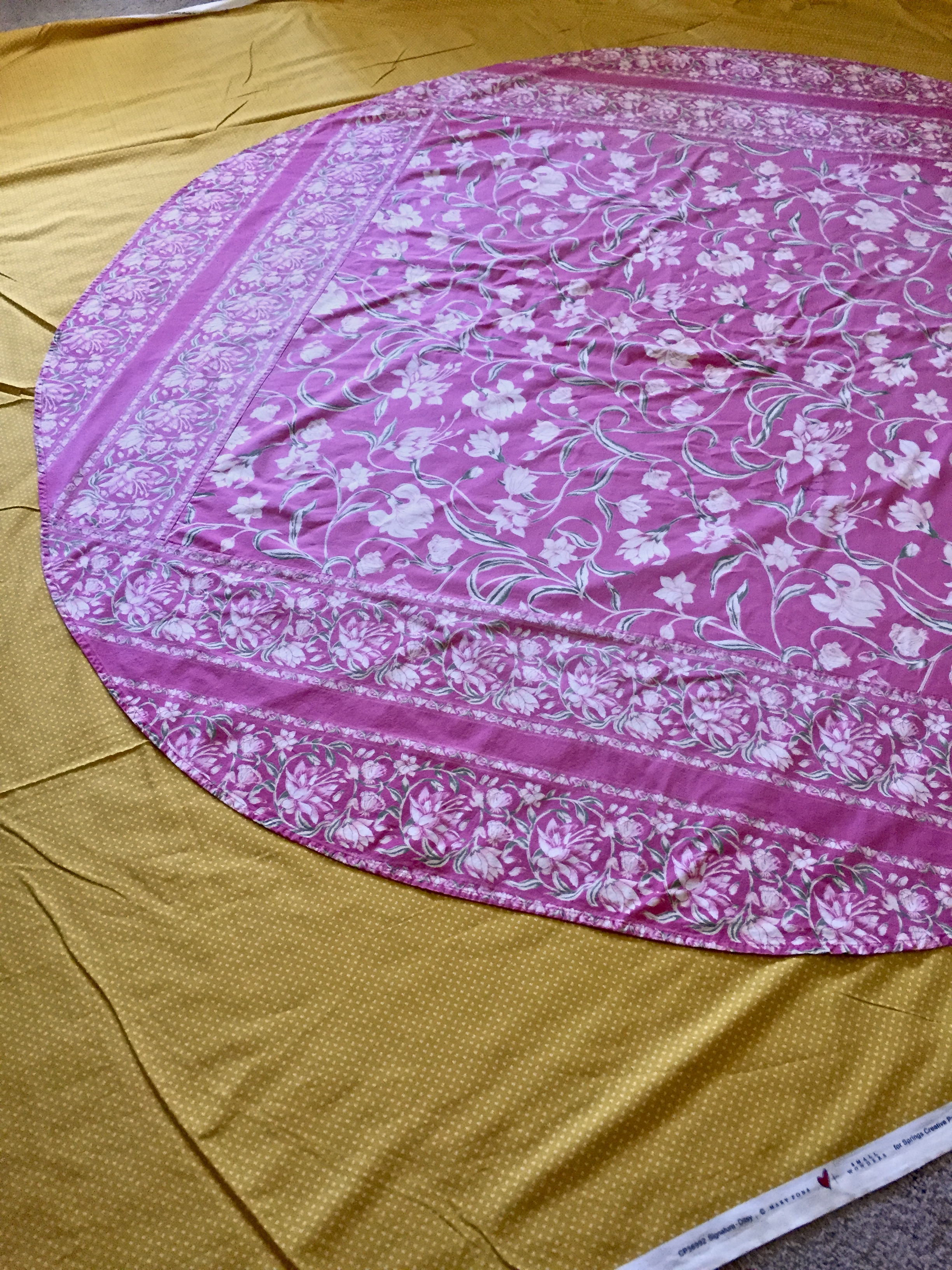 I will share something that I am playing around with.  I decided to make a new tablecloth for our outdoor table. We have coffee out there and dinner when the weather isn't terribly hot.  I only have one tablecloth and it is getting a bit faded. Time for a new one.  The tablecloth is quite large – I think the diameter of the table is about 70 inches.  Add in the drop and enough to turn a hem, and it means cutting a circle with an 84″ diameter.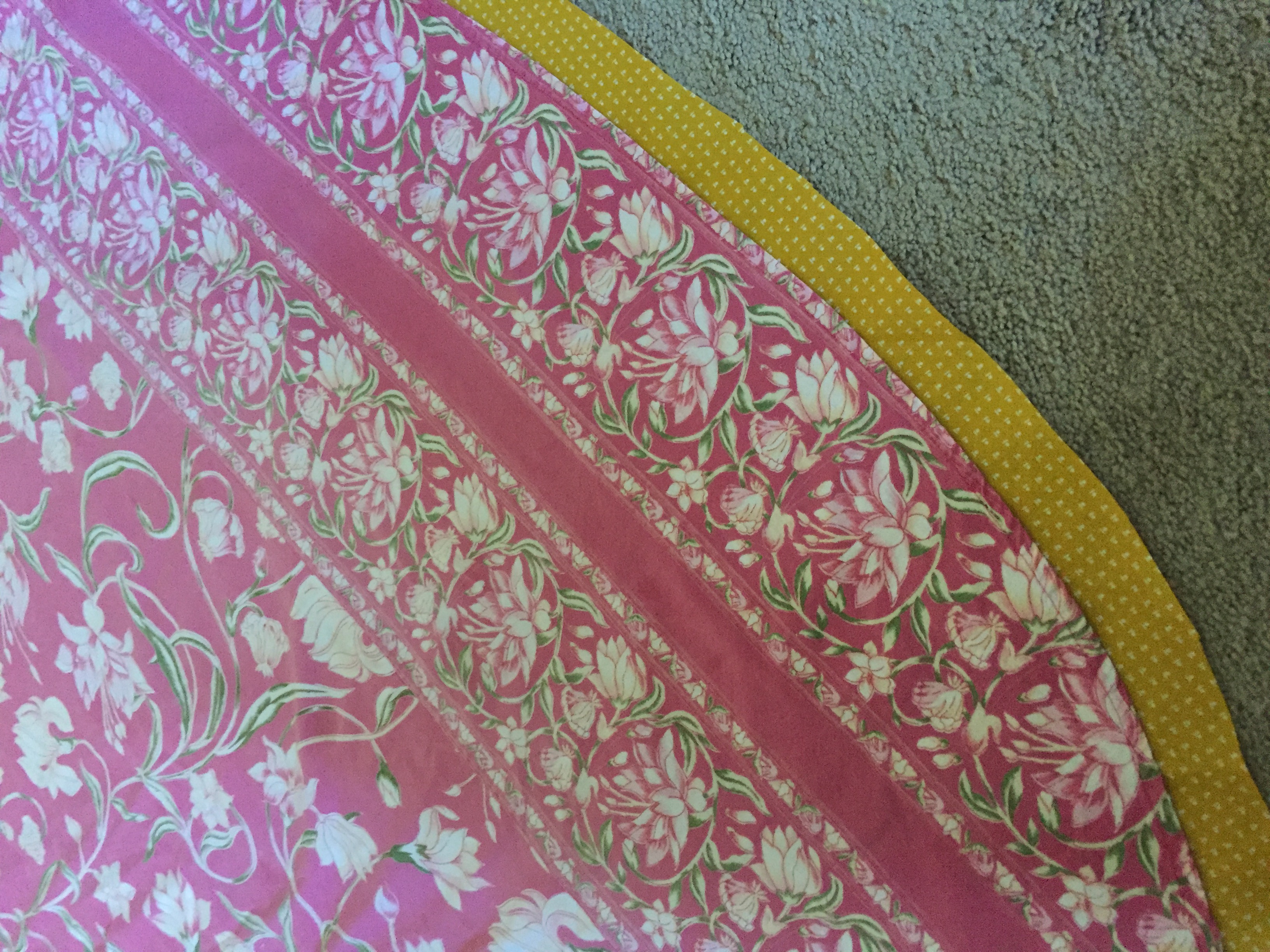 I decided to use a wide back fabric so I wouldn't have to run a seam to get a wide enough piece.  Lucky me, I have a few wide backs in the shop from which to choose!  I picked this cheddar yellow print that was designed by Mary Fons. It is cute and sunny, nice for an outdoor tablecloth. Since I had a tablecloth that was already the correct size, I used it as a template and cut my piece about two inches bigger all the way around.  I didn't mark anything, it was easy enough to just eyeball it. (By the way, even after cutting this large circle out, I have a lot of fabric left over – being 108″ wide means lots left for other projects!)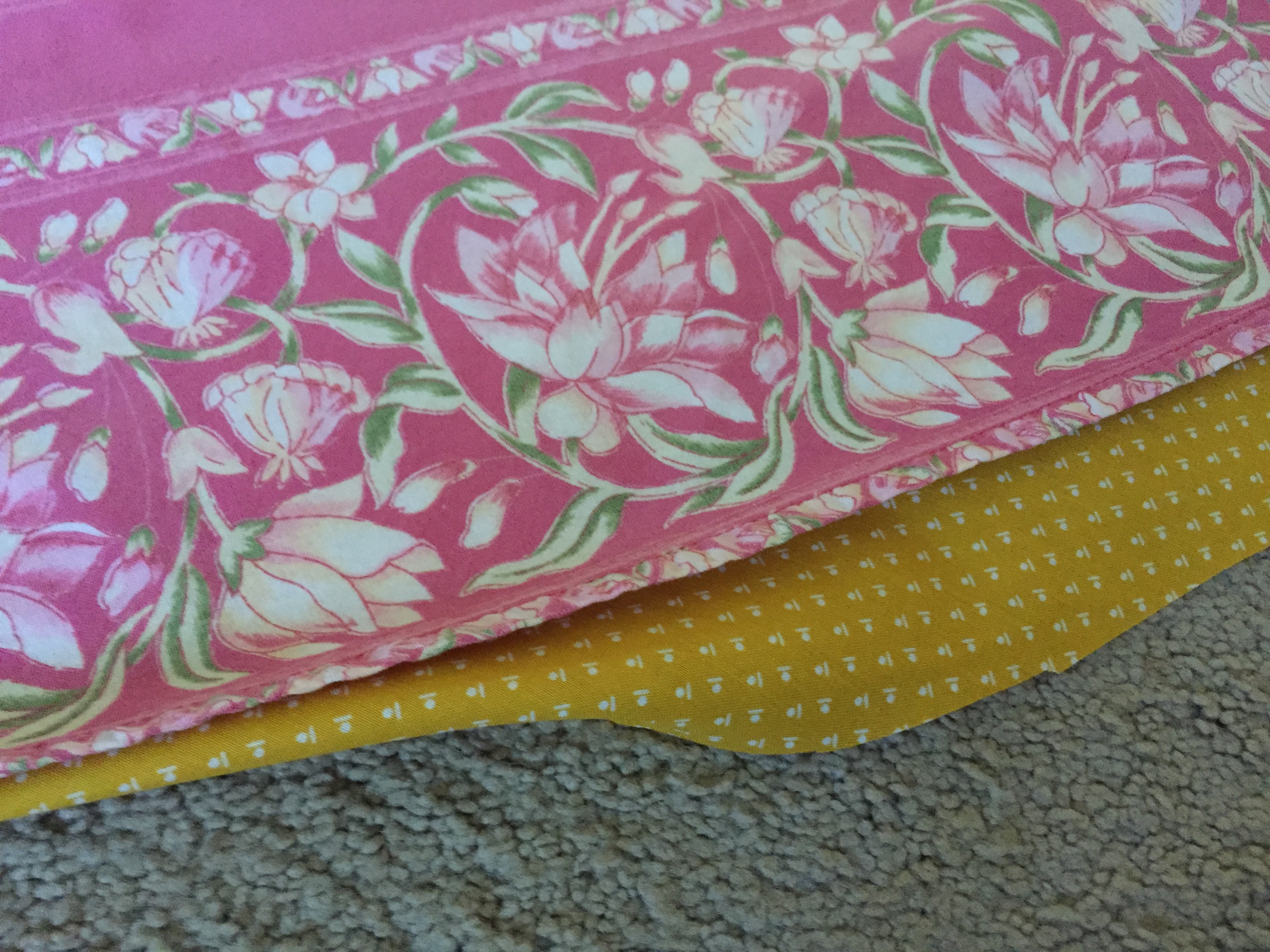 While I had it on the ground, I decided to just keep going and I brought the iron over and started to turn the yellow fabric under and press as I went along.  This worked really well – I kind of wondered if it was bad for the carpeting but didn't seem to be a problem.  Actually I think I secretly wished I would burn a hole in the carpet because it is all worn and needs to be replaced anyway.  Alas, no such thing happened and for now, the ugly carpet remains.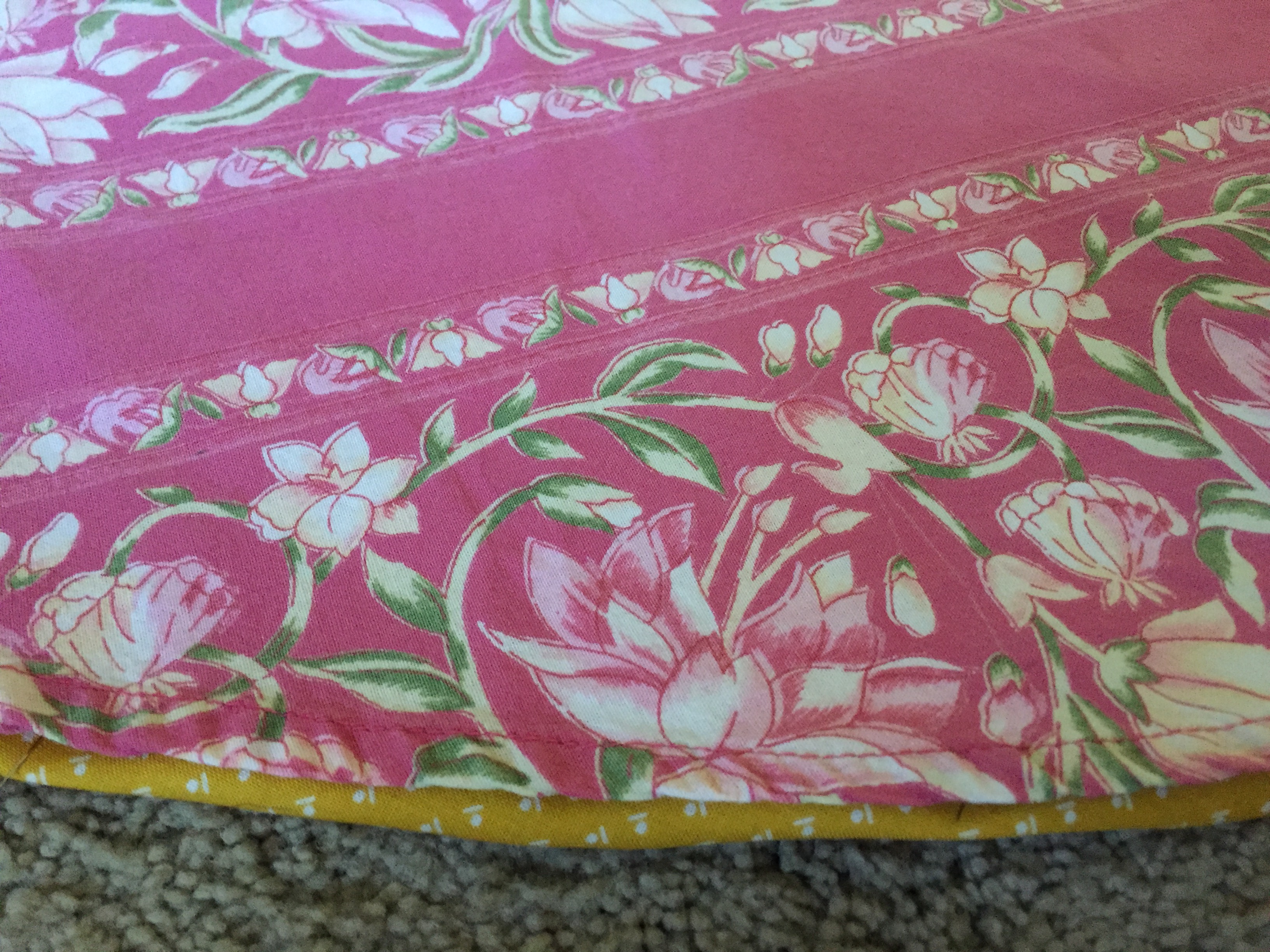 After I got the first fold pressed, I pinned everything in place.  Then I felt ok about picking it up and moving it.  I took it to the regular ironing board and steamed a good crease in the hem, folding the raw edge in as I went around.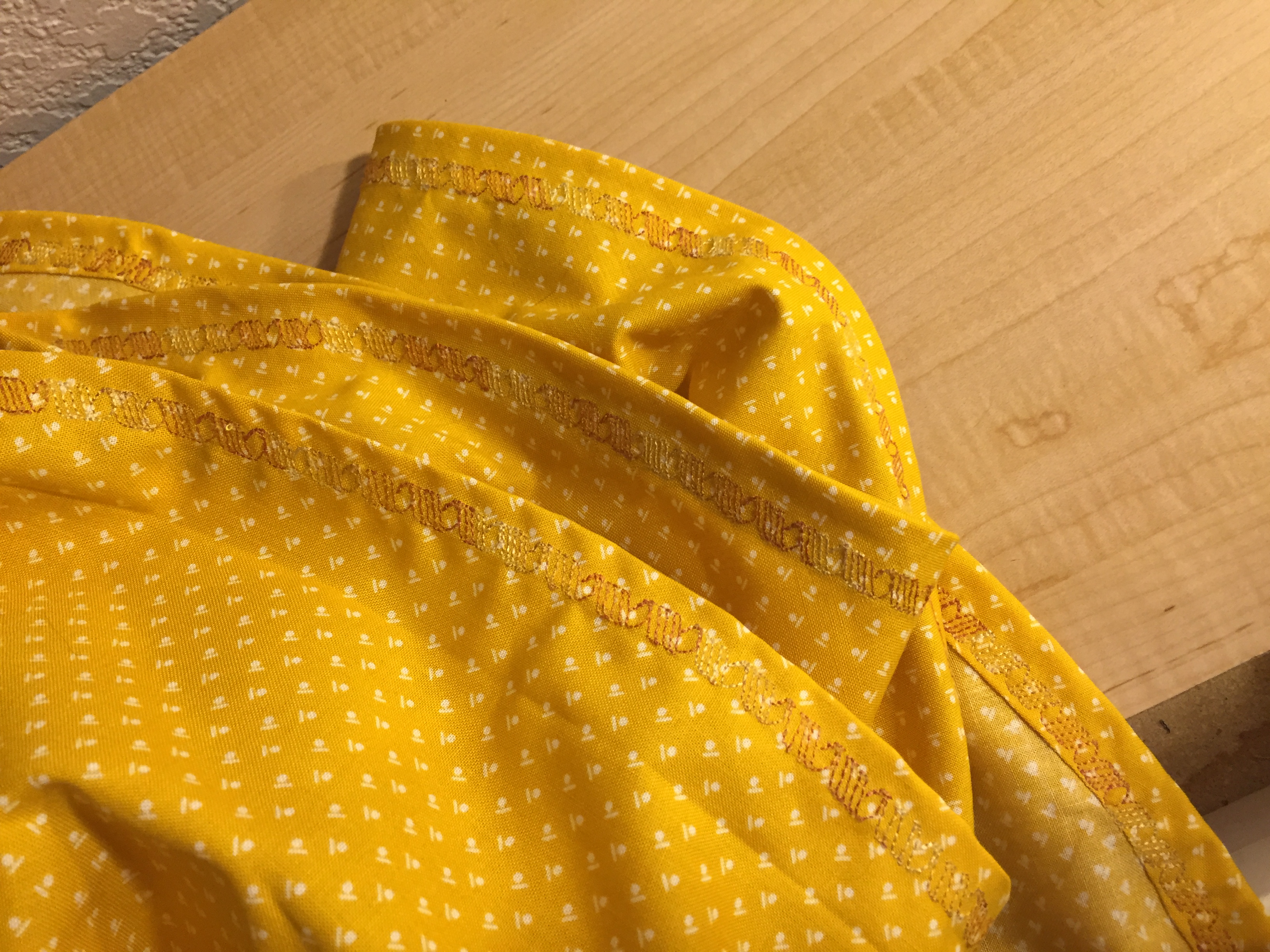 I wanted to use a decorative stitch for the hem.  Mainly because my Janome has five billion decorative stitches and I never use them.  I chose a Mettler variegated thread and a cute pattern that looks like ribbons. It looks really cute but wow, it took so long to go all the way around!  Probably about 1 1/2 – 2 hours?  It also took a crazy amount of thread.  Speaking of thread…..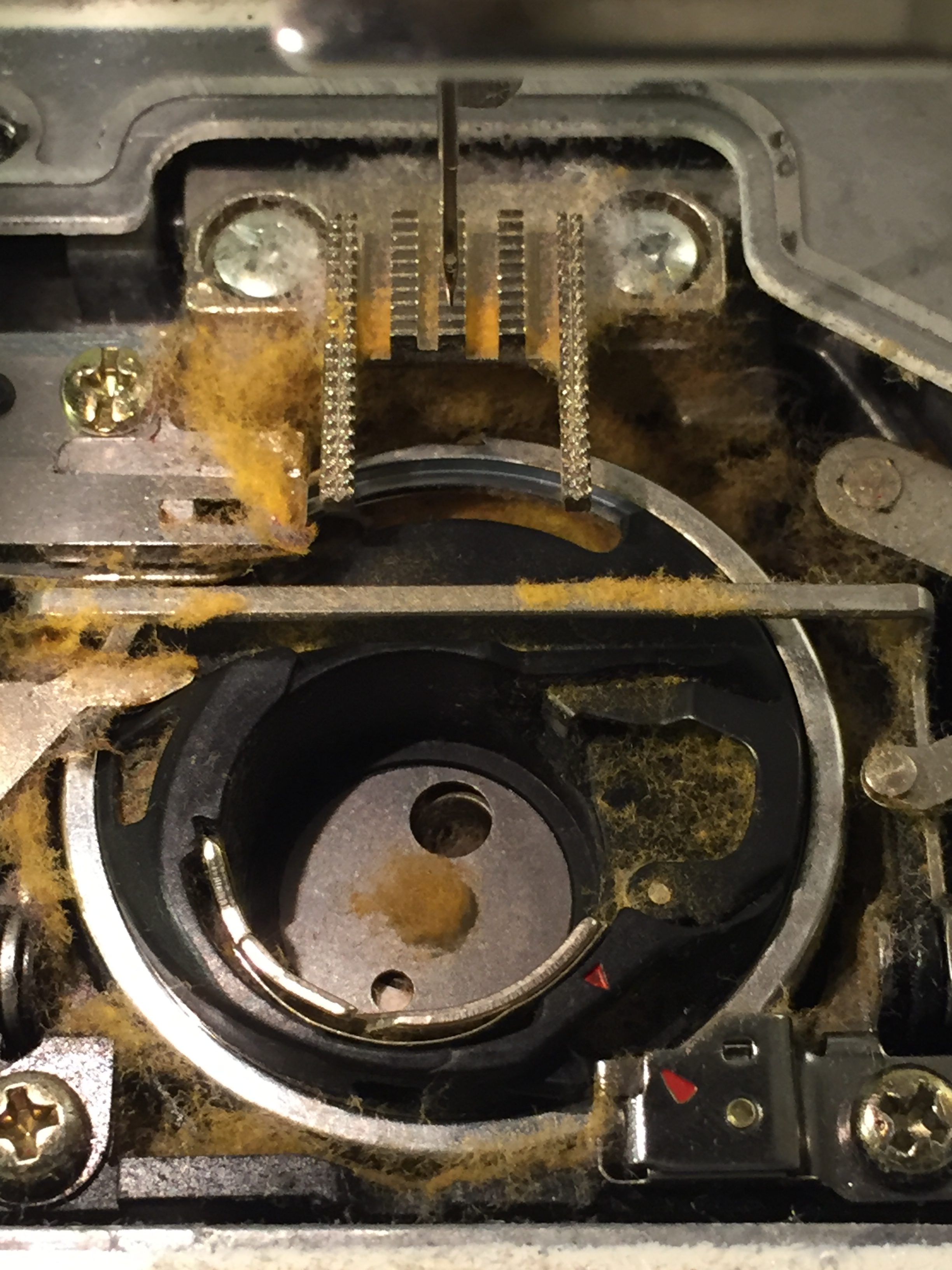 As I was hemming the tablecloth, I noticed my needle would come up and have fuzz all over it.  When I finished, I took the top plate off and look at the mess of fuzz!  I was amazed.  I haven't used a ton of Mettler thread and have to wonder if this is typical?  I had cleaned it out prior to this project so the fuzz was only from hemming the tablecloth.  Anyone have experience with this sort of thing happening?  Kinda makes me even more of an Aurifil fan.
Ok – now that it was hemmed, I decided it was a bit boring.  Applique came to mind but I didn't really feel like doing anything very fussy.  Then I thought about embroidery or some sort of big stitch design (like Sashiko) but I know myself and it would take too long. By the time I finished we wouldn't be eating out on the deck anymore…..
So I thought about the gorgeous floral collage quilts by Laura Heine and took that as inspiration.  I gathered lots of floral scraps and applied fusible backing to them and started cutting out flowers – and more flowers – and even more.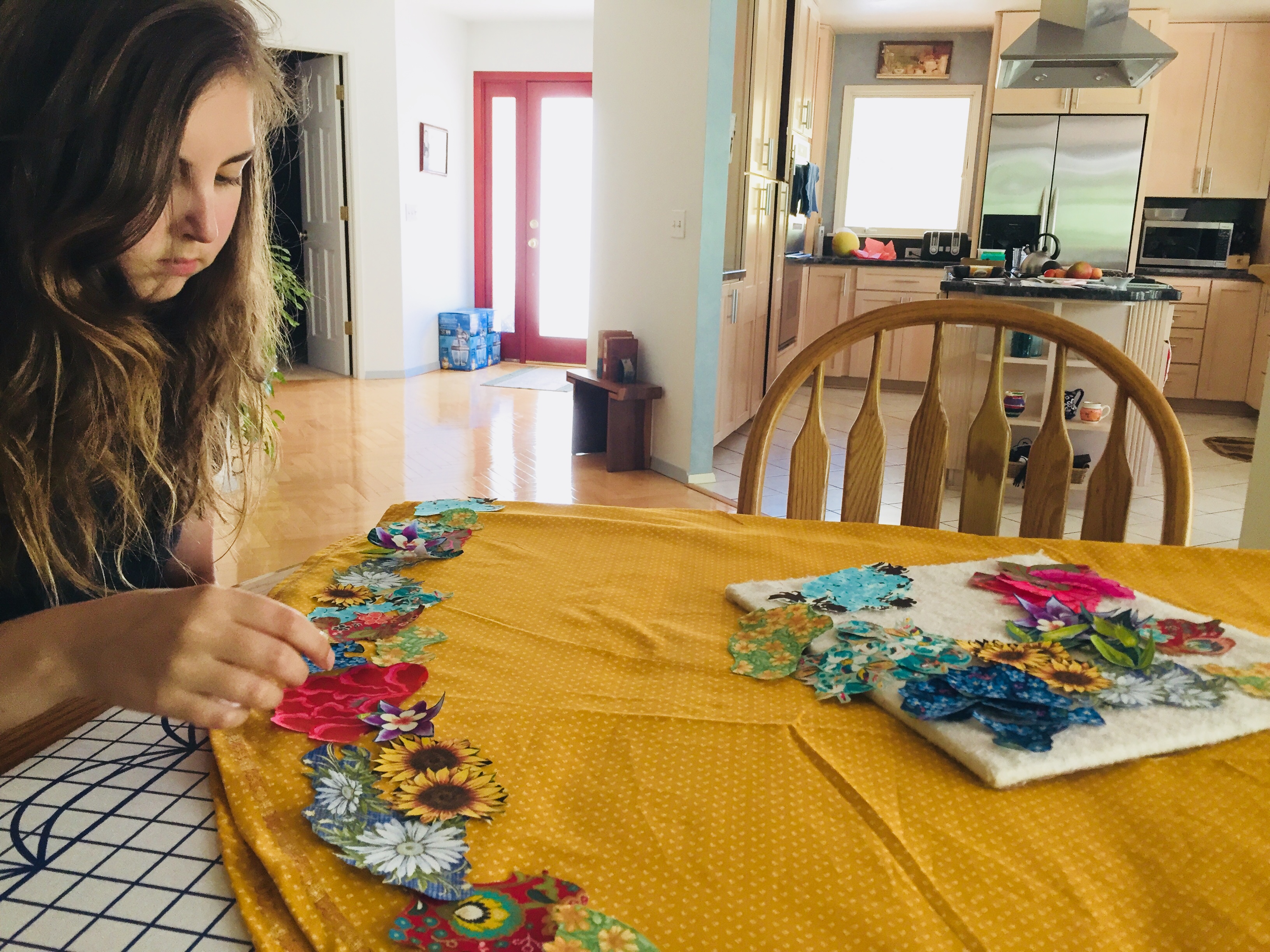 Julia and I started to play with arranging them around the hemline in a collage – our only aim was to distribute colors well and to keep the border about three inches tall.  We have 1/4 of the border pinned.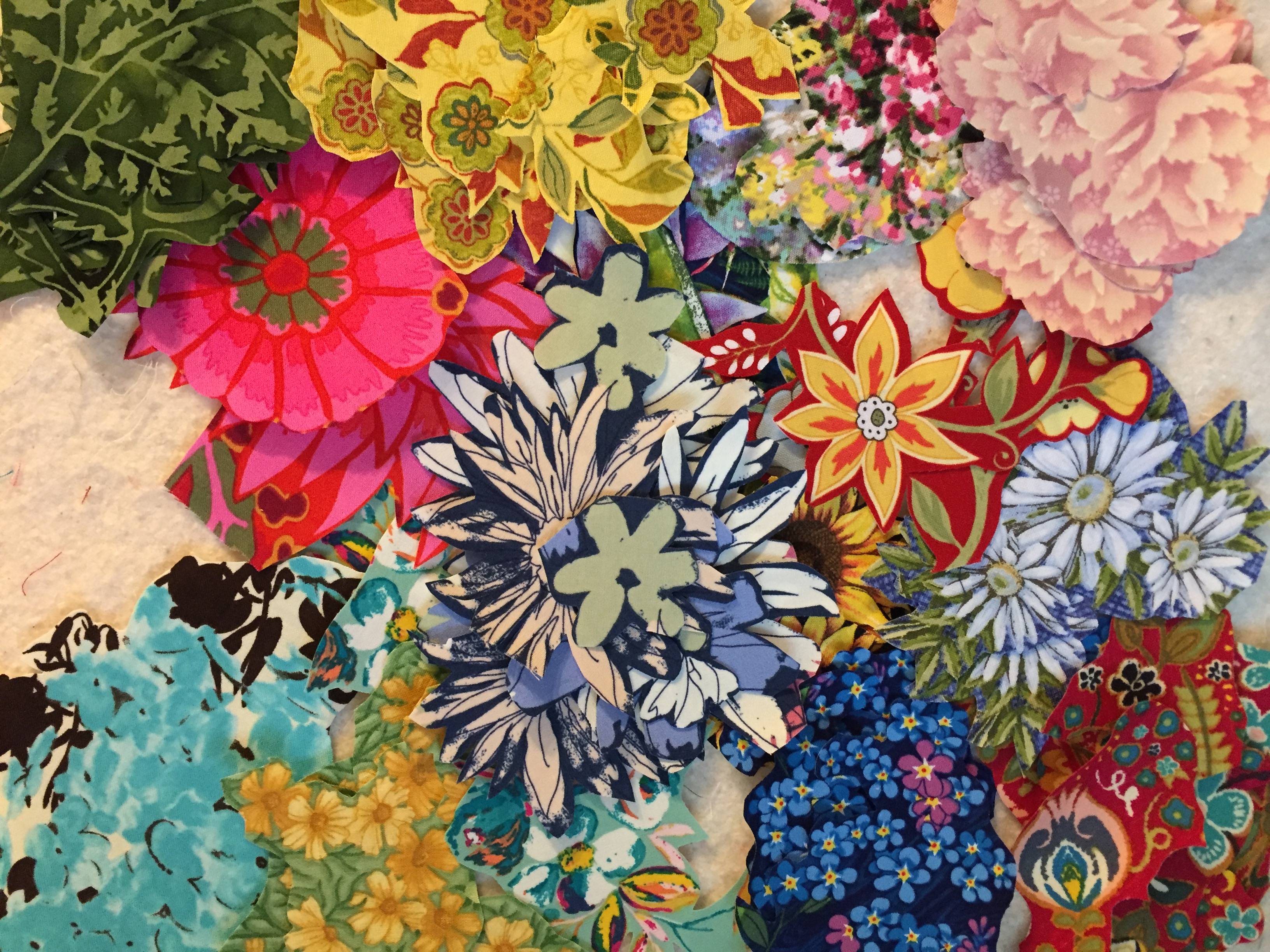 It was clear I didn't have nearly enough blooms so back I went, fusing and cutting. This is quite fun so I am enjoying the process.  I haven't yet fused any to the cloth yet.  I want to get most of the way around the cloth before I commit.  It is great practice because I have a Laura Heine pattern I want to make so this gives me a bit of an idea how I will go about it.
For now though, I have set everything aside.  Julia and I are taking off for Vermont!!  We are both so excited to go see family and to play with that grand daughter of mine. Projects will have to wait.  Flowers will remain unfused and the tablecloth unfinished.  Time for some grand baby time!
As an FYI – the shop will remain open but orders placed from June 28 – July 6th will ship on or about July 7th.
Wishing everyone a wonderful week and I will be back in a week or so!
Newsletter!
Have you signed up for my newsletter?  It is published every month or so and is full of information about my shop, new arrivals, sales, and events.  Click here to sign up!
SaveSave
SaveSave