Today I am going to share a cheerful bundle curated by Jayne Willis of Twiggy & Opal.  Before I jump into that though, let me introduce Jayne.  Actually she likely needs no introduction because I suspect you are already familiar with her spectacular modern quilts. I am not sure exactly how Jayne and I became friends but we have been following each other's blogs for quite a long time.  She was one of the team of bloggers who supported the opening of my shop about 18 months ago, which was such a nice thing for her to do.
When I think about Jayne's work, I am really impressed by her improvisational work, the clean lines she uses when she designs a piece, the quilting she does, and the determination she shows from start to finish on a project. I love following along on Instagram as she creates something. She often shows progress shots and the finished project never ceases to amaze me.  She is really a talented quilt artist. I grabbed a quote from her About Me page on her blog that says it well.  "My process may be a little unconventional—I let the fabric speak to me and rarely know where a design will take me from start to finish!"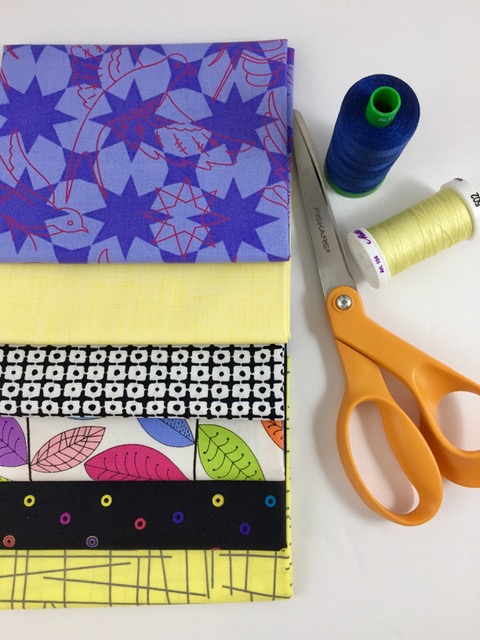 OK, let's take a look at the bundle she curated.  I was not at all surprised to see Jayne select black, white and brights for her bundle.  She is the queen of color and she uses it well. What did surprise me was how well the the blues in Flourish and Rainbow Vines (both made by Andover) worked together. Just look at the darker blue leaf on Rainbow Vines – – it is nearly identical to the background blue of Flourish.  These details are what make Jayne's pull attractive!  I also love that by including the Rainbow Vines fabric, she chose a bright print that has a strong black accent.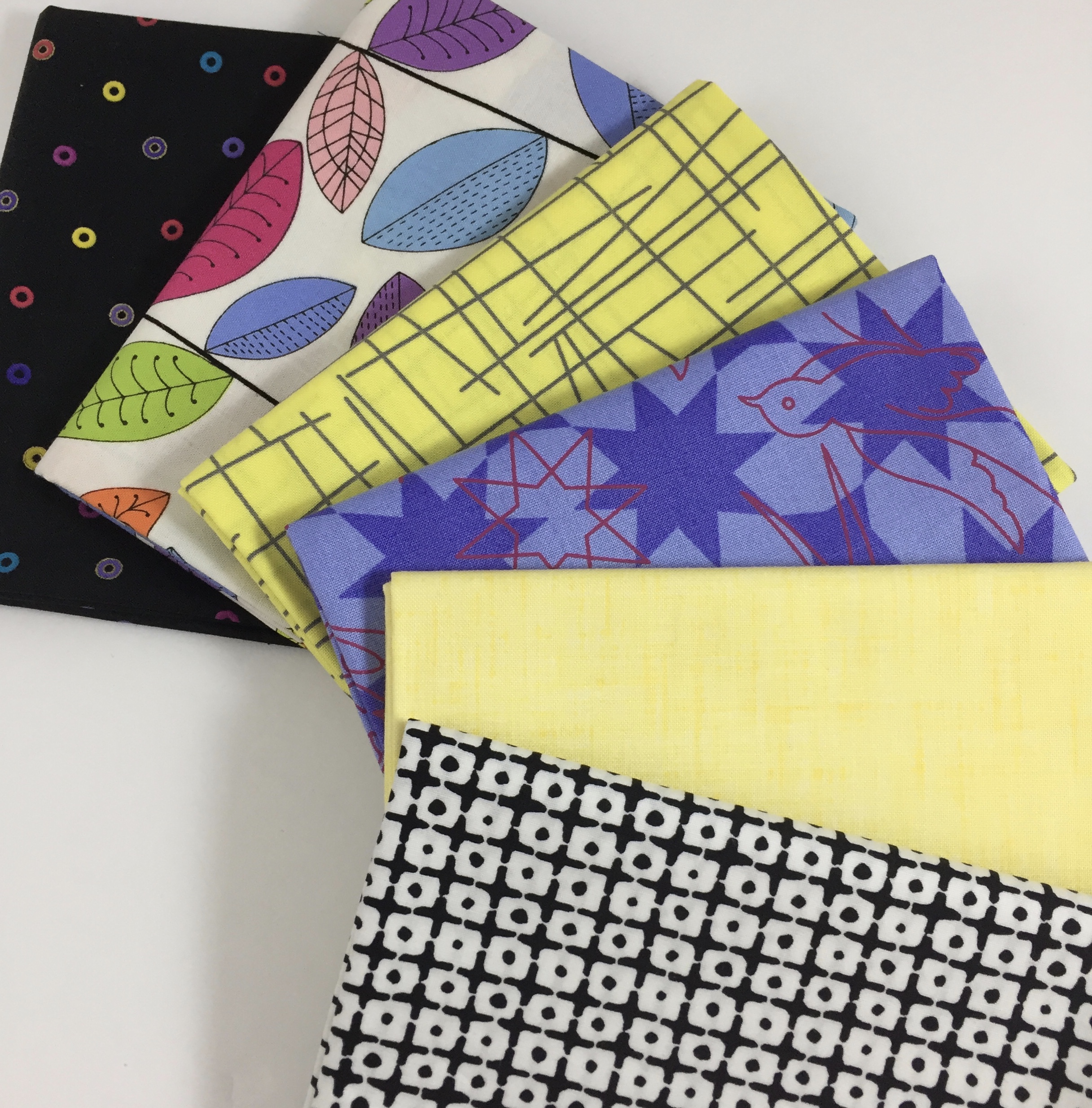 Adding Panda Patches and the Basic Circles , Jayne pulled the bundle together – sort of like highlighting the whole collection with black.  Next Jayne selected two soft yellow prints which added a burst of spring to the bundle.
These fabrics are all about spring!  I encourage you to hop on over to Jayne's blog where she will share the bundle and a project she has in the works.  I guarantee a dose of creative inspiration if you do! Also be sure to enter her giveaway to win a fat quarter bundle for yourself!
If you love this bundle as much as I do, it is available in my shop. I have fat quarter bundles as well as 1/2 yard bundles.  Both will be on sale for 20% off through tomorrow night (Thursday, May 17th). Also, if you are interested in yardage of any of these fabrics, all of them are available in the shop!
Hopefully you are enjoying the bundles that have been shared each month!  It is great fun for me and I learn something about color each and every time!
Linking up to my favorites.  Check them out at the top of the page, under Link Ups.
SaveSaveSaveSave
SaveSave
SaveSave
SaveSave
SaveSave