We had a really fun weekend. Lots of chores but also a good dose of family time.   Have to balance things out, right?  The biggest project happening at our house is ripping out the lower deck.  On the east side of the house we have decks that run the length of the house both upstairs and downstairs.  My husband has had his eye on the lower deck for a while now because he knew the redwood was getting old and starting to rot.
He talked to a cement contractor and they came up with a plan to pour a patio and get rid of the redwood deck.  If you have a wooden deck, you know how much maintenance they can be – it is a ton of work to keep the railings painted. Especially in our climate where the summers are quite hot and winters very cold.  The paint just peels constantly with the contraction and expansion of the wood each season.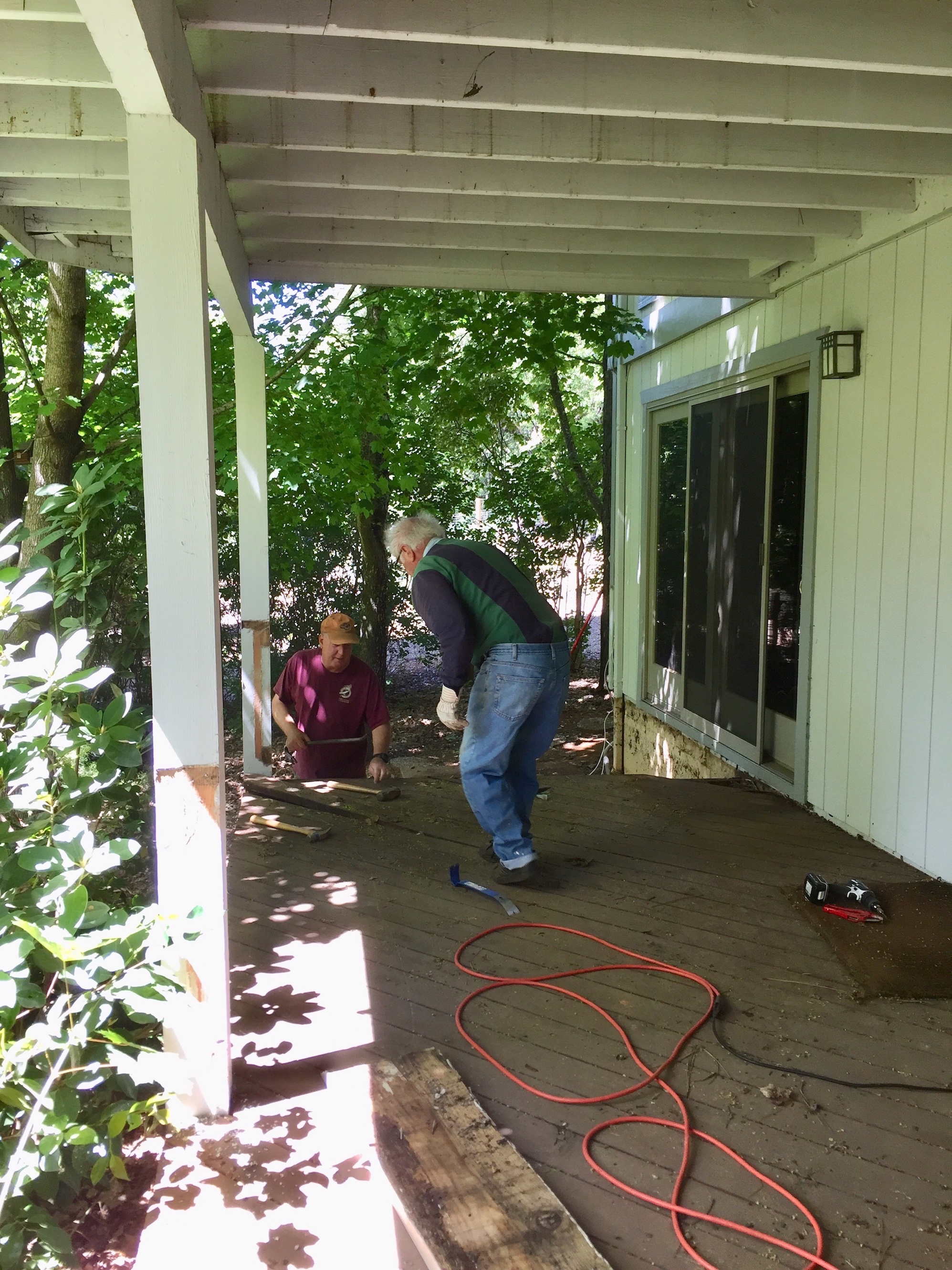 To save on the cost, Ray is tearing out the deck and getting rid of the piles of wood he is removing.  It is a lot of work, but also a lot of money saved. My father came over Saturday to help with stacking the bad wood and cleaning any re-usable boards (pulling the nails and stacking in a different spot.) My job was to clean the junk off the deck, and provide lots of water and lunch.  (I know, I got off easy!)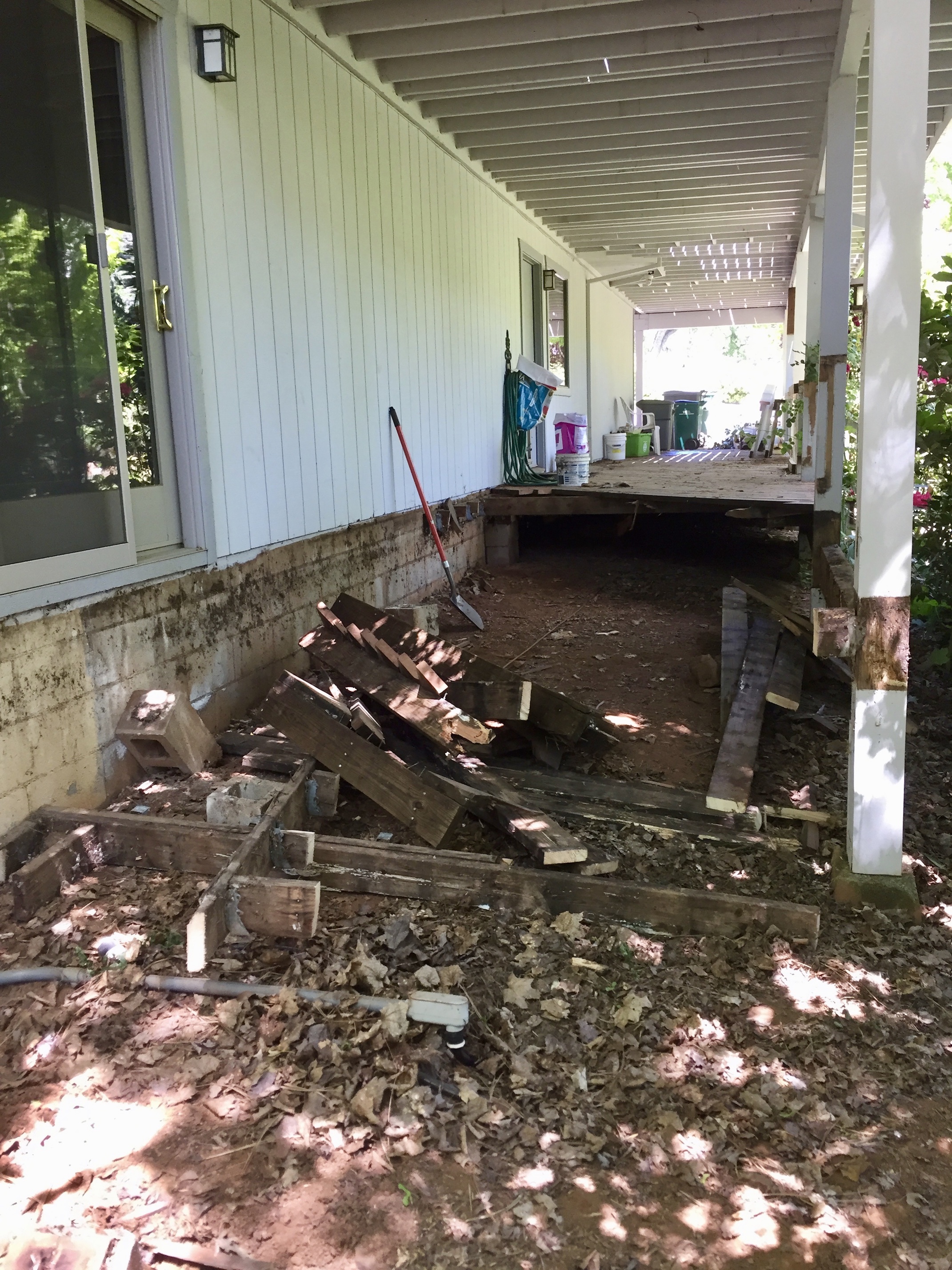 By Sunday afternoon, Ray had made significant progress.  He thinks he is just over 30% done.  He has two more weekends to finish and then they will start to build the patio in the beginning of June.  I am really excited about this project. It is going to be so pretty. We have mature rhododendrons, camellias and azaleas that will form a lush border along the edge of the patio.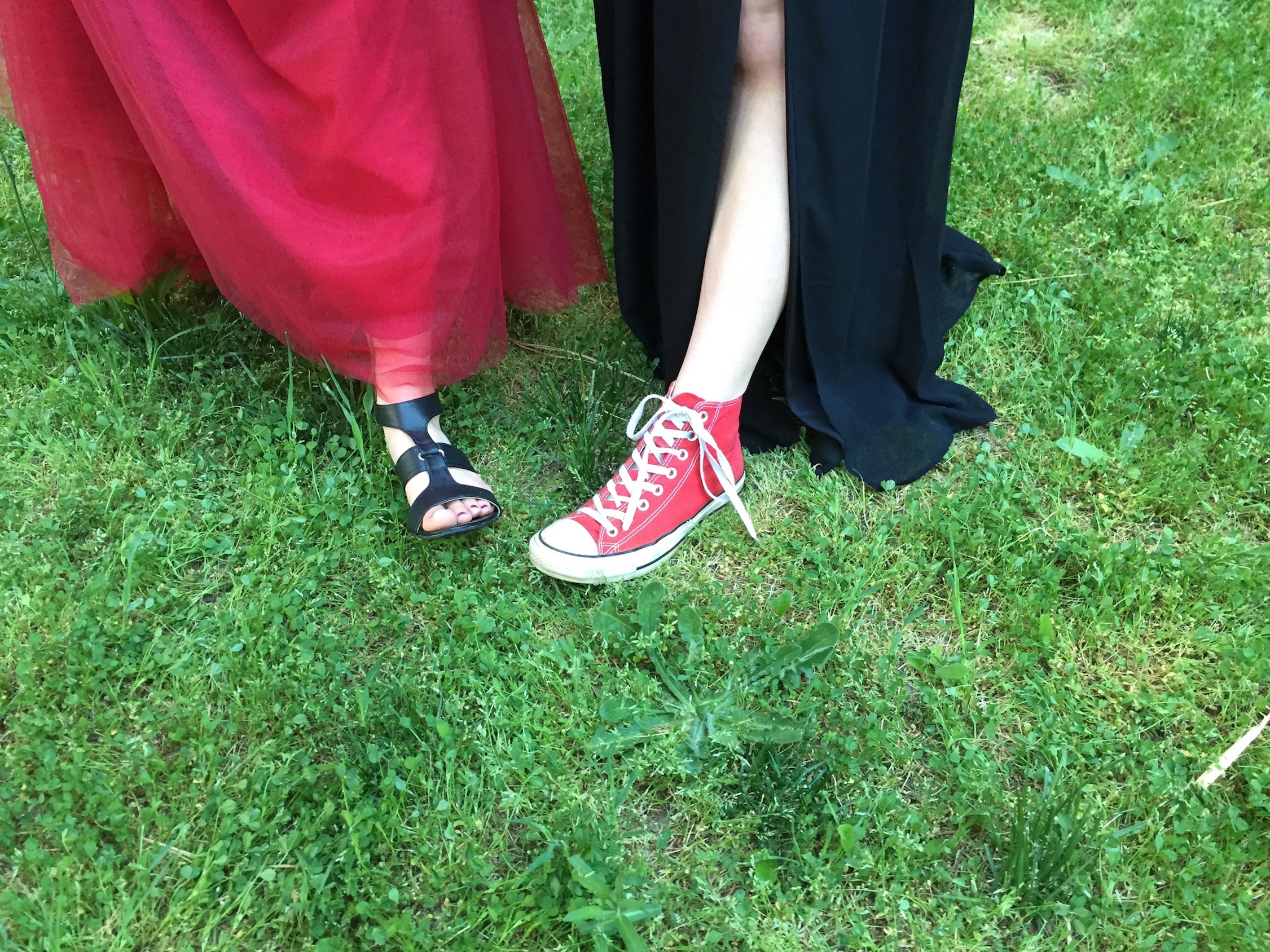 Other activities this weekend included celebrating Julia's birthday and Julia's Junior Prom.  She went to prom with a group of kids in her class and had a wonderful time. I am sharing a picture of Julia and her sweet friend, posing with their shoes.  My daughter is very pragmatic and said she didn't want to wear heels because they would hurt by the end of the night. Try as I might, I couldn't convince her otherwise (she is a person who knows her mind and this is actually something I admire in her!) What do you think?
For her birthday, Julia asked for a vanilla cake with strawberry filling and chocolate frosting.  I got to work on what turned out to be one of the ugliest cakes ever made!  (More importantly, it tasted delicious). The problem was I tried to split the round layers and the cake crumbled.  I had cheated and used a cake mix (c'mon, it was such a busy day!). Making a cake from scratch would have resulted in a denser cake and probably would have split fine.  This cake was too light and didn't hold up to 'construction'.
We were laughing so hard at this point.  It was hysterical.  Once I got to this stage, I put it in the fridge for a while to let it firm up a bit before icing it.  Also, I was praying that somehow a miraculous repair would occur and the cake would no longer look such a mess!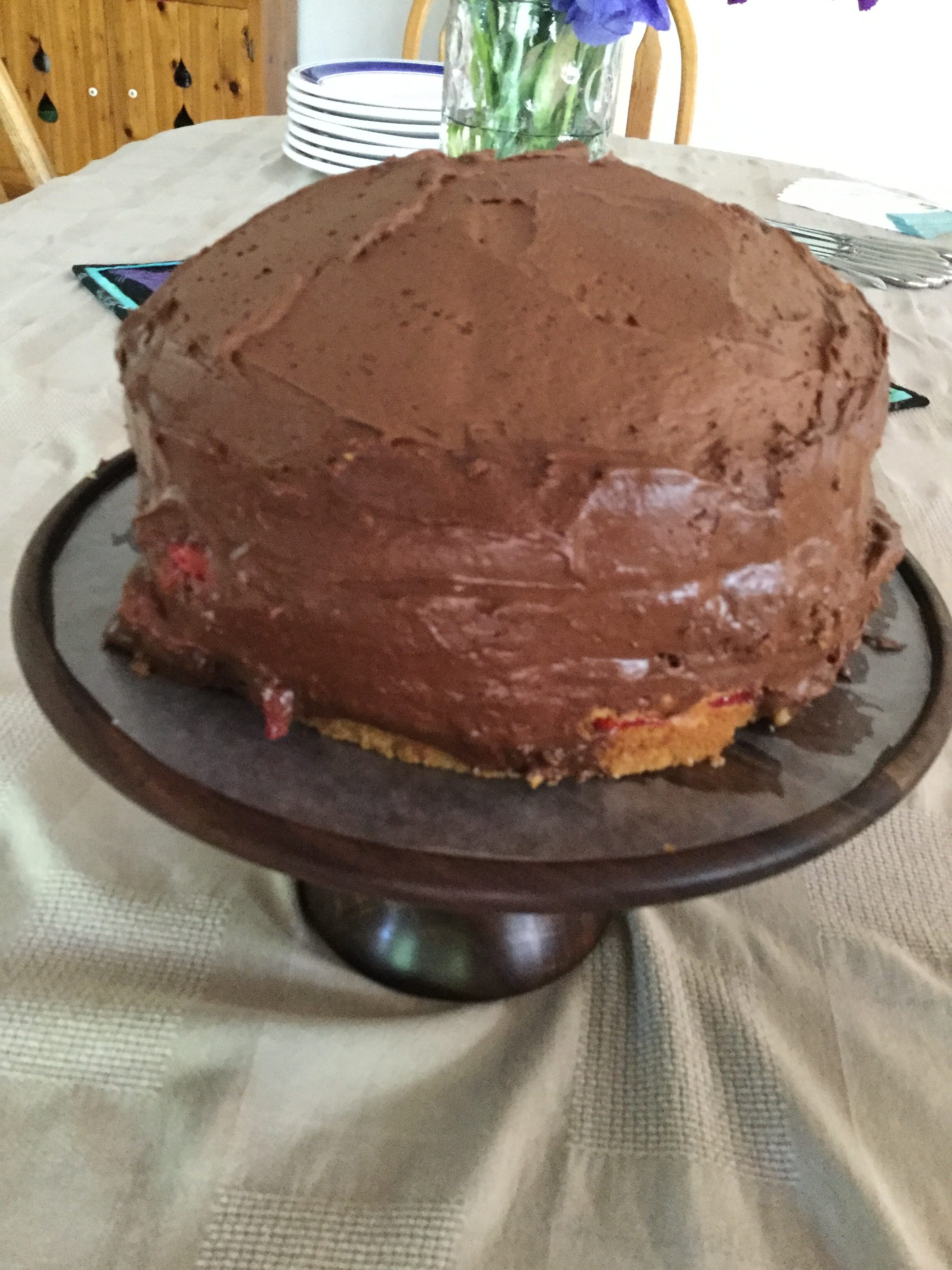 Icing the cake helped a little bit but If I am honest, the cake ended up looking like a six year old made it. The walnut cake plate Ray made for me added some beauty to an otherwise ugly dessert!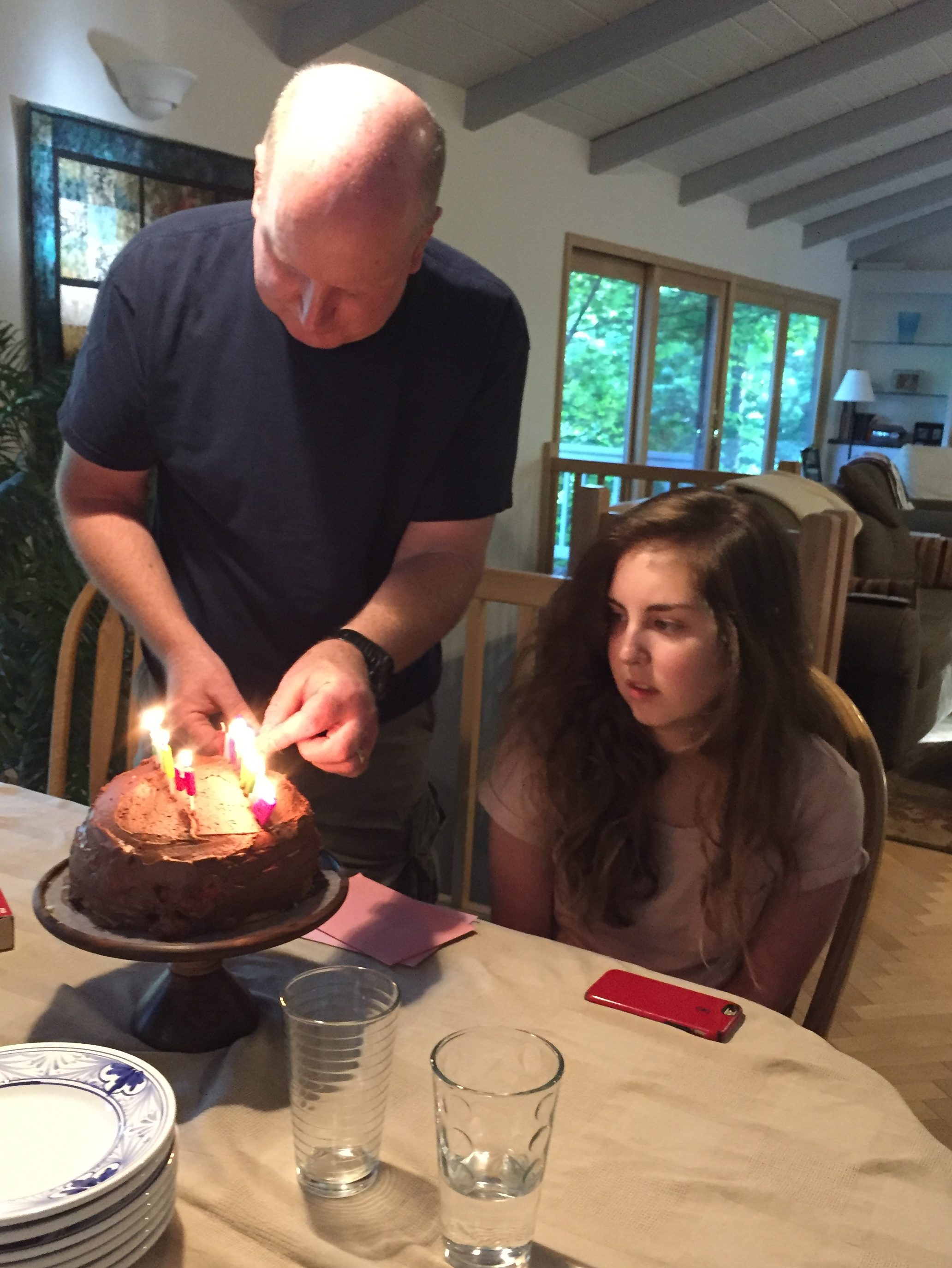 No matter though, it tasted really good and we had fun singing to Julia for her 17th birthday. As always, I found myself wondering how 17 years could possibly have gone by.
Each year on Mother's Day, I have conflicting feelings of joy and bittersweet nostalgia.  Back in 1994, my first husband (my boys' dad) passed away suddenly from an aneurysm in his brain stem.  He was only 36 and it was tragic beyond description. I haven't ever mentioned it here. because how does one fit this sort of story in?  Anyway, to make awful things even worse, he died on Mother's Day. For his mother, this was truly awful.  Time went by, I remarried and we had Julia.  When I found out I was due the second week of May, it sort of nagged at me. I kept thinking I didn't want her to be born on May 8th because that was the day my husband passed away. One day I was talking about this fear to my mother in law (the second one, I am lucky to have two great mother in laws!). She very wisely told me I shouldn't worry.  She said the birth of this baby was going to take this sad time of year and make it joyful.  She was exactly, completely, and utterly correct and I am forever grateful to her for her wise words. Celebrating Julia's birthday each year, sometimes actually on Mother's Day, has turned the whole thing around and made this a very joyful season for me.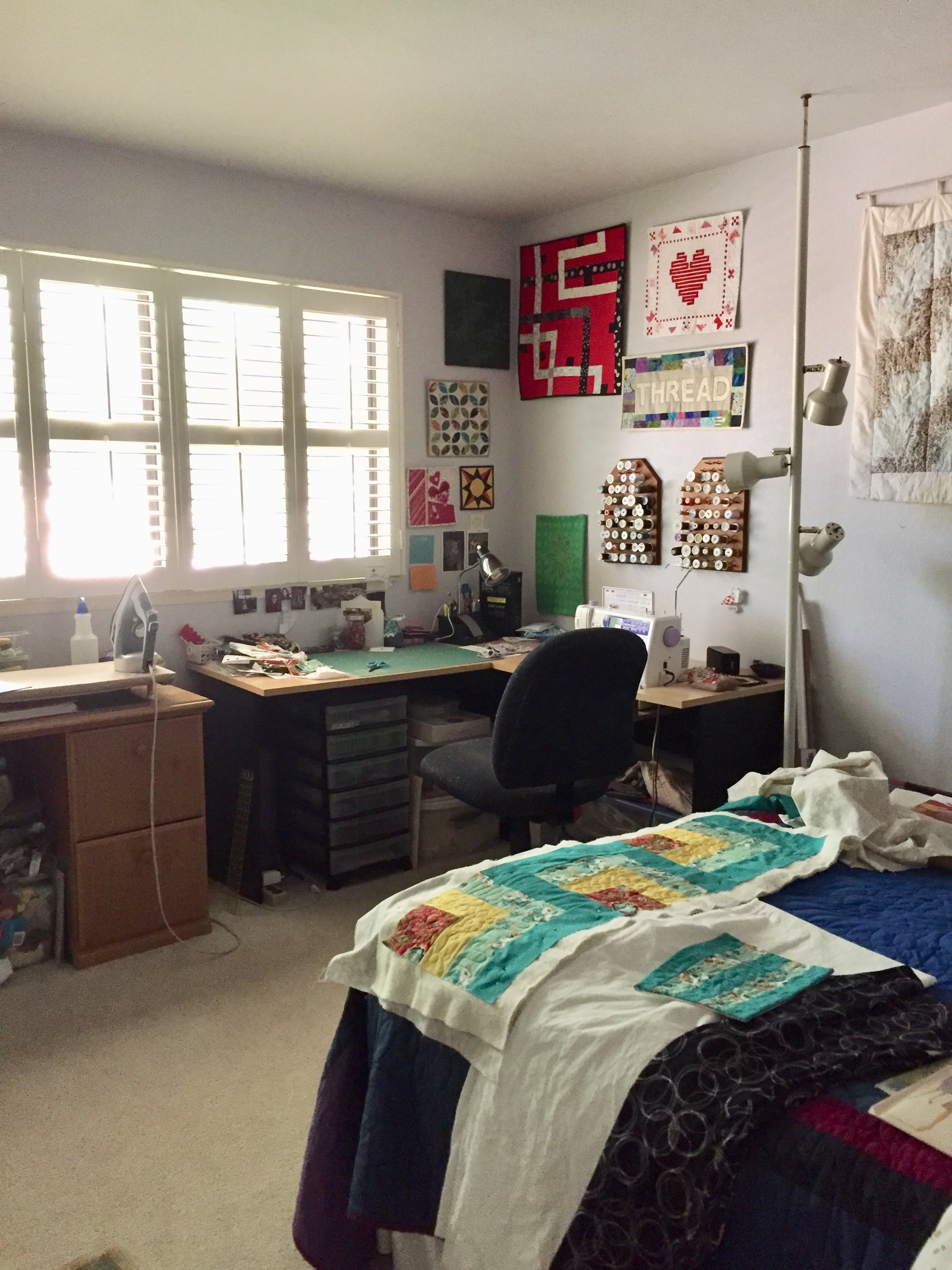 I hope you also had a great weekend. I haven't done any sewing since last week.  Yesterday was spent with a migraine so I am hoping today or tomorrow I will find my way into the sewing room. I have projects all over that I want to be working on!!  Just look at the mess that is my sewing space!  I need to take control in there and get things cleared up.
Tomorrow I will share the May Blogger Bundle.  Curated by Jayne Willis of Twiggy & Opal, it is another beautiful bundle!  See you tomorrow.
SaveSave
SaveSave
SaveSave
SaveSave
SaveSave