Happy Monday everyone!  I hope the weekend treated you well.  Last week my husband and I had our 20th wedding anniversary.  It was a crazy day which culminated in a meal of scrambled eggs for dinner.  Not really the best way to honor twenty years of marriage! But we did get to celebrate a few days late.  We took the weekend off and went to our little house in Downieville together.
We had a great time on our 'twenty-moon' and hated to see the weekend end. Saturday was gorgeous outside, maybe 75 degrees or so?  We hiked along the river and enjoyed some gorgeous scenery.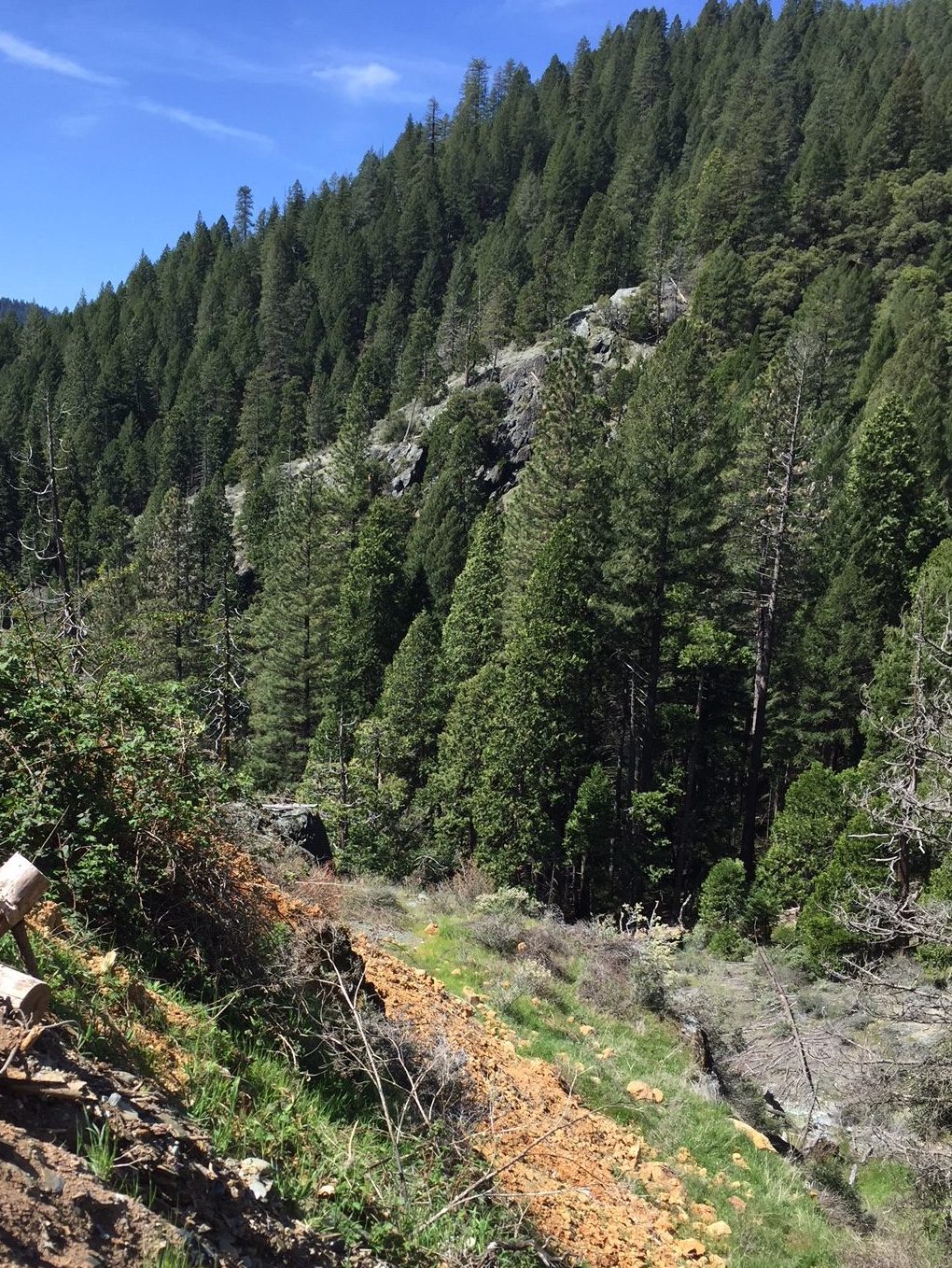 We really love our little bungalow up on the river.  Each time we are there I we wonder why we don't get up there more frequently but you know how that goes.  So many things competing for our weekend time!  As we drove home Sunday afternoon, Ray was saying he needed to hop on the mower and get the hillside and yard mowed.  This is a weekly chore during the spring and early summer which takes quite a chunk of time (he mows about two acres.). But surprise!  Our youngest son (who came to hang out with Julia while we were gone) had mowed for him.  An anniversary gift of the best kind and a very thoughtful gesture.
This is the main project I am working on this week! My shelves are completely full (with the exception of the one in the top, left corner. I have two orders of fabric delivering this week, one from Windham Fabric and the other from Andover.  (I am so excited!!) Anyway, there is no room for more.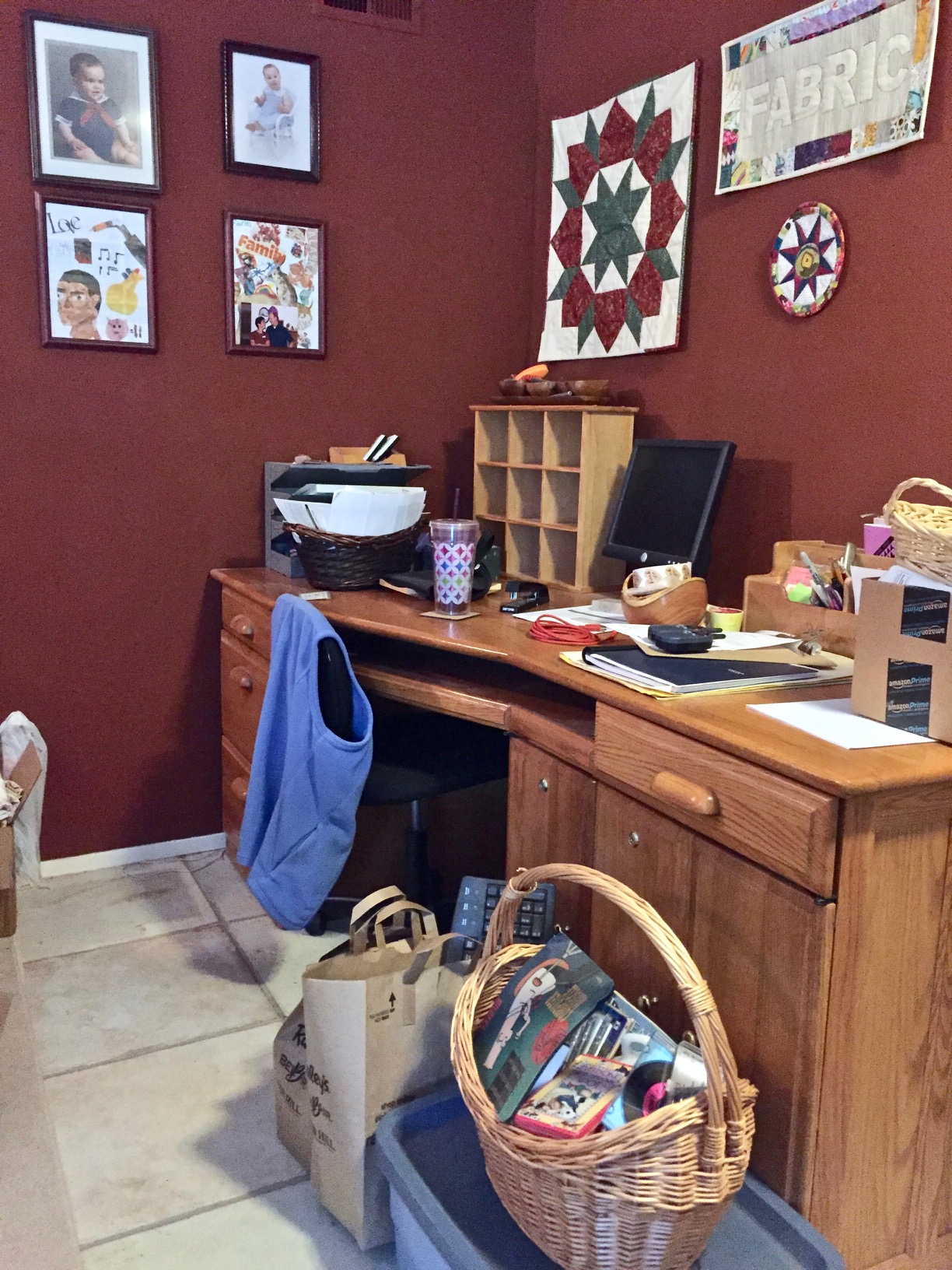 This is the space opposite the fabric shelves.  I need to clean it out and get the desk out of the room.  (It is a beast – solid oak which makes it huge and quite heavy). I don't use it other than to stack junk on.  So, the junk is going, the desk is being listed on Craigslist and I am putting shelving on this wall.  I have the shelving so that part will be easy.  But getting rid of all of this might take a little time!  I am excited to have the area available though.  Decluttering the space is actually very motivating and I should be able to get most of this done today.  I am not exactly sure how we will get the desk out of there though.  It really is monstrous.  I think Ray will have to take it apart to move it. (I am lucky to have him!)
As I clean up the shop, I am putting together some scrap packs.  Here is one filled with eight ounces of Art Gallery pieces, some of which are designed by Sharon Holland, Pat Bravo and Maureen Cracknell.  There is only one of them but if it appeals to you, hop over to the shop!
Here is a picture of Julia and Olive.  This piglet loves a good belly rub.  She is so sweet-natured which becomes apparent when she sees Julia.  She flips to her back and waits for the petting.   She has a little smile on her face when they are together.  Julia is actually a bit concerned because she doesn't want Olive to flip to her back for a scratch when Julia is competing with her in the ring for showmanship!  Clearly it may take a bit of training and practice to keep Olive up and moving when she is supposed to be.
Finally, on Wednesday this week I will be sharing the April Blogger Bundle.  It was curated by Cheryl Brickey of Meadow Mist Designs.  Don't miss it, this is a lovely collection! See you Wednesday.