We had a great weekend!  I love a weekend combined with family time, sewing time and outside time.  That is the perfect combination for me.
The family time consisted a of great visit Sunday morning with my niece and her family.  She and her husband live in the Bay Area and have three children.  Her youngest is about 15 months old and this is the first time I have met him. I did make him a quilt last year though.  Isn't he adorable?   Somehow life gets busy, migraines derail plans, and it just never worked out. for me to meet him until yesterday.  He was a delightful, happy little boy.  They stayed up at my parents for the night.  The kids had not yet experienced snow and were really excited to play in the snow, making snowballs and trying to make snow angels.  Mom doesn't have snow just now but if they drove up the highway about 20 minutes they would be able to find some. This is a very busy family with three kids, ages six, four and one.  I remember those days as both joyful and tiring.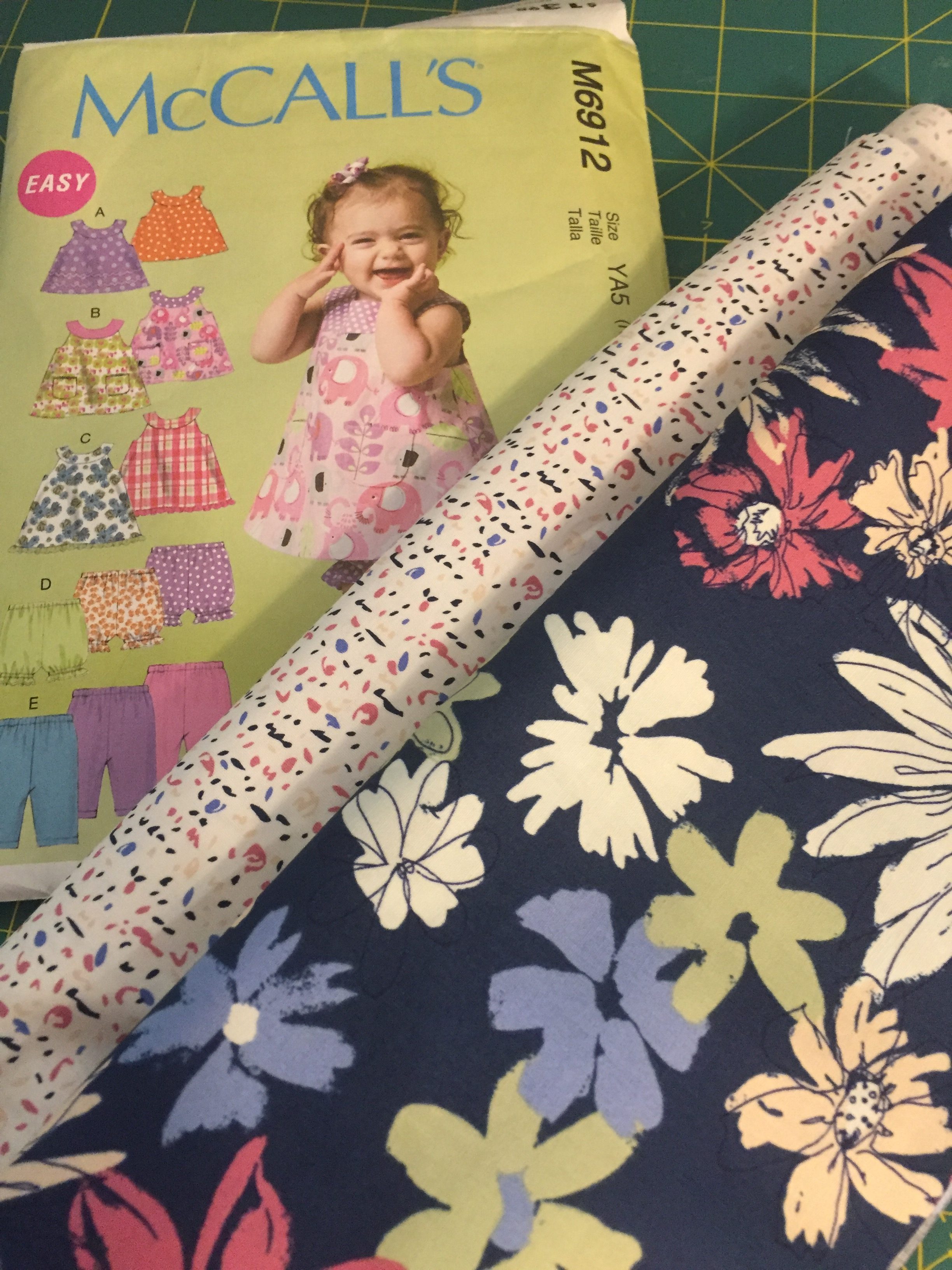 Sewing time was used to finish up a sundress and bloomers for my grand daughter. This was a really fun project.  I recently received an order from Art Gallery Fabric which included a selection of Sketchbook.  This line was designed by the talented Sharon Holland and features fabrics that look as though they were reproduced from her notebook full of doodles.  I love the colors; navy, with dusty greens, blues, yellows and pinks. I have a quilt show coming up the first weekend of May so I am preparing for it.  I will make a few samples to better display the fabrics I am bringing.  I offered to make a sundress for my grand daughter and asked my DIL to select two fabrics from this line.
She chose a sweet combination of the large floral piece, Ink Outburst Atelier for the dress and Speckled Lapis for the lining and bloomers. The choice is great. I love the large scale floral – the colors are great for a toddler but not the typical juvenile fabric.  With no zippers or buttons needed, this is one fast outfit.  I used a McCall's pattern, number M6912.  The sundress is totally reversible – might come in handy at some point.  If she spills on the front of her dress, just take it off and turn it inside out!
The bloomers are also a quick sew.  I love the bit of ruffle at the thighs.  I used a wide bias tape to make the casing for the elastic.  If you sew it just above the hem of the leg, it gathers nicely and makes the sweet ruffle.  When I was in Vermont a few weeks ago, I measured my grand baby's chubby legs so I would have an idea for the length of elastic.  I think it is nice and loose so it doesn't get uncomfortable.  My DIL does have a sewing machine so she can adjust the elastic if needed.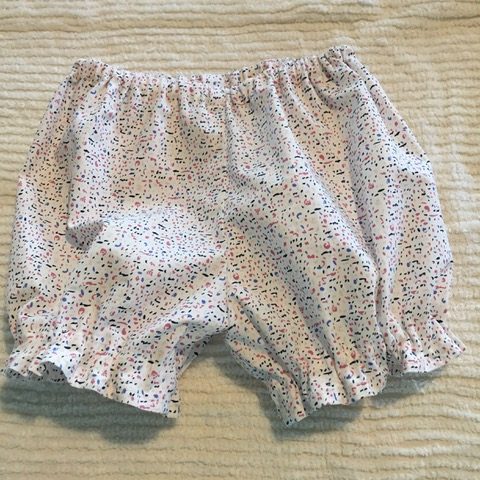 I put a little label on the back so it is easier to tell the front from the back. I hope it isn't itchy though.  Again, it is easily removed if necessary.  I look forward to seeing the outfit on her, maybe when we are on vacation this summer.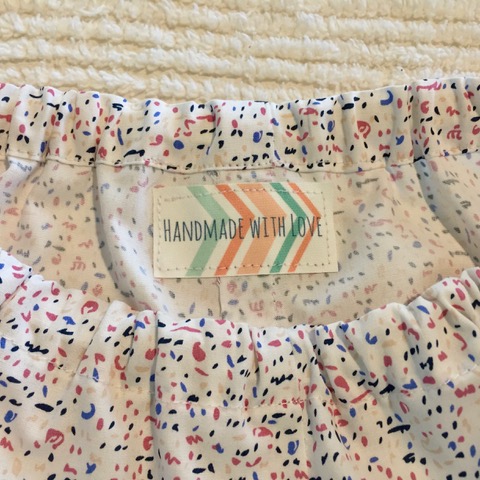 As for the outside time portion of the weekend, we took Julia to select another piglet to raise and show at the county fair in August.  She really loved doing this last year.  She and my husband got the pen all ready for her new piggie on Saturday morning.
Sunday we drove out to the breeder's ranch about 25 miles from our home.  This breeder is just a great guy.  He is very knowledgeable and relates very well to teenagers. He and Julia took some time to look at all of the piglets and choose one with good physical structure and a (hopefully) easy going temperament. The litter in this pen are about eight weeks old.
Julia quickly gravitated to this little gilt. She was born in February and is currently about 60 pounds.
Her name is Olive and she is very curious.  Julia has a calm presence with her, making Olive feel calm and secure.  She was sniffing and rooting everywhere.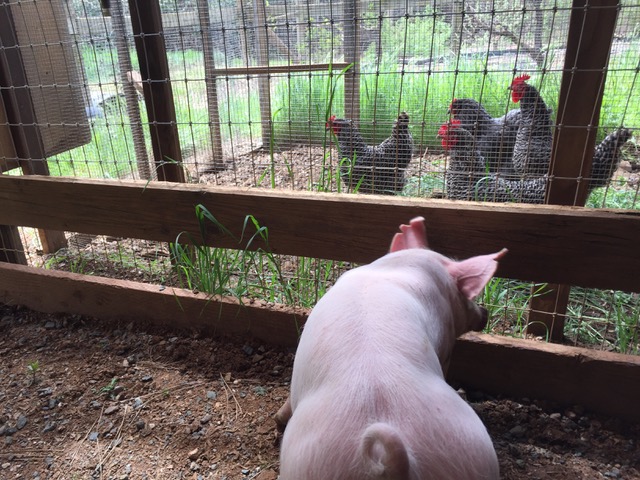 When she discovered her neighbors in the chicken coop, Olive became really vocal.  She was happy though – I guess she was just making friends with the hens (who wouldn't give her the time of day!)  Julia is thrilled with her choice and I think the two of the will be good buddies.
The weekend was full and so enjoyable.  I hope yours was the same.  I will be linking up all over quilting blogland.  Please be sure to check out the link ups I use at the top of the page, under Link Ups.
SaveSaveSaveSave
SaveSave
SaveSave
SaveSave