I know I am not alone when I say I love to sew for a cause. There are so many people less fortunate than us, people who are dealing with all sorts of hardship. Quilting and sewing cannot fix these things, but it can show others how much we care. One such cause is Sadie's Dream for a Cure. Founded in 2012, this organization provides tote bags filled with toys, crayons, games and stuffed animals to children who are battling cancer. Sometimes the child regularly endures long IV infusions or hospital stays in an isolation room while their immune system is severely compromised from their treatments. These bags bring a little happiness to a scary time for a child.
This organization has several options for how we can help. They will provide an entire kit to a person wanting to sew a bag. These kits contain the fabric, fusible batting and the label for the front. Alternatively, they will send you just the label, if you would like to rather use your own fabric. I thought it would be a good use of some stash so I requested just the label. Finally, if you don't have time to sew just now, they keep a wish list on their website of items they need for filling the bags. Here is a link to check it out.
Bags are donated to hospitals all over the country. Some of the bags are filled with adult items for parents who find themselves suddenly experiencing an extended stay at a pediatric hospital. The adult bags are stocked with toiletries and snacks.
Before I go any further, I need to make a clarification. I didn't make all four bags shown at the top of the page. I first heard of this project on Instagram when The Quilter's Planner announced a sew along to make these bags as a group. They did a few posts explaining the steps along the way. I didn't join in with the sew along due to some timing issues. However, I did pass the idea along to my sister. She also loves to sew and I was fairly sure she would want to make a bag or two. Turns out she made three! Hurray for the kindness of others.
It has been fun to receive pictures of the bags my sister made over the last week or so. She did this cute one with bugs — perfect for the budding entomologist.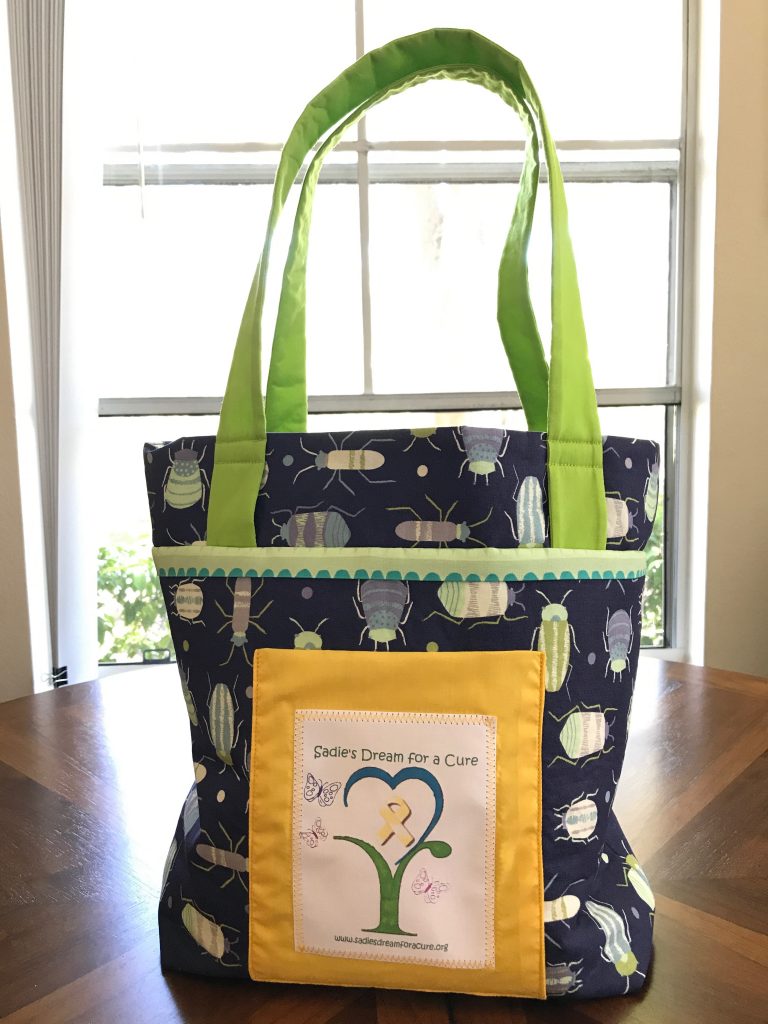 Who wouldn't love the colors in this purple and blue bag? The fabric choices are perfect. It would work for a child or an adult.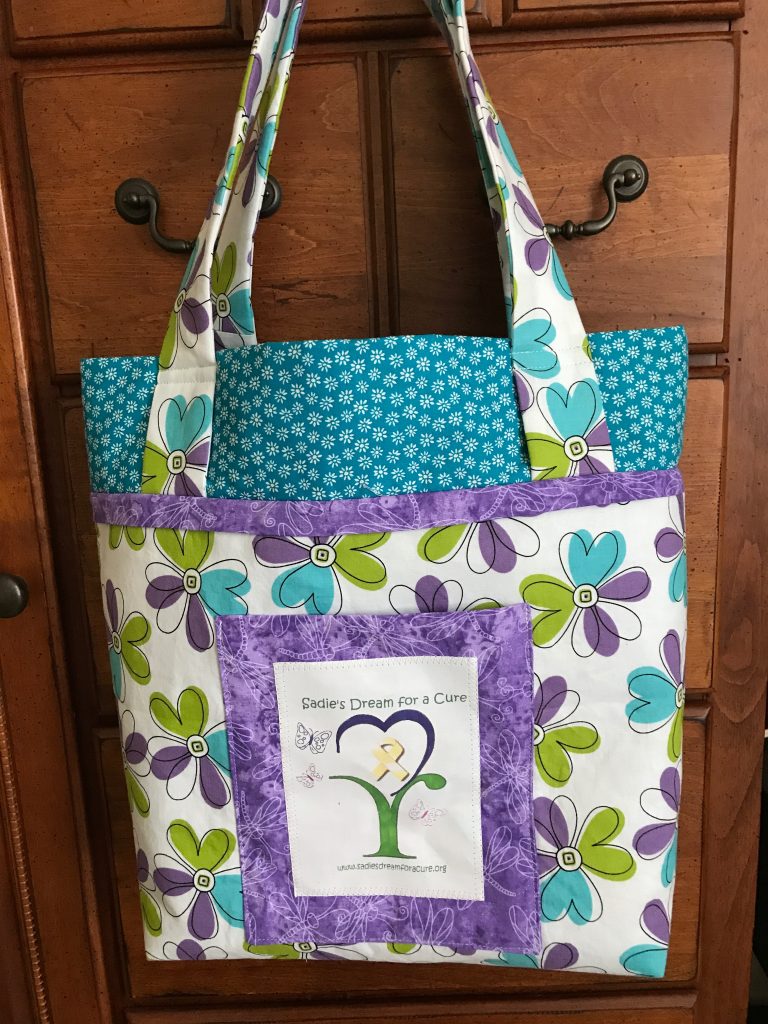 For the third bag she used this sweet multicolored fabric with little cupcakes.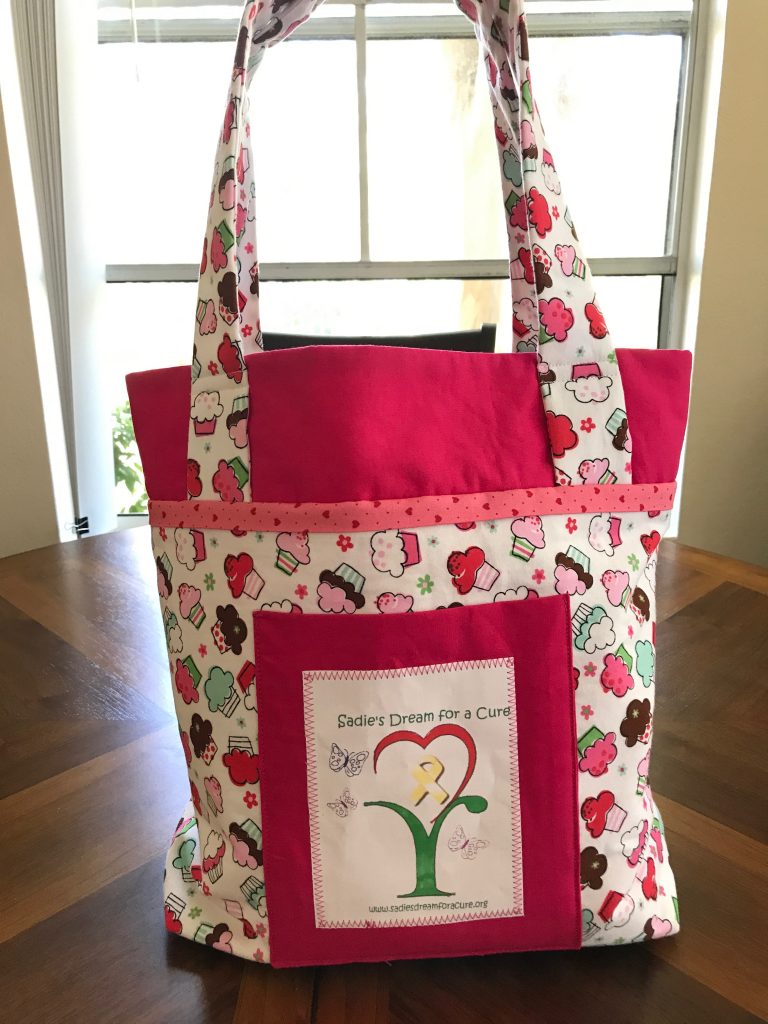 My bag is pink with a floral print used for the pockets and the trim around the top. I added a pop of green for the accent strip. When I was making it there was one hiccup.  After I attached the lining to the outer bag, I noticed I had forgotten to put the pocket on the lining (for the inside of the bag). Dang it. I decided to unpick the stitches on the side seam and carefully insert the pocket and try to stitch it down. It was kind of silly but it worked.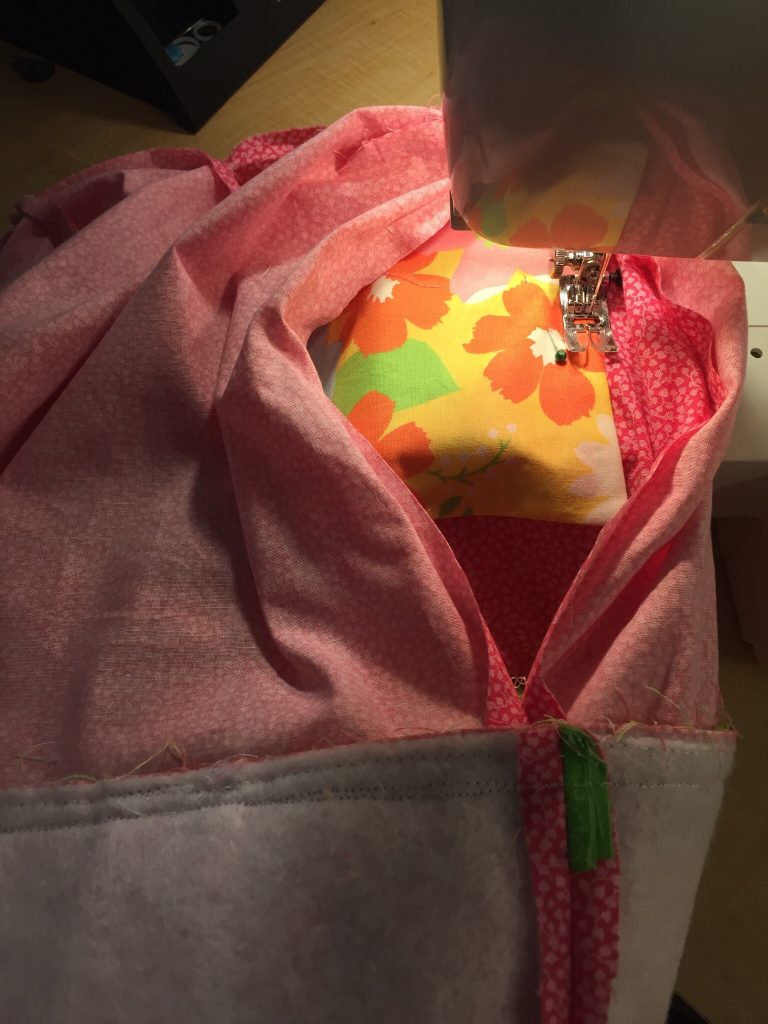 I am pretty happy with the final results! Fun, bright colors make for a cute bag.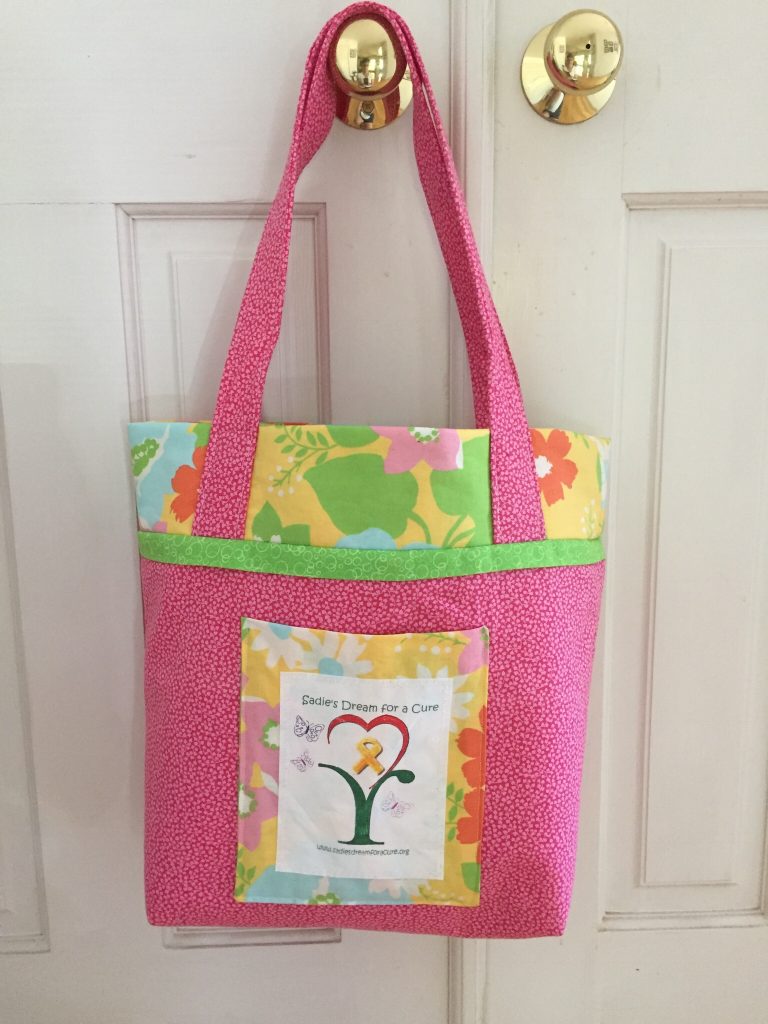 These bags are fun to make and a simple way to help out a family going through a rough time. I enjoy bag making anyway so this was a pleasant way to spend an afternoon.
Just a quick note – I want to let you know I have begun a newsletter to keep readers posted about my fabric shop. I will be sending it out about every eight weeks or so and it will contain information on new arrivals and fun promotions for my newsletter subscribers. If you are interested, there is a sign up form on the right side of the page.
Linking up to Crazy Mom Quilts and TGIFF.  Hope all of you have a fantastic long weekend for the Memorial Day holiday.