Earlier this week I mentioned I was taking a class on long arm quilting. Wow, it was so much fun. Not so much that I plan to shell out the kind of money required to buy a long arm machine but enough that I would definitely go and rent time on the machine. Probably on a regular basis.
I have wanted to take a class on long arm quilting for quite a while. The stars finally aligned and it happened this week! The shop that rents time on these amazing Innova machines is about an hours drive from my house. This is a good thing – if it was more convenient I would be in there all the time! This way, it takes a bit of thought and planning to get there, which might help me to control the spontaneous urge to go quilt something. The rate is $20 per hour which is high except when one considers how fast a project can be quilted on a long arm vs my domestic machine. Taking this class also enables me to quilt larger projects. As I mentioned before, I have only made two large quilts and this is because it is tough quilting them. I don't really want to pay someone to quilt my projects because I like to do it from start to finish. Anyway, now I will be able to make larger quilts!
Here are some thoughts on my experience. First of all, as I expected, loading the machine is challenging. It does make the basting process less of a physical challenge in that I am not crawling all over the floor but it is quite a process to load the backing and then the batting and quilt top, making sure all is square and straight. Naturally, this process will be quicker after I do it a few times.  There is much to learn about stitch length and tension but for my first time, I thought it was relatively easy. There were three of us in the class and each of us had our own machine to load. We brought two pieces of fabric that were each about 1.5 yards and this is what we practiced with.
What wasn't so easy was quiltiing a smooth circle. For whatever reason, when I tried to move in a circular pattern it was difficult and my curves had a distinctly rectangular look to them. It was surprisingly easy to get a nice straight line though. Looking at the bit of stitching at the top of the picture, the horizontal lines were stitched with channel  locks on and this made those lines very straight because the machine could only stitch in that one direction (no free motion, just straight).  But the vertical up and down lines that I did were done with everything open (no channel locks) and it was easy to create a nice, straight line. When I FMQ at home, I find straight lines to be very challenging if I FMQ so I normally use a walking foot and have to move the fabric with each line.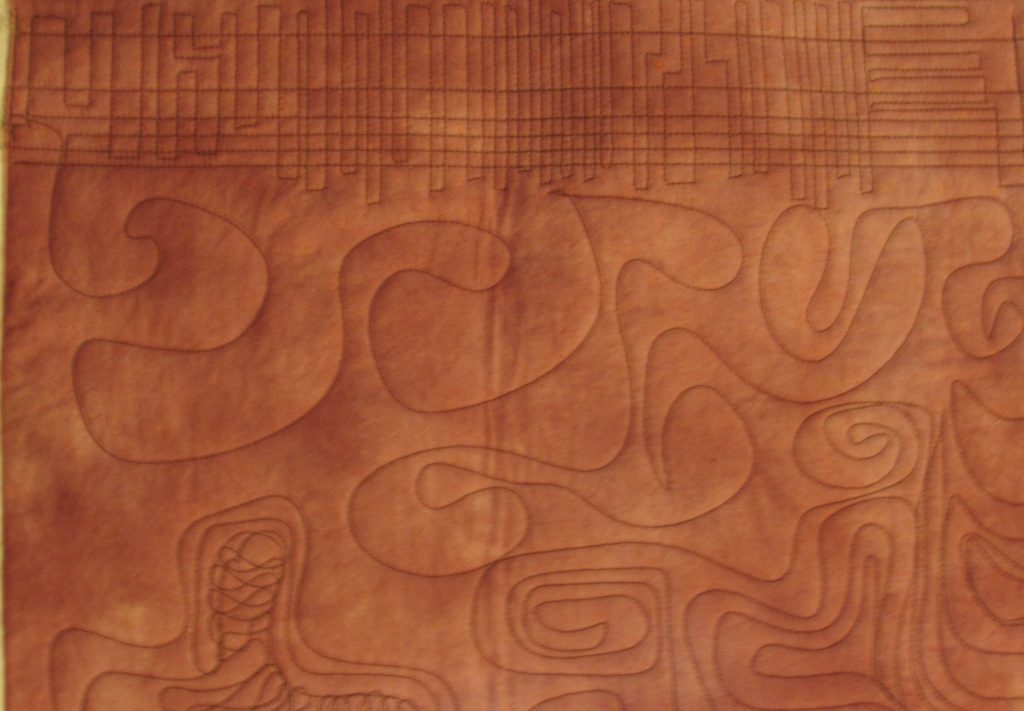 As would happen, the more I stitched, the softer the circular motion became. I tried to do a bit of pebbling and that was difficult.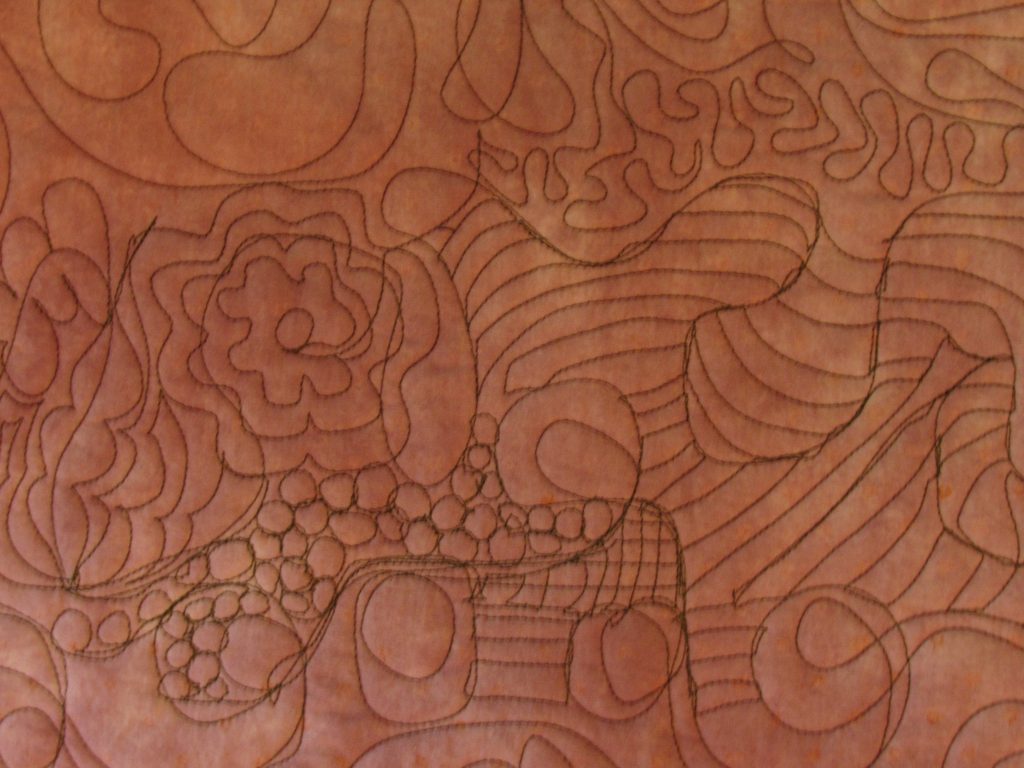 But the circles got rounder as I went. To explain the mess you see above you, I first did a very large stipple or meandering stitch and I used up my practice piece of fabric too quickly. So I went back and started filling in the shapes. Messy yes, but so much fun to play with. Sort of like some very rough graffiti quilting.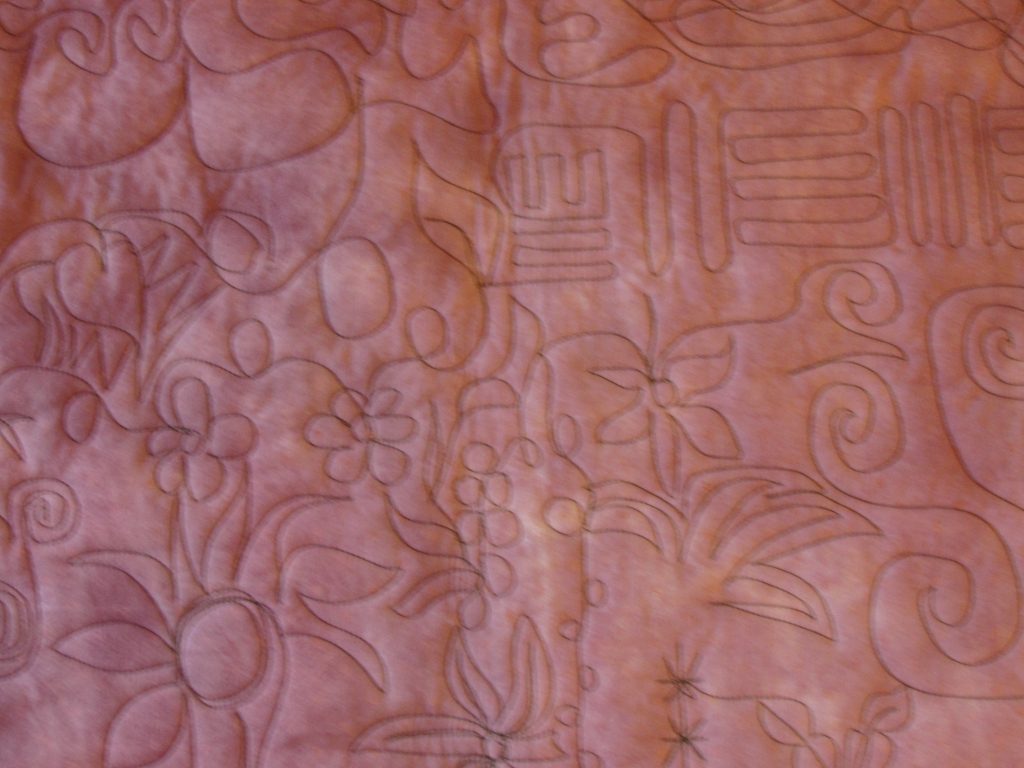 This photo shows stitching done toward the end of the afternoon. The shapes are looking better and the circles were easier. It doesn't have the harsh flow of the quilting done earlier.
We also had a bit of time to practice using pantographs. This was far more difficult than I anticipated. Just in case you don't know how they work, pantographs are designs that one can purchase. They are a length of design printed on a long strip of paper.  Once the quilt is loaded, the long strip of paper with the design is placed on a table which is between you and the quilt. Then the design is basically traced, or followed, with a tiny laser beam that emits from the machine. As you trace the design, the machine is stitching the lines that you trace. It was very hard for me to relax and the stitching reflects that,. Also, because I was staring at the design and not looking at the quilt top, I didn't get to plan where the design would hit the print of the fabric or shape of the block. I didn't like this. With FMQ one looks at the quilt as it is stitched and there is the ability to plan where to go next. These all over designs done with a pantograph don't really allow for this. I am sure I would get used to it but it wasn't as easy as it looks!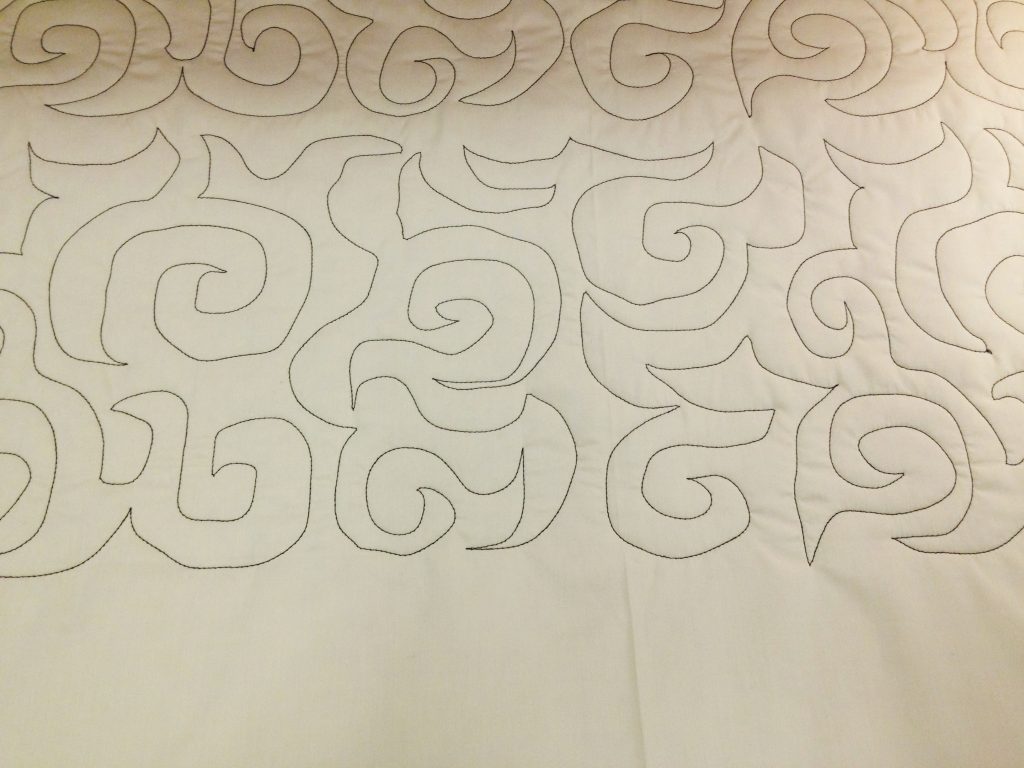 You can see that the stitching is very awkward here. We did trace the panto without stitching a few times and that helped to get my brain to remember the flow of the movement. Practicing will certainly make this flow more easily. At this point though I think I prefer quilting without a panto so that I can look at the quilt and plan the stitching according to fabric and blocks. With simple quilt designs, a panto would certainly be fast and very attractive. Maybe the first time I actually use one, I will pick something with softer shapes?  Or maybe a broader design? Mostly, it is going to require practicing which means I'll need to make more quilt tops so I have something to practice on. A girl's gotta do what a girl's gotta do.  😉
I am excited to go back and practice on something real. I have two quilt tops in the WIP pile and I plan to do both of them as practice on the long arm. Overall, the biggest benefit is this type of quilting didn't strain my neck. Using my machine to quilt anything larger than a wall quilt creates a strain on my (often cranky) neck so I have to take lots of breaks, stopping every 15 minutes or so. I quilted for a couple of hours straight while practicing and my neck didn't fatigue. Hurray!!! It was a blast to learn something new and to see what it felt to use a machine like this. I can't wait to go back and try again.
Linking to several sites – take a look at the list at the top of the page, under Link Ups.