Green is by far, my favorite color. I love all shades of green so it was very easy for me to sit down this morning and pull out my green scrap bin to make my RSC16 projects for the month of May.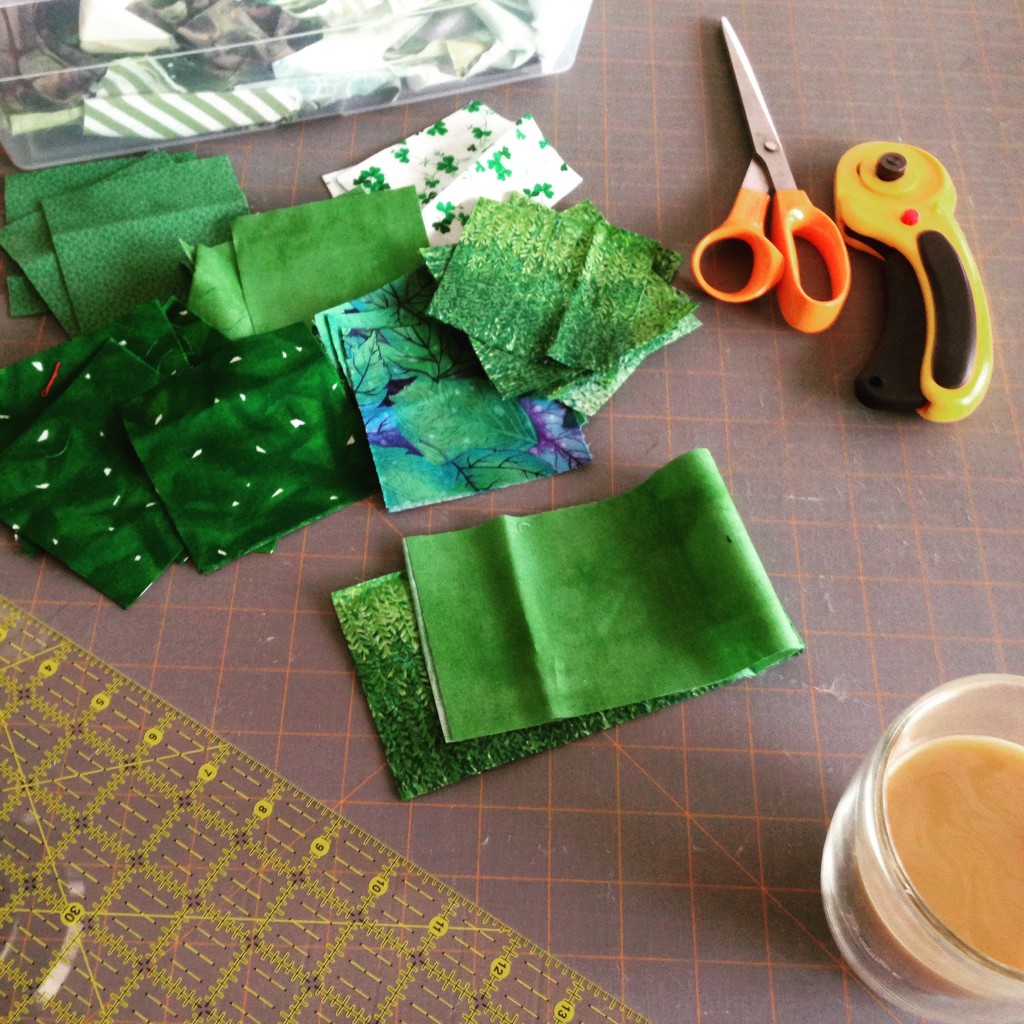 I decided to make my blocks for the Gemstones quilt first. You might remember that this pattern was designed by Cynthia over at Quilting is More Fun Than Housework. I'm not sure why, but I hadn't thought to chain piece these blocks before. This morning I had a revelation though and zipped through the blocks in no time at all.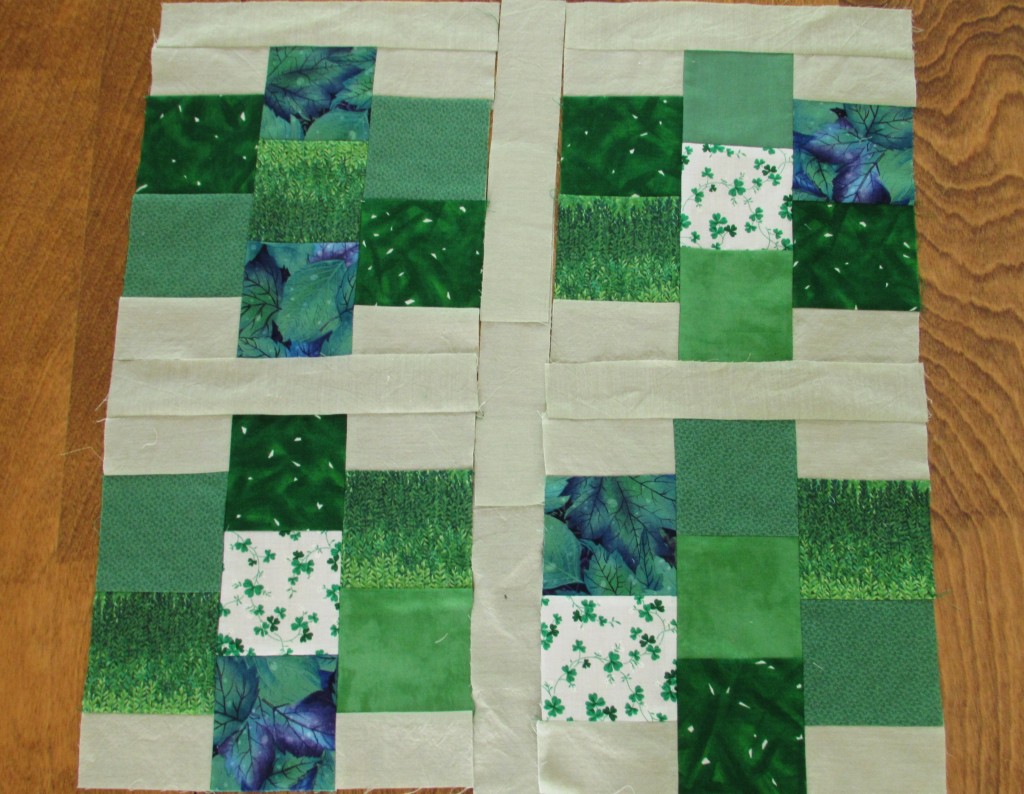 Love the emerald tones in these blocks. I wanted to use only greens that evoked an emerald gemstone so my options were a bit limited. They look so pretty though!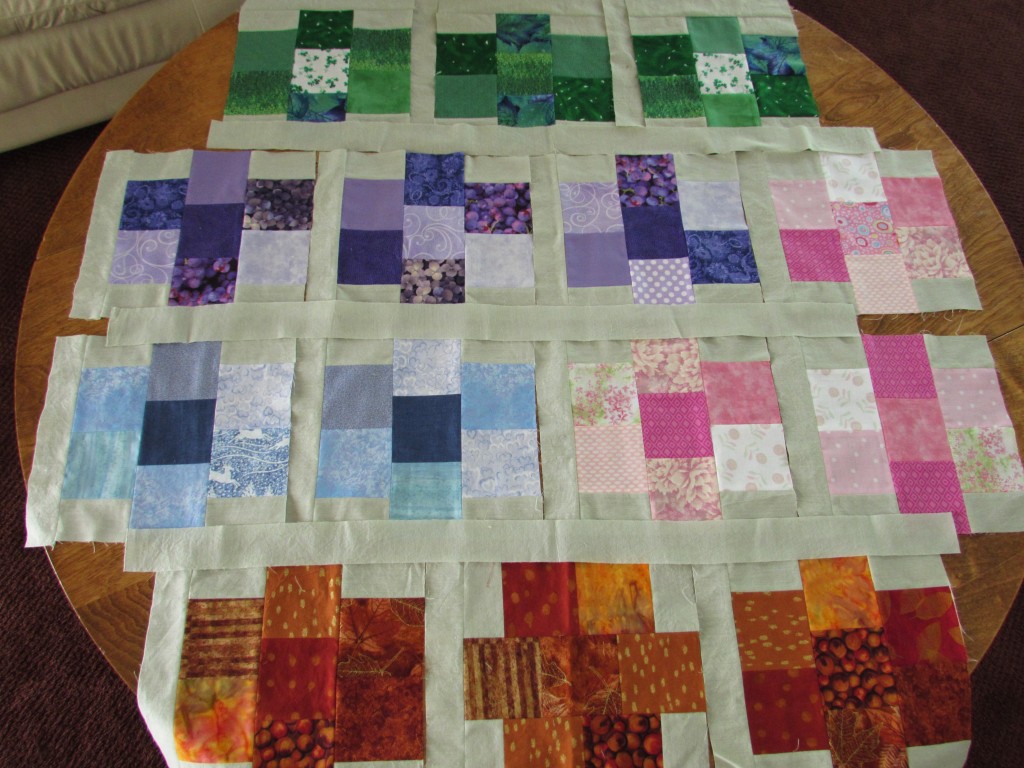 When I was taking photos (which is becoming a challenge as the blocks stack up) I noticed that I stitched the sashing to the wrong edge of these blocks. I will have to rip those seams and fix that.
Next I moved on to my scrappy blocks that were inspired by Victoria Findlay-Wolfe's book, 15 Minutes of Play. These blocks are so satisfying. It is playful and freeing to make these because there is really no right or wrong. I branched out and used different shades of green for these, reaching for whichever scrap seemed to fit.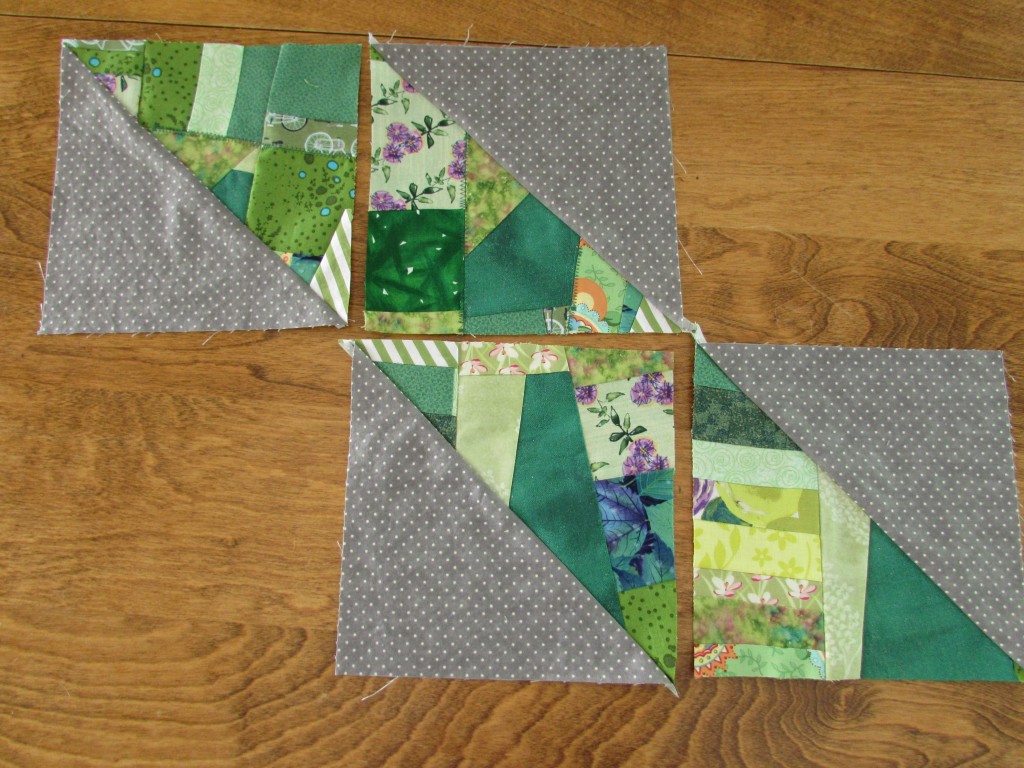 Now that these scrappy blocks are accumulating, it is fun to play with the HST layout. Endless possiblities.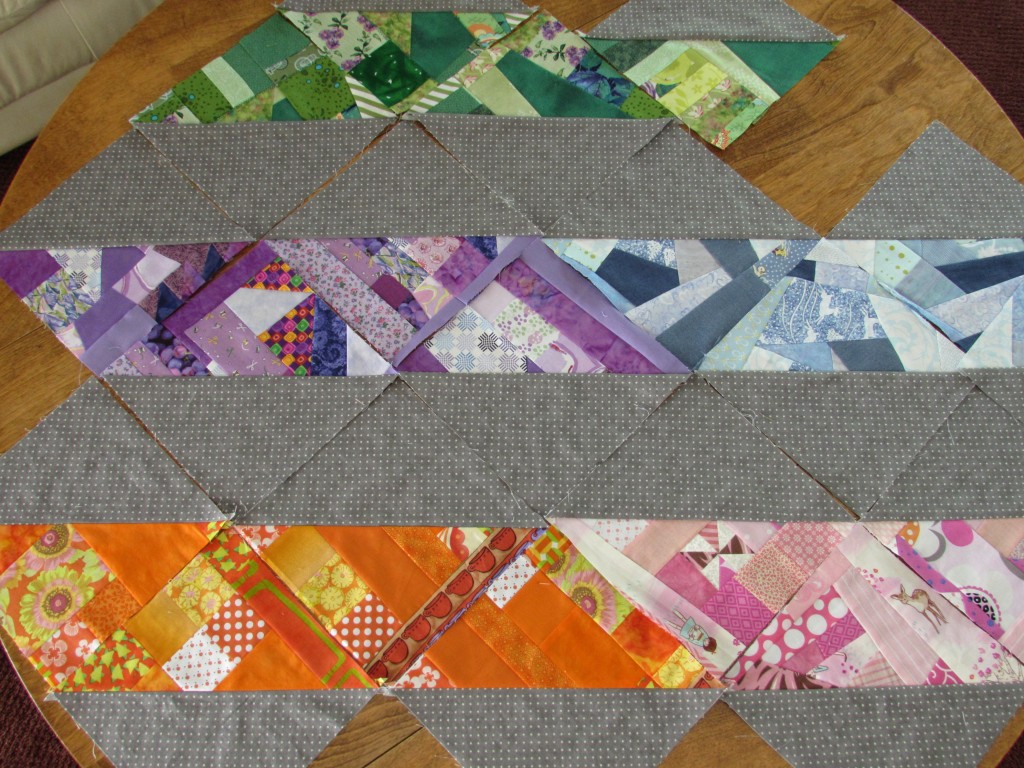 Here is another idea.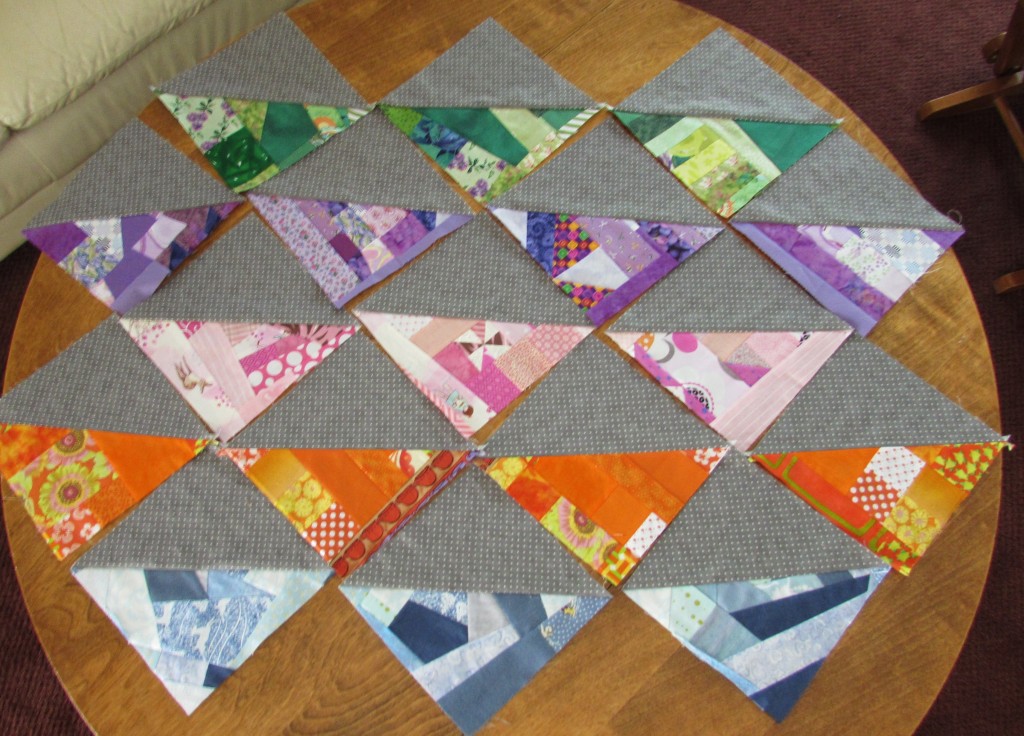 The scrappy HST's remind me of crazy quilts. I am playing around with adding some random stitching to the scrappy side of the HST to give it more of the crazy quilt look. What do you think? I did a few zig zag seams on two of the HST's. I could also do a blanket stitch which would be characteristic of those quilts. Also, if I do this, maybe I should use some Sulky Rayon threads so that there would be that great sheen Sulky has as well as add more body to the stitching. Opinions please? Finally… should I do these little stitches now or when I actually quilt it? If I do it now, I will have to figure out how to quilt it such that it doesn't interfere. I could focus the quilting on the polkadot side of the HST's. Decisions, decisions, decisions!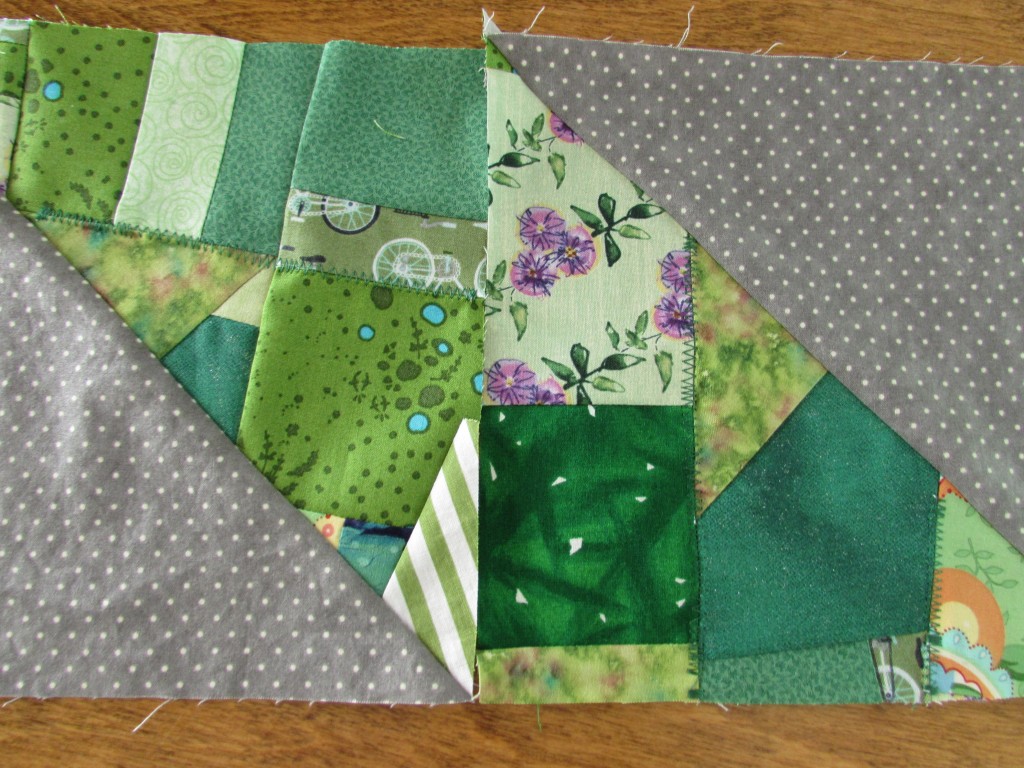 Glad to have my scrappy green projects checked off the list for this month! Though I must say, it didn't make the slightest dent in my green scrap bin. Not one little bit.
Linking to my favorites. Check them out at the top of the page, under Link Ups!
Craftsy Update:  In a continued celebration of their birthday, Craftsy is offering some of their most popular classes for 50% off. Sale begins Wednesday, May 18th and runs through Sunday, May 22nd! Check them out. I have taken some quilting classes purchased at Craftsy and feel that that the caliber of the classes is first rate! (I am a Craftsy affiliate, meaning if you click through my link and make a purchase, I will receive a small payment.)