Have you all been looking for little signs of the arrival of spring?  Living in California, spring is noticeable early on. My daffodils are done blooming and our fruit trees are leafing out, with all of their blossoms raining down. It is definitely spring here.
Another sign of spring is the gorgeous Windham Fabrics collection, Whisper, which was recently released and is now shipping at Brewstitched.  I love the gorgeous pallette used in this line. Soft, muted shades of blue, pink, and mustard yellow are used in this springtime collection. The fabric features various florals and sweet butterflies for a truly feminine feel. Sheryl, the owner of Brewstitched, would like to give four fat quarters to a lucky reader!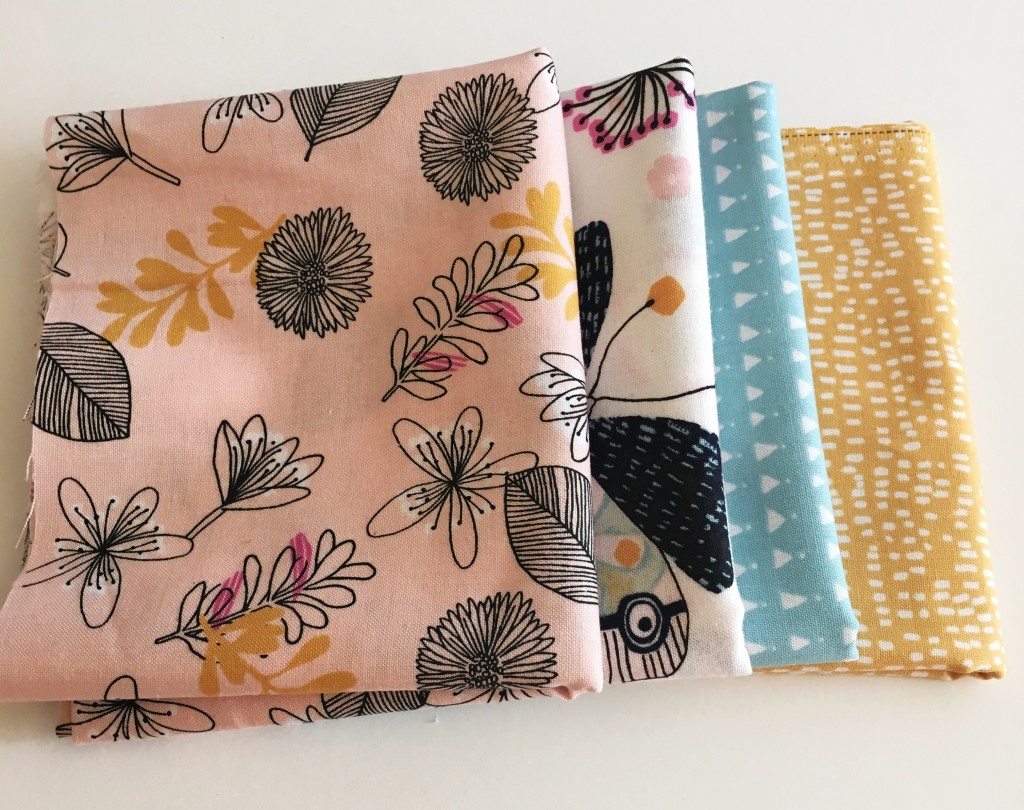 For those of you living in cold weather country, this is the perfect way to bring a bit of spring to your sewing room!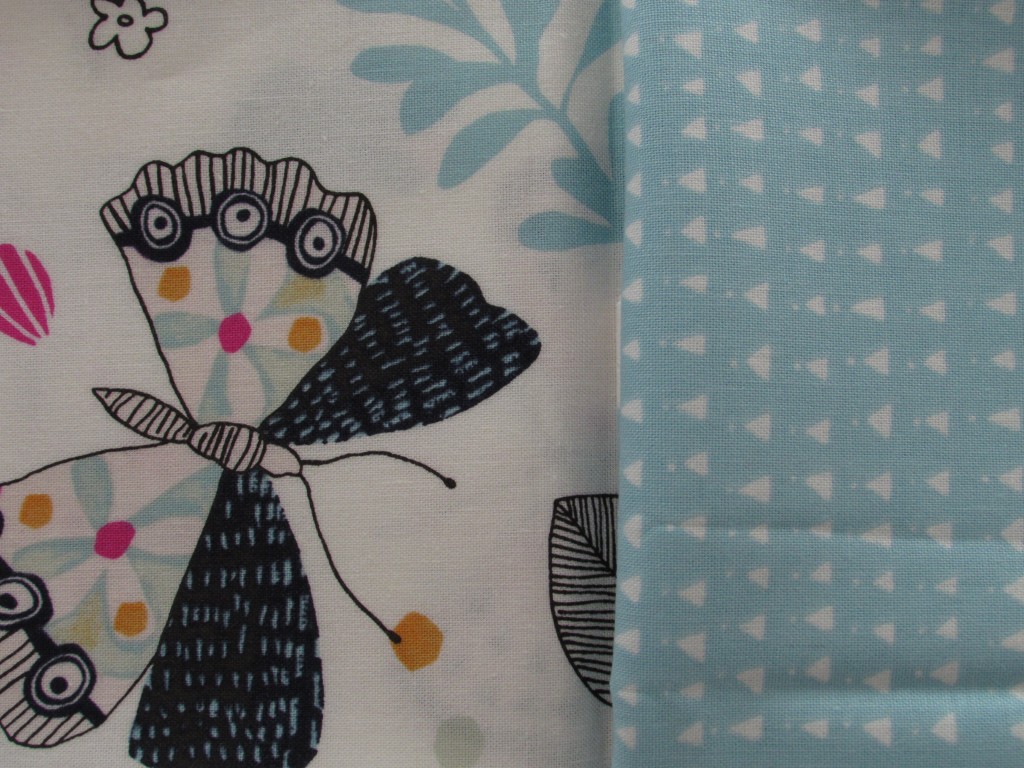 Sheryl sent me a few fat quarters of Whisper to play with. I immediately thought of our Downieville house. It could certainly use something cute hanging on the walls.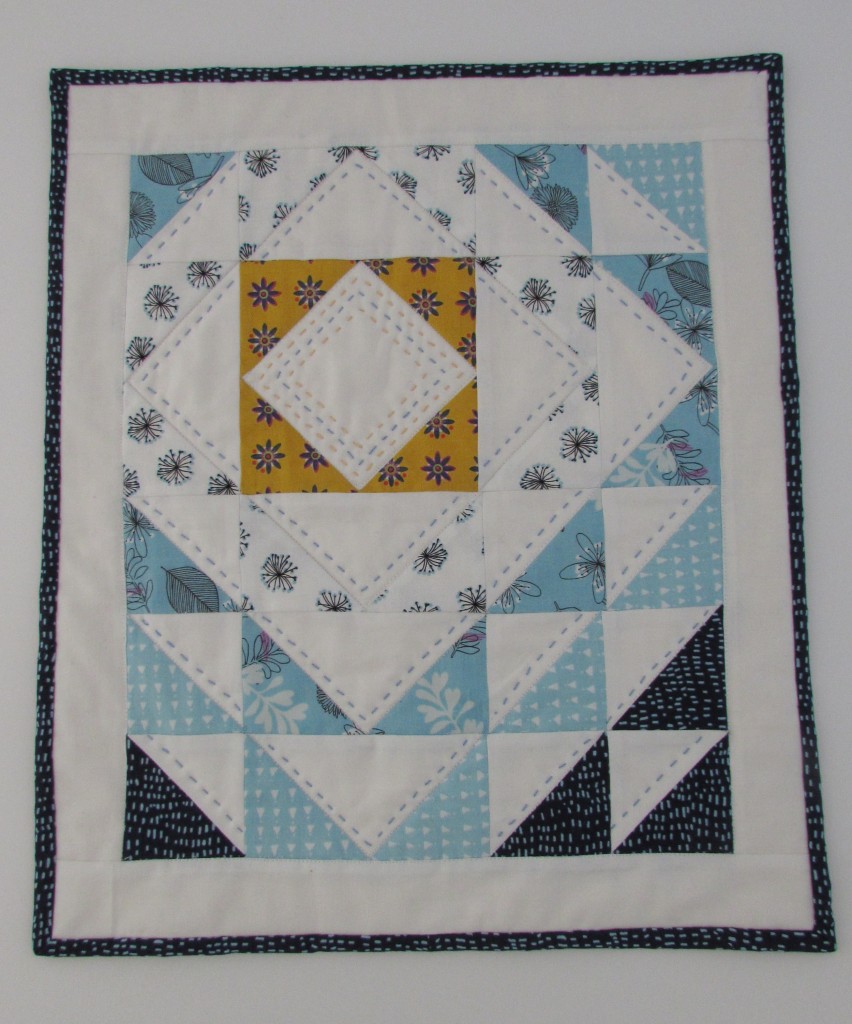 The pattern for this mini is one that I downloaded last winter during the Aurifil Designer Mini series. It was designed by Kim Jolly over at The Fat Quarter Shop. It's been on my list to make for a while now and this was just the right opportunity. I added a scrap of bright yellow to make the center pop a bit.
One of the reasons I wanted to make a simple project was to practice some hand quilting. I have some spools of Pearle cotton floss that I have been itching to use.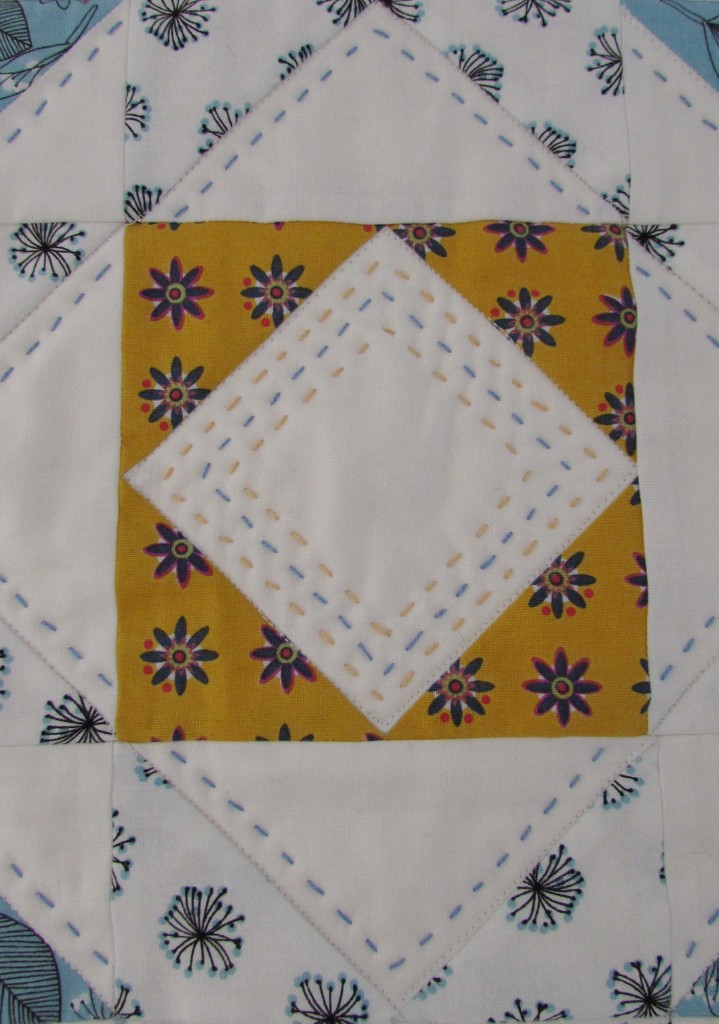 I ditch quilted in several of the seams so that I wouldn't have to worry about things slipping around as I hand quilted. Adding a bit of hand stitching makes just about anything look that much sweeter.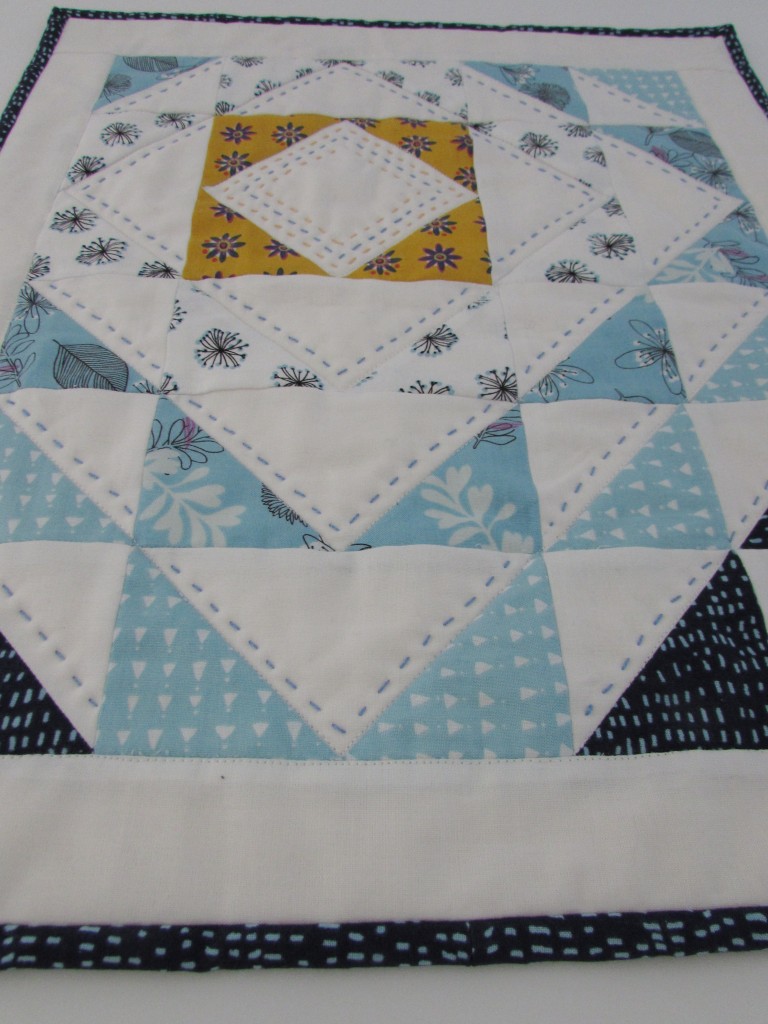 Stitching with Pearle Cotton was a treat. I will definitely keep practicing to increase the consistency of my stitching.
OK – Back to the Whisper giveaway! In order to enter, please take a peek over at Brewstitched. Sheryl has recently added some wonderful new fabrics to her shop. She is carrying the entire line of Whisper and I happened to notice she now has several pieces of the crazy popular Cotton and Steel line, Bluebird. So hop over and then come back and tell me about your favorite. Spring is here and it is blissfully evident over at Brewstitched!
If you follow me, you are welcome to comment a second time telling me how you follow. Are you following Brewstitched on Facebook or Instagram? If so, that is worth a third entry. Be sure to let me know how you follow them.
This giveaway is open through March 29th. The winner will be announced first thing, March 30th!  Make sure to leave an email address if you are a no-reply blogger. In the event that someone is picked and I cannot email them, I will draw another winner.  Due to the cost of shipping, this giveaway is open to US residents only. Good Luck!
GIVEAWAY IS  NOW CLOSED.
Remember that Needle and Foot readers have a discount this month over at Brewstitched. Enter coupon code NANDFMARCLUB10 for 10% off your order through the end of March!
Linking to my usual parties – all links are listed at the top of the page under Link Ups.