If you follow along with Angela's Rainbow Scrap Challenge, you probably know that this month's color  is mocha. Angela suggested adding bits of pink if that felt like a good idea. Hmmm….  neither of my scrappy projects for this year call for brown. So I rebelled and just sewed pink. Call me crazy.
I love both of my projects. They are coming along nicely now that I have two colors to look at.
Here are my blocks for the Pretty Gemstones quilt.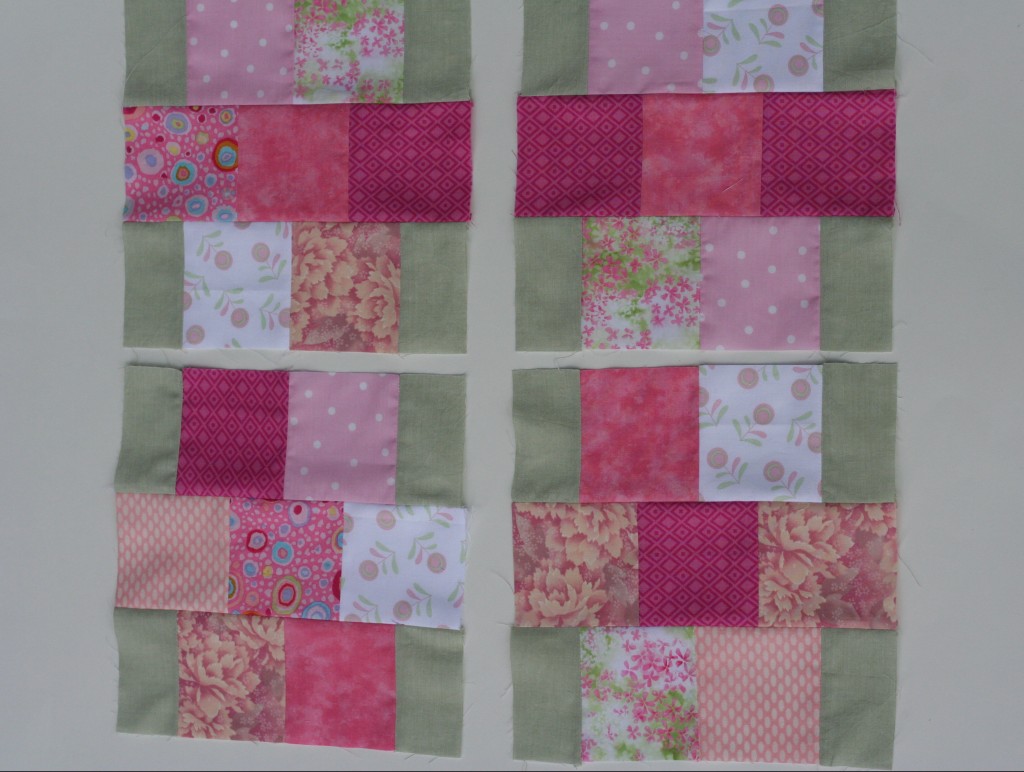 The pink looks great with the sage green solid corners. They look wonderful mixed in with the blue squares from January. I already know I am going to love this quilt. 🙂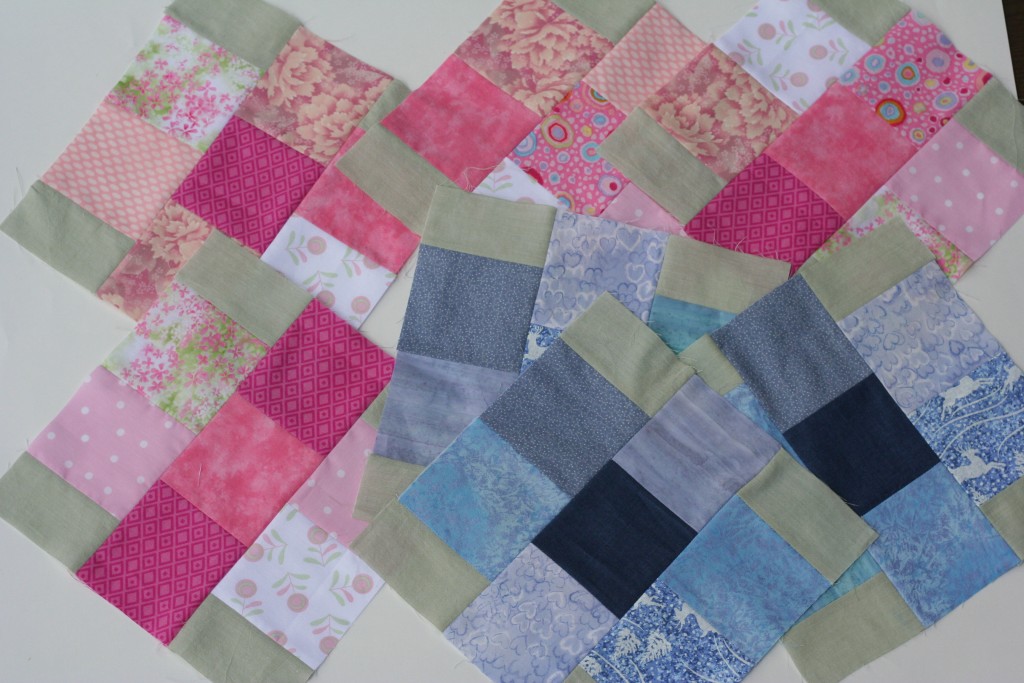 I made two rather large pieces of "made" fabric, just like last month. I don't have a huge amount of pink scrap but I found enough.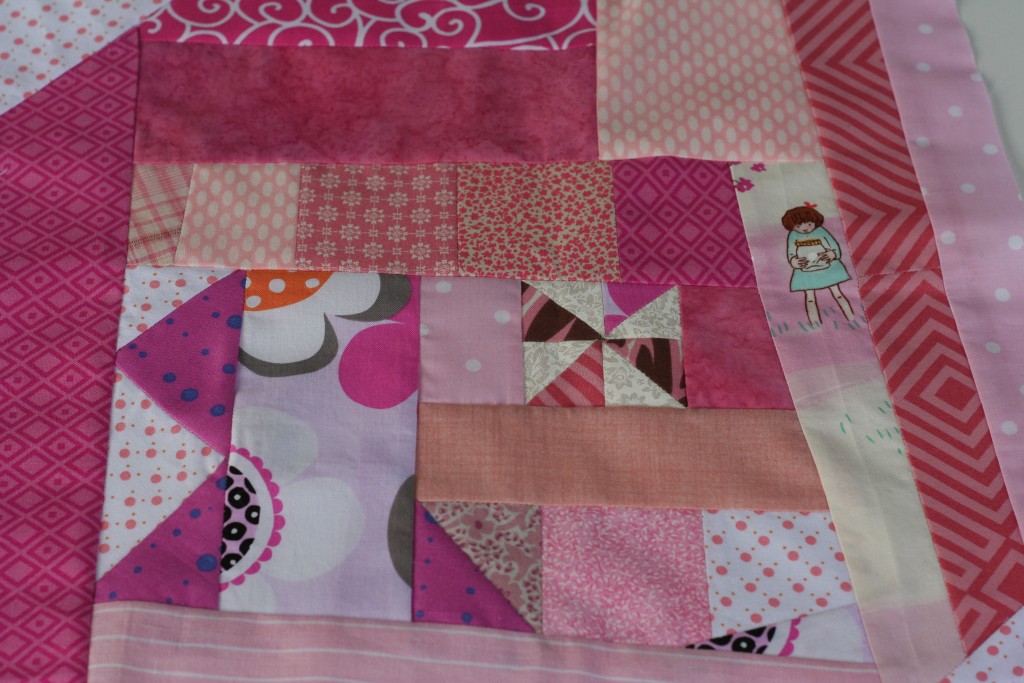 I love the scraps that are in this piece. The windmill block is made from those little triangles that were snipped off of my row of heart blocks when making my BOM for Classic Stitches last February. It is just peanut sized, measuring two inches square. There are pink dotted triangles that were saved from my Allison Glass mini quilt swap last  spring. And, my favorite, the little girl looking into her jar of fireflies from a piece of Wee Wander, Wander Woods. I fussy cut her and will be sure top keep her intact when I make a block from this piece. It might be a trick to keep the tiny pinwheel and the little girl whole but that is my goal.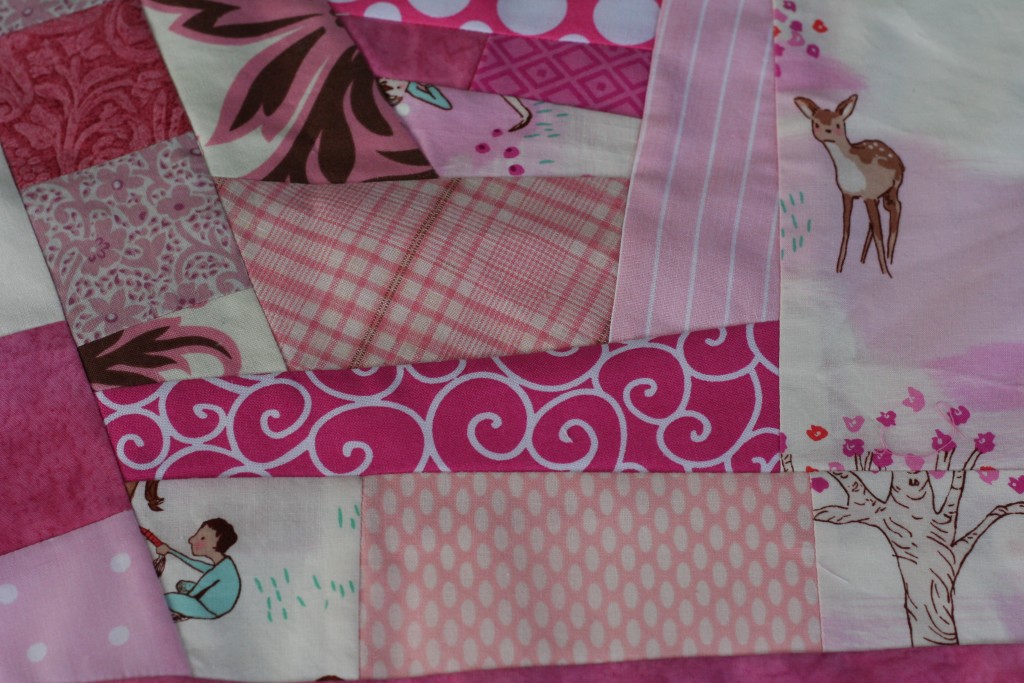 This second piece has more kidlets and a deer from the Wander W!oods piece. Check out the tree that looks like it is in blossom on the lower right. The pink plaid in the center is a piece of vintage fabric from the bundle of fabrics that were given to me last spring. There are a few fun posts about this fabric here and here. I love seeing bits and pieces of past projects popping up.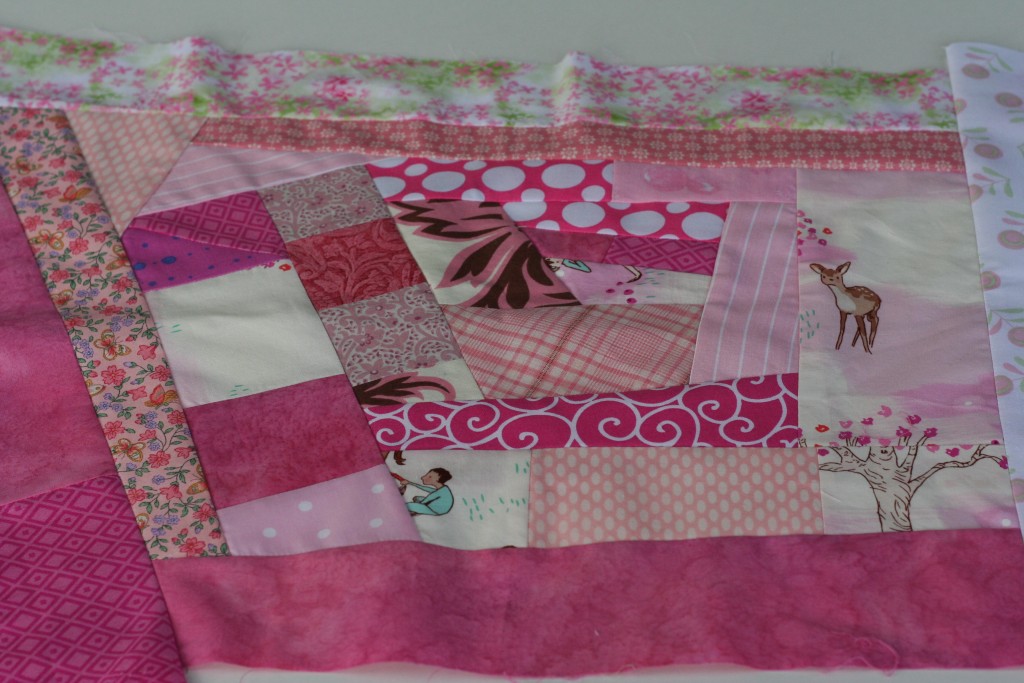 I am almost certain that I am going to create HST's with these fabric collages. I bought a pall gray dotted fabric and I am thinking I will use that for the "other" side of the HST. My next decision is how big to cut the HST's. I need to do a little thinking before I start cutting, but they will be on the big size.  If I actually make any of the HST's between now and next month, I will post them with my March scrappy post.
February was all about pink scraps for me. I am sure that at some point Angela will call for a pink month and I will have to substitute something else in that month.
Linking to Oh Scrap!, So Cute Tuesday, Linky Tuesday, and Let's Bee Social. Find these links at the top of the page under link ups.