I hope all of you had a wonderful holiday. Christmas was lovely. The weather forecast called for a white Christmas and we were all excited – it's been years since we had snow for Christmas. However, the forecast missed the mark and all we got was a lot of hail and ice. Oh well….  maybe next year.
Now that things are calmer, it is a good time to look back at the year and celebrate quilting achievements and successes. As usual, at this time of year, it is amazing how the year flew by. Recording projects and events via this blog makes it so easy to remember the course of the year. It is satisfying to take a peek back and see all that was actually accomplished.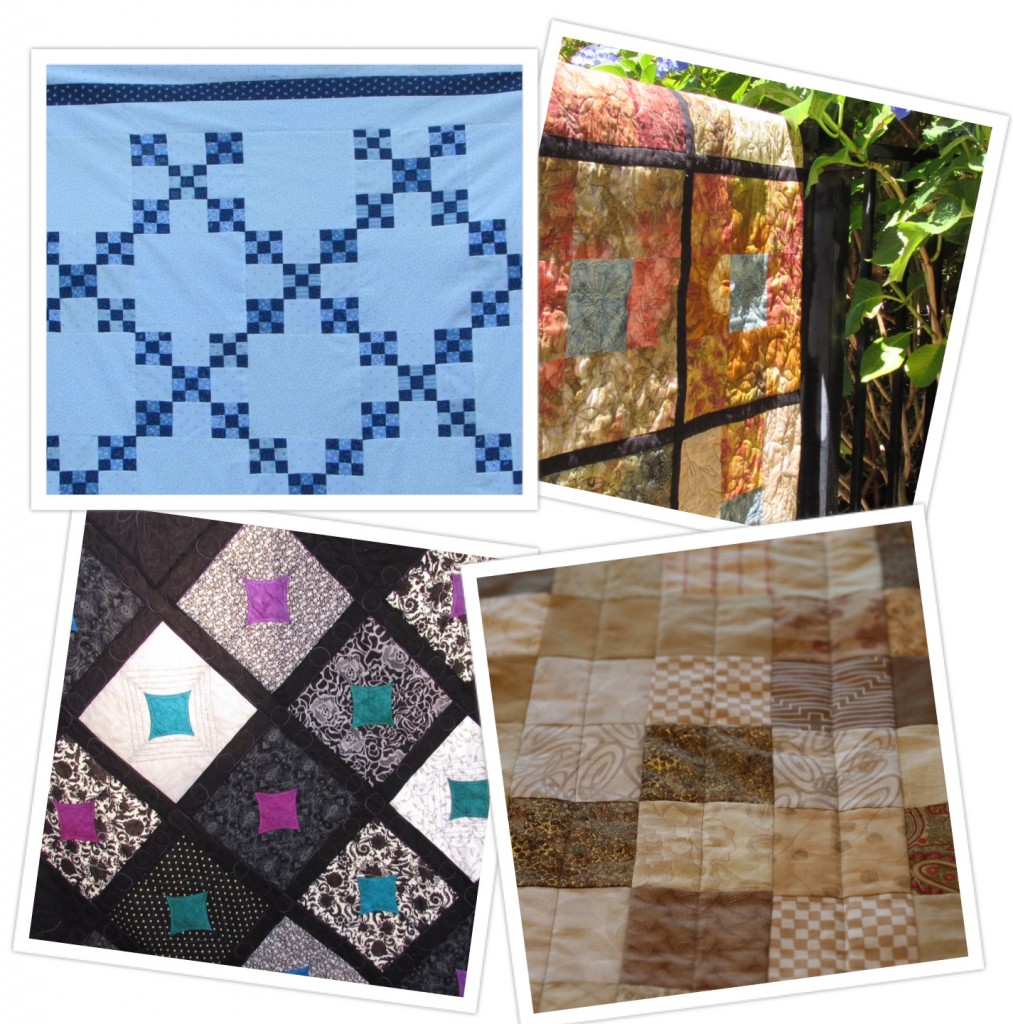 For example, I made:
 Five mini quilts, from start to finish, including my first fabric challenge project and my first swap on Instagram.
Two tablerunners and three pillows.
Finished four quilt tops that I pieced in 2014.
Pieced and finished two baby quilts.
Pieced and finished three lap size quilts.
Pieced two quilt tops, a baby quilt and the Kaffe Fassett strip quilt, both of which need to be completed.
All of the rows for my Classic BOM quilt – they are not yet sashed and pieced into a top though.
Numerous small projects that were intended to give me areas on which to practice my FMQ skills.
One very, very, very fluffy yellow bathrobe!
14-ish (?) little handmade Christmas gifts this year (which I will post more about in a few days.)
I also had 80 Etsy sales, of which approximately 65 of those were handmade items.
My sewing machine was well attended this year! Most importantly, I enjoyed just about every minute of it. Spending so much time in the sewing room improved my skills. Specifically, my accuracy in piecing and my efficiency over all. I did a lot of chain piecing which was surprisingly helpful. This is not to say I didn't have my fair share of fails either. But who wants to dwell on the negative?? As long as I learn from the mistake and don't repeat it… very often!
In addition to all of the sewing, I spent a fair amount of time at the computer blogging. In fact, this post is my 99th post for 2015 (and due to my fondness of round numbers, I will definitely post again this week to even it out to 100 for the year!!) Looking back at the posts I wrote, I have a short list of favorites. I am fond of these posts either because of the quilty project they recorded, the discussion that resulted, or the event that is represented.
A Finish with a Flange; This post shows the quilt I made for my sister Patti to wrap her up and support her while she endured chemo for breast cancer.
Love and Good Luck Rolled Up in a Quilt;   This post tells the story of two amazing people who journeyed to India to have their baby, via a surrogate mom. I am so happy for them and I loved making a little quilt for their child. It was also one of the first times that I used thread sketching on a project which was very satisfying!
No Easy Solution;  This was a discussion about Craftsy.com and their ability to sell for lower prices, shopping online vs in brick and mortar shops, and Craftsy's decision to sell their own fabric line.  While it wasn't an earth-shaking piece of writing, I completely enjoyed hearing the input everyone left in the comments.
Finally, New Quilt Blogger Bloghop; This one was more about the experience than the actual post. Being relatively new to the blogging arena, joining this group last summer was a great experience. I met many great bloggers and we all supported each other as we worked to improve our blogging skills. Led by four awesome bloggers, I learned a great deal. There were opportunities to participate in other projects that our leaders put together which made for a very rich experience.
Yes, 2015 was a productive year in which I learned so much. I am looking forward to the new year and hope to work out a plan of what I hope to accomplish during 2016. I would love to hear what you most enjoyed sewing in 2015. What is your favorite accomplishment? What new skill did you work on? Share in the comments!
Linking to Meadow Mist Designs today. Cheryl is hosting a 'Best of' link party for bloggers to share some of their favorite posts from 2015. Hop over and take a peak. I certainly plan to. 🙂