Hope everyone is having a good week so far. All is well here. We had a great weekend. Made some good progress on the Downieville house. Drywall is in (we had taken down old paneling in the our bedroom). Tomorrow they will texture it and then we can paint. Yahoo!! My husband is doing the lion's share of the work on this house but drywall is not a fun project; one he happily paid someone else to do. I bought the paint yesterday (gray with a creamy trim color) and cannot wait to get those walls painted.
In other exciting news, my daughter received her acceptance to a high school program she applied to for next year. She has worked very hard on this application process so she is overjoyed. (All of us are actually!)
But the best part of the week so far, is this. Here is the backstory. I had a very special friend, Betty, who we lost to cancer 15 months ago. She battled Multiple Myeloma for almost four years. We were friends for almost 20 years. We worked together (she was my manager for a while but mostly we were co-workers) and we played together. We were in a book club together for a while. We made trips to museums, walked together until she couldn't do that any longer, and she introduced me to the joy of dim sum about ten years ago. I keep a small photo of her taped to the wall in my sewing room so she can cheer me on when I am in there working on a project.
Betty was skilled at both knitting and crochet and could do huge damage in a yarn shop in no time at all. She created beautiful pieces though. When Julia was born she gave us a sweet crocheted blanket. When she was going through chemo and making herself chemo caps, she made Julia a gorgeous purple hat with a cute flower attached to it. Anyway, after she died, her husband gave her yarn stash to his sister. His sister, Marlene, shared this love of knitting with Betty. When Marlene was in California, visiting from her home in Washington DC, they would hit the yarn shops. If they were across the country from each other, Betty told me that she and Marlene would text pictures of yarns, colors and projects to each other. It made sense for the yarn stash to go to her.
Here is the surprise. Yesterday I had lunch with Betty's husband. We try to get together for a visit every couple of months. He brought me a surprise from Marlene.
Isn't this gorgeous? Marlene chose to make me a scarf with some of Betty's yarn.  What a treasure. I love the flecks of color in this yarn.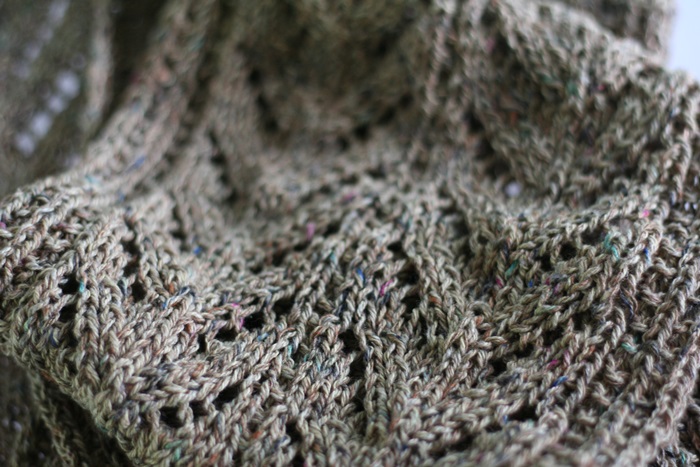 The yarn is a recycled product by Rowan. Manufactured in Italy, it is made of recycled clothing and fibers to create a silk, cotton and viscose content. It is wonderfully soft.  She sent me a copy of the pattern she used ( I can kind of, sort of knit but would not be able to make something like this) and it is called "Best Friend". That choked me up. I will treasure this. I am so grateful for Marlene's thoughtful gesture and this gift that she sent me. It was such a wonderful surprise.
Linking for the first time over at Handmade Tuesday, as well as Freemotion by the River. Thursday I will link this to Yvonne's Thankful Thursday Series on Quilting Jetgirl.