I have never taken part in an on-line bee or a block of the month quilt activity. Not for any real reason, it just hasn't happened.  Well, I decided to join up and do one. I follow Amy Smart's blog, Diaryofaquilter, avidly.  I love her style and her genuine speak. She has wonderful tutorials. When I first got started quilting I stumbled on to her website and I never left. My first few projects were items made from her tutorials.
Like this tabletopper:
and this little table runner:
If you are new to quilting or want info on the basics, I cannot recommend her enough!
Anyway…. lately Amy has written some posts about the Block of the Month activity sponsored by Aurifil Thread. They are featuring various designers each month and along with an interview of that designer, they post the block that the designer created for this activity.Amy is one of the designers that was featured and interviewed by Pat Sloan. You can read about it here and here and here. The more I read about it, the more I saw the look of the different blocks, the more I wanted to do it.  Really, by making one 12 1/2″ block per month, you'll end up with a quilt at the end of the year.  What's better than that? It doesn't really get in the way of other projects that are in progress.  It all started back in January so I am a wee bit late to the party. But, better late than never!  This week I got everything together and started.  I chose to use a collection of fabric called Stitch in Color, designed by Malka Dubrawsky for Moda.  I saw pieces of this on clearance (the line came out in 2012) during a shop hop I did earlier this year and snatched them up. I love the bright colors. Plus it is wayyy out of my norm for colors and value. Much bolder than what I usually choose. I supplemented the set with a solid white and solid orange, as well as the blue stripes and dragonfly fabric.  I don't think I have enough of Malka's line to do all twelve blocks and really, I wanted some solids in there.
What do you think??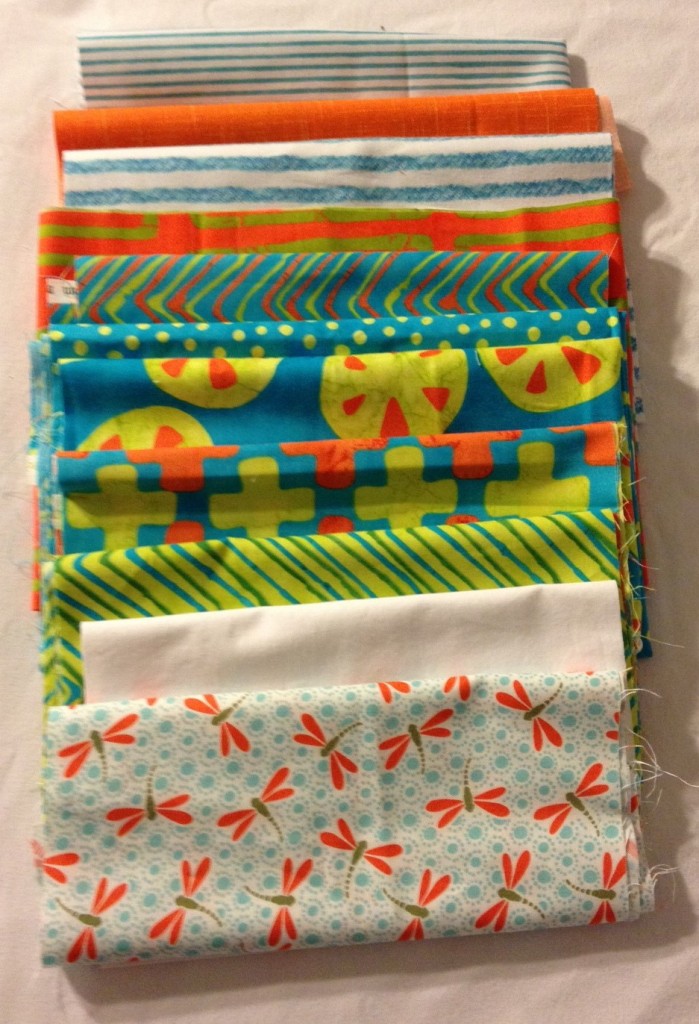 I have finished four of the blocks so far.  The thing that pleases me most is that my triangles worked well and my points line up!!  Yay – that is something I have been working on.  These blocks were a great place to practice. It provides the opportunity to make blocks that are different and it is kind of fun to make something where you don't know what the finished result will be (since you don't see all of the blocks at once). I look forward to placing the blocks come December!
See??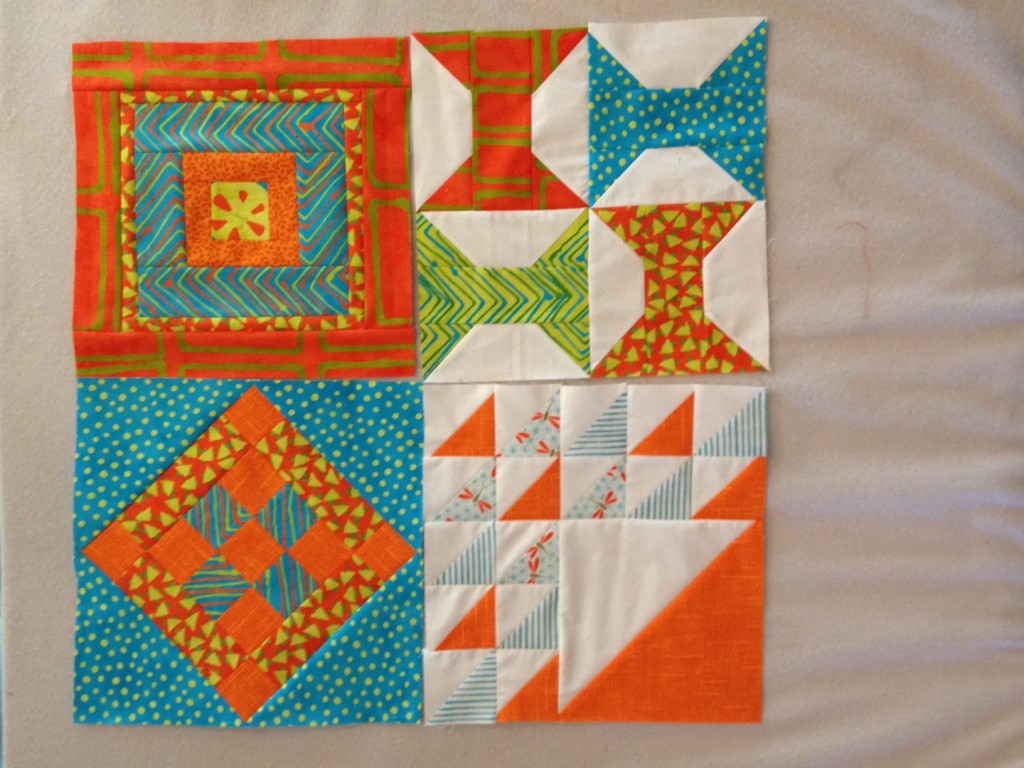 I love how this is coming together.  The colors match absolutely nothing in my house but I am keeping this one anyway.  It is going to be so bright and spirited.  Just in case anyone out there decides to join up, I will tell you that the March block, called Borders (upper left block) was designed to by 12 x 12.  The rest of the blocks are 12 1/2″ square.  So I will have to modify it and add a 1/2″ border to it so it fits with the rest.  Luckily it is an easy one to fix! If you participate, post pictures of your blocks to the Aurifil Flickr site.  They are randomly picking one participant per month and sending a box of Aurifil thread.  Ahhh…. love that stuff and it is spendy.  I can only hope – pick me, pick me!
If you are making blocks, leave me a comment and a link so I can see yours!!
Linking up to WIP Wednesday at Freshly Pieced as well as Let's Bee Social at Sew Fresh Quilts. Also linking to Needle and Thread Thursday at My Quilt Infatuation.