This week didn't go quite as planned.  But I have learned to be flexible because my week rarely goes as planned.  I had scheduled time to quilt Sam's jersey quilt at the long arm shop but this plan was derailed by a migraine.  Fortunately, the woman running the shop is very flexible and was able to reschedule me to Thursday of next week.  Hopefully, that will work out for me as I am really looking forward to quilting it.
After a day of recuperating, I pulled out my blocks made with the Sewcial Bee Sampler during the spring and summer.  I loved this QAL which was hosted by Maureen Cracknell and Sharon Holland. For the majority of my blocks I used scraps of Fleet and Flourish (designed by Maureen) and solids from my stash.  Toward the end though, I added in a bit of Garden Dreamer and one scrap from Alison Glass because I was really running out of Fleet and Flourish.  Thankfully, these all worked well together.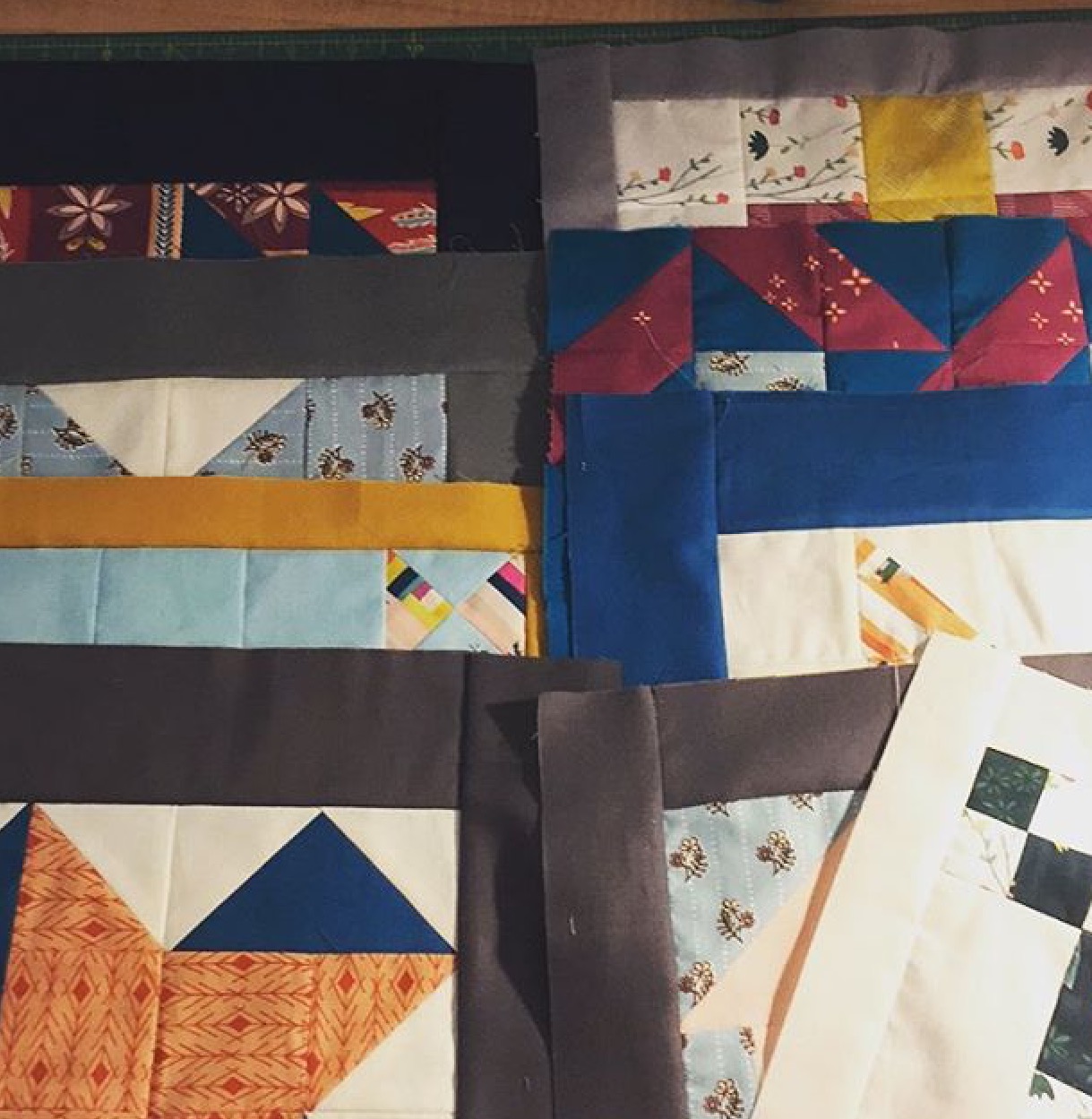 Somehow time got away from me toward the end of the quilt along and I completed only 20 of the 25 blocks designed for the quilt. I pulled out the blocks, looked them over and decided that 20 blocks was plenty.  These are 12 inch blocks and there is sashing, so the quilt makes a generous lap size. Even without the last five blocks, it finished at 58″ x 72″. I love these blocks and wanted to finish this one up.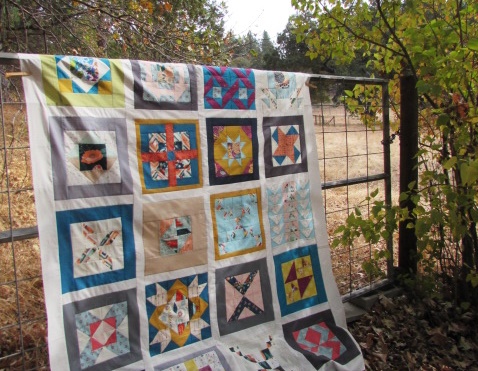 I used Mesh Joy, from Sharon Holland's Gossamer line for the sashing.  This low value print is a huge favorite of mine. Actually, it is a favorite of many which was made clear by how quickly I sold out of two full bolts of it. The colors and grid like print are really soft and work with so many colors. I am please by the way it enhances my blocks. Between the colors, Maureen's fabrics, the sashing and the block design, I am thrilled with this quilt top. Samplers are a favorite of mine, second only to basic, simple patchwork. It is fun to see the varied design of the blocks, some with large chunky shapes and others with smaller, detailed designs. Sashing is a life saver for me as I am not a precise quilter. With sashing, I know my less than perfectly pieced blocks won't need to line up corner to corner.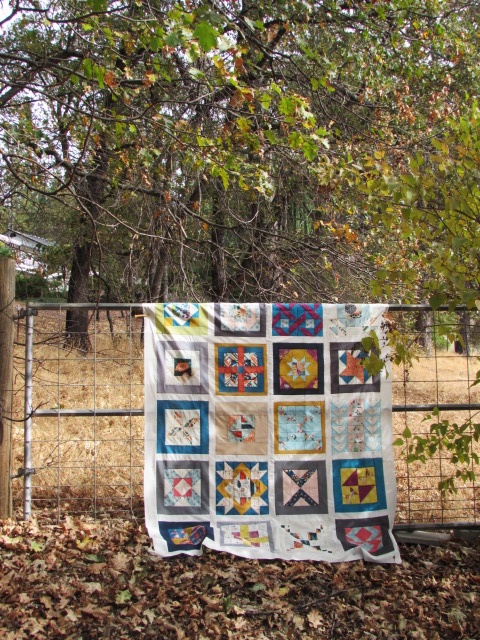 I think I will try quilting this project at the long arm shop too. I want to do a loose all-over pattern so it is soft and cozy. It is second in line, after Sam's jersey quilt.
Besides finishing up the Sewcial Bee quilt top, I have been making Chemex Cozies for my shop. It is getting to be the time of year for holiday shopping (I know, it is still 80 degrees outside and fall has barely begun!) so I need replenish stock in my shop.  It has been fun to shop my own store for fabric to make these.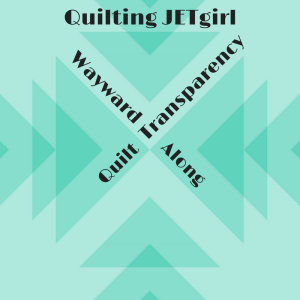 With holiday shopping around the corner, my shop will become busier than usual.  I need to look at the sewing I hope to accomplish during the last part of the year and prioritize.  My personal sewing tends to be less during this time as my Etsy projects and holiday gift sewing increases. I had planned to take part in the Wayward Transparency QAL hosted by Yvonne of Quilting Jetgirl. I love the pattern she created for the event, so much so that I am sponsoring the event with a giveaway prize. However, this isn't the right time for me to begin another quilt. If you haven't looked at this event yet, I highly recommend it. The pattern is really cool and the transparency effect is striking.  The QAL for this striking lap size quilt has barely begun with fabric selection happening now.
Julia and I are heading up to Apple Hill this weekend. About an hour's drive from here, there are lots of you-pick places, yummy Apple Cider donuts, pumpkins and all things autumnal.  I am looking forward to spending the day with her out and about.  I hope you have something fun planned for this weekend too!
Be sure to stop by next week. I have a fun post and giveaway to share on Tuesday!
Linking to my favorite places. Please check out the links at the top of the page, under Link Ups. See you back here next week!