Last year I got such a cool Mother's Day gift. It may strike you as odd that I am writing about it 10 months later, but bear with me. In April of last year, my son and daughter-in-law were home for a weekend to attend a wedding. Andrew overheard me talking about wanting to learn to use a long arm. There is a shop about 40 miles from my house (everything is 40 miles from my house) and when I was there I found out that a person could take a class on their long arm and then rent it for $20 per hour. This sounded great to me. Just seemed like a fun thing to learn and a nice way to see if I would like to work on a long arm. Being a thoughtful guy, Andrew decided to send me a gift certificate to cover the cost of taking the initial class. I was so surprised to get this in the mail the following month at Mother's Day.
In theory, this was such a great idea. I just could not get it to happen. Certainly not for a lack of trying however.  This shop is more than a bit flaky. I won't mention any names, but it is basically the only LQS in the Marysville/Yuba City area. There, now you can avoid it if you are ever in the area. When I got the certificate I scheduled the class. I called them at the end of May and was told I would have to wait until August for the class. Ok, no big deal.  Come August, they call me and tell me they are so very busy that they have to reschedule to October. A bit frustrating but I am nothing if not patient (ha!). So I schedule for October 22nd. October rolls around, and guess what? I get a call on October 21st telling me that they have just returned from a huge show and the long arms aren't set up and blah, blah, blah.  They cannot actually reschedule me during this phone call and could they please call me back? Fine I huff at them, call me back. Are you surprised that I never got that phone call.  Five months have now gone by and no call.  I did leave a message or two between then and now, but I am fairly certain I am not going to get to take a class.
Now there I was holding on to this gift certificate to a quilt shop. Hmmm…. what to do, what to do? I called a quilty girlfriend last week and asked if she wanted to come along to this oh-so-poorly run LQS. Always up for a quilt shop trip, she agreed.  My mission was to splurge on a pile of 1/2 yard cuts of solids.  My stash is woefully low on any solid fabrics.  I was pretty darn excited. I told myself I could not go over the amount of the gift certificate though. (Remember, I have incredible will power when it comes to fabric shopping.)
Here is a one (Kaufmann) collection that I purchased.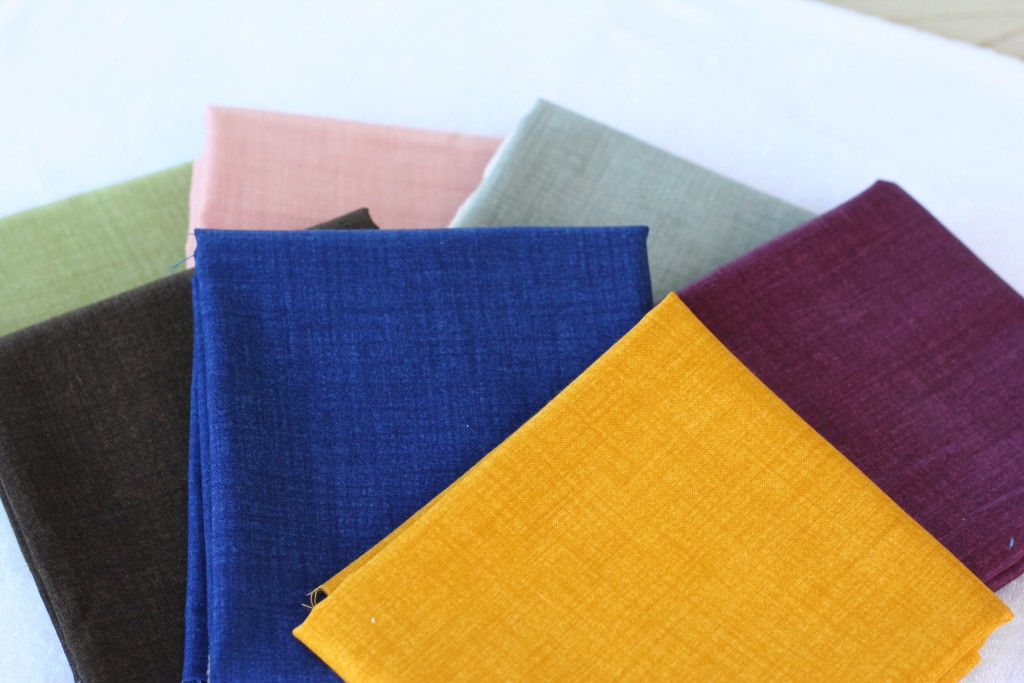 I love the texture in these pieces. The colors are so deep. Look at the violet piece on the right. Gorgeous.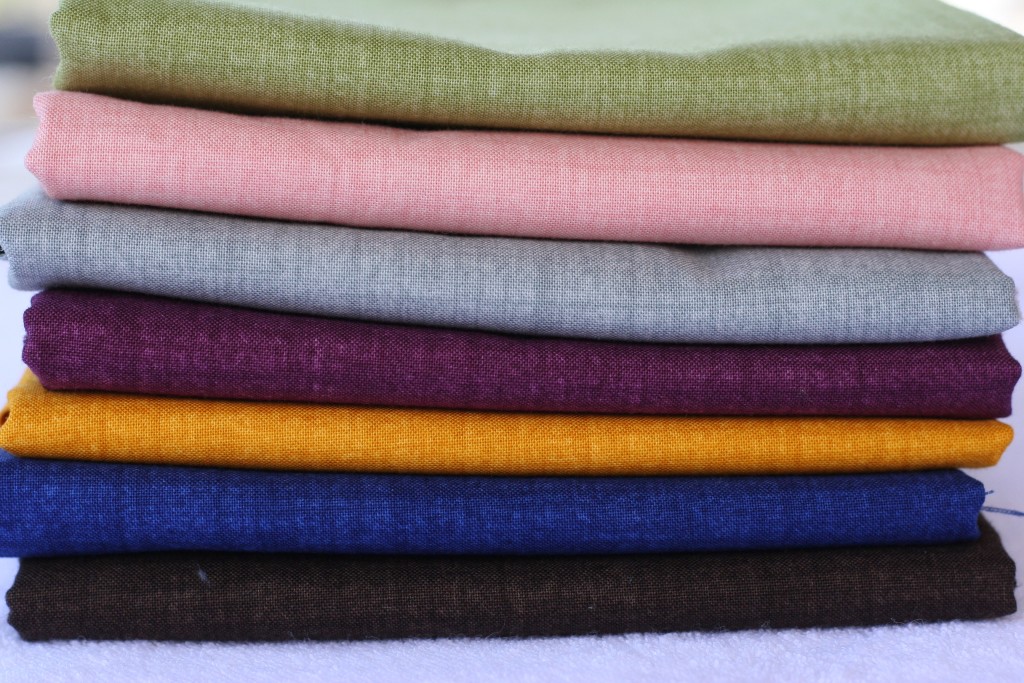 On to another aisle for more traditional solids. These are all Kona solids. Since I don't have projects lined up for these, I just selected colors that I like to use. I have no doubt that I will find lots of fun quilts that will include these hues.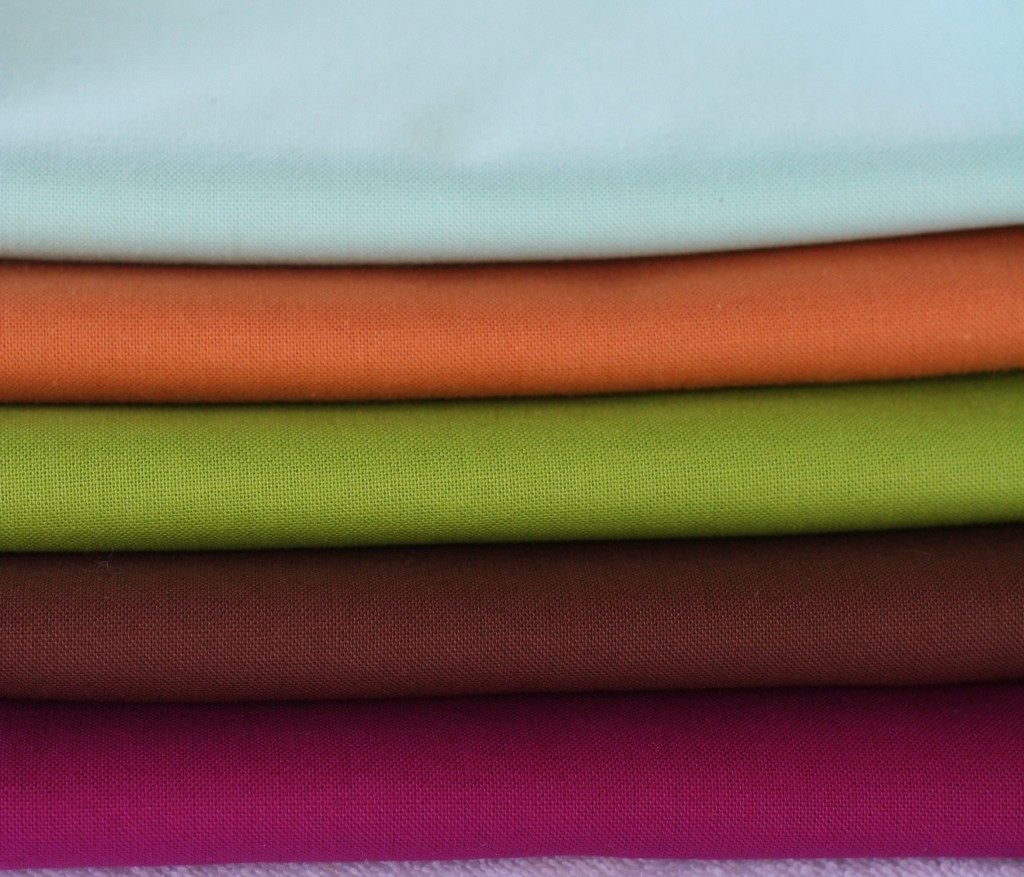 Sooo pretty. I just love the way they look all stacked up. I don't really need to sew with them, I can just look at them sitting there in my sewing room and it brings me pure joy.  😉
Now another funny thing about this shop is that their pricing was wildly erratic. The first batch of textured cottons were all the same price and they were a bit spendy. But the selection of Kona solids varied in price from $4.00 per yard to $9.99 (crazy high, in my opinion) per yard. When the owner was cutting the fabrics I pointed out the price differences to him and asked why Kona solids would vary like that. He had no real answer. He said, "I guess the cheaper ones have been around the shop for a while." What? It made no sense to me. But really, it didn't surprise me considering my experience with this guy over the past ten months.
No matter, I got to indulge in a stack of gorgeous fabric and celebrate Mother's Day 2014 all over again!  And get this, I nailed the cost! I was over by eight cents! Thank you Andrew.  🙂
Linking to Molli Sparkles for Sunday Stash (even though it's already Monday!)