This fabric fast just isn't working for me. It's a lot like when you are on a diet so you decide to give up dessert. Your mind becomes consumed with dessert. Pictures of brownies, ice cream, chocolate, chocolate and more chocolate fill your brain. Selective attention, it's all you think about. So, that is me and fabric. Friday on Instagram I saw a post in my feed about an anniversary celebration giveaway at Doe Street Fabrics. I don't enter these very often but for some reason, I went for it. I reposted the picture and threw my name in the hat. Saturday afternoon I was looking at Instagram and saw that I won a $25 gift certificate. Yay for free fabric!!
I went over to Doe Street Fabrics (an Etsy shop) to browse her inventory. The shop is owned and operated by Angie Metessa of Plain City, Ohio. I think Angie was as excited as I was when I won her giveaway. She has so many cute pieces to choose from. She also has fabric listed on Instagram as well as her Facebook page. Choices, choices, choices. It was hard to make up my mind especially since her prices are really reasonable. My mind went right into rationalization mode. Well, said my mind, you could really pick several items. Since you have a $25 certificate, this will be such a deal!! Oh, yes… you know the routine. We've all gone there.
First I selected this fat quarter bundle from Joel Dewberry's Nottinghill line. The colors are wonderful.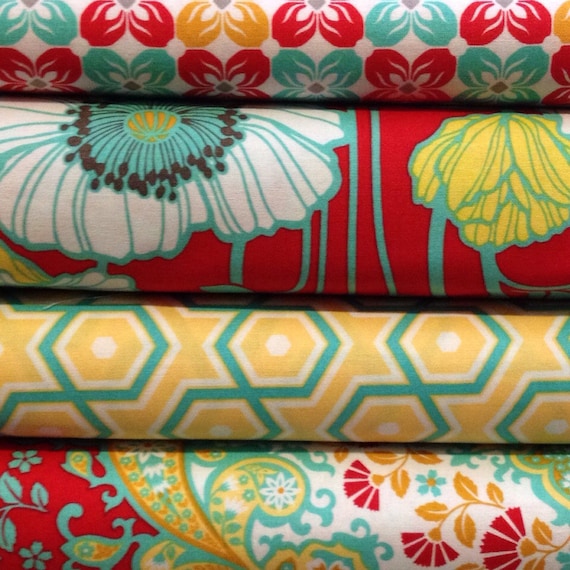 Then I grabbed a set of 1/2 yard cuts from Riley Blake's Floriography Line.
Willpower? Nah. Self-control? Nope. Gorgeous fabric coming my way from Ohio? You bet! Can't wait.
I did try something new today! Kitty Wilkin of NightQuilter.com released a cute pattern for a paper pieced heart. She posted a tutorial for it on her site on Friday.  I have always felt intimidated by paper piecing but this pattern looked really simple so I gave it a try. It was really fun. I watched this tutorial by Connecting Threads on basic paper piecing so I had some idea of how to do it before I got started. I didn't have the quarter inch ruler she was using and tried using a quilting ruler but it was cumbersome. Her ruler with the 1/4″ lip looked pretty handy. Love learning something new!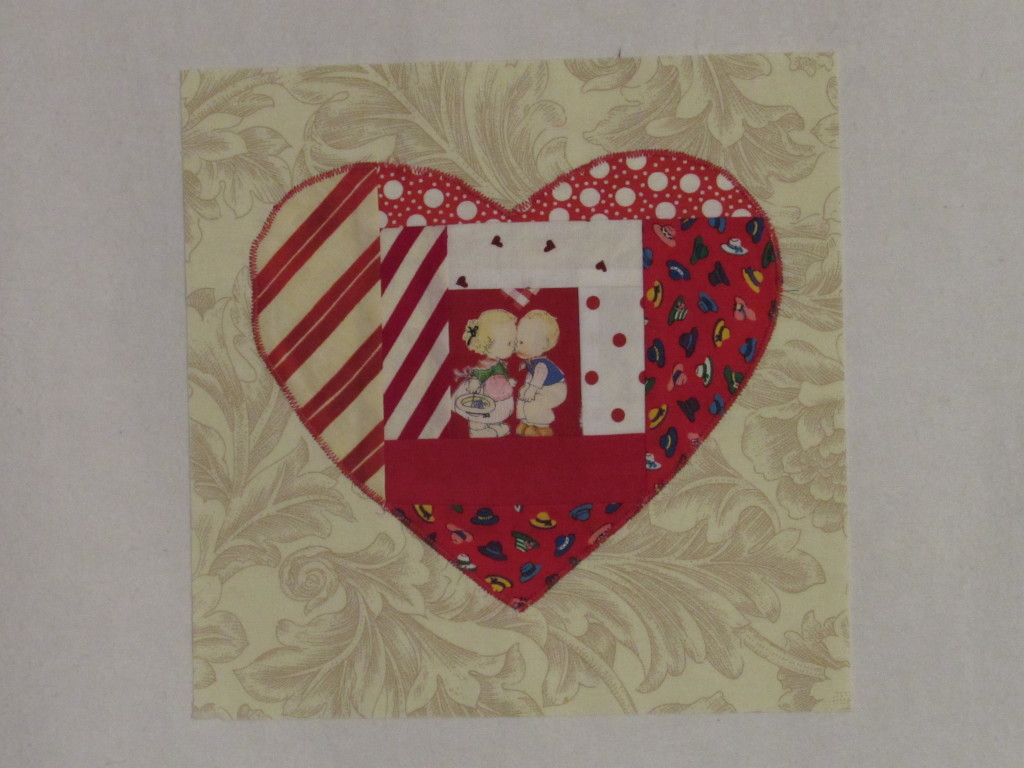 The process is simpler than I thought (though this pattern was mainly just straight lines.) This block was like piecing a log cabin block and then cutting a heart shape. One piece of fabric (the red and cream stripe on the left) was a little bit too narrow so that side of the heart is less than perfect. I think I will make another one for practice. It is a cute little block. I appliqued it to a 9 1/2 inch square. Not sure what I will do with the blocks but I'll figure something out.
Linking to Molli Sparkles Sunday Stash.