Yesterday was the first day of spring though for much of the country it doesn't feel like it.  Today I want to provide a glimpse of spring with this month's Blogger Bundle.  Curated by my friend, Yvonne Fuchs of Quilting Jetgirl, this bright, cheerful bundle is filled with vivid color. On the off chance you aren't familiar with Yvonne, she is a blogger, modern quilter and pattern designer who lives in Southern California with her husband and Puppy the cat.  I met her several years ago and since then she has been a constant source of information and inspiration to me and her many readers. She is involved with the Quilters Planner, was a leader in the New Quilt Bloggers Blog Hop for several years, and is actively involved with the Modern Quilt Guild.  All that being said, the most valuable facet of Yvonne's work is her effort to build community within both the quilter's on-line and 'in-person' communities. I greatly appreciate how Yvonne tirelessly supports each of these.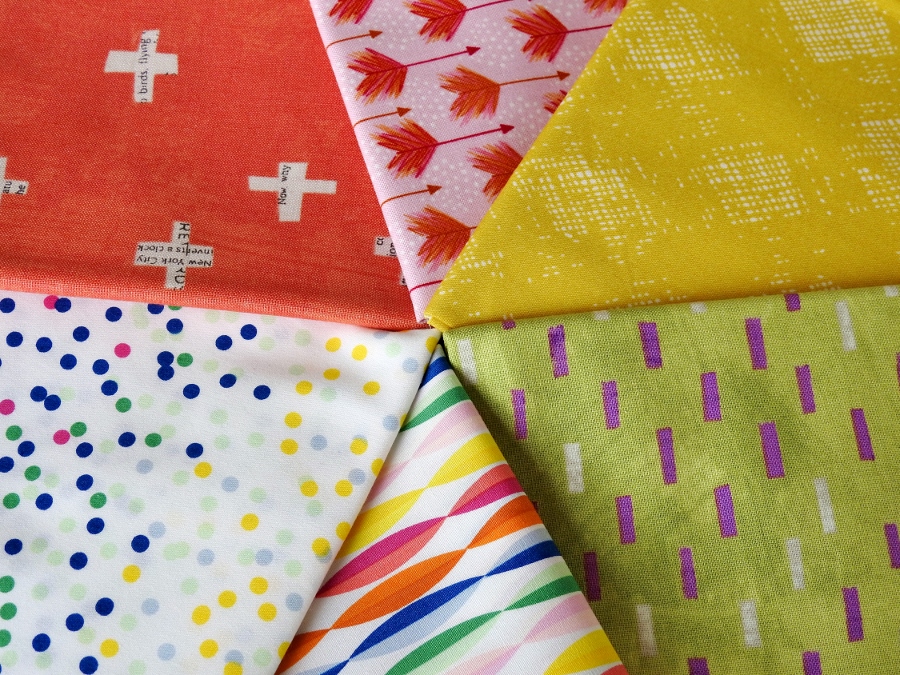 Let's look at the bundle she curated!  It contains fabric from across lines in shades of pink, yellow and green.  There is a delightful 'rainbow' component to this selection which includes pieces fro Art Gallery Fabrics, Windham Fabrics and Henry Glass Fabrics. Yvonne chose to use pieces designed by Maureen Cracknell, Carrie Bloomston (one of my all time favorite designers), Kim Diehl and Dana Willard.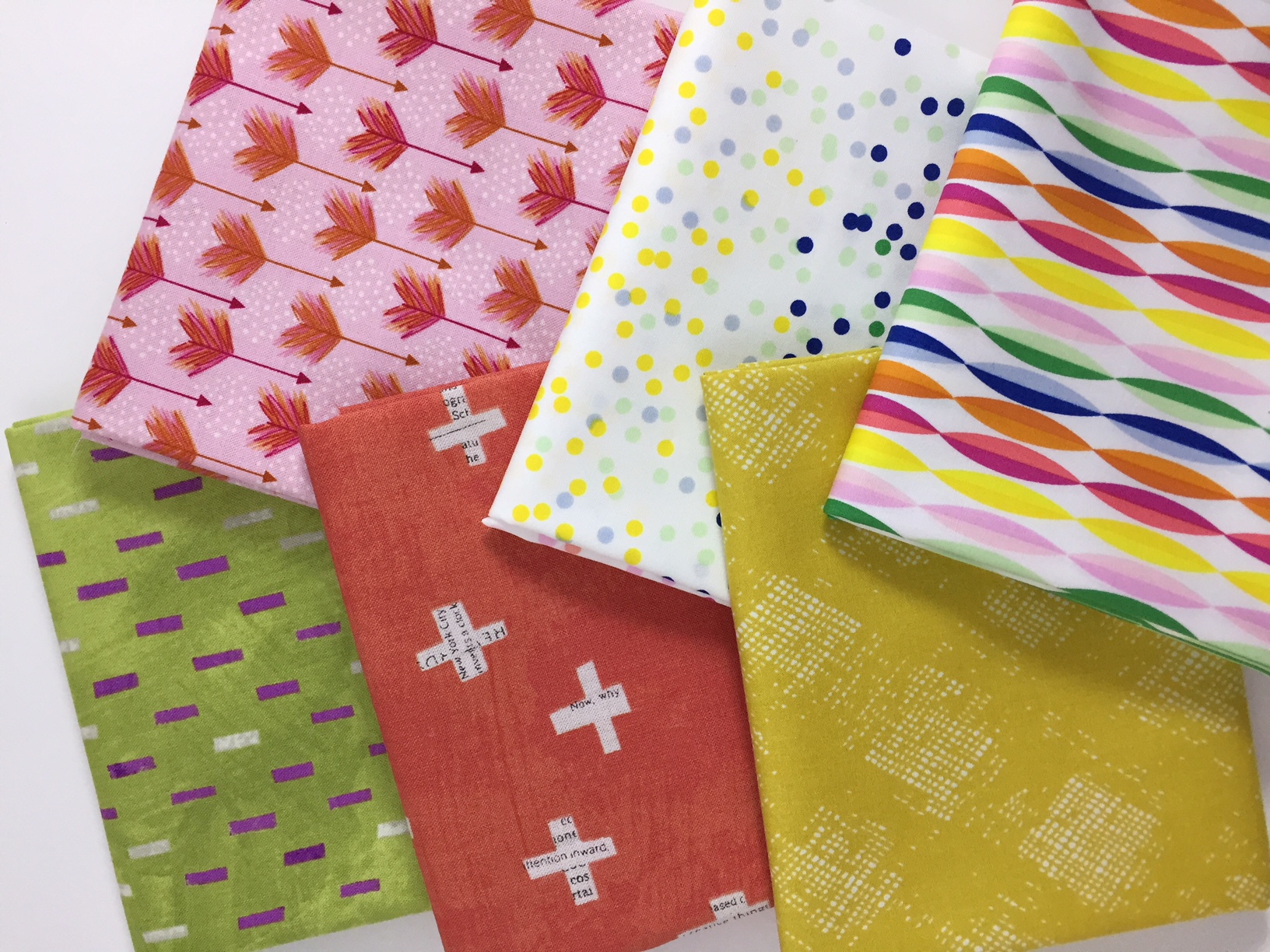 As usual for me, the bundle surprised me.  I can totally see putting the pink arrows with the two rainbow fabrics.  But when she added the cheddar yellow (from Maureen Cracknell's Garden Dreamer, and the grassy green and rich rust fabrics from Bloomston's Dreamer line, the collection became richer and more sophisticated.  I was pleasantly surprised by this. Each month, working with these quilters, watching them pull colors together, I learn more and more.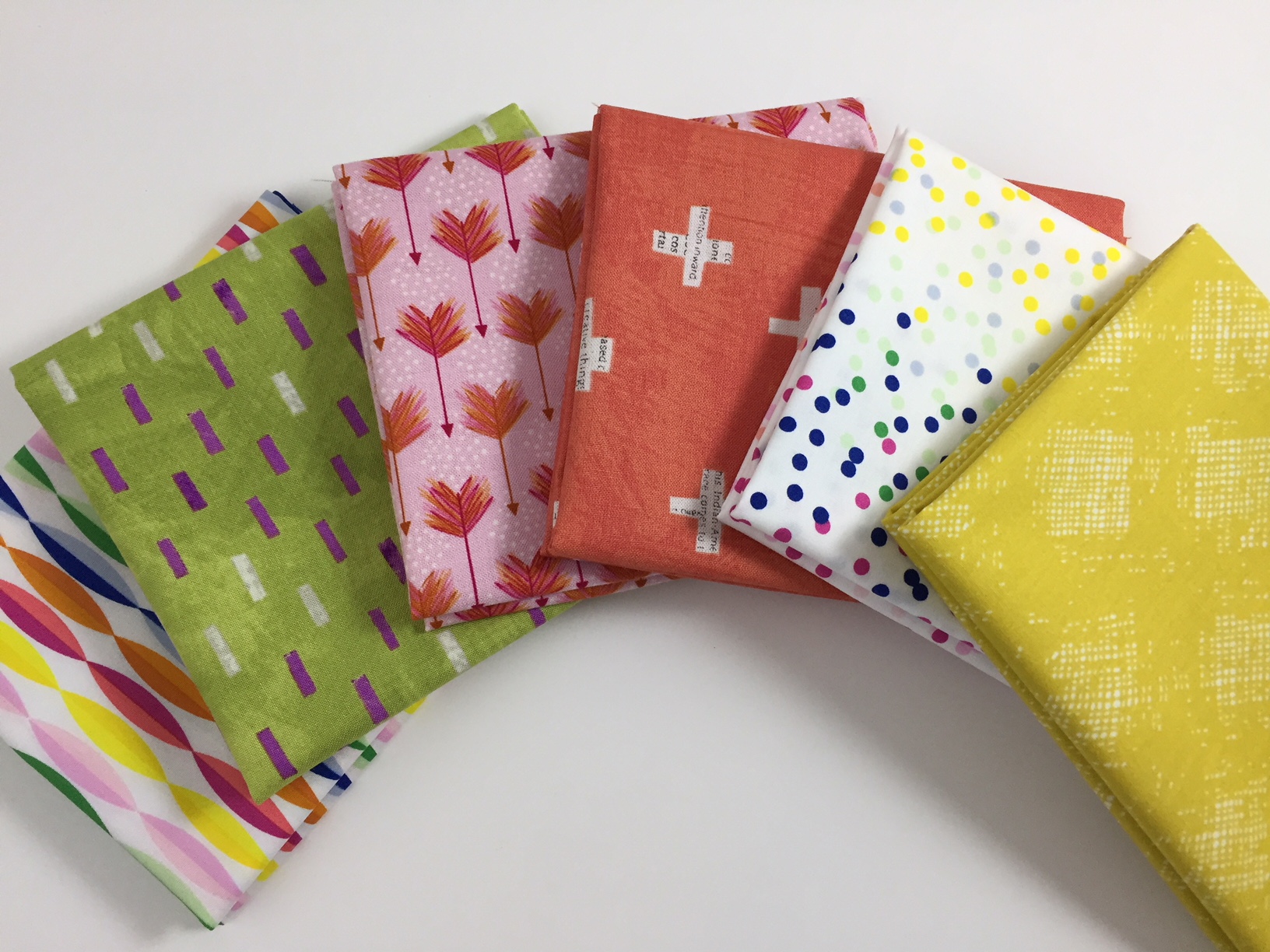 For more information, please click here to read Yvonne's Blogger Bundle post. She has one bundle to share with a luck winner too!  As before, this bundle is available in my shop and is on sale today through Friday. (One thing to note:  I am leaving Friday night for a week with my son and his family.  So orders placed before 3pm on Friday will ship by Friday afternoon.  Orders placed after that will wait until my return and will ship on Monday, April 2nd. If you have questions, email me at [email protected] or leave them in the comments.
Thank you to Yvonne for creating this pretty bundle and brightening our day with it. It will no doubt add color to many quilter's stash!