Oh how I love autumn. It means the summer heat is over, the possibility of rain is coming closer, the fire dangers might soon reduce greatly. Colorful leaves, cooking comfort foods, baking bread – this is fall at our house.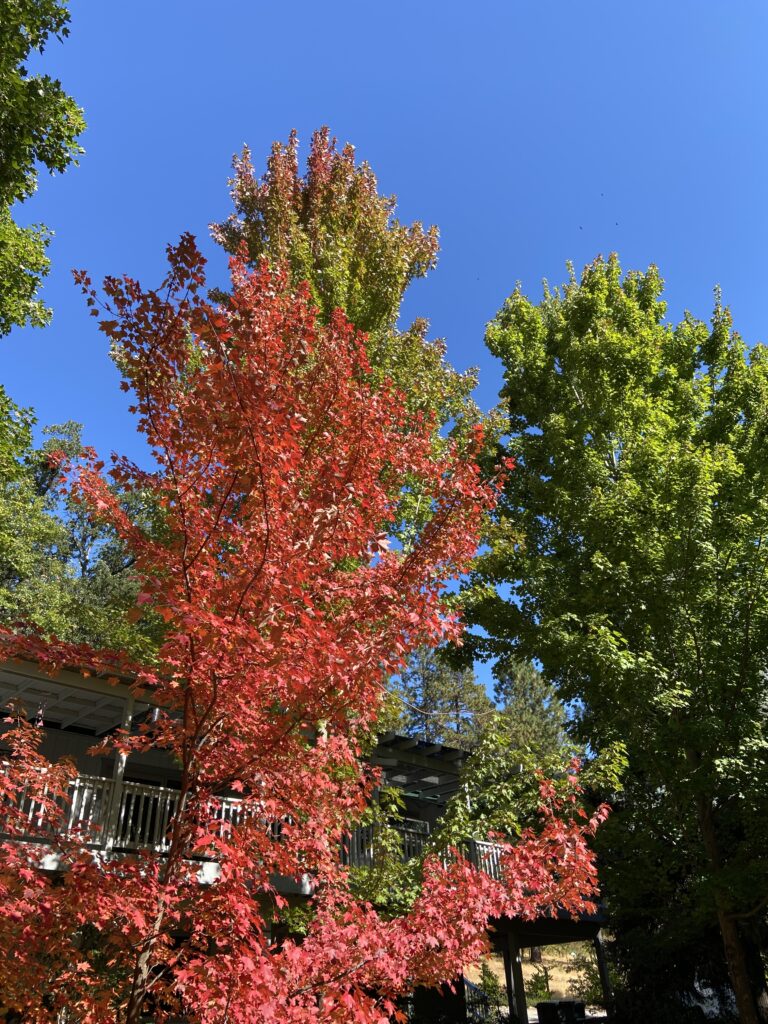 There is no filter or editing done with the photo above. The first of our 1/2 dozen maples has turned to a brilliant crimson color. It is the same each year; this tree turns red first, drops its leaves first, and leafs out first. Then the other two on the front lawn take their turn after this tree.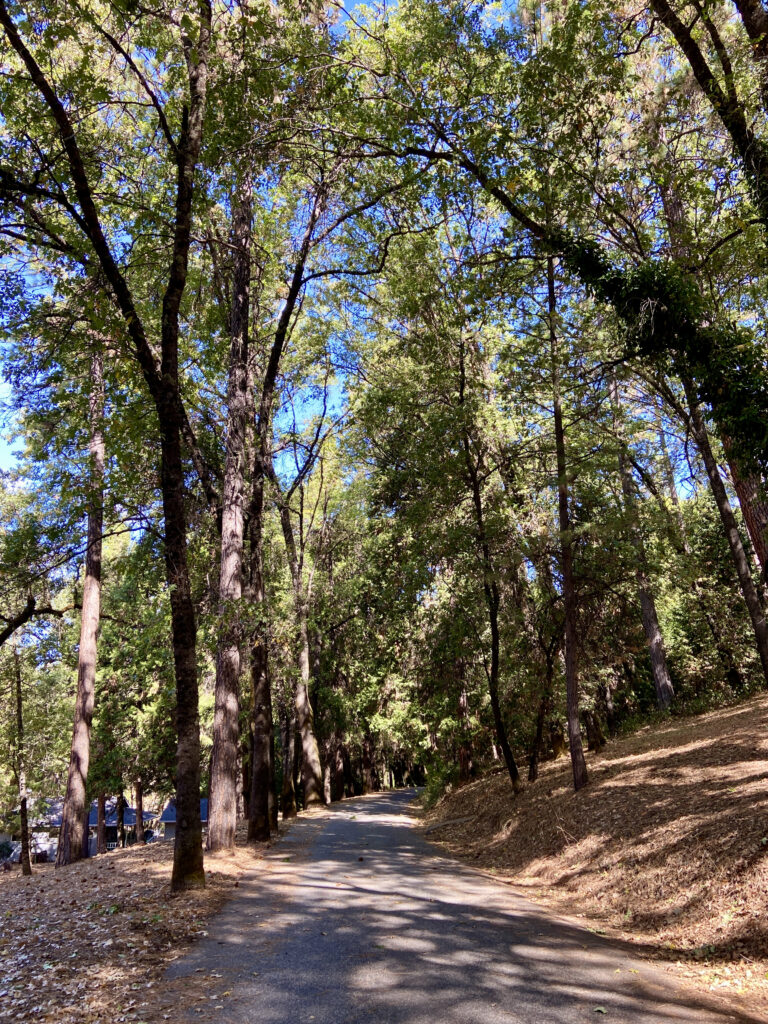 This road doesn't have any maples but the oaks do drop their leaves and it becomes autumnal in its own way.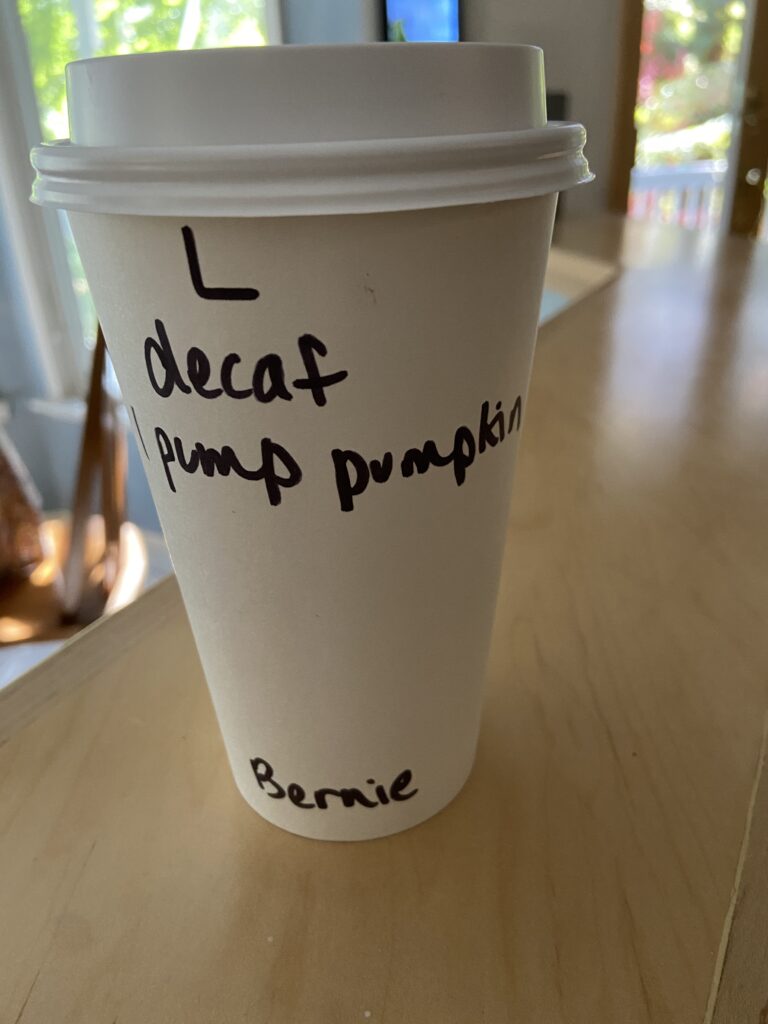 Being crisp and cool out, I wanted a coffee when I was running errands yesterday. I went to Caroline's, my favorite local coffee roaster. I asked for one pump of pumpkin spice added to my latte – this is not something I usually do but I thought maybe I would enjoy it. Hmmm, it was terribly sweet. I mean wayyyy too sweet. I won't be doing that again. Either I really don't like the pumpkin flavoring or they accidentally added twenty-nine pumps rather than the one pump I requested.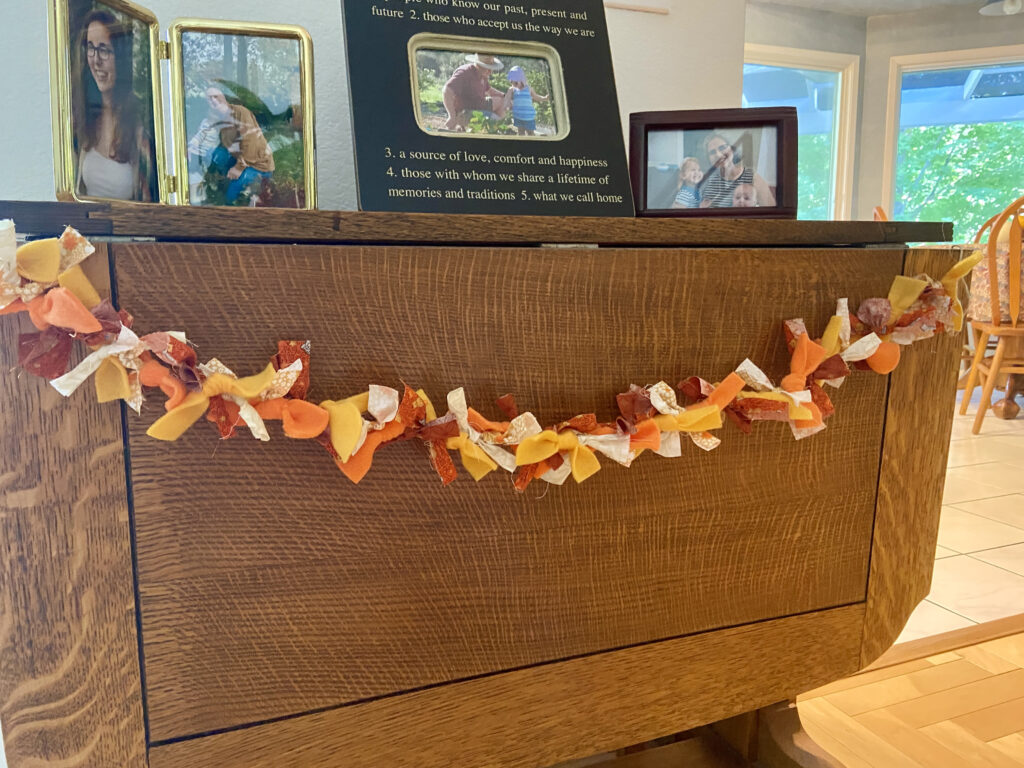 A week ago or so, I saw these cute garlands in a shop window. I liked the colors and the texture provided by the variety of fabrics it contained. Of course, I decided to make one. Julia and I both like seasonal decorations and I knew she would be happy to receive something with fall colors. I cut strips measuring 1.5″ x 4″. I used quilting cottons, wool felt and some fleece and tied the strips to a piece of twine. It is adorable and just long enough to decorate a bit of her dorm room.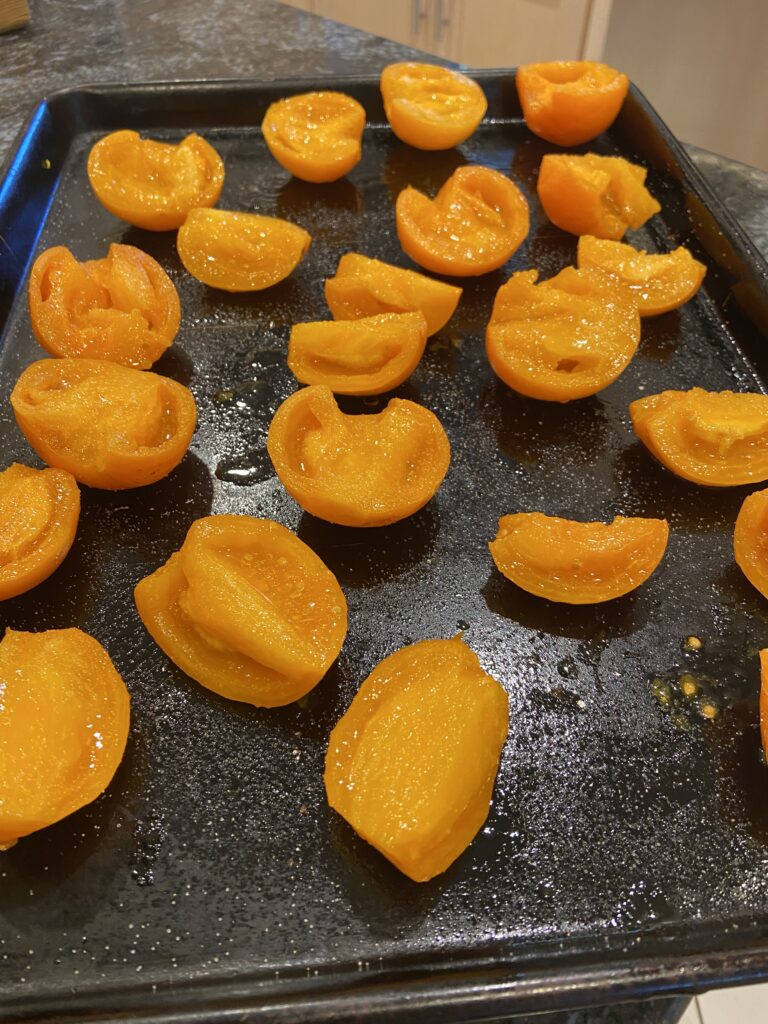 Autumn also means using up the last bits of produce from the vegetable garden. Ray grows a particular variety of tomato that is pale orange in color and very meaty. Sunday I roasted a pan of tomatoes. I cut them either in half or quarters, depending on their size, and give them a gentle squeeze to remove any excess juice. Then brushed them with just a bit of olive oil and dusted them with garlic salt.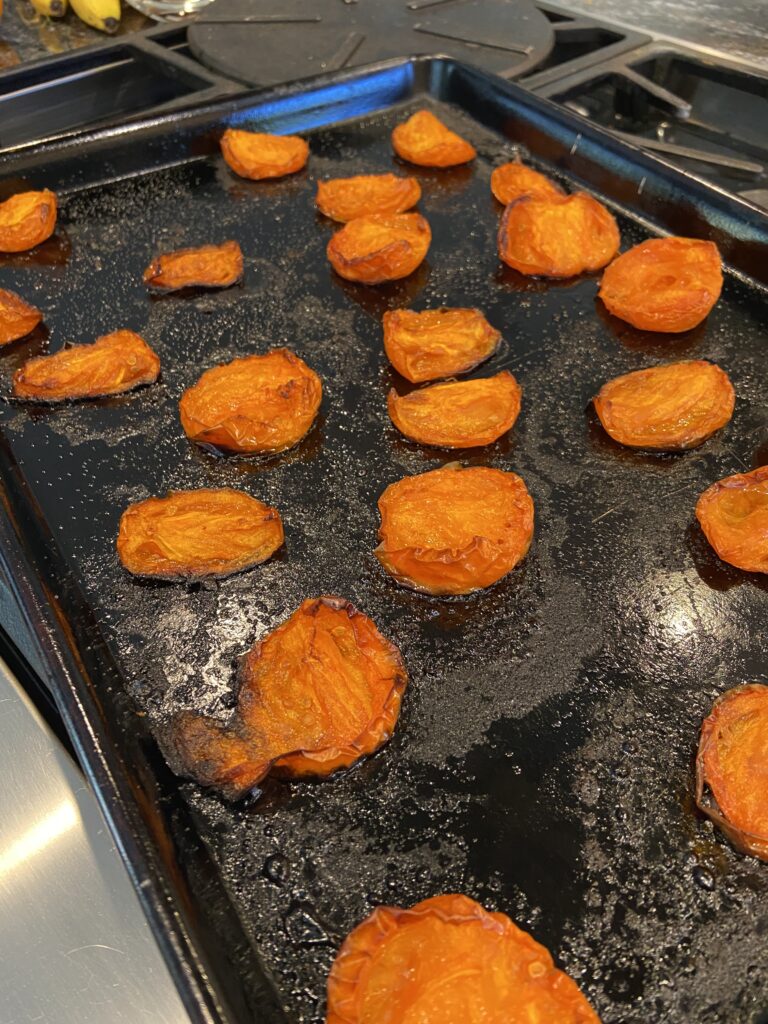 I put them in a 300 degree oven for about 2-3 hours. I checked them after two hours and removed any that are dry enough. If they were still really wet, I left them in the oven longer. They are delicious – really, really yummy!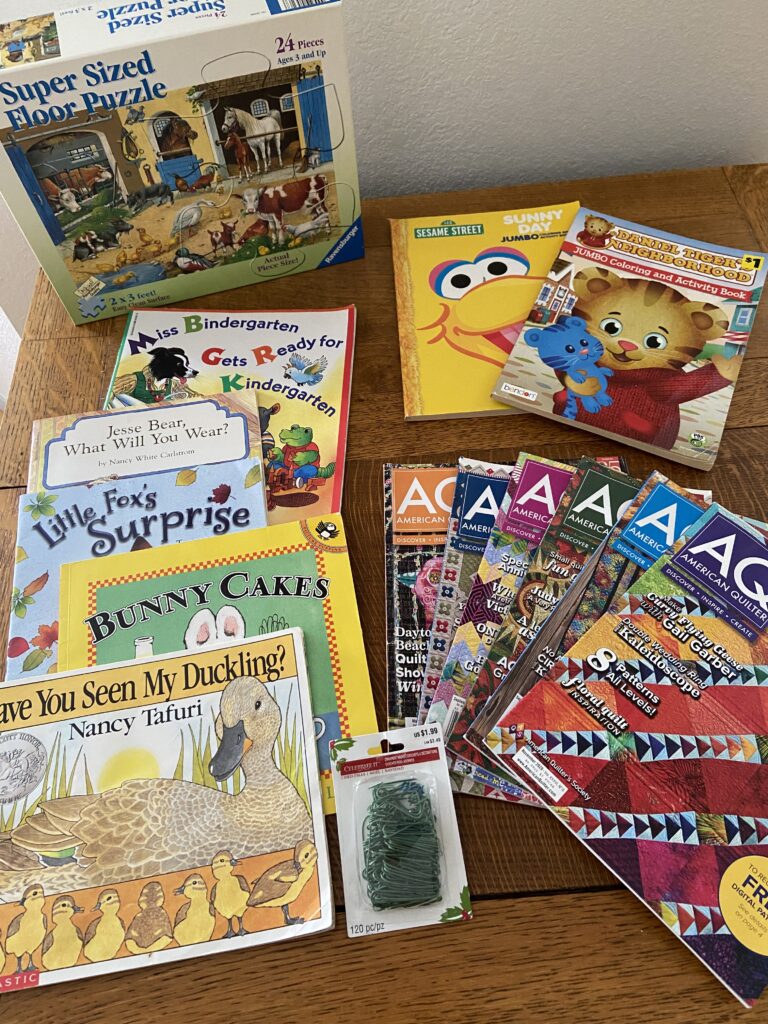 Yesterday I was running errands and while at the grocery store, I stopped and thumbed through a quilting magazine. I couldn't bring my frugal self to purchase it for $7.99. Instead, I went to one of our thrift shops. I found these American Quilter magazines for 2 for 25 cents. Oh my gosh – six current (2020 and 2021) quilting magazines for $1.50. While there I also picked up some sweet books for my two grand daughters and a jig saw puzzle. I want to bring a few treasures up to them when we visit later this month. Big sister loves these floor size puzzles and I am thinking it will be a challenge to amuse little sister while we assemble it. Maybe we can play with this during lil sis' nap time. I spent just $7.00 for these treasures.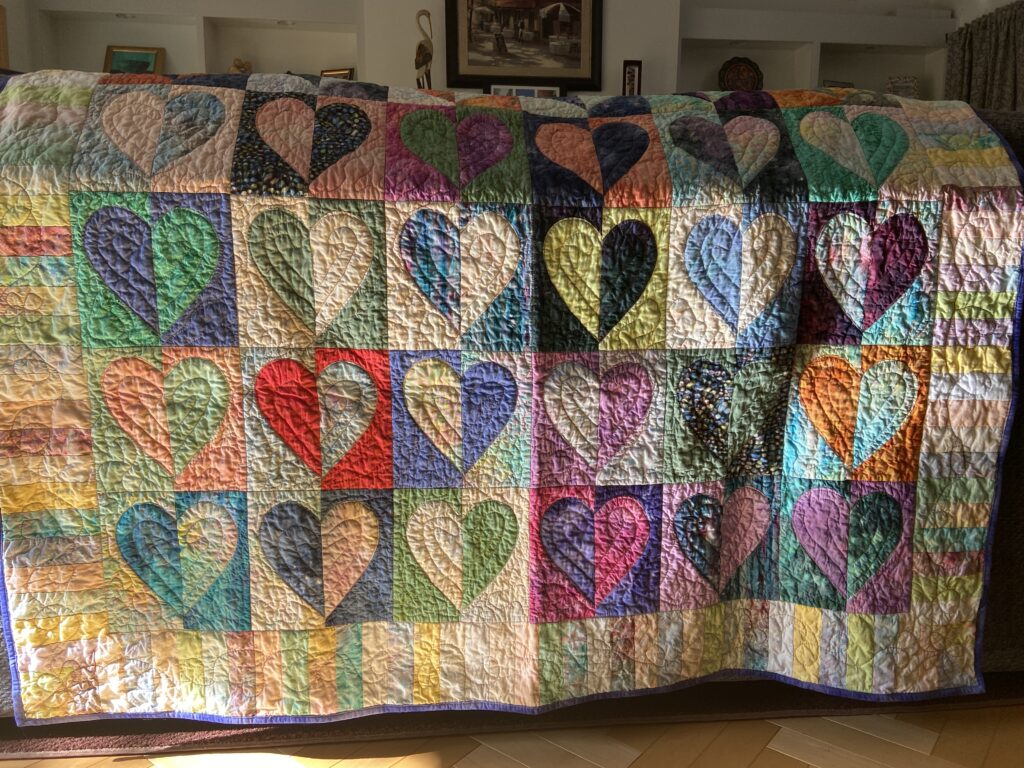 Finally, I received an unexpected quilt donation for Mercy Hospital a few days ago. It is just beautiful. I think the heart motif will be perfect for a family grieving a loss. Thank you Deb for this donation. It will be loved and will bring comfort.
I have done some sewing but I think this post is long enough. I will be back in a day or two to share a cute quilt top with you.
I hope you are enjoying the beginning of autumn. Let me know what signs of fall you are seeing.