When I sat down to write this post and thought about all that happened in 2017 I realized what a crazy, wonderful year it was.  Our family had many big events – the marriage of one son, birth of our first grandchild, my husband changed jobs to a new company and new position, Julia raised two pigs for the first time, and most recently, my youngest son became engaged to his girlfriend.  We traveled more than usual with two trips to Vermont and one to Toronto. The year was filled with so much joy and it buzzed by so very quickly.
Looking back at what was accomplished in the sewing room was also interesting. I made nine quilts, two shirts, a number of projects for my grand daughter, as well as numerous small projects like tote bags, mini quilts and zip pouches.  Additionally, I made about 50 chemex cozies for my Etsy shop.  I am happy with what I got done, especially in light of all that was going on in our family.
My biggest accomplishment has to be the expansion of my shop to include quilting cottons.  I began this process at the first of the year. It has been a tremendous learning experience and a rewarding one at that.  Figuring out how much to buy, how to market it, when to promote and when not – all of this has been a wonderful process.  I am grateful for all of you who have shopped with me, supporting my shop. Thank you so much!
In addition to my fabric shop, I opened a second Etsy shop where I carry sewing patterns.  This has been a great project but quite time-consuming. It is satisfying to have over 400 patterns listed, with another 150 or so that still need to be listed. The shop opened in June and I have had 145 sales thus far.
Now to look forward.  In the new year I will focus on five goals:
Continue to grow both of my shops.  Adding new fabrics and holding occasional promotions is something I am looking forward to.  I also will be working with a group of quilt bloggers and creating blogger bundles each month.  Stay tuned for more on that, beginning in January!
Work on my free motion and long arm quilting skills.  I have an opportunity to work with a gal that lives quite close to me who has a long arm.  She is interested in trading me time on her long arm for fabric from my shop.  This will enable to me have access to a machine close by, rather than driving to the shop where I rent time. (That shop is 45 miles from my home.
I have three quilts in process right now.  I would like to really focus on these and finish them up.  I love each of them. My Twisted quilt top is about 50% complete. I have a scrappy HST project that I made as a Rainbow Scrap Challenge in 2016 and it sat in the closet all year, lonely and wanting to be finished. Finally, I have my Ring Me quilt.  This is going to be such a cool quilt.  I started it when I took part in a blog hop to celebrate No Scrap Left Behind, Amanda Jean Nyberg's latest book last spring.  Originally I was going to make it lap size but the more I look at it, the more I like it.  So, I have decided to make it a queen size and it will be used in the guest room.
Not really quilting or sewing related, but I want to set a goal to send birthday cards to my family and friends.  Seems like a small thing but I love receiving a note from someone in the mail and it is becoming a lost art.  I have a huge family but I am putting everyone on the calendar and cards will be sent!
Finally, and most importantly, I need to work on acceptance of the limitations I experience due to my health.  For years now, I have had this drive to be super productive as a blogger and quilter (and also as a wife and mom). But my situation makes it really difficult to have a consistent level of productivity. It has been especially apparent over the past six months or so with my unhealthy days far outnumbering my healthy days.  This is really frustrating for me. So, the goal for 2018 is acceptance. Not that I won't do what I can to stay healthy, of course i will.  But on the days I am down with a migraine and unable to be out and about, on the computer or at my sewing machine, I need to be OK with it. Blog posts are fun to write and I really enjoy the on-line quilting/crafting community but there will be weeks with less interaction. Such is life.  I am blessed in so many ways and on the down days, I need to remember this.
OK – Five goals.  I am absolutely confident I can achieve the first four.  It is the fifth that I will struggle with. I am up for the challenge though!  What are you planning for 2018?  If you are a goal setter, be sure to link up your post with the 2018 Planning Party hosted by Yvonne over at Quilting Jetgirl. You can link up until end of day on December 31st.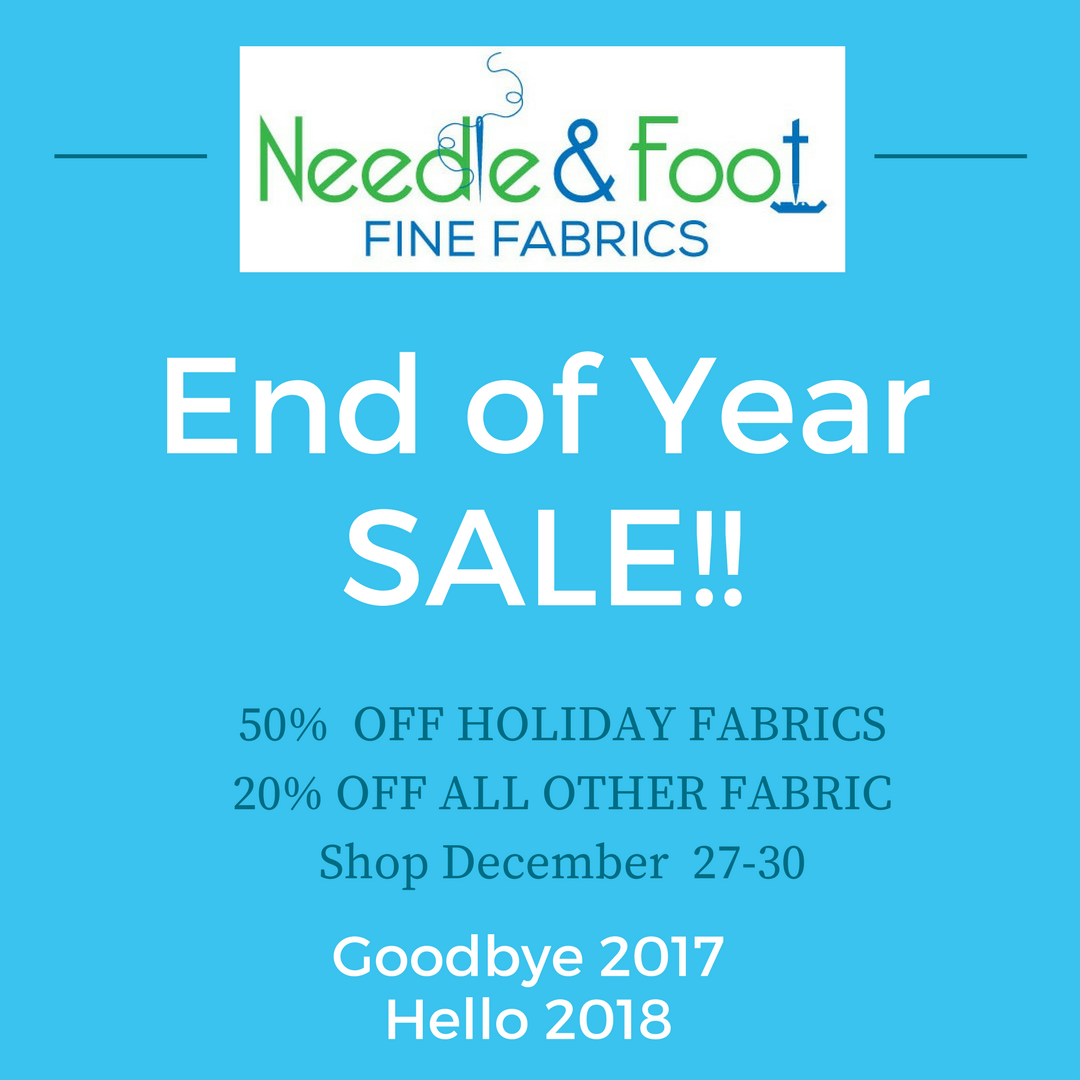 In closing I need to let you know I am having a huge End of Year Celebration over at my shop!!! All fabric, including the newest additions, is on sale. Hop over and take a look.