Hello Everyone!! I hope you have stopped by this morning to link up your progress on the 2023 Positivity Quilt! Preeti and I are really excited to see the variation in colors and fabrics you are using this year. Remember, the pattern can be as simple or complex as you want it to be. Last time I posted about my work on this quilt, I explained my determination to use scraps I have on hand for the green portion (my leaves). This has been a challenge and my leaves will be different sizes but with some work on the background piecing, it will work out.
Because I have been traveling a lot over the past six weeks, my progress has been slow. Like the non-existent sort of slow…. But I am home and have no plans to go anywhere. After all the driving over the last week, Ray and I both have no inclination to get in the car for any reason all week! This means I should be able to catch up. I plan to assemble the leaves I have made into vines. I am super excited to make some flower blocks too.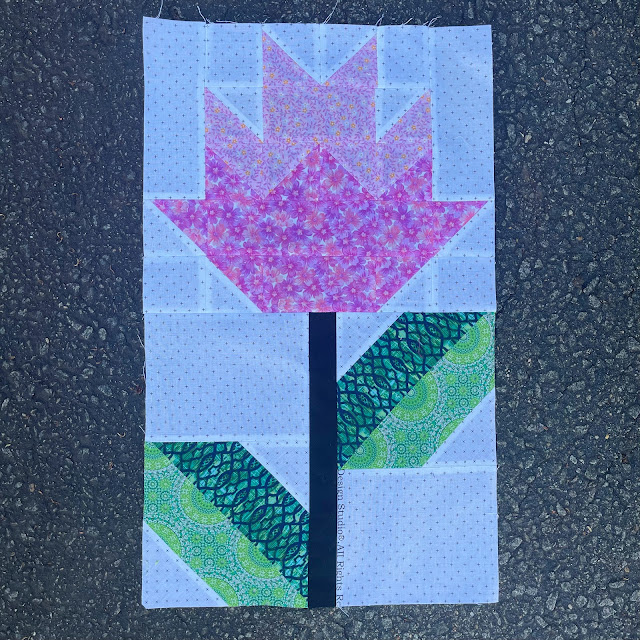 This picture is from the tutorial on Sew Preeti Quilts. Click here to find it. I think the flower is adorable and doesn't look terribly fussy to piece for this non-fussy quilter!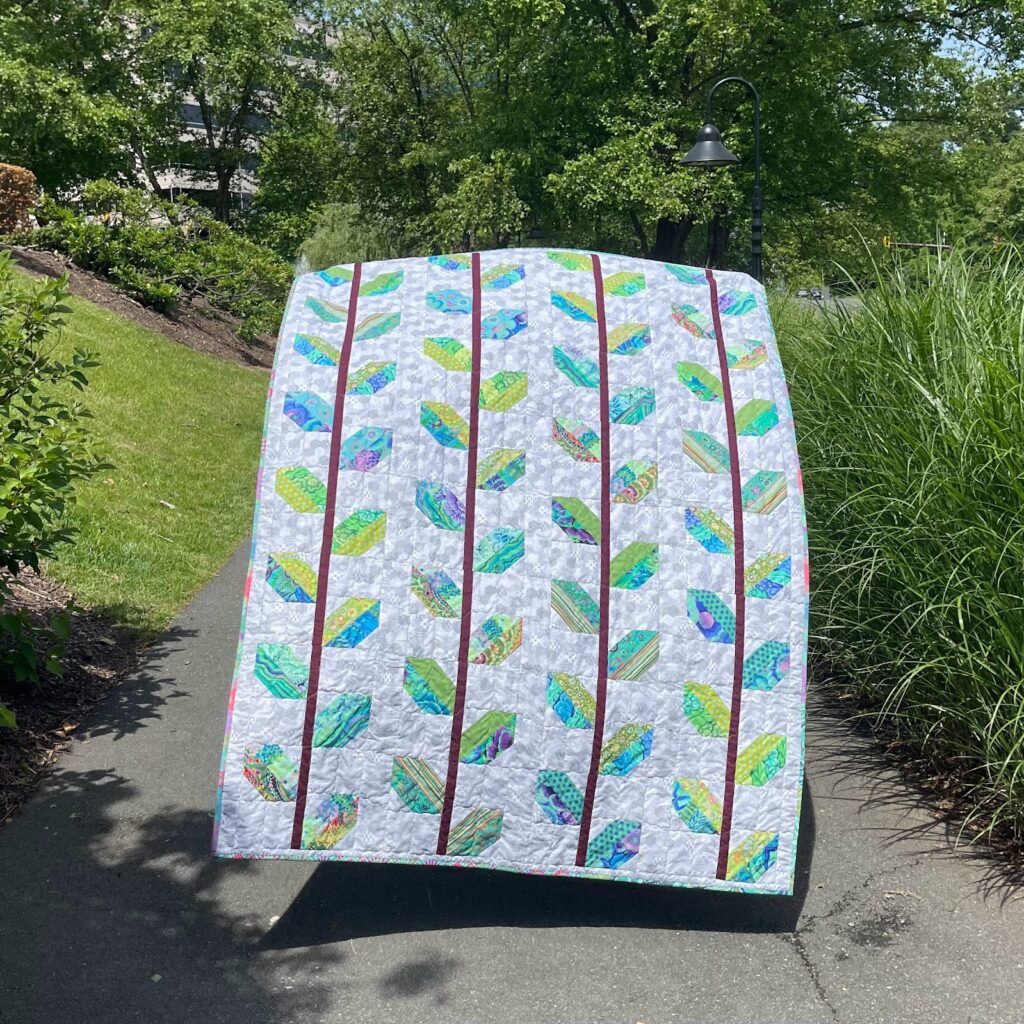 Not everyone will choose to make blooms – some quilters might choose to do a quilt of leafy vines and finish it that way. Not all vines bloom, right?? In the above quilt, Preeti didn't make the flower blocks. I love the look of this lush green quilt. Kaffe Fassett fabrics for the win!
OK – lets take a look at some progress pictures! It's ok if you are behind – I certainly understand. Show us your fabric choices or just a few blocks. We love to share the fun around here. The link up will be open all week. If you aren't a blogger, feel free to email a progress shot to me. I would love to add it to this post so people can share in your quilting fun. Just click on 'contact me' at the top of this page and send me a picture.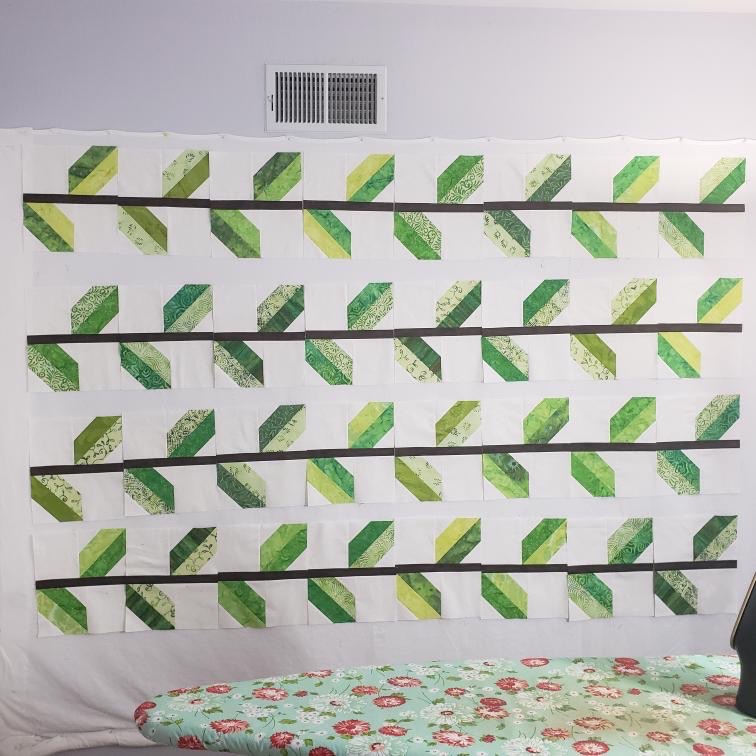 Updated to add the above progress photo from @Justanaveragequilter. Danielle quilted along with us last year too. So happy to have her sewing along again with us this year.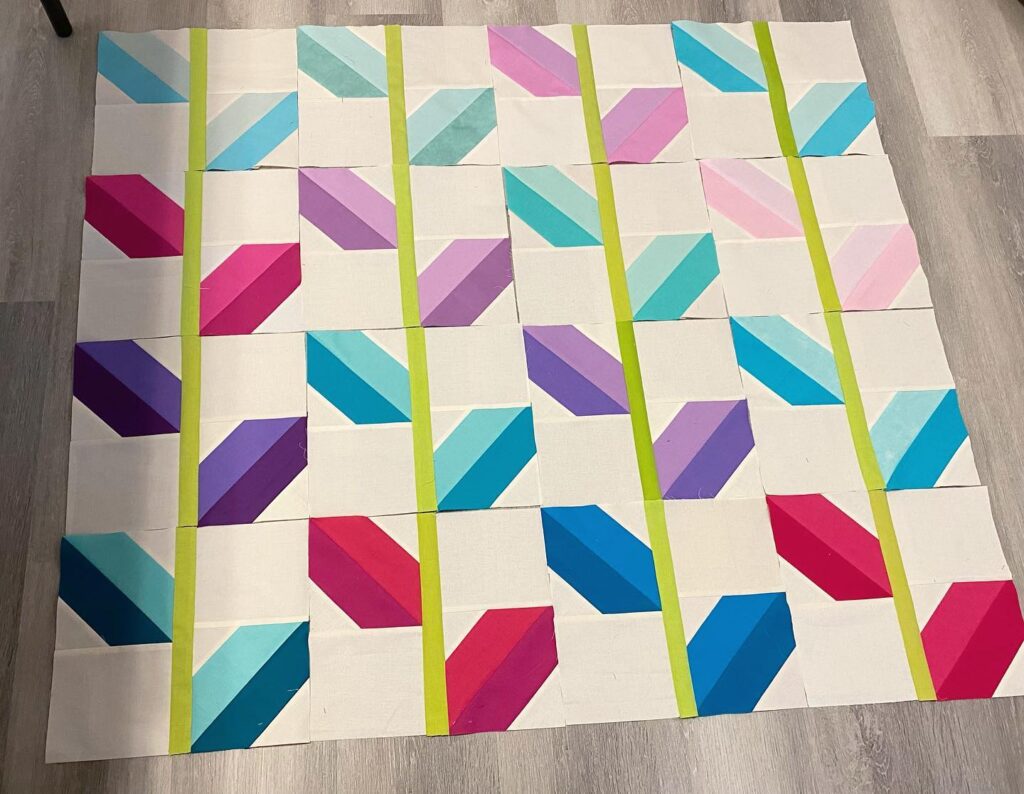 Updated to add another quilt update. Made by @skynme, she did link up below but it won't show the thumbnail so I put it here as well. Love the solids! Looks really different like this. She says she had all of these in her solids scrap bin. Yahoo!
The next link up will be on July 16th. This time we will be sharing quilt tops and there are patterns to be won! I am determined to have a finished top to share by then. (I think I can, I think I can…..)