Somehow another year has come and gone!! It is time to start planning for the 3rd annual Positivity Quilt Along. The Positivity Quilt Along was created by Preeti of Sew Preeti Quilts to give the quilting community a fun, social way to make a new quilt for Mercyful Quilts. Each year Preeti designs a fun, easy to make, lap quilt. She shares the pattern for free and guides quilters through the process of making it. These QAL's have been a huge help to Mercy Hospital's palliative care program.
Just in case you are new to the Mercyful Quilts program, it all started back in November of 2018. A friend of mine is a nurse at Mercy Hospital in Sacramento, CA. She explained that they gave quilts to the family of patients who were dying. The family chose a quilt to snuggle their family member under and after the person's death, kept the quilt as a memory of this time in their life. Patty, my friend, explained how comforted the patient and family were by these quilts and I started to organize lap quilt donations for the hospital. There is much more information available if you click here.
Preeti became a loyal donor and would send me quilts whenever she could. Then during Covid, when we all desperately needed more positivity in our lives, she hosted the first QAL. I am so grateful to Preeti for her commitment to Mercyful Quilts. Because of her we have received so many stunning quilts for our families.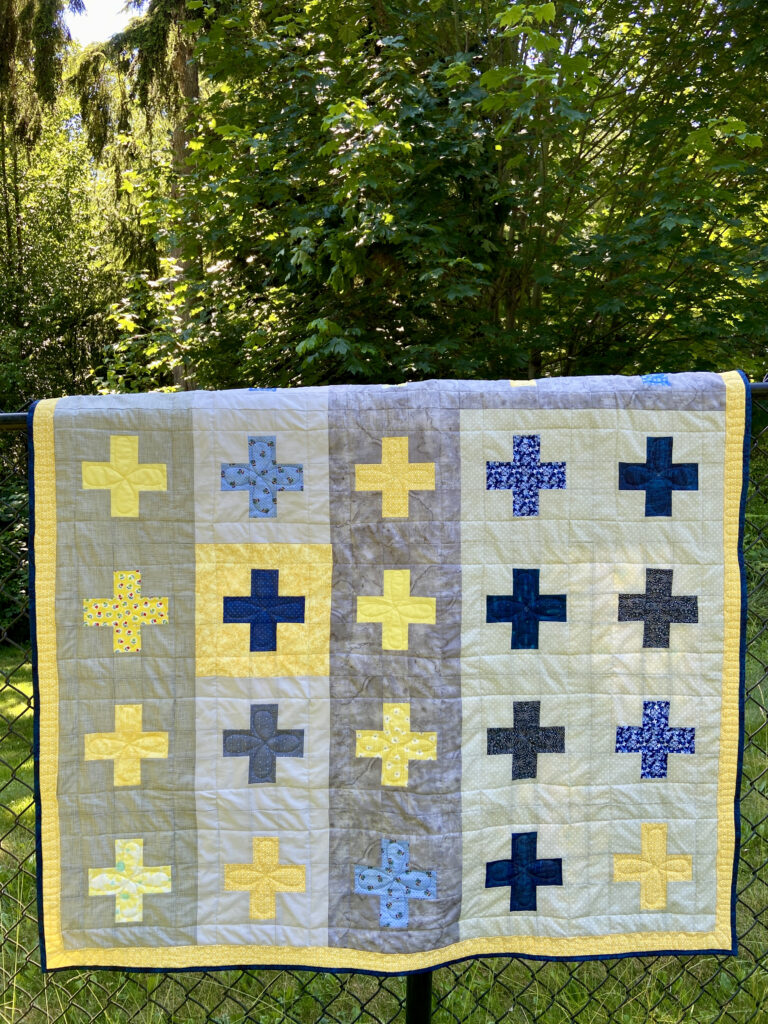 This is the first Positivity quilt I made. It took me a long time to finish it because we moved in the midst of everything. This event garnered well over twenty Mercyful quilts!!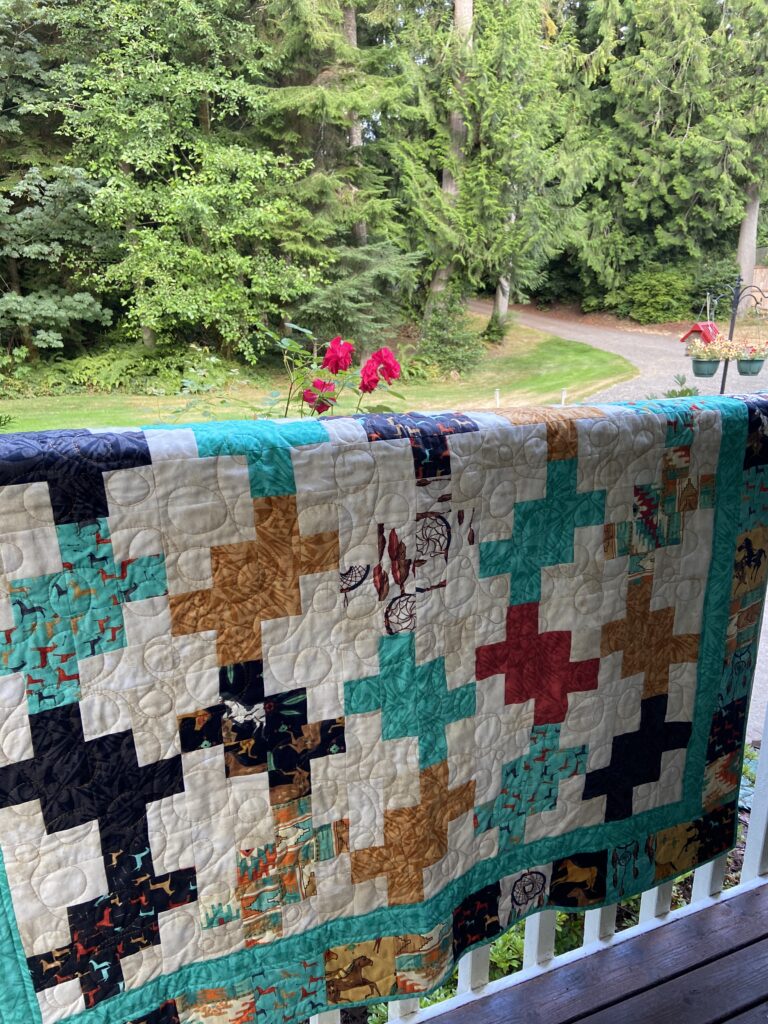 This was the quilt I made for the second QAL. I loved the pattern and the ease with which it all came together. This QAL resulted in over a dozed quilts for Mercy's palliative care program.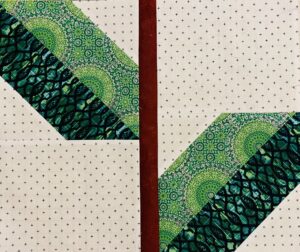 Here is a sneak peak at the block the next QAL is based on. I see lots of leafy vines coming my way! The block looks super easy to make which is a good thing for me. I am not one for fussy quilts with millions of pieces!! Also, Preeti mentioned it is jelly roll friendly and I happen to have two rolls of strips sitting on the shelf!! Of course cutting your own scrappy strips is a great idea as well.
As before, the Positivity QAL will have a super relaxed schedule allowing plenty of time to make the quilt. The kick off is at the end of May and the event concludes over Labor Day weekend in September which means you'll have all summer to work on it. We have a selection of lovely prizes that might be won by those quilters who finish and share their quilt in September! There will be link parties along the way to share progress and cheer each other on.
You are all invited to join us as we make a lap quilt for Mercy Hospital. Let's work together to fill their shelves with quilts for patients and families who are struggling with grief and loss. We all know how comforting it can be to know someone out there is thinking of you and trying to provide a bit of solace. I hope you will sew a quilt with us! If you have questions, feel free to leave them in the comments.
(Also, if you are interested in Mercyful Quilts and want to donate a quilt but cannot commit to the QAL, that is fine too. We ALWAYS need lap size quilts. They can be scrappy, simple, complex, patriotic, or whatever you like. This particular hospital does not treat children so no juvenile themes or fabrics please.)