Happy 4th everyone! It sure doesn't feel like July here. We are having a bout of unseasonably cool weather and the high for today is only supposed to be 69 degrees (about 20 degrees C). We are heading to my sister's house for a BBQ but it won't be very warm out!
Whenever I am 'supposed' to be working on something it seems like everything but that project appeals to me. Why does this happen? I should be working on piecing the blocks for the 2022 Positivity QAL. I have the pieces cut and I did get some of them pieced. I think about 20 blocks are made. But all sorts of other ideas keep popping into my head. So you know what I did? I set those QAL blocks aside and played with other fabrics.
Part of the reason is I wanted to make things that take no thought. The last couple of days I have had a cold dragging me down. Summer colds are unfair in my opinion and this one opened the way for a couple of summer squirrel projects.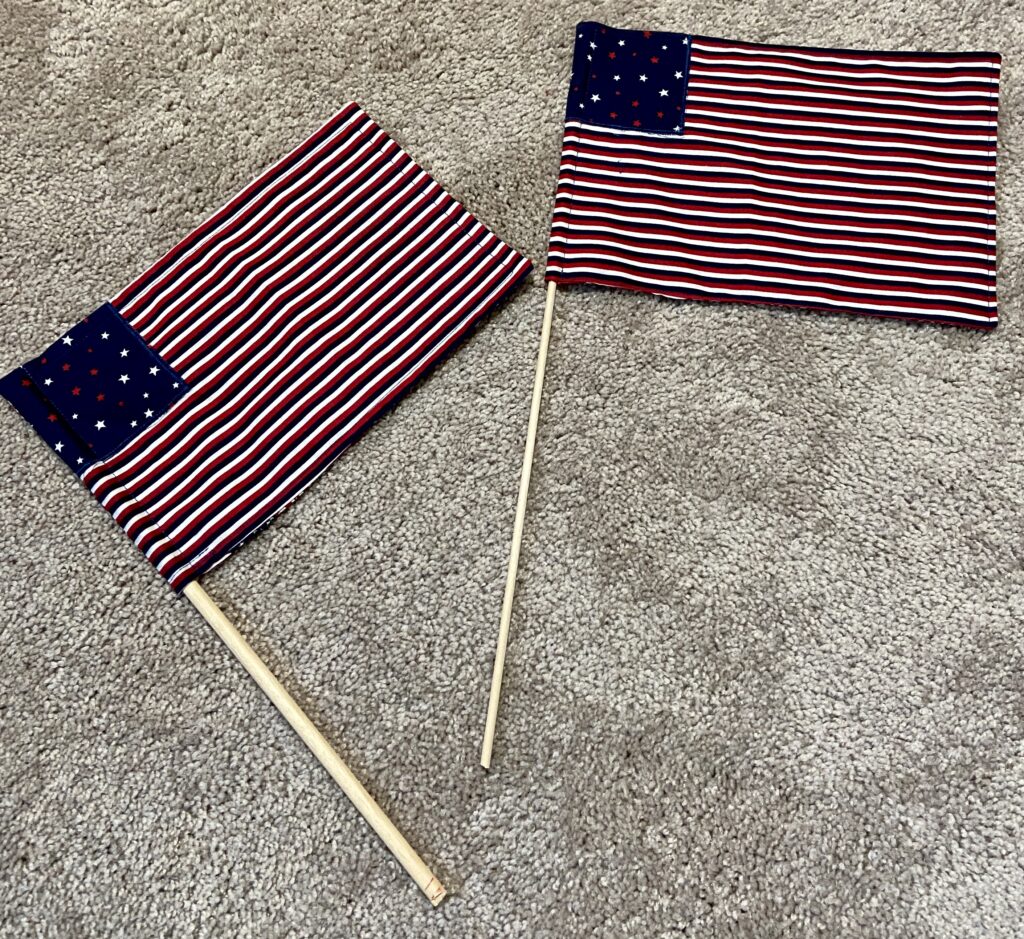 Here is one project but I actually made this one about a month ago and never shared it. We have one very tattered USA flag that was left at the house by the previous owners. When the girls were here they marched around with it. It looks awful and there was only one flag to march with. Not a great situation. I found some patriotic fabric on the shelf and made two little flags for them.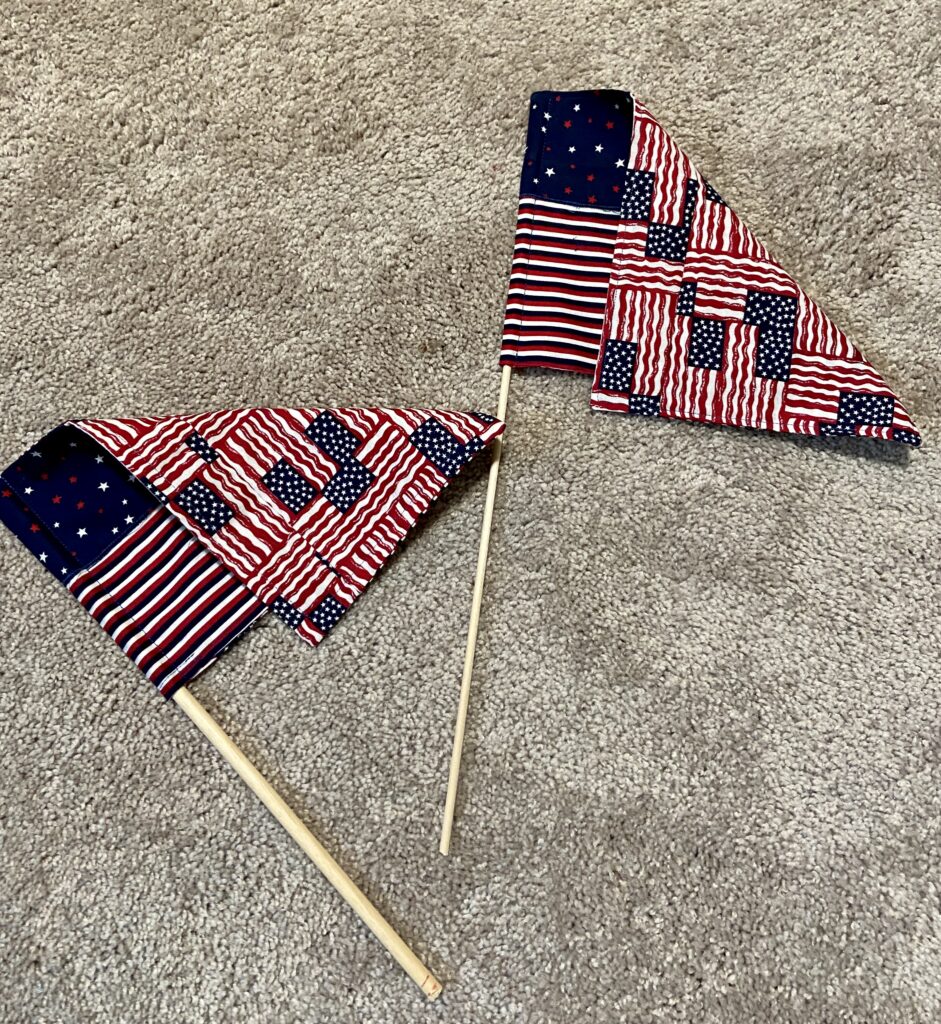 I think they are super cute. The girls weren't overwhelmed with them. Maybe the timing wasn't right. Or maybe they prefer marching around with just one worn out flag? Who knows? But these are sweet and I am sure they will use them at some point. I did glue the fabric to the dowel so the flag stays on the pole. A few drops of superglue on the dowel and that fabric is well attached.
Back to this week's squirrel. While I was dragging around with this annoying cold I decided I wanted to make something really simple. I had just read through the Quilting Daily email newsletter where they quoted McCalls Quilting editor, Lori Baker, "If you feel like a challenge, do something new, learn something. And if you are feeling a little fragile, do something simple so your success is assured." Mistakes happen all the time but I am more prone to them if tired or not feeling well. So an easy project was called for.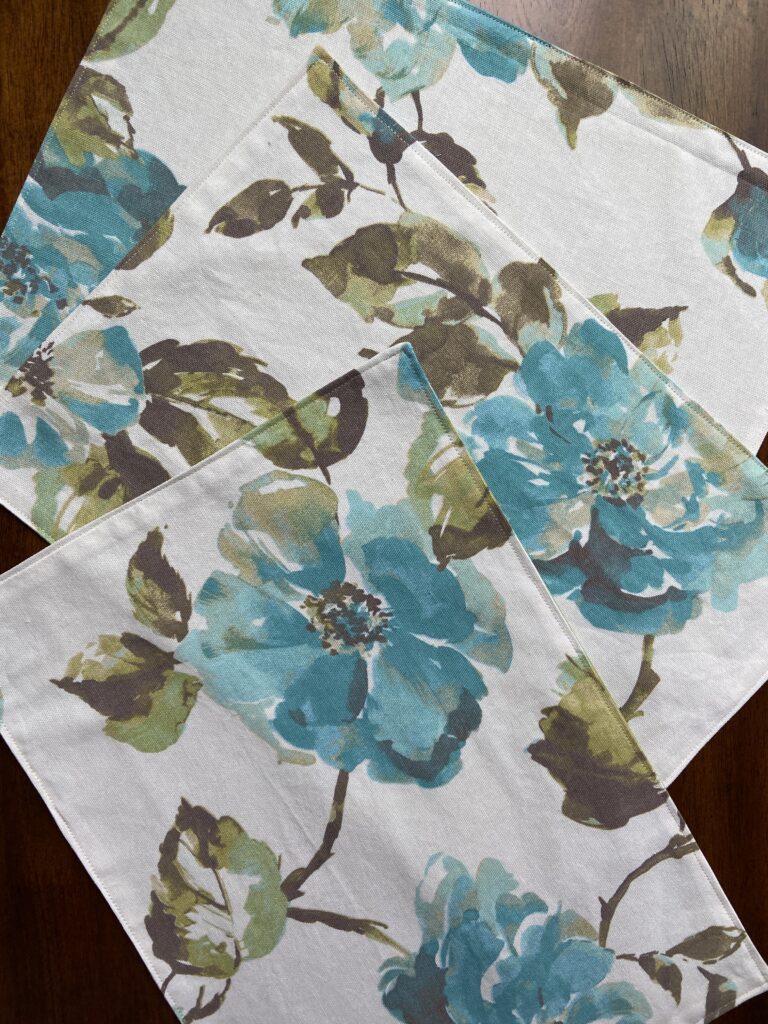 This floral fabric was left over from making a table runner for my DIL several years ago. It is a home dec fabric from Jo-Ann's. I washed the fabric and some matching solid fabric and dried it on high heat to make sure it was pre-shrunk. After pressing it, I cut three rectangles measuring 13″ x 19″ and did the same with the lining.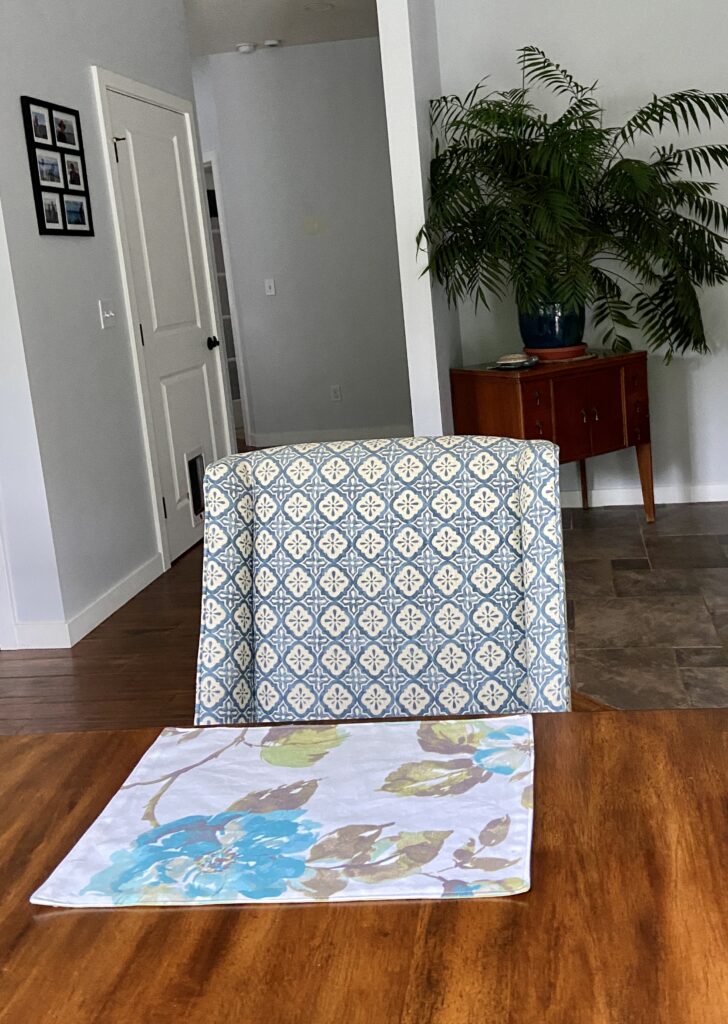 I assembled all three, right sides together, and stitched the perimeter. Flipped them right side out, poked out the corners and pressed them again. Finally I top-stitched around the edge at the 1/8″ mark. I think they are really cute.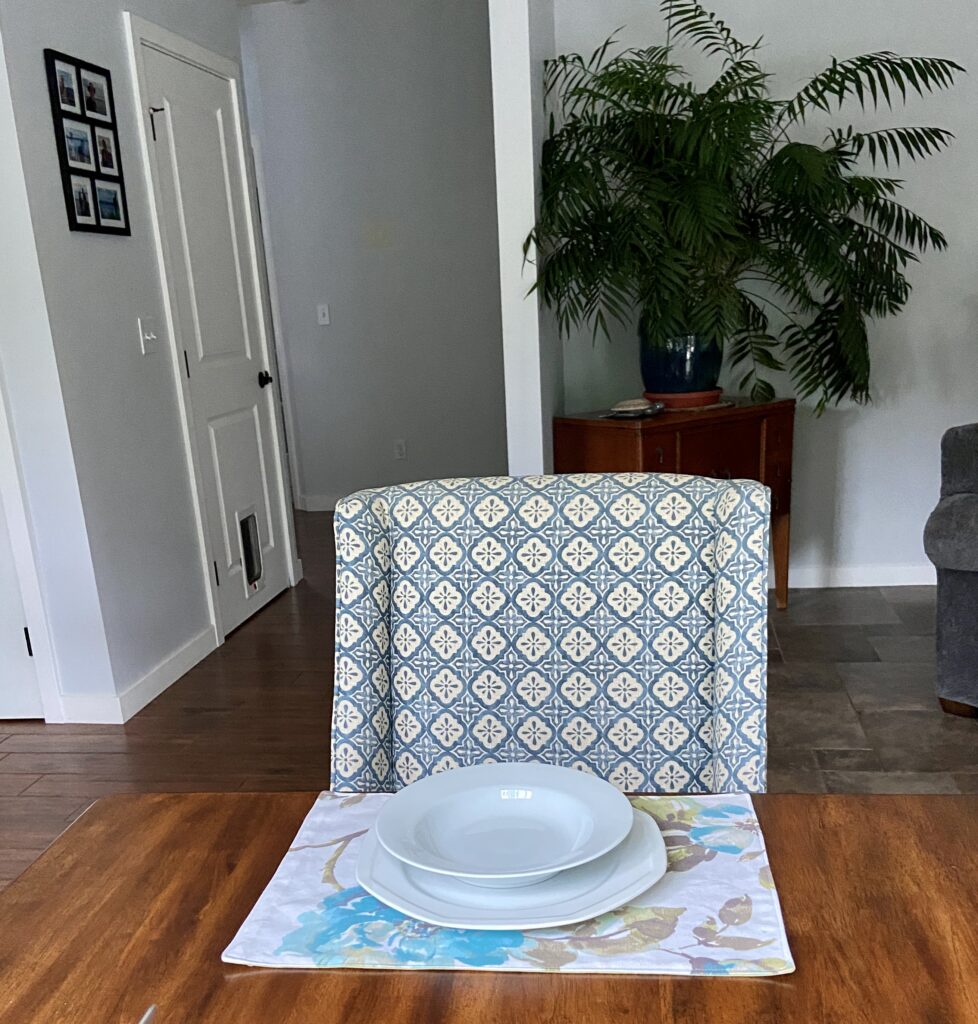 Clearly I should work as a photography stylist. This table looks absolutely incredible. Hahaha. The placemats look cute and since we have white dishes everything works together. Simple and successful – just what I needed. Plus I used up fabric off my shelf.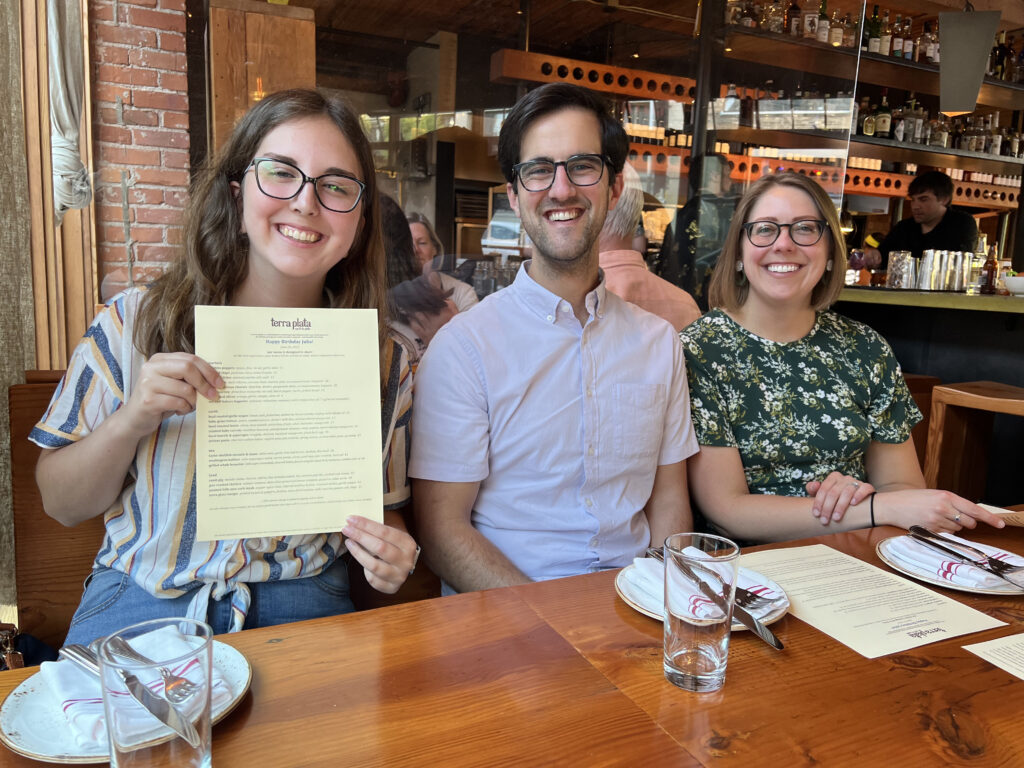 Last weekend two of my sons and their wives took Julia out to celebrate her 21st birthday. Her birthday was in May but since she wasn't home to celebrate, the kids wanted to take her out. It seemed like they had a great time. However three days later, one of my boys and one of my daughters-in-law tested positive for Covid. Yuk. Because it was Andrew from one family and Shar from the other, it was clear the contact was made while they were all out together. They both first showed symptoms on the same day. Even worse, this whole group was excited because they were supposed to go on a camping trip up at Mt. Ranier which they had been planning for weeks and weeks. The trip was cancelled. My older grand daughter was so distraught when told they couldn't go on the trip. Her mama set up a tent in the backyard so they could pretend camp while Daddy was in bed feeling miserable.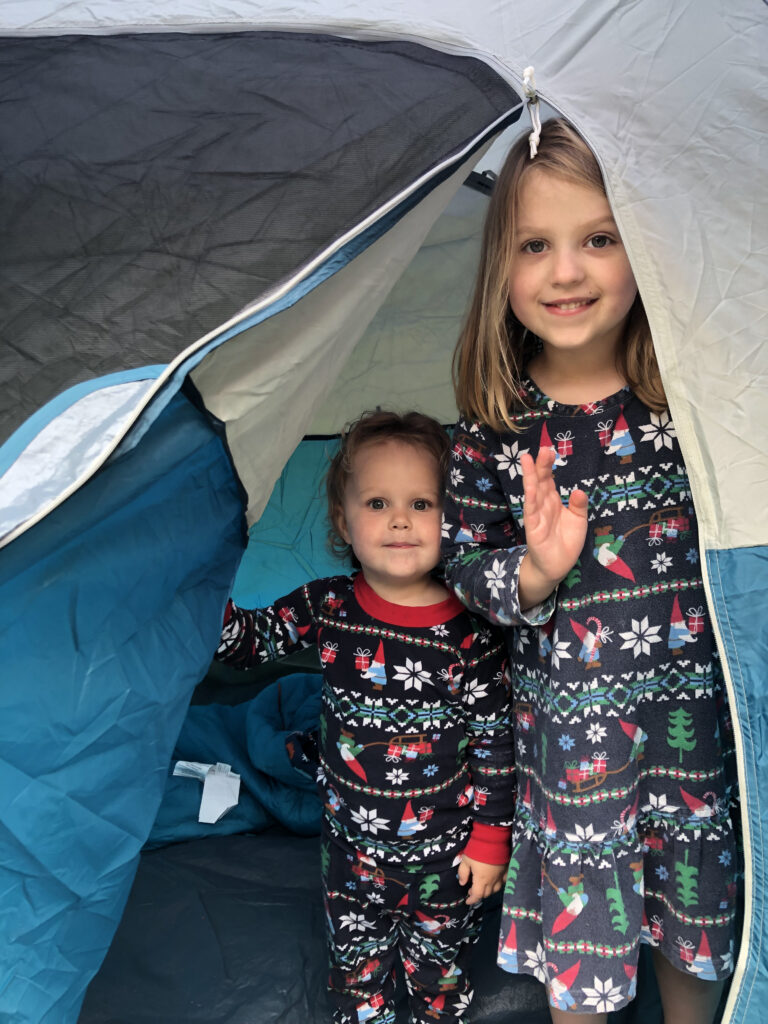 This fun didn't last for too long. From here it only got worse. My other DIL and both grand daughters got sick and tested positive.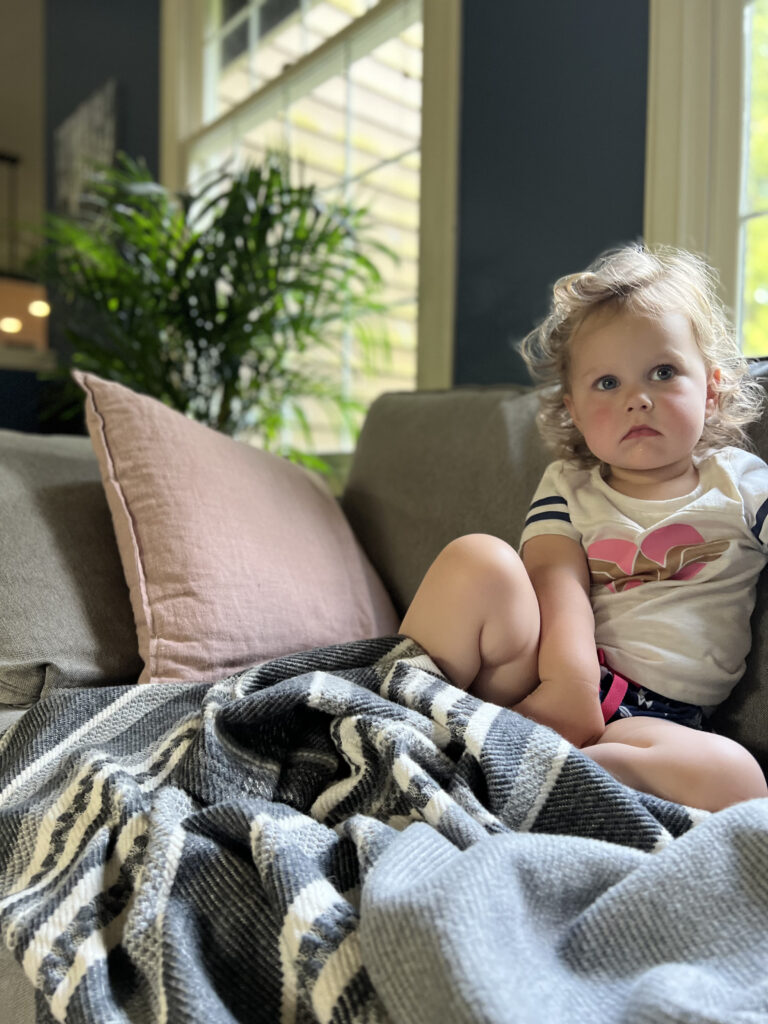 Such a rotten time for all of them. Julia escaped it as did one of the guys. But the rest of them have been fairly sick. Julia had to isolate for quite a while and wear a mask when she wasn't in her room. But it has been long enough now we feel confident she won't get it.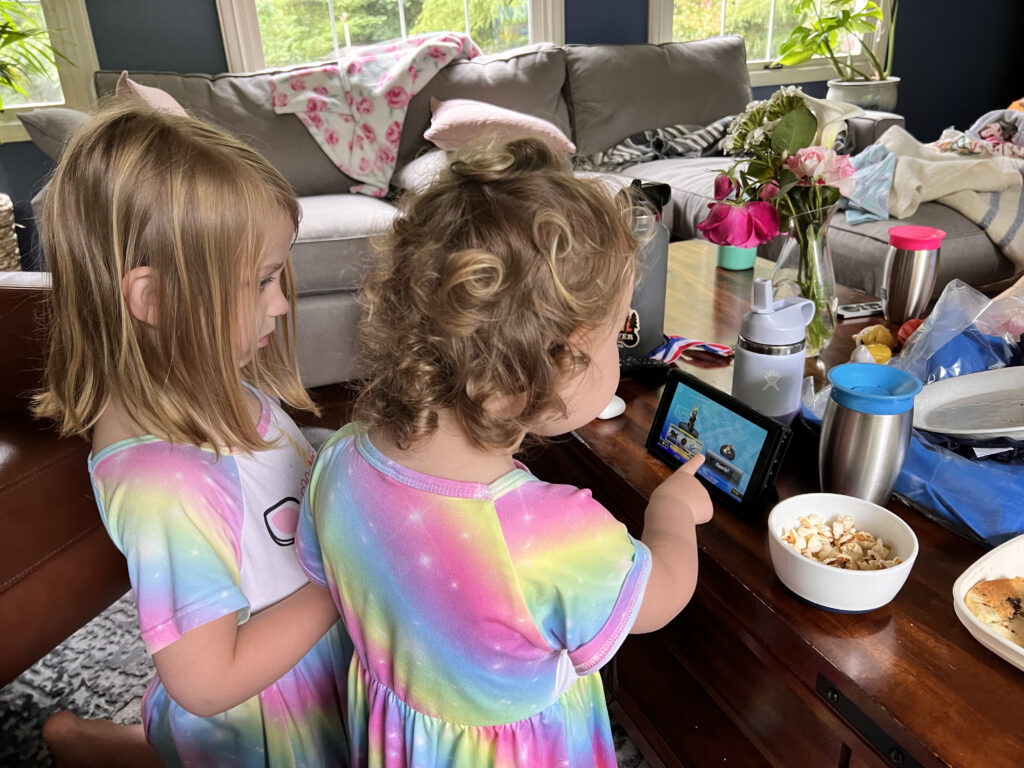 It seems like the girls are over the worst of it. It is amazing how quickly children can bounce back but not so much with the adults. One of my DIL's still feels awful. What a rotten virus this is. This picture shows the detritus of a house with two sick adults and two sick kids. Blankets everywhere, water bottles and snacks. Playing with dad's video game is a special treat though and the girls enjoyed this diversion. I wish I could have them helped out. It has been a tough week for them.
I will be back in a couple of days to share a finish. I got my 2021 Positivity quilt finished and just need to take some pictures and wash it. Can't wait to share it with you. Enjoy the holiday everyone!